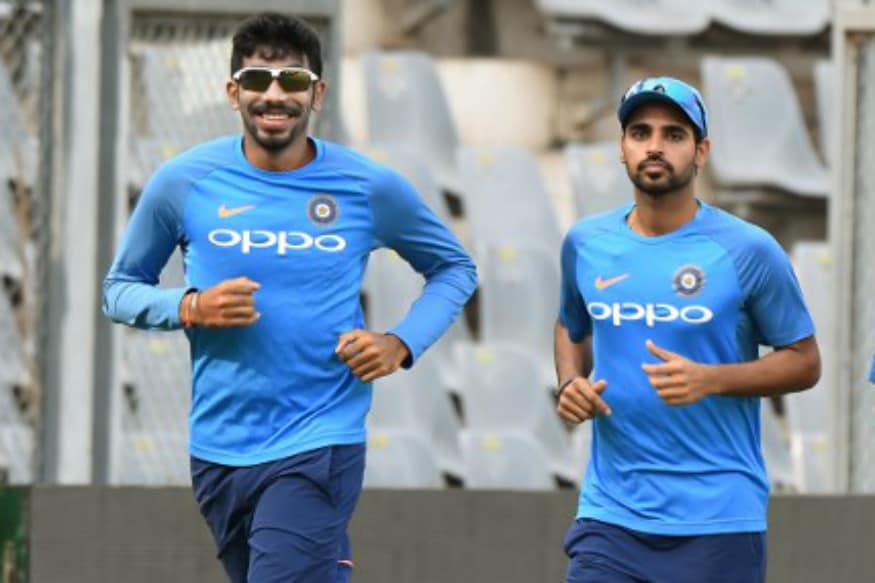 After two One-Day Internationals where the bowlers conceded totals in excess of 300+ each time with the pacers in particular going for runs aplenty, both upfront and in the backend, India have sent an SOS to Bhuvneshwar Kumar and Jasprit Bumrah for the last three ODIs against the Windies. The duo had been rested from the opening two encounters to manage their workload across formats and with an eye on the Australian tour, but with the Windies batsmen making merry against some listless bowling they have been summoned.

Mohammad Shami, Umesh Yadav and Khaleel Ahmed have all been tested but none of them have looked probing enough to be considered as a good seam-bowling option to back up Bumrah and Bhuvneshwar. With Hardik Pandya also not in the side with an injury, India would have hoped for one of the other pacers to stand up but that hasn't happened so far in the series.

Just how vital Bumrah and Bhuvneshawar are to India's white-ball outfit can be judged from the fact that the duo, along with Hardik Pandya, has contributed 127 wickets that the Men in Blue have picked up in this format with the other seamers combining for a mere 38.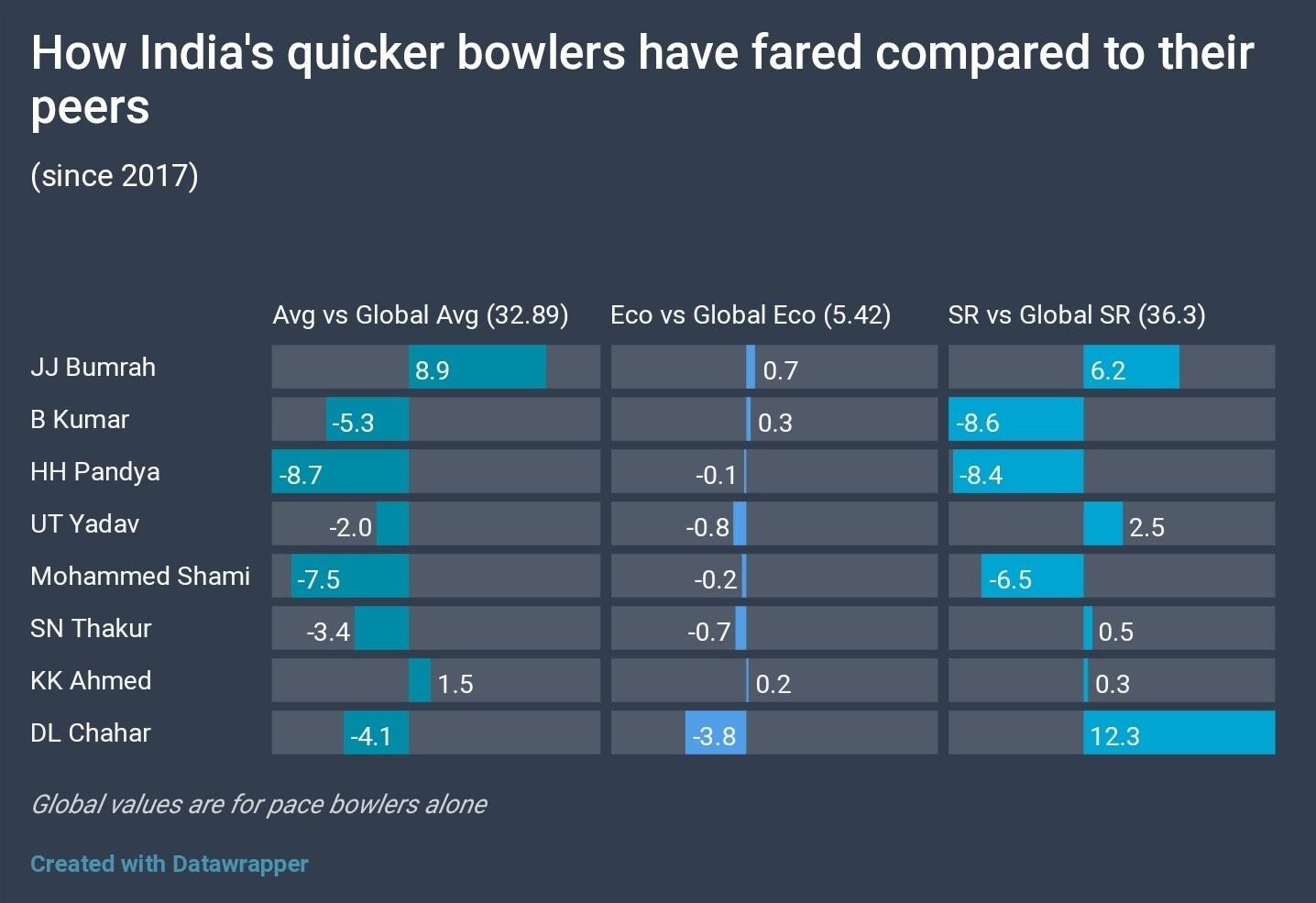 Opportunities have been scant for the other hopefuls but none of them has impressed enough to be given a longer rope in the ODI line-up and the truth is that at least one spot in the pace bowling department still remains empty with no clear front-runner available at the moment.

In the representation above we compare the average, economy and strike rate of India's quick bowlers since 2017 to the corresponding global values of all pace bowlers combined. The more positive the value, the more impact the bowler has had. As can be seen, Bumrah and Khaleel Ahmed (smaller sample size) are the only two to have a positive value in all three disciplines. Siddharth Kaul, who played 3 ODIs in this time period, isn't considered for he hasn't managed to make an appearance in the wickets column.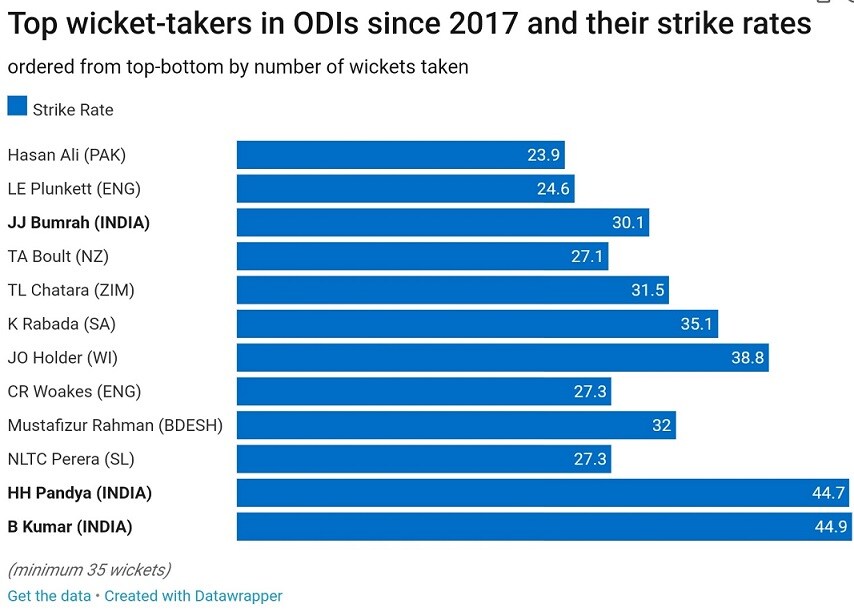 Even the usually meticulous Bhuvneshwar has a huge negative value in terms of average and strike-rate showing he just hasn't been able to take enough wickets. This is perhaps a fair reflection considering him and Hardik Pandya have 36 wickets apiece with the latter boasting of a better strike rate. Among the other bowlers, Shardul Thakur (strike-rate), Umesh Yadav (strike-rate) and Deepak Chahar (small sample size) are the only ones to have at least one positive value.

Cut down to the team-wise values for pace bowlers in the discussed time period and India are some way behind other countries in terms of average, economy and strike-rate although their economy, considering the conditions they have played in, is commendable.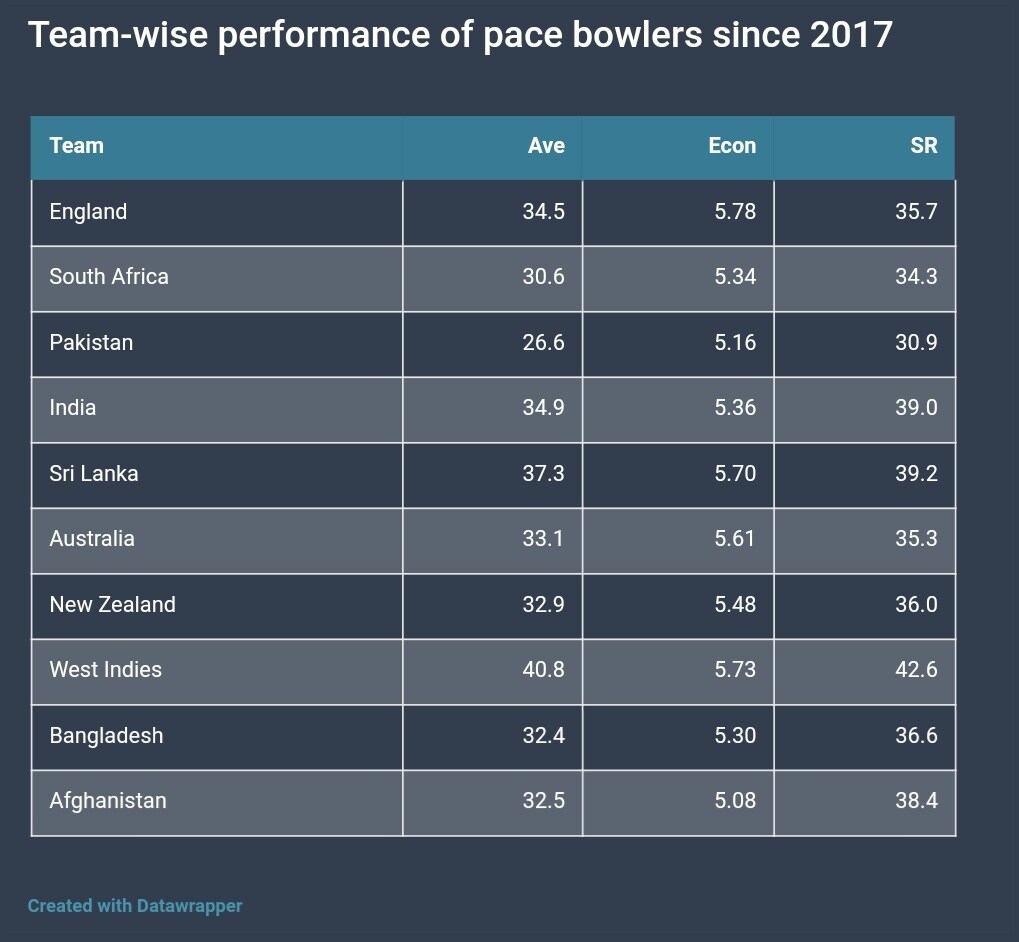 The worrying aspect, though, is that much of that strike-rate is courtesy a phenomenal ODI seamer in Jasprit Bumrah, the No. 1 bowler on the ICC rankings charts, who has picked up 55 wickets at a strike rate of 30.1 by playing over 70% of all games India have played in this time frame.

Bumrah and Bhuvneshwar have figured in most of India's ODIs since the beginning of 2017 which has left little room for the others to be tried, particularly since Hardik Pandya, a seam-bowling option, has featured in 83% of all matches India have played.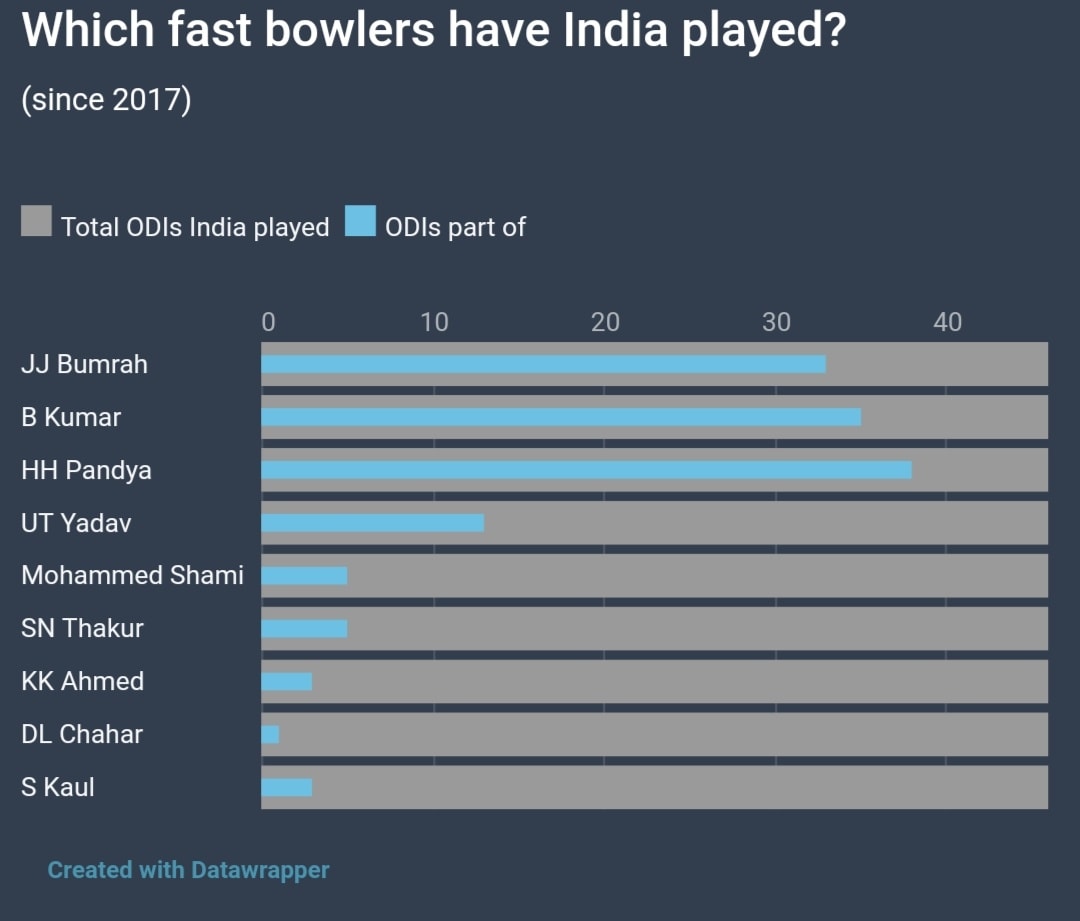 That India have been reluctant to try the other seamers is largely due to the fact that the team has faltered in the absence of the big two. Without both Bumrah and Bhuvneshwar Kumar in the side, India have played 8 ODIs in the past two years (since 2017), winning three, losing three and two matches ending in a tie – a win-loss percentage of 1 which in comparison to their overall rate – 3.3 – is a fair bit low. Match it up against ODIs where India have both seamers in the same team and they have won 30 of the 38 matches, a win/loss ratio of 4.28.

When the two are present (which is 82.6% of the time), India have conceded a total in excess of 300 six times, while when both are absent the corresponding number is four. But bear in mind that India have played without both bowlers just eight times and you instantly see where the problem is.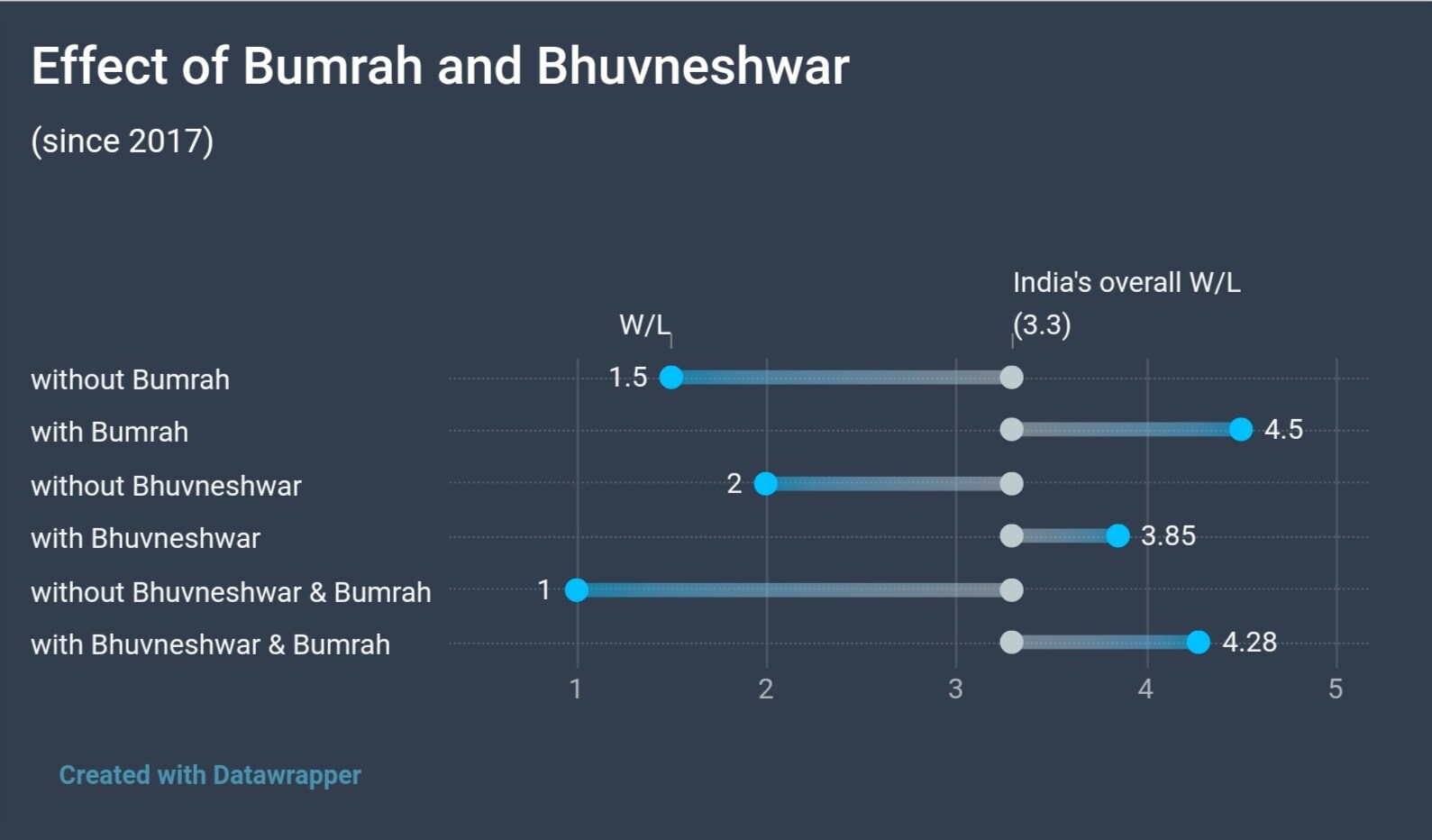 50% of the time when India have played without both their spearheads, the opposition has scored 300-plus which shows a definite dependency on the duo. While Bhuvneshwar himself hasn't been outstanding, in the presence of Bumrah, he has flourished, a primary reason why both bowlers remaining fit ahead of next year's World Cup in England & Wales should be the top priority.

A bigger concern is the tendency to switch back to the comfort offered by the two when the only way to identify the remainder of the pace bowling pack is by giving more opportunities to the others. The Windies series offered one such opportunity but two 300-plus totals have prompted the selectors to revert to their preferred pacers.

First Published: October 26, 2018, 4:44 PM IST