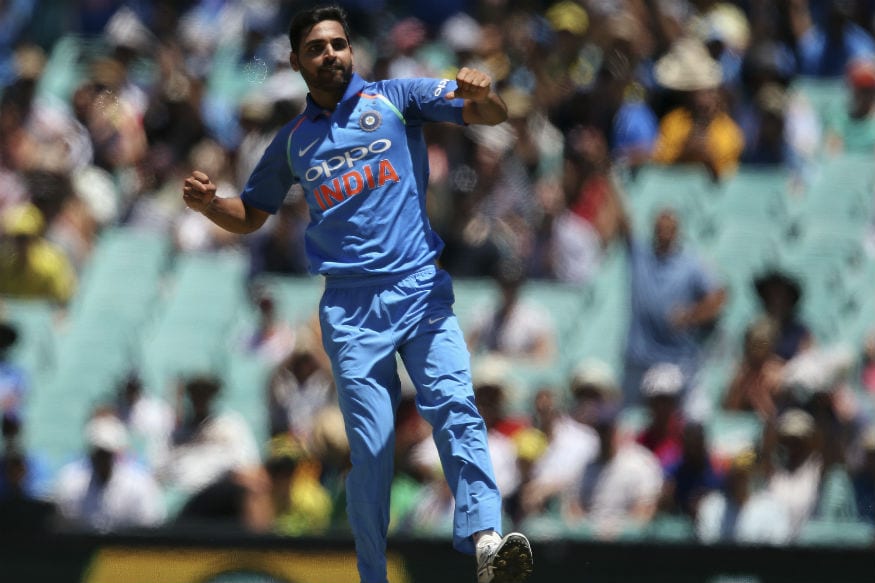 Bhuvneshwar Kumar produced one of the best spells of his ODI bowling career against Australia in Adelaide on Tuesday – 4/45 in 10 overs. His wickets included three top order batsmen in Finch, Marsh and Maxwell and this effort made a telling contribution in India's series levelling win.
This was only Kumar's third 4-wicket haul in 96 bowling innings (he also has one five-wicket haul) – which clearly suggests that he has not been the leading act or an outright match-winner with the ball for India in ODI cricket – but more of a support act who has relied on his line and length and pace variations.
His consistency – he seldom has a bad day - and economy with the ball have been his strengths in the format and this is why Kumar will be a vital cog in the Indian bowling line-up in a World Cup year, providing the ideal foil for Jasprit Bumrah.
Kumar has always performed at par with the expectations set of him over the course of his career.
The only aberration was 2018. The year saw a fall in his performance – both in terms of wicket-taking ability and restricting the opposition batsmen.
Kumar picked just 11 wickets in 14 innings in 2018 at 48.81 apiece at a strike rate of 55. More crucially, he conceded 5.31 runs per over.
Compare this to his numbers till 2017 – 88 wickets in 80 innings at 36.89 apiece at a strike rate of 44.8. He was more restrictive giving away just 4.93 runs per over.
Kumar was never a big wicket-taker as his career average (37.09) and strike rate (44.4) suggest. But his wicket-taking prowess was below-par in 2018 even when compared to his own career standard.
He went wicketless in 7 ODIs in 2018 – i.e. he went wicketless every 2 matches – the worst frequency for any year (min. bowling innings 5 in calendar year) for the medium-pacer. He had 5 innings where he picked just one wicket and a couple more where he accounted for 3 each.
But what was more worrying for the fast bowler and India was his economy – he conceded, on an average, 0.38 runs per over more in 2018 as compared to his career norm till 2017.
Kumar went for 5 or more runs per over in 9 matches (out of 14) in 2018 – again, the highest frequency for any calendar year (min. 5 bowling innings in a calendar year).
He bowled a maiden every 1.45 innings till the end of 2017, this increased to a maiden every 2.33 innings in 2018.
Kumar's dot-ball percentage (dot-balls bowled per match as a percentage) dropped from 60.20% till 2017 to 56.93% in 2018. Simultaneously, his boundary percentage (boundary balls bowled per match as a percentage) increased from 54.14% to 55.86%.
Kumar conceded, on an average, 3.36 boundary balls per match in the first 10 overs in 2018 – the joint-highest for any year along with 2013. Also, his dot ball per innings in the first powerplay went down from 19.04 in 2017 to 17.64 in 2018.
The number of boundaries conceded per match at the death (overs 41-50) also increased from 1.67 in 2017 to 1.88 in 2018 while the number of dots per match went down from 6.28 to 5.38.
Overall, his numbers in 2018 have been the worst for Kumar in any calendar year. His bowling average in 2018 has been the highest in any calendar year while his strike rate and economy the second-worst (min. 5 innings in a year). If we combine the three parameters, the product in 2018 (142.55) has been the worst by far – in fact, just for perspective, it is more than double the product in 2013 (68.62) and 2017 (68.80) – the two best years for Kumar – signifying a substantial fall for the bowler in 2018.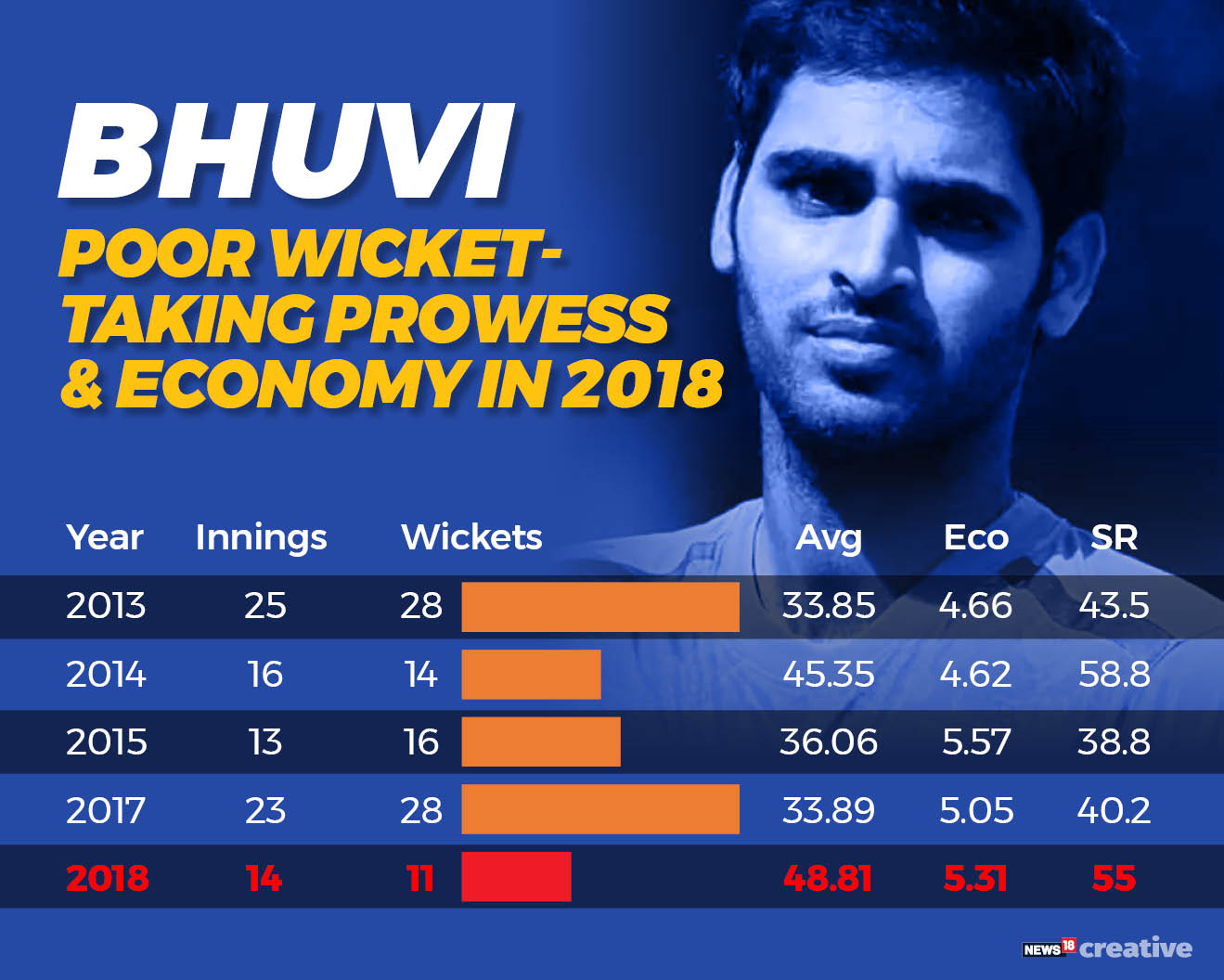 What would be of particular concern to Kumar would be his away record in SENA in the year – in 6 innings in South Africa and England he aggregated just 2 wickets and went for 6.25 runs per over – given the fact that wickets in SENA offer some assistance to the pace bowlers Kumar would be disappointed with these returns in 2018.
It was a bad year for Kumar. Amongst the 67 bowlers who tallied at least 10 wickets in the year, he had the third-worst average and strike rate in 2018. His economy rate placed him at Number 46.
Kumar has got off to a good start in 2019 with a match-winning performance at the Adelaide Oval. India would hope this marks a welcome return to form for their Mr Dependable in the World Cup year.