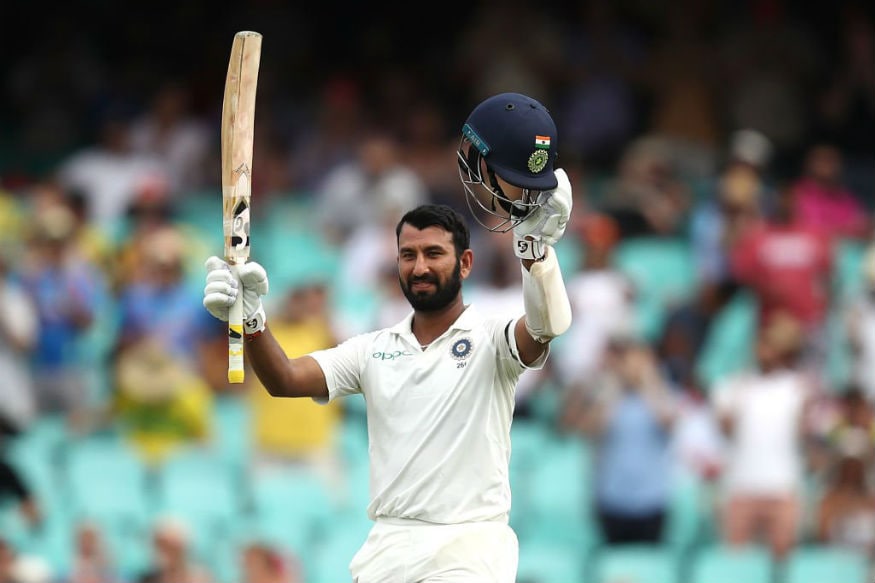 Cheteshwar Pujara came out to bat at 3 for 2 which soon worsened to 23 for 3. At this stage the target of 279 set by Karnataka in the Ranji Trophy semi-final at Bengaluru seemed distant and improbable.
Fast forward a little more than 85 overs. Pujara remained unbeaten on 131 off 266 deliveries and took Saurashtra to a brilliant five-wicket win to seal their third berth in the final in seven seasons.
It was a quintessential Pujara innings – full of doggedness, determination and resolve – a resolve to not gift his wicket away, to keep fighting and play attritional gritty cricket. He absorbed the pressure of falling wickets around him, building a match-winning 214 run-stand with Sheldon Jackson.
It has been a fantastic season for Pujara. Not only has he reached new heights with his batting and helped the team to new successes but also silenced critics who have often questioned the 'slow' nature and style of his batsmanship. He has made old-fashioned defensive text-book batting stylish and effective in an era where, with the mushrooming of several T20 leagues around the world, technique and temperament and hence overall batting standards are at an all-time low.
Overall, in the season so far (starting from the home series against the West Indies in 2018), Pujara has aggregated 927 runs in 14 innings (9 matches) at a staggering average of 77.25. Almost as crucially, he has faced 2048 deliveries in this time-frame with an average of 146.28 deliveries per innings – this translates to almost 25 overs per innings – a phenomenal display of his ability to bat time and overs showcasing not only a fantastic defensive technique but also great focus and concentration and mental toughness.
Pujara has as many as 8 fifty-plus scores in this season so far – these include 4 hundreds and 4 fifties, and also one score in the forties, thus showing remarkable consistency.
In as many as 10 of these 14 innings, Pujara batted for at least 90 deliveries – i.e. 15 overs. In fact, in two of these he faced more than 300 deliveries, in three more than 200 and in four more than 100 – highlighting his remarkable appetite to put his head down and bat for long periods of time.
Another telling characteristic about these performances was the position of the match from where Pujara scored these runs. In 9 of these 14 innings, Pujara came out to bat when at least one early wicket had fallen. In four of these he did his job to perfection – got stuck in there and played out time and overs and scored big runs. India won at Rajkot against the West Indies, beat Australia at Adelaide, would have almost certainly beaten them in Sydney had the rain not intervened and Saurashtra overcame Karnataka to make the Ranji final.

Pujara's standout innings this season came in the series opener at Adelaide. He came out to bat at 3 for 1. It kept getting from bad to worse for India – 15 for 2, 19 for 3, 41 for 4. But Pujara was adamant. He occupied one end like a rock and held the innings together, putting invaluable partnerships with the lower-order.
He had taken India to 250 by the time he was dismissed. His 123 off 246 deliveries meant that he had spent more than 6 hours at the crease – the second-highest score of the innings was 37. These were tough runs – runs when wickets crumbled around him when the stakes were high and there was enormous pressure to perform.
Pujara again top-scored in the second-innings with 71. India went on to win the Test by 31 runs.
Even at Perth, Pujara came out to bat at 6 for 1 in the first innings, which soon worsened to 8 for 2 and resurrected the innings with a 74-run partnership with Virat Kohli.
This ability to produce his best when the team needs it the most makes Pujara stand out – this is what makes him special.
He top-scored for India again - in the first innings of the Boxing Day Test – blunting the Australian attack with a patient 106 off 319 deliveries, spending 8 hours at the crease. India batted Australia out of the match and the bowlers did the rest as the visitors went on to take a 2-1 lead in the series.
No Test number 3 has scored more runs (617 runs in 6 Tests) or has a better average (68.55) than Pujara this season (from 4th October, 2018). No number 3 has played out more number of deliveries per innings than Pujara in this period – 158.78. He is followed by Williamson (102.89) and Azhar Ali (95.73). Pujara also batted, on an average for 174 minutes per innings in this period. He is followed by Shan Masood (133.67).
Amongst Test batsmen, only four batsmen (Mominul Haque, Tushar Imran, RJ Burns and DJ Vilas) have scored more runs than Pujara (1512) in all first-class cricket since the beginning of 2018.
No Test batsman has faced more deliveries than Pujara in first-class cricket in this period. The Indian number 3 has faced, on an average, 126.75 deliveries per innings since 1st January, 2018.
Overall, in Test cricket history, only four batsmen (min. 5000 Test runs) have faced more deliveries per innings than Pujara (102.47) – Bradman (122.5), Boycott (109.80), Dravid (109.29) and Kallis (103.22).
Barely six months ago, Pujara was dropped from the series opener in Birmingham against England. Since then, his performances and the fortunes of Indian cricket have completely transformed. He is now viewed as one of the most respected batsmen in Test cricket in the world and is given his due alongside the pantheon of Indian greats.
A recognition well deserved.