Middle-order maestro Cheteshwar Pujara has been dropped from India's playing XI for the first Test against England at Edgbaston. Pujara struggled for runs in South Africa earlier this year and also during his County stint with Yorkshire recently and that has resulted in him being replaced by in-from KL Rahul in the line-up.
Pujara's struggles in Test match cricket outside of Asia have been constant through his career. While he has amassed 4531 Test runs at an average of 50.34 in 58 matches, he averaged just 22.2 in the five matches that he played on India's last Test tour to England in 2014. His tally of 222 runs in 10 innings was disappointing according to his very own high standards.
In fact, Pujara's average in England is the second worst by a visiting number 3 batsman who has played a minimum of 10 Test innings.
Looking to trouble the Indian batsmen with their pace and swing will be the duo of James Anderson and Stuart Broad, who have more than 100 wickets between them against Indian batsmen in home conditions.
Anderson in particular had Indian captain Virat Kohli's number in 2014, dismissing him four times in the series. It will be interesting to see how Kohli tackles Anderson this time around, with him having worked extensively on his technique to avoid making the same mistakes he did on the last tour.
If Kohli and the other Indian batsmen are successful in dealing with Anderson, then the threat of Broad still looms from the other end, who has taken 44 Indian wickets in 9 Tests at home.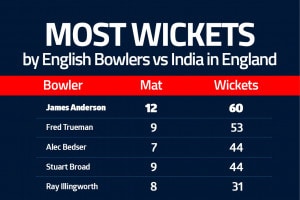 Finally, England captain Joe Root will be one of the biggest threats to the Indian bowling line up. He has scored 1102 runs against India in 11 Tests, at an average of 68.87. In 2014, he finished the series as the highest run-scorer, scoring 518 runs at a staggering average of 103.60 in seven innings.
Purely in terms of respective Test match records however, there is not much to choose from between Indian captain Virat Kohli and Joe Root. Kohli's average of 53.40 is marginally better than Root's 52.28. On an average Kohli is dismissed every 91.65 balls as opposed to Root's 94.45 balls, with the English captain edging this stat.
Critically, Kohli has a much better 50s to 100s conversion rate than Root. He gets to a century 56.75% of the times after reaching a half-century, compared to Root's 24.52%. Whether Kohli can redeem himself in English conditions will go a long way in determining the outcome of an exciting English summer of Test cricket.