MS Dhoni is amongst the greatest ODI batsmen to have played the game – 10224 runs in 282 innings at an average of 50.11 and a strike rate of 87.60, including 10 hundreds and 68 fifties – it is a staggering record, making him among the most elite players to have ever featured in the format.

Consider his additional roles as a wicketkeeper and captain and Dhoni qualifies as one of the greatest all-rounders in the history of ODI cricket.

However, Dhoni – the batsman, as exceptional as he has been over a phenomenal career, is no longer a patch on the player he once was. And the decline has been especially dramatic in the last 12 months.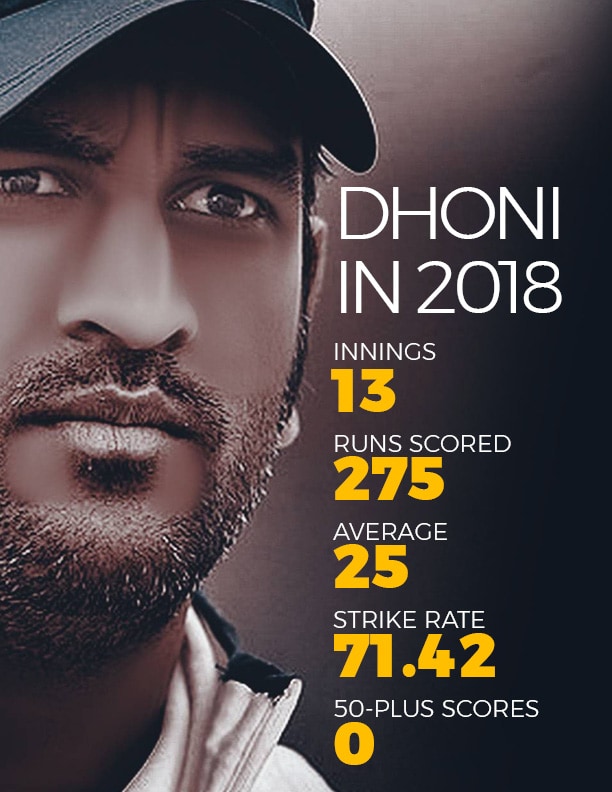 Since 2018, Dhoni has scored 326 runs in 14 innings at a paltry average of 27.16 and strike rate of 67.77. He has just one fifty in this time-period – his 51 against Australia at the SCG taking 96 deliveries and even though he helped in resurrecting the Indian innings, the overwhelming view was that he was too slow, giving India no real chance of winning the game.

Dhoni now faces the dual problems of not only not scoring enough runs but also not scoring them at an acceptable run-rate.

Since his debut in December 2004 till the end of 2017, Dhoni averaged 51.55 and scored his runs at a phenomenal strike rate of 88.46. For all batsmen who scored a minimum of 3000 runs at an average of above 35, Dhoni's strike rate places him in the top 15.

These numbers have taken a dramatic hit since the beginning of 2018. His average has fallen by 24.39 runs per dismissal and he is striking 20.69 runs less per hundred balls – this is a mighty fall.

2018 was Dhoni's worst year (min. 8 innings in a year) in terms of average and strike rate, both. He averaged 25 which was 2.80 runs per dismissal lower than his previous worst (2016). His strike rate at 71.42 was also the lowest ever in his career (previous worst 78.94 in 2010).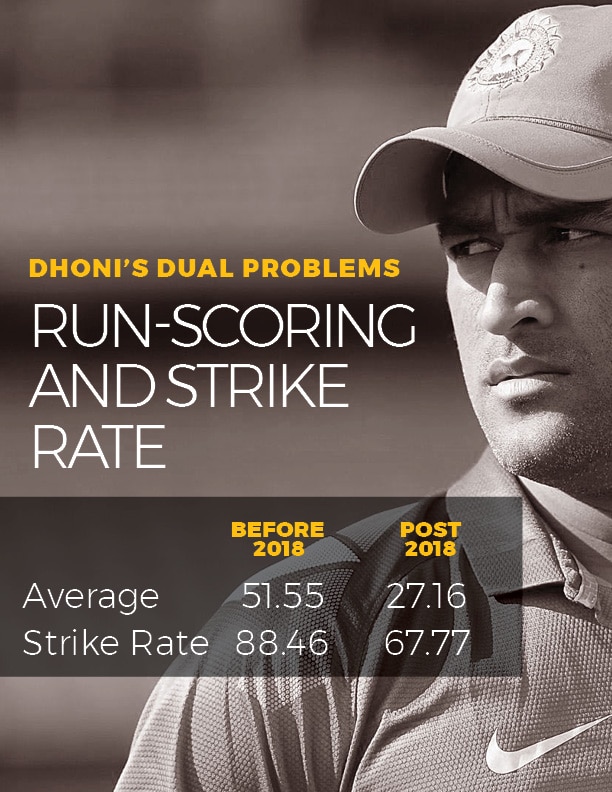 Dhoni had made a remarkable comeback in 2017 after a poor 2016 in ODI cricket. From an average of 27.80 and strike rate of 80.11 he leaped to an average of 60.61 and strike rate of 84.73. And this makes the fall in 2018 even harder to explain.

This becomes even more evident when we analyze the product of average and strike rate (and divide it by 100) in every calendar year over Dhoni's career. This product was the lowest – 17.86 – in 2018, the previous worst being 2016 (22.27). When Dhoni was at his peak – in 2009, 2013 and 2012 – this product was at 60.30, 60.26 and 57.39 – the drop in Dhoni's batting prowess has been so drastic!

He scored a below-20 score in 95 out of 268 innings till 2017, ie, a below-20 score every 2.82 innings. He has 6 below-20 scores in 14 innings since 2018 – i.e. a frequency of 2.33.

Dhoni has been slow in getting off the mark – he has consumed, on an average 9.27 balls to score his first five runs in 2018 – that is too slow given the fact that he batted from Number 5 and 6 in 10 of the 13 innings in the year.

Another staggering statistic which further highlights his inability to push the ante in the early part of his innings – Dhoni consumed approximately 14.33 balls, on an average, to score his first boundary in 2018 – clearly suggesting he is way below the norm and standard and demand of modern day ODI cricket.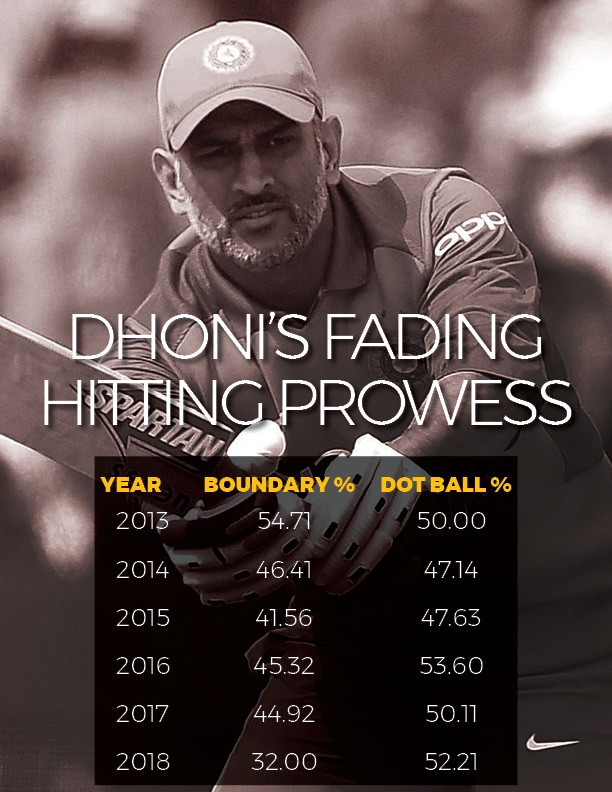 Dhoni scored 2.65 boundaries per innings, on an average, till the end of 2017. He hit 0.81 sixes per match in this time-frame. Compare this to what he has managed post 2018 – 22 boundaries and just 3 sixes in 14 innings – another statistic which reveals that he does not possess the same hitting prowess he did before with the bat.

Dhoni's Boundary Percentage at 32 % was the lowest in 2018. His Dot Ball Percentage at 52.21 % was the second-worst after 2016. But a combination of the two parameters easily makes 2018 his worst year. This means that neither is Dhoni scoring enough boundaries nor is he rotating the strike playing out a high percentage of dot balls – this is putting pressure on the non-striker and making the other batsmen take greater risks.

Dhoni's strike rate at the death (overs 41-50) in 2018 was his worst by far in any calendar year since 2013.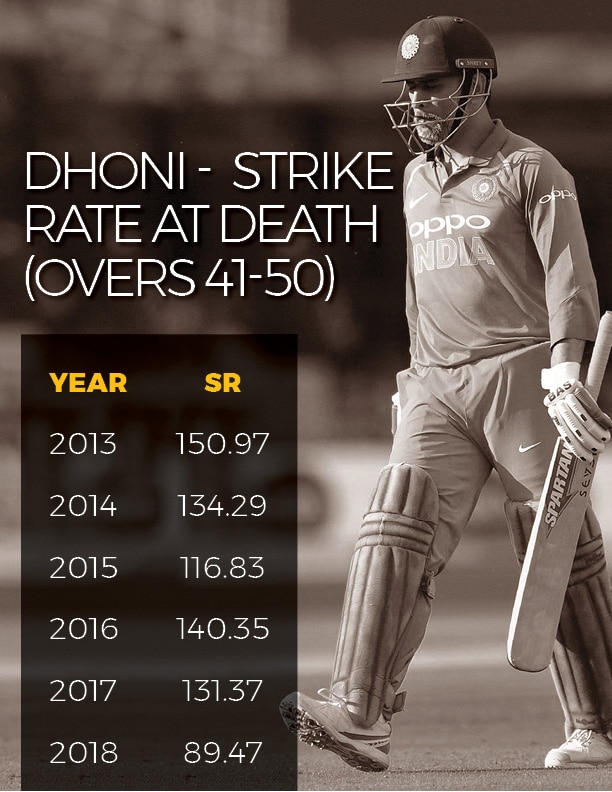 Amongst the 23 batsmen who scored at least 200 runs from Number 5 and 6 in 2018, Dhoni's average (27.62) placed him at fifth-lowest.

His strike rate at 70.38 places him at second from the bottom and is only better than Peter Moor of Zimbabwe (61.44). He just scored 1.70 boundary per innings and played out 16.60 dot balls, on an average, per match from these positions – way too high for a lower-middle order batsman.

It is not that Dhoni, batting in the lower middle-order, did not get enough opportunities to make a difference – he did - but failed to make any significant contribution in the year. He came out to bat before the 45th over in all the 13 innings he batted in 2018.  In fact, in 8 of these 13 innings, he walked out to bat before the 35th over. Thus, he had ample overs and time to make meaningful contributions in 2018 but failed to do so.

2018 was also the only year (min. 5 innings) where Dhoni did not register a single fifty.

Given his problems with strike rate, the only option is to make him bat at Number 4 which will allow him to settle in and play the role of the sheet-anchor. But even if that is the case, Dhoni has to find a way to rotate the strike and if the situation demands, accelerate later.

His experience in tough pressure situations, both with the bat and in the field, will undoubtedly be invaluable but India cannot afford what happened at the SCG very often.

*All numbers before the first ODI in Adelaide.

First Published: January 14, 2019, 8:14 PM IST