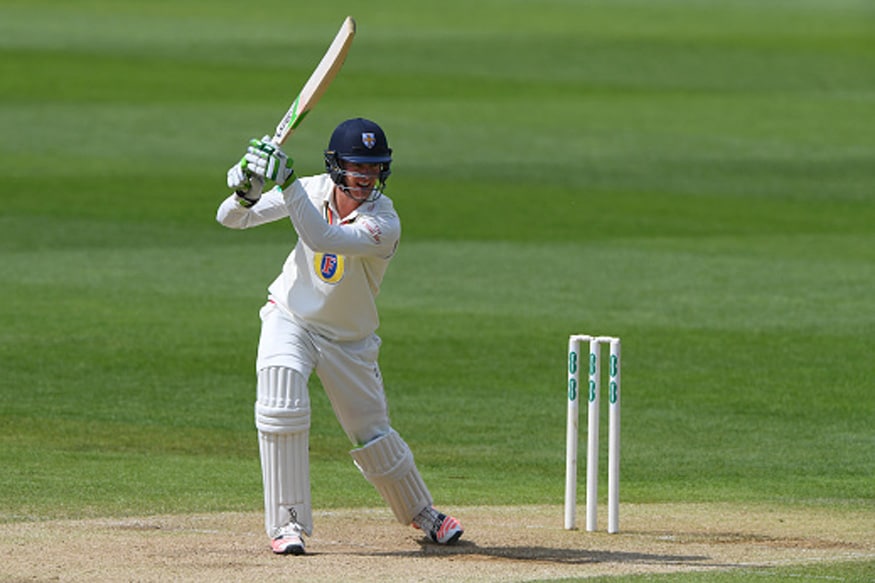 The strength of a Test batting side depends hugely on a solid set of openers. The best Test teams in the history of cricket have all had exceptional opening batsmen at the top of their batting line-up. The top three most successful opening pairs in Test cricket are Gordon Greenidge – Desmond Haynes, Matthew Hayden – Justin Langer and Alastair Cook – Andrew Strauss.

The last pair is rather interesting, for not only is it the most recent among the three but also one which left England so comfortable that they haven't yet been able to replace Strauss despite it being six years since his retirement. In 117 innings' together, the duo made 4711 runs at an average of 40.96 including 12 hundred and eighteen half-century stands.

Since then though, the numbers have taken a dip with England playing sixteen openers (including Cook) at the top. Now that Cook has retired, England have not just one but two spots to fill and although Keaton Jennings gave a good account of himself in Sri Lanka, his record at home remains questionable. Rory Burns hasn't grabbed his chances despite a great run of form for Surrey.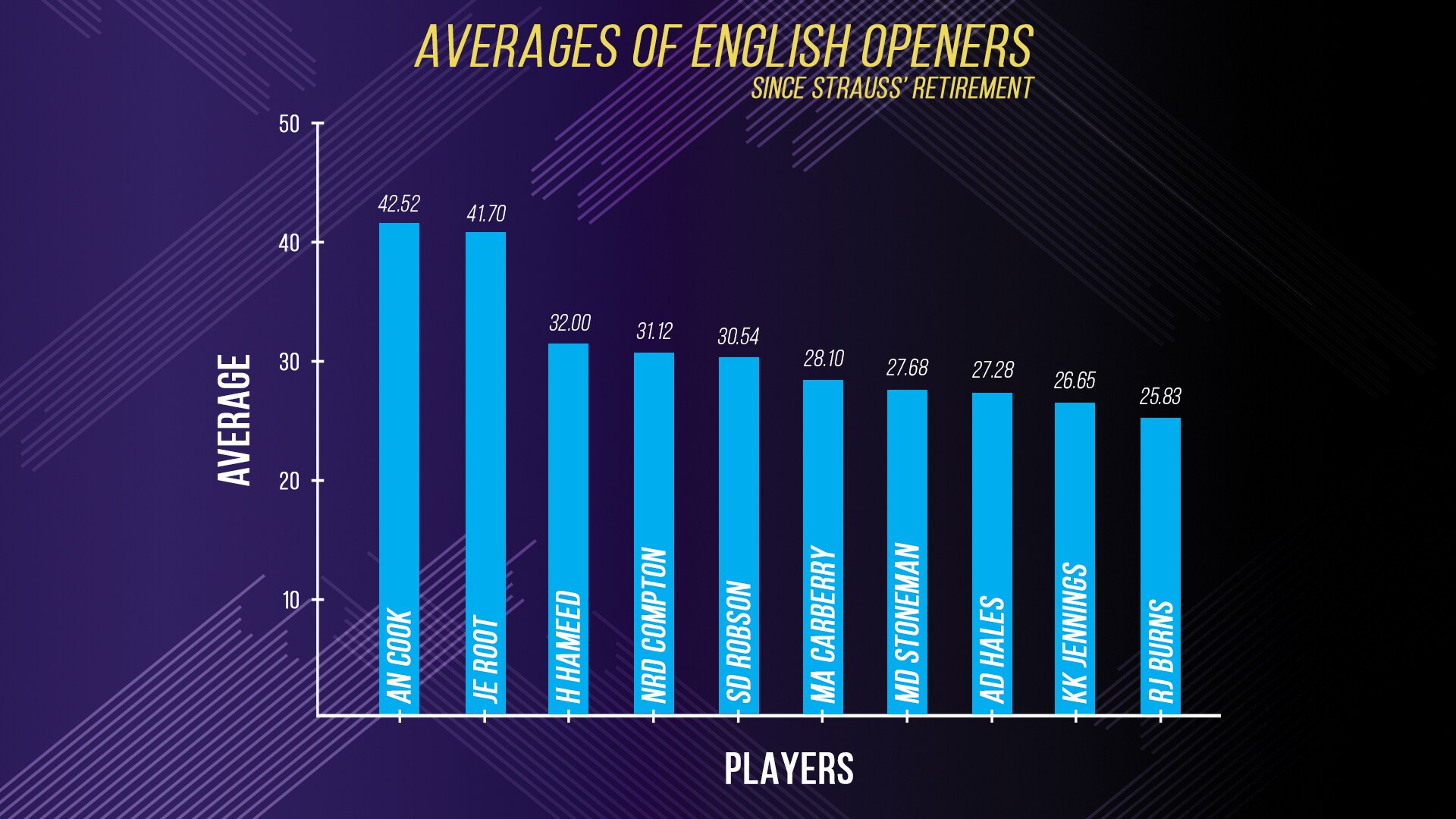 A glance at the list of openers and their averages since Strauss' retirement gives a fair idea of how poorly they have performed at the top, save for Cook who has made runs at will. That the only other opener with an average over 40 is Joe Root, a makeshift option, is an indication of England's dearth of reliable openers.

The average opening partnership for teams in this time frame also shows England languishing somewhere in the middle of the list, not really making much of an impression as top sides are expected to do.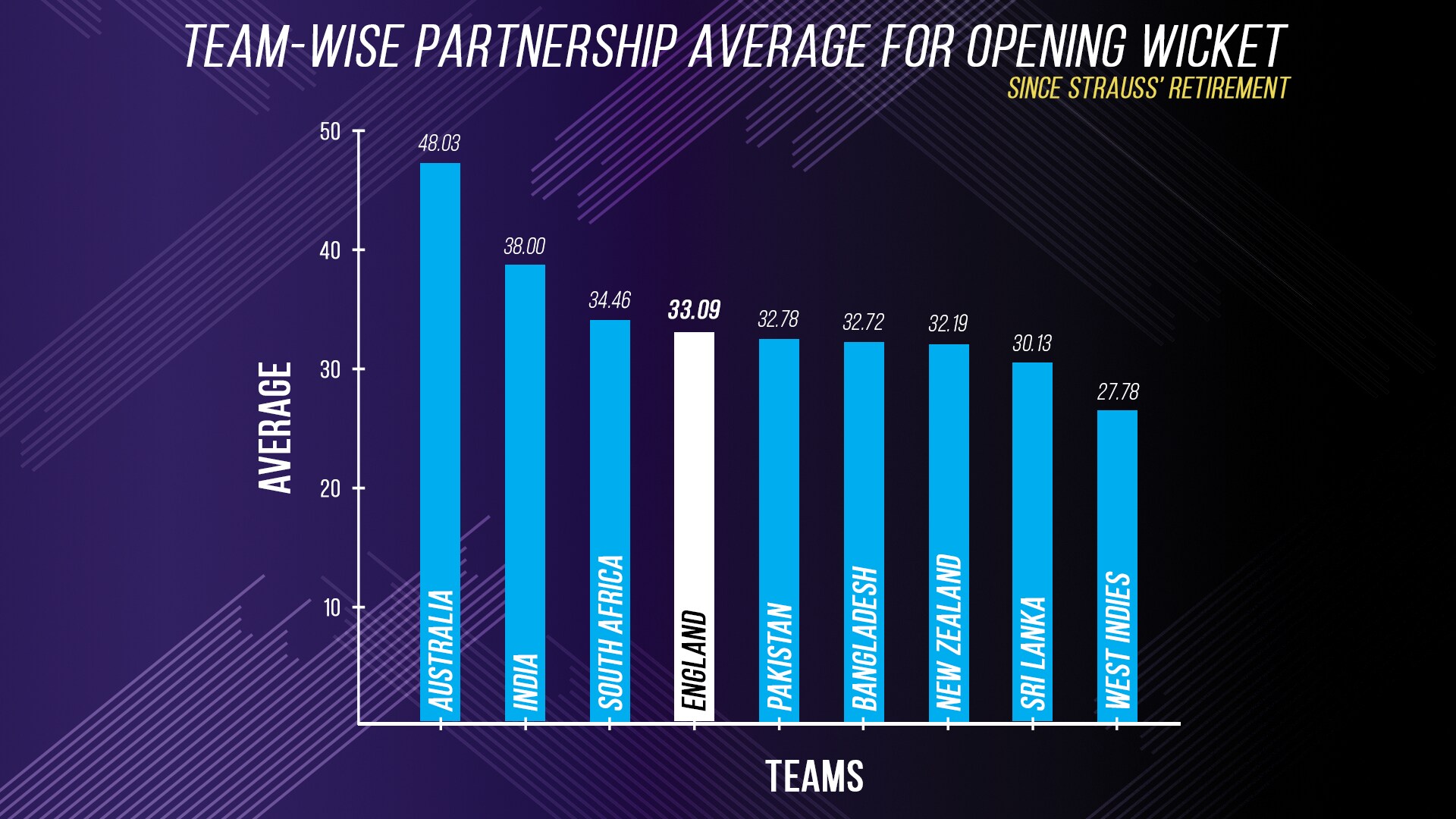 While Burns was expected to bridge some of that gap between Cook and his partners before retirement, that apparently hasn't materialized in Sri Lanka. To understand the weight of England's woes, it is opportune to check how well the openers from other nations have performed in this time frame.

A glance at teams with maximum number of opening partnerships below 20 will see England top the list with 73 such stands since Strauss retired. None of the other sides have over 65 in this period.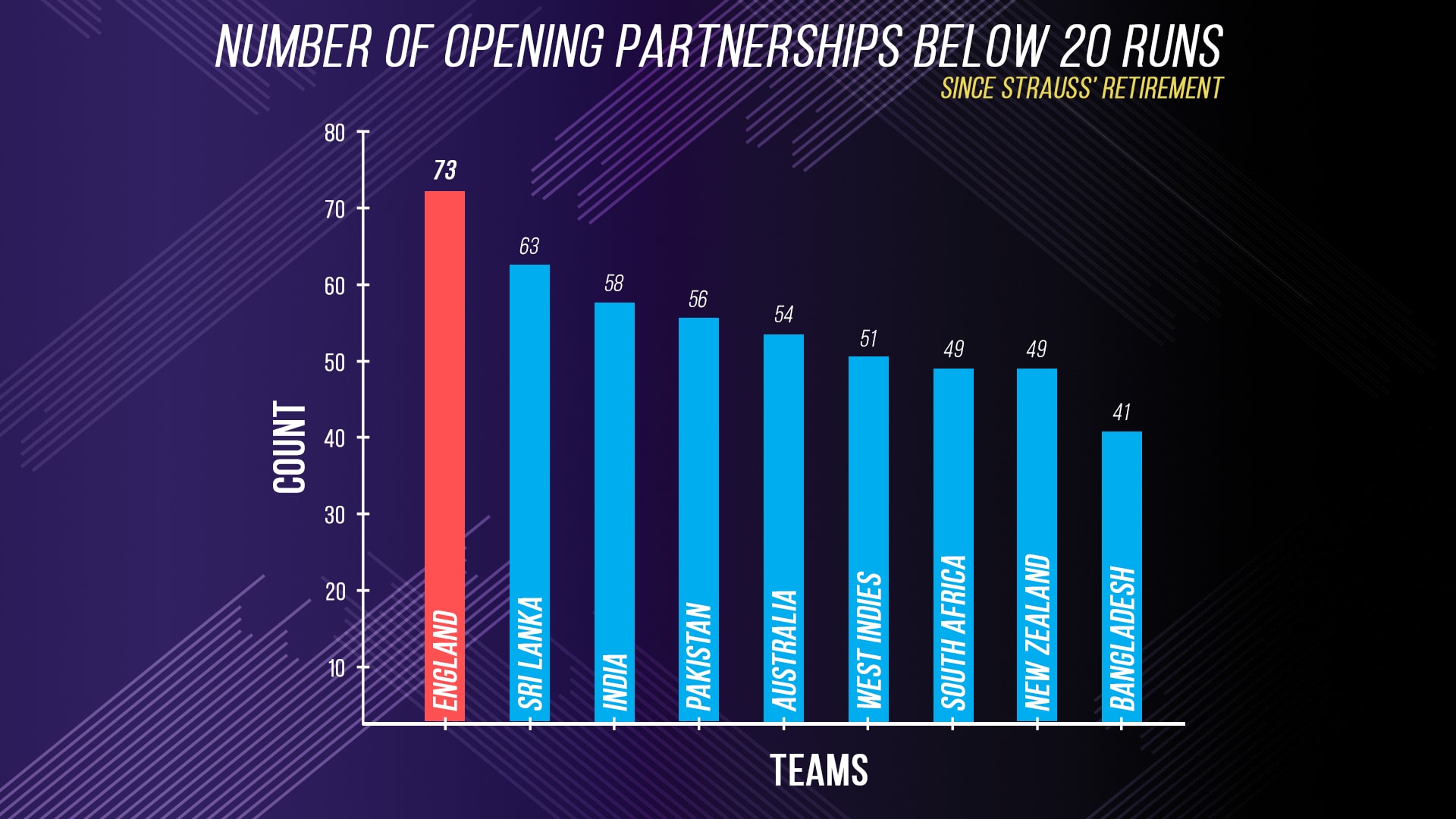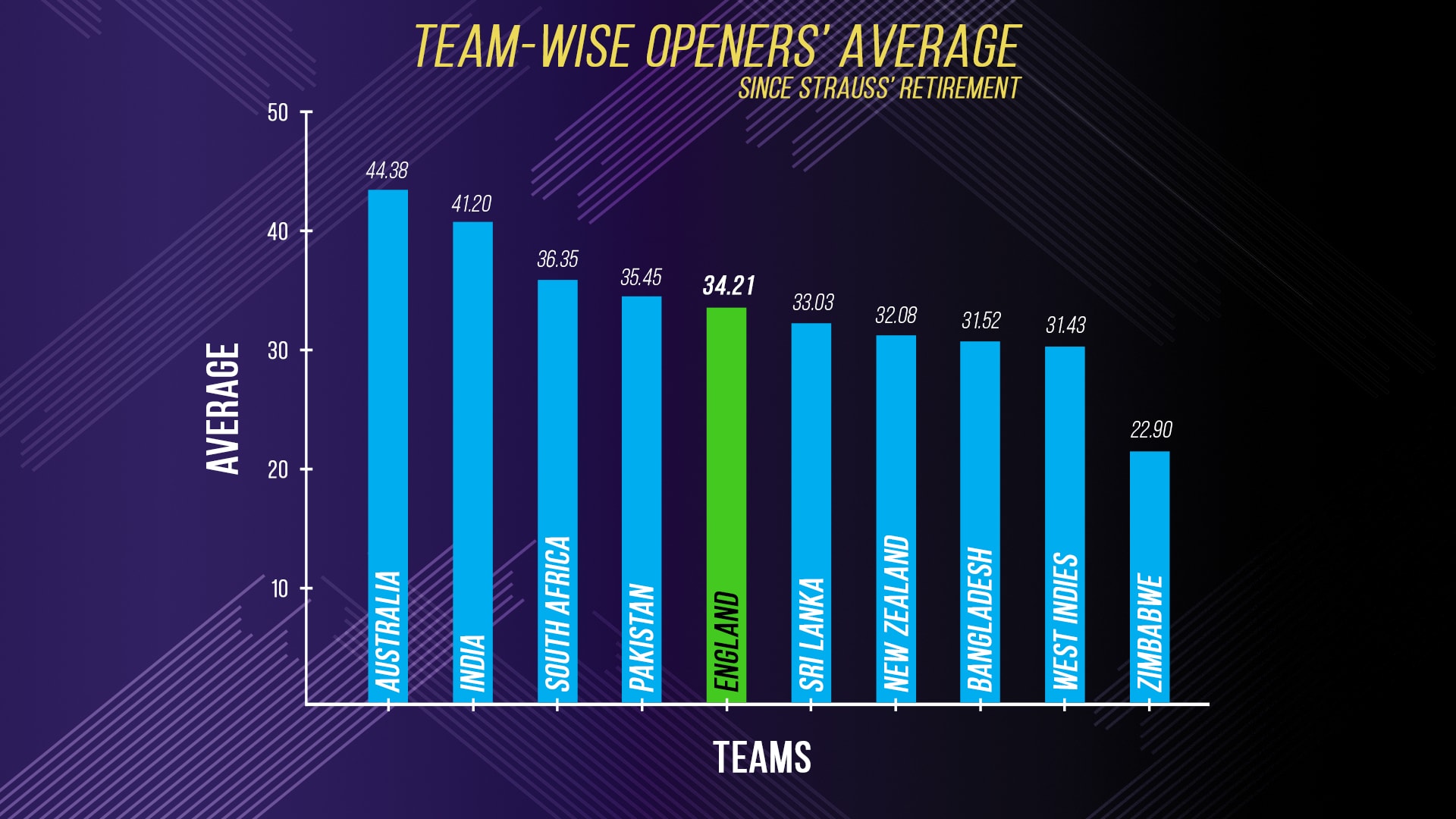 While England have a better average than Sri Lanka, New Zealand and West Indies, they come behind the best Test teams in this time period, Australia, South Africa, India and Pakistan. Much of England's average of 34.21 is attributed to the success Cook has had.

The elegant opener who recently bid goodbye to the game, pounded runs at the top, nearly making up for the absence of Strauss as well but the fact remains that there is a large gap between Cook and England's other openers since Strauss' retirement.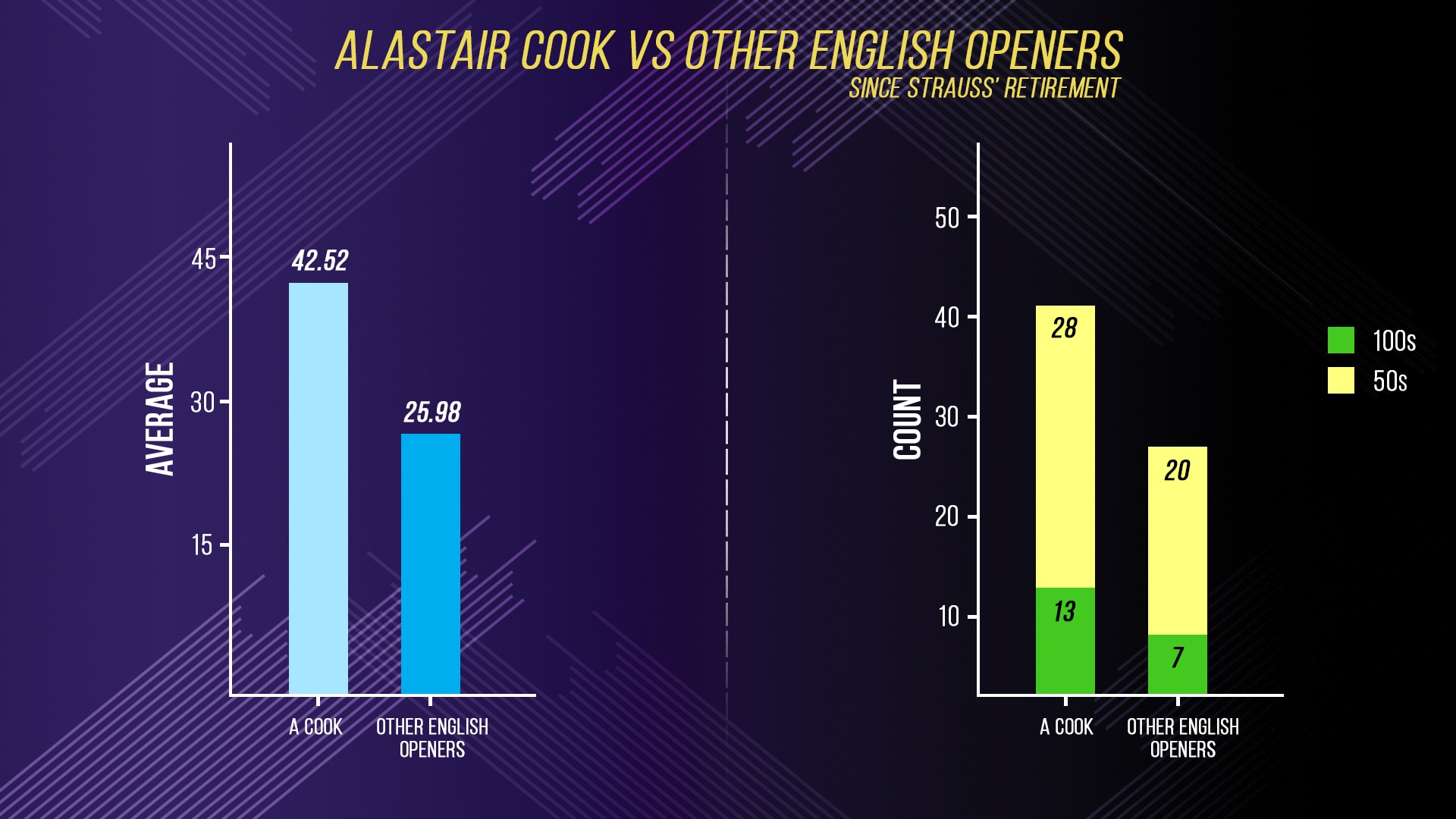 While Jennings put on a commendable show in Sri Lanka, the real woes for the English openers have been at home and outside the Asian sub-continent. In Asia, they have made runs in this time frame with Haseeb Hameed, Alastair Cook and Jennings all being fine players of spin.

Six of England's 10 century stands from openers since Strauss retired has come in the Asian sub-continent where they average 46.33.




This average, though, drops to 31.19 in England and goes below 30 in other continents. With tours of West Indies and home series' including the Ashes coming up, England have work to do in the background.

The series whitewash in Sri Lanka is one to rejoice but the woes at the top are nicely masked in this part of the world. Will the England openers stand up to the challenge or are there more debuts in the offing?

First Published: November 28, 2018, 8:54 PM IST