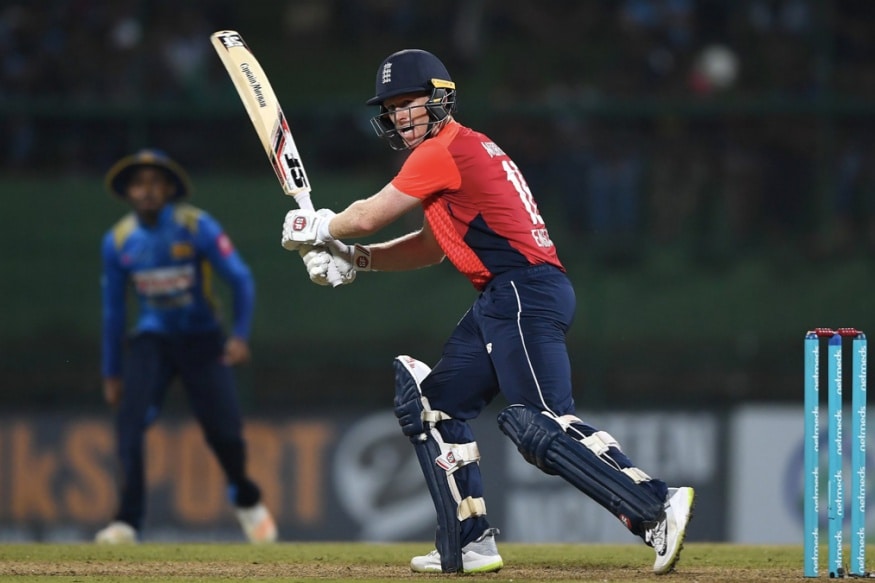 Eoin Morgan, England's ODI skipper, is often forgotten in a line-up packed with power hitters. Capable of dropping anchor as well as annihilating any bowling attack with the bat, Morgan is a solid middle-order batsman tasked with the role of rallying together a batting powerhouse that has some of the best hitters in ODI cricket.
At Grenada in the fourth ODI against the West Indies, he played the perfect second-fiddle to a rampant Jos Buttler, making 103 in 88 balls with six sixes. Buttler, though, hogged the headlines for his spectacular 77-ball 150 studded with double the number of maximums. The 204-run stand has barely been under discussion in a high-scoring thriller.
This is often the case with Morgan, whose brilliant contributions to the ODI team have often gone unnoticed. But stats don't lie, and in the period that England transformed itself into a fearsome batting unit (post the 2015 World Cup), Morgan has been their pillar in the middle-order.
For batsmen from positions 4 to 7 since the 2015 World Cup, Morgan has the second-most runs, averaging 46.08 with five centuries in this time frame. His eye-catching strike rate of 97.27 is coupled with the fact that he makes a fifty-plus score roughly every third innings, a feat matched only by Ross Taylor.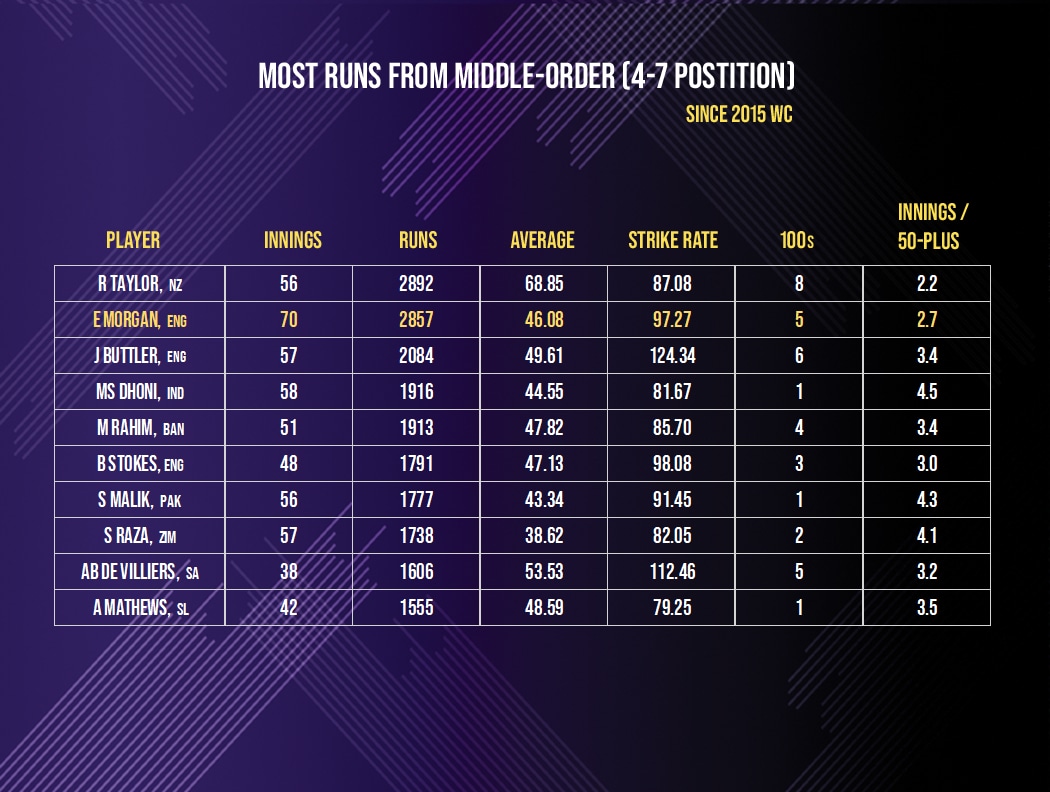 These numbers have exponentially risen in the last few months. Since the half-century against India last year in July, Morgan has made 574 runs in 9 innings at a mind-boggling average of 114.8 and a strike rate over 100.
What's even more stunning is the frequency of 50-plus scores. In seven of these nine innings, Morgan has made a score of over 50 with one converted to a ton. No batsman in this time frame has an average anywhere close to Morgan (min 100 runs).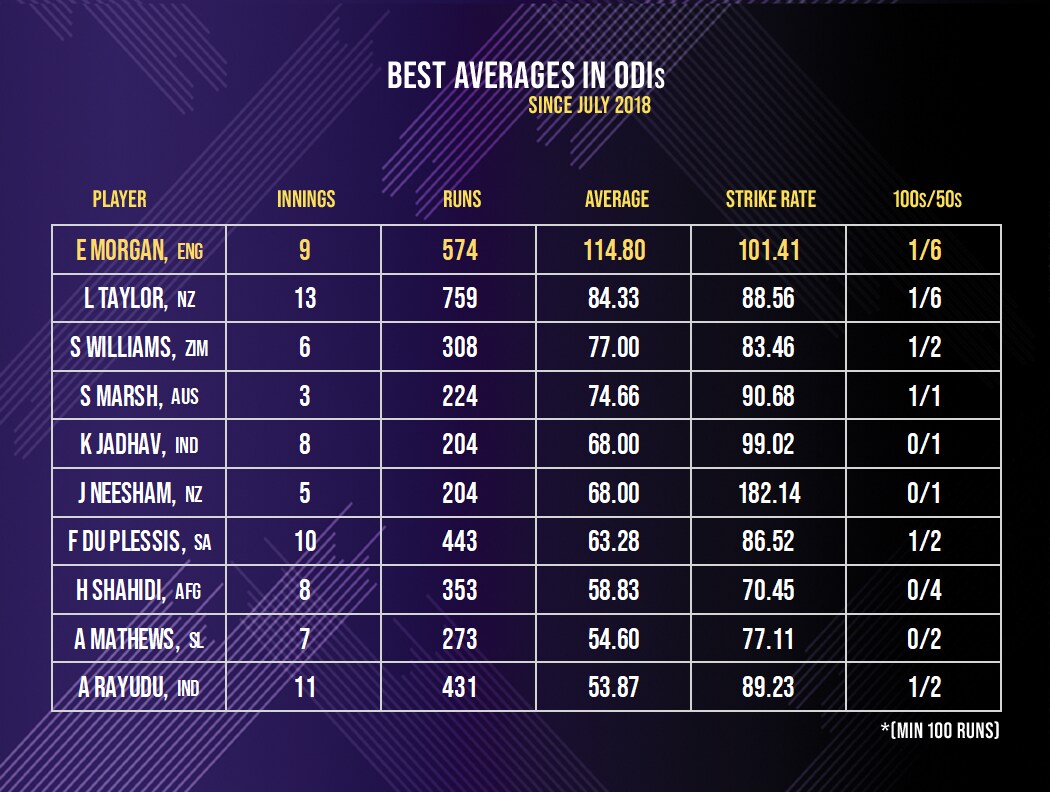 Morgan's modus operandi in the dynamic England middle-order is pretty evident. If he walks in at a time the team is struggling, Morgan is prepared to do the hard yards and score the tough runs but if all is going well, he attacks alongside the batsman at the other end. Either way, his focus is on stringing together decisive partnerships like he did with Buttler at Grenada in England's match-winning 418 run total.
Since the 2015 World Cup, Morgan has effectively combined with four batsmen in partnerships that average over 50 (min 200 runs in partnerships) with his combination with Joe Root and Ben Stokes being the ones that stand out.
With Root, he shares impeccable camaraderie and it has translated to 2074 partnership runs in 40 outings together since the World Cup at an average of 57.61 with as many as ten century stands!
With Stokes, he again has over a 1000 runs at a partnership average of 67.76. In 12 of the 20 times Morgan and Stokes have batted together since the World Cup, a 50-plus stand has evolved. He also has 50-plus partnership averages with Jos Buttler and Moeen Ali.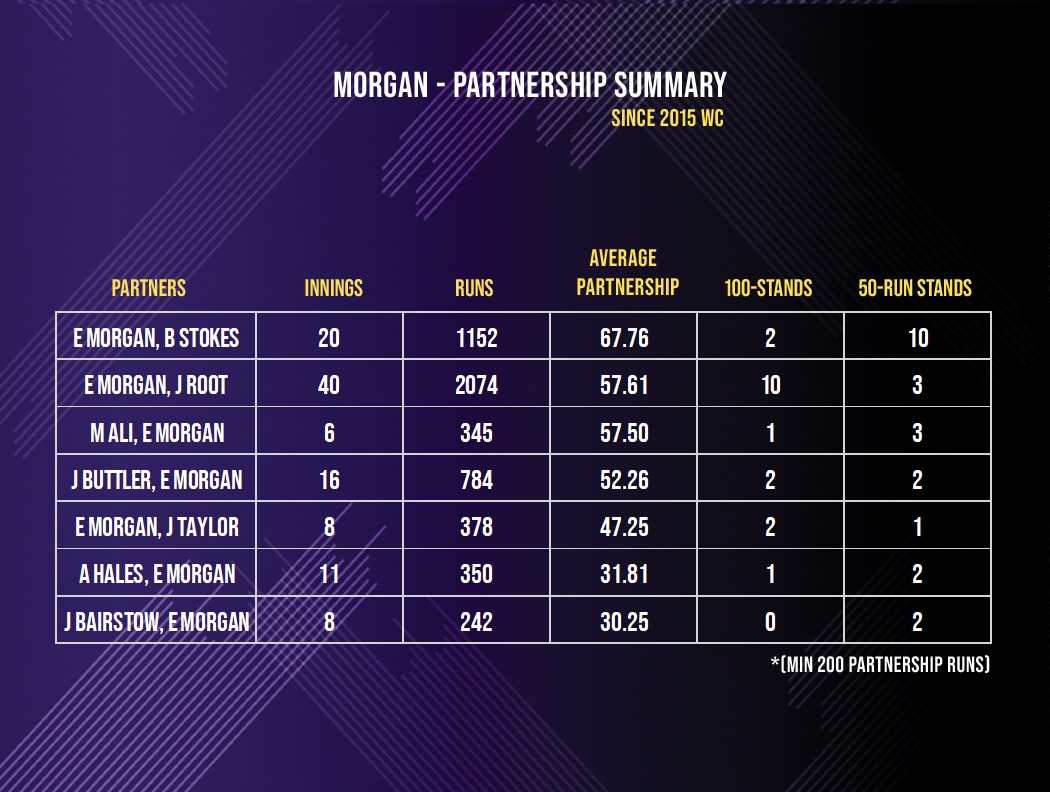 The breathtaking consistency with which he has been building crucial partnerships while scoring runs at a good pace makes him the pillar of England's modern day batting transformation. With the World Cup edging closer, England will hope Morgan's sensational form in the last few months continues in the same vein.
Last updated before the fifth ODI against Windies