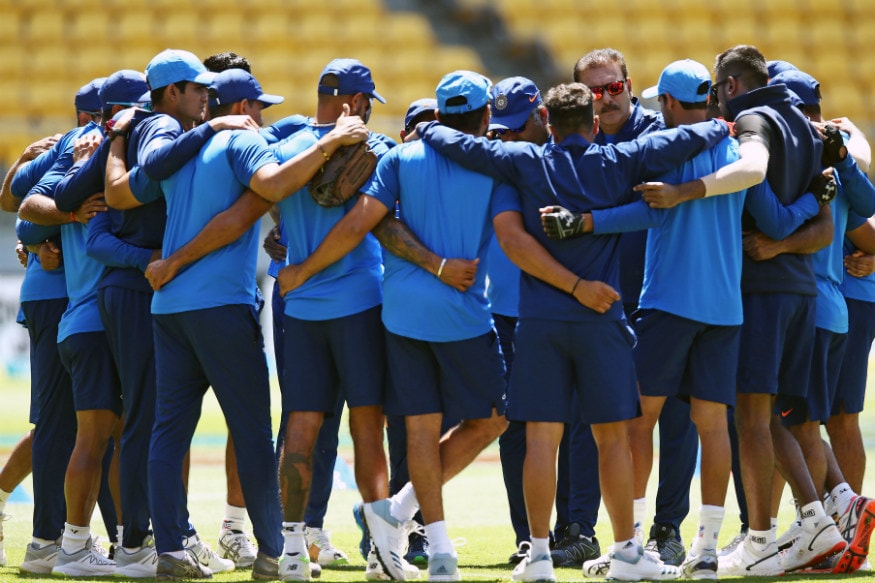 India has a great record in international T20 cricket having won 70 of the 115 matches it has played in the format. Its win-loss ratio of 1.707 is the second-highest in T20I history after Pakistan (1.8).
In terms of series played (two or more matches), India has won 12, drawn 7 and lost just 5 of the 24 they have played in the format.
They won 7 consecutive series from the home series against New Zealand in November, 2017 till the home series against West Indies ending November, 2018. These also included wins in South Africa and England.
India also has a stupendous record in the flagship tournament of T20 cricket – the World T20.
They have won 20 off the 33 matches they have played in the T20 World Cup (and lost 11). Their win-loss ratio of 1.818 is the second-best amongst all teams only marginally behind Sri Lanka (1.833).
India were victorious in the inaugural edition in South Africa in 2007, runners-up in Bangladesh in 2014 and semi-finalists at home in 2016.
They also won the Asia Cup in Dhaka in 2016 winning all their 5 matches in the competition.
India have won 26 (and lost 14) of the 42 matches they have played since the end of the World T20 in India in 2016. Their win-loss ratio of 1.857 is the second-best in this period after Pakistan (won 30 and lost 7 for a win-loss of 4.285).
India did not lose a single series between January, 2017 and November, 2018 in this period.
ROHIT'S HUNDREDS, KOHLI'S AVERAGE AND RAHUL'S DOMINANCE
Rohit Sharma and Virat Kohli have been the most prolific run scorers for India in T20I cricket.
Rohit is the highest scorer in T20I history with 2331 runs in 86 innings at an average of 32.37 and strike rate if 137.68. No one has registered more hundreds in the format than Rohit – 4.
Only two batsmen – Chris Gayle (105) and Martin Guptill (103) have hit more sixes in T20I cricket than Rohit (102).
Rohit has also been India's highest scorer in the format since the 2016 World T20. He has aggregated 1039 runs in just 33 innings at 34.63 at a phenomenal strike rate of 153.92. Three of his four hundreds have come in this period.
Kohli has the second-highest average in T20I history – 50.28 (after Babar Azam). He aggregates 2263 runs from just 62 innings and is the third-highest scorer in the format. No one has registered more fifties than Kohli's 20 in T20I cricket.
KL Rahul has the best average and strike rate product for India (and in the top 5 in the world; min. 500 runs) in T20I cricket in this period. He has scored 879 runs in just 24 innings at 43.95 at a strike rate of 149.23, including two hundreds.
He was also the second-highest scorer in the IPL 2019 (after David Warner) aggregating 593 runs from just 14 innings at an average of 53.9 and strike rate of 135.38, including a hundred and six fifties.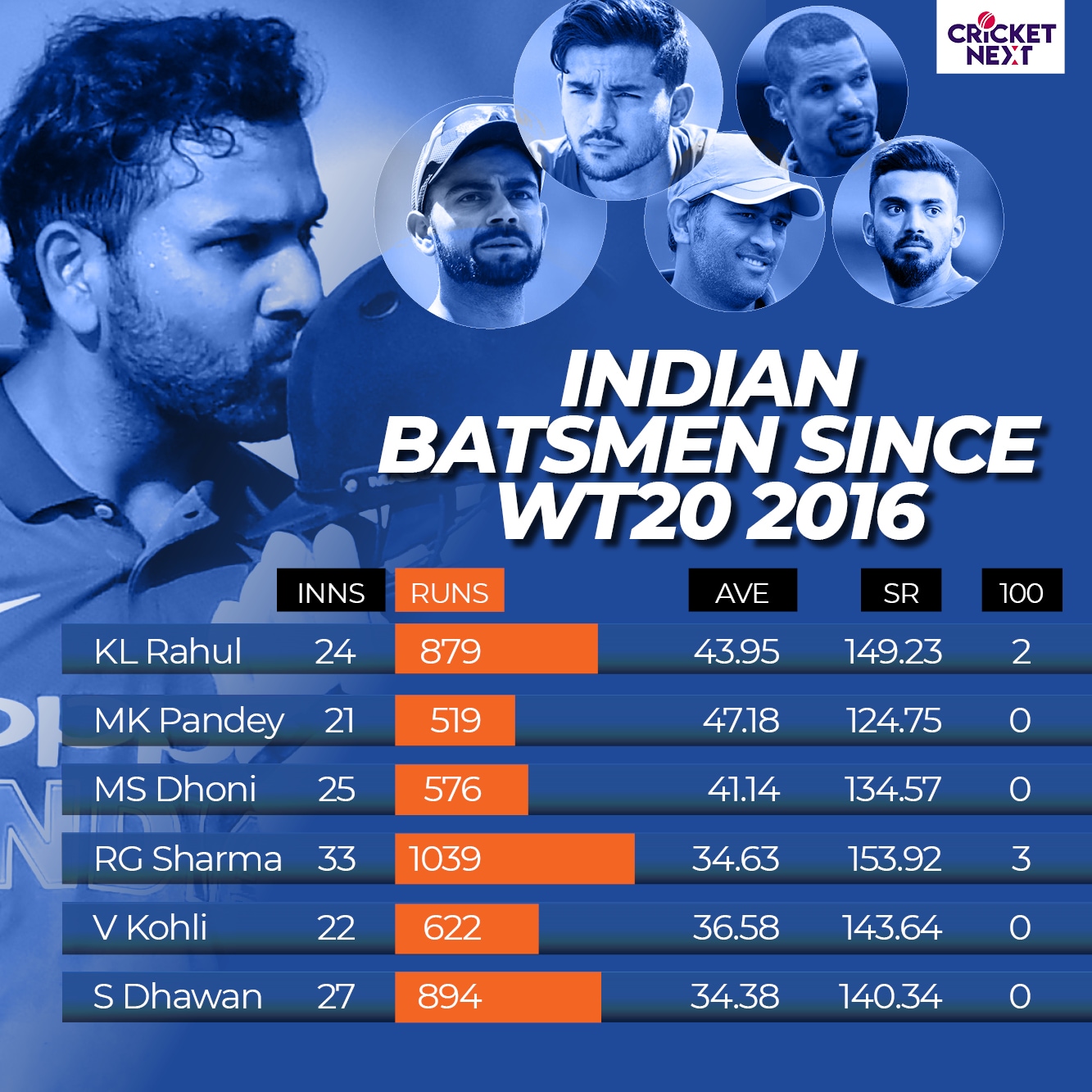 Shikhar Dhawan would be raring to go after an injury kept him out for most of the World Cup. He is the second-highest scorer amongst openers in T20I cricket (after Rohit) post the WT20 2016. He had a terrific second half in the IPL and aggregated 521 runs at 34.73 at a rate of 135.67 in the season.
Rishabh Pant will play a crucial role in the middle order and India will rely on him to provide the impetus at the death. Though he hasn't yet made a mark in T20Is, his record in T20 domestic cricket is outstanding – he has scored 2440 runs at an average of 34.36 and more crucially at an outstanding strike rate of 161.58!
He was in tremendous form in the IPL scoring 488 runs at a rate of 162.66. Pant's strike rate in the death (overs 41-50) since 2016 in T20 cricket (domestic and international) is the second-highest in world cricket at 206.46 after AB de Villiers.
THE TWO WRIST SPINNERS AND BUMRAH'S WICKET-TAKING PROWESS
Yuzvendra Chahal is the second-highest wicket-taker in the world in T20I cricket post WT20 2016. He has picked 46 wickets at 21.13 at a strike rate of 15.8 in this period.
Kuldeep Yadav did not have a great IPL but was in exceptional wicket-taking form till 2018 taking 35 wickets in 18 matches at an average of just under 13 and strike rate of 11.5 overall in this period. He was also brilliantly restrictive conceding just 6.72 runs per over.
Jasprit Bumrah spearheaded India's pace attack with 32 wickets at 19.78 apiece in this period. He has also been extremely restrictive with an exceptional economy rate, both in the powerplay (6.41) and at the death (7.97) in T20 cricket post 2016. His dot ball percentage of 35.35% at the death amongst the top 5 pacers in the world in this time-frame.
But in the absence of the BIG 3 in bowling, it would be Bhuvneshwar Kumar who would spearhead the bowling attack. Bhuvneshwar has the second-best economy rate and dot ball percentage in the powerplay in T20 cricket (domestic and international) since 2016 (after Sohail Tanvir).
Another bowler to watch out for would be CSK's Deepak Chahar. He was the third-highest wicket-taker in the IPL with 22 wickets. Like Bhuvneshwar, more than 50% of his deliveries in the powerplay since 2016 have been dot balls.
Khaleel Ahmed will add variety to the attack with his left-arm pace. He was also amongst the wickets in the IPL and picked 19 at an average of 15.1 and strike rate of just 11.