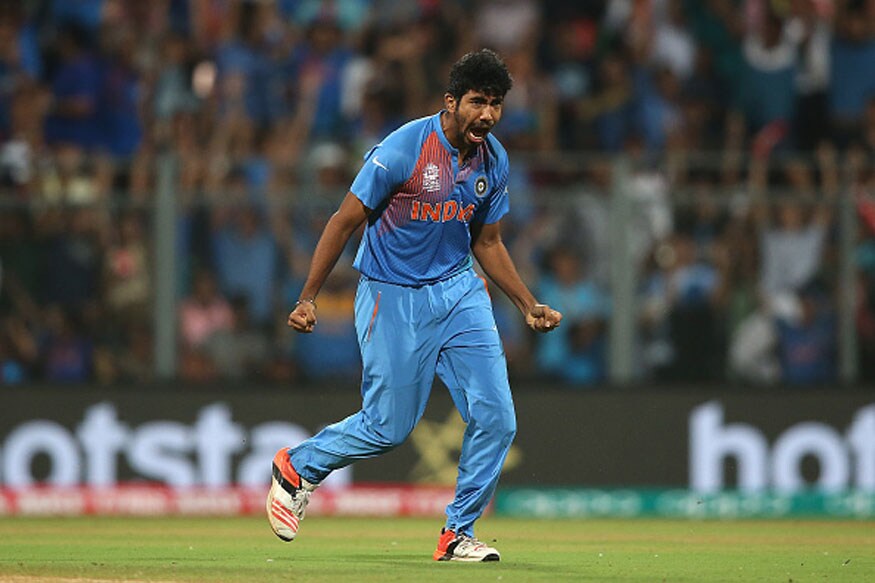 Jasprit Bumrah has been rested from the ODI leg of the Australian tour and the limited-overs tour of New Zealand that follows. It is a good move by the selectors keeping in mind the grueling schedule ahead – the IPL in March, the World Cup and the World Test Championship that follows after.
Bumrah needed a break after a rewarding but exhausting Test series Down Under where he bowled 157.1 overs – the maximum by any fast bowler. He also had a heavy work-load in 2018 where he delivered 511.3 overs across the three formats – the maximum for any fast bowler and the second only to Lyon.
There is little doubt that Bumrah's absence will make the Aussies breathe a little easier. He made his ODI debut in January, 2016 and almost immediately after became the spearhead of the Indian fast bowling attack in the format. In three years he has risen leaps and bounds and is today widely regarded as the best fast bowler in the world in limited-overs cricket.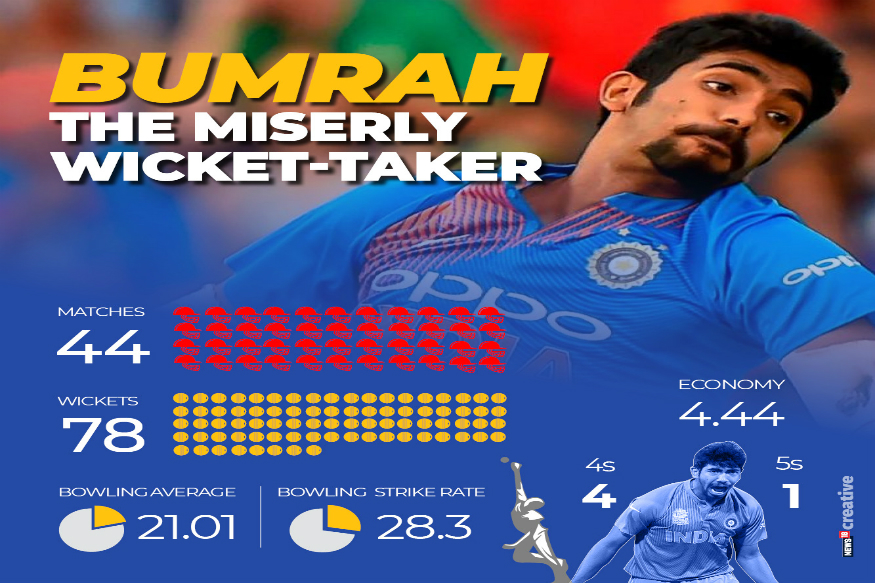 Bumrah's ability to pick wickets and be restrictive at the same time, both with the new ball and at the death – where he bowls yorkers at will – makes him stand out amongst his contemporaries.
So what has Bumrah achieved in ODI cricket which makes him so special? What are the numbers that stand out? Why is he so crucial to India's chances at the World Cup? Let us dig deeper.
Bumrah – The Miserly Wicket-Taker
Bumrah has picked 78 wickets in 44 matches at an average of 21.01 since his debut (January 23, 2016). Only Trent Boult has picked more – 80 but at 27.18 apiece.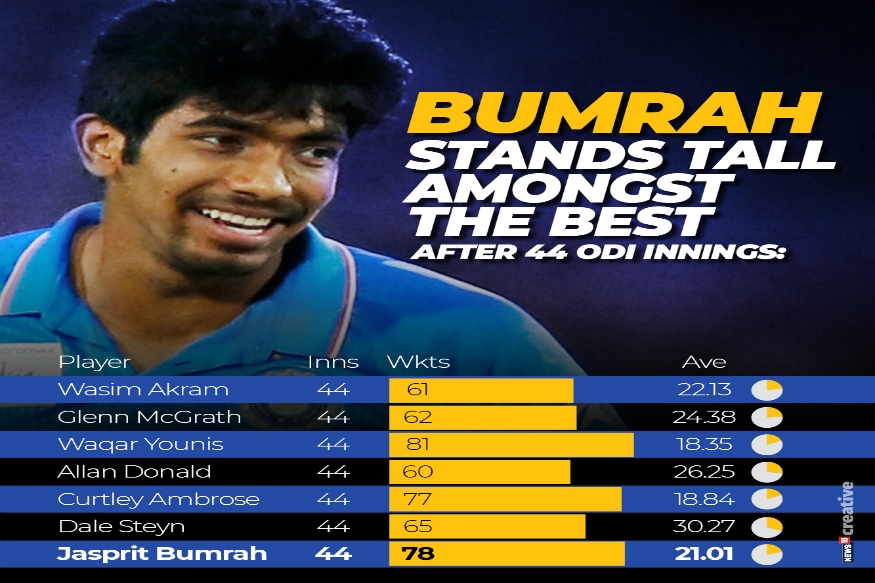 In fact, Bumrah has the best bowling average amongst all pace bowlers who aggregate a minimum of 30 wickets in this time-period.
His strike rate of 28.3 is the fifth-best in this period (amongst all major ODI teams) after Hasan Ali (26.4), Plunkett (27.1), Ferguson (27.6) and Perera (28.2).
Only Plunkett and Rabada have taken four in an innings on more occasions (5) as compared to Bumrah (4).
If we consider a product of bowling average and strike rate (and divide it by 100), it is Bumrah (5.95) who emerges right at the top. He is followed by Hasan Ali (6.18), Starc (6.97), Plunkett (7.15) and Ferguson (7.22).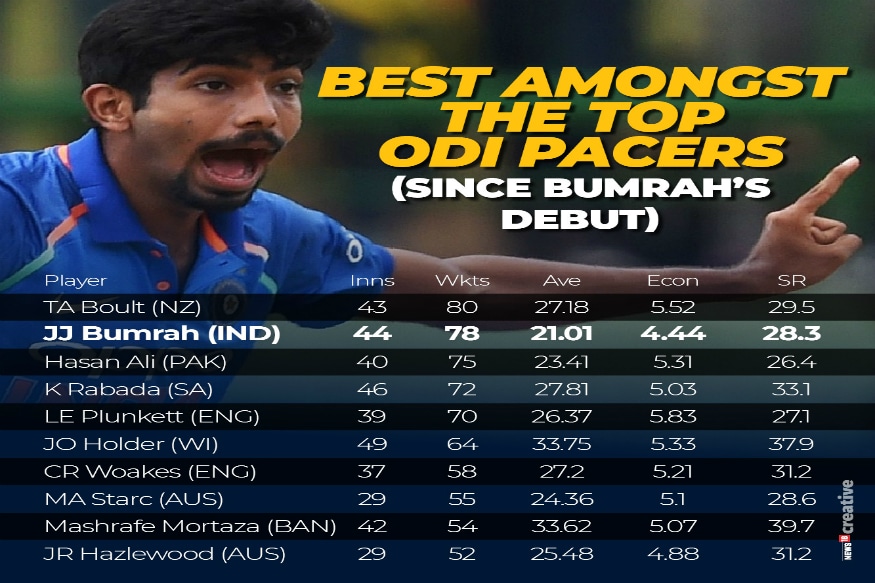 Not only is Bumrah a consistent wicket-taker, he is also highly restrictive. His economy rate of 4.44 makes him the most restrictive pace bowler in ODI cricket (amongst all major ODI teams) since his debut. Bumrah bowls a maiden, on an average, every 14.17 overs. Only Mohammad Amir has a better frequency in this time-period (every 13.86 overs).
Crucial to India's success
Bumrah has an excellent record in all countries except England where he played 5 Champions Trophy matches in 2017. Even here, though he did not get a lot of wickets, he was very economical, conceding just 5 runs per over.
He made his debut in the final ODI against Australia in Sydney in 2016. Since then, India has not lost a single bilateral series/tournamentBumrah has been part of. In fact, the only series they lost – to England in 2018 – Bumrah sat out due to injury.
Bumrah was the highest/joint-highest wicket taker for India in 4 of the 9 bilateral series he has played in his career.
He has taken 67 wickets in 36 matches India has won. He averages 18.98 and strikes at a wicket every 26.7 balls in such matches. He also concedes at a rate of just 4.25 when India is victorious.
India has won 24 of the 26 ODIs when Bumrah has picked at least 2 wickets in the match. It has also won 25 of the 29 matches when Bumrah has conceded less than 40 runs in the match.
This summarizes how crucial Bumrah has been to India's success in ODI cricket in the last three years.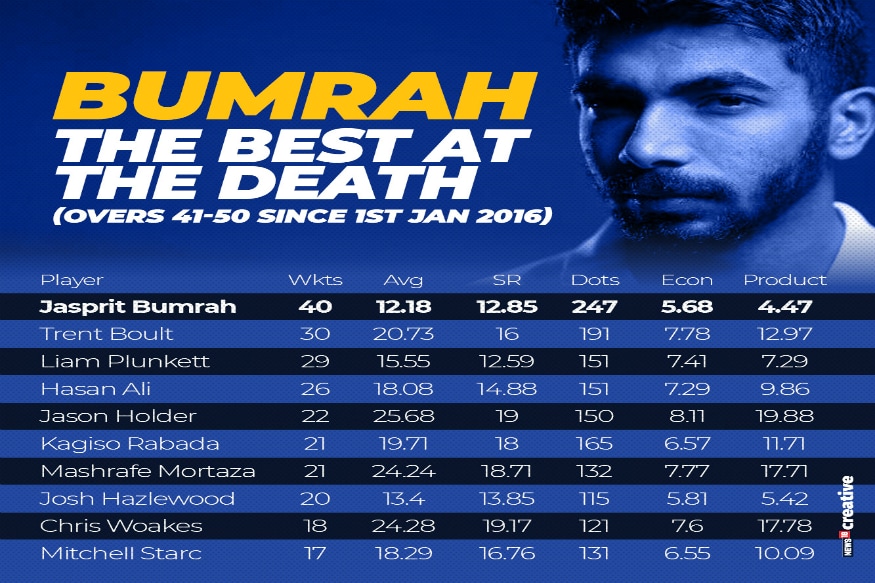 Excellent with New ball and at the Death
Bumrah has picked 22 wickets at 27.23 apiece in the first 10 overs of the opposition innings since his debut. Amongst the ten-highest wicket-takers (since 1st January, 2016), only Boult (25.67) and Woakes (20.76) have a better bowling average in the first 10 overs than Bumrah.
But what stands out is Bumrah's phenomenal economy in the mandatory first powerplay – of just 4.13. It is the best amongst this list.
He has bowled 604 dot-balls between overs 1-10 in 44 matches. This means he bowls, on an average, 13.73 dot-balls in the first powerplay in every match – that is phenomenal!
Bumrah not only continues to be restrictive at the death but also improves his wicket-taking prowess against the lower-middle order and tail. Between overs 41-50, Bumrah has picked 40 wickets at an astonishing average of 12.18 and strike rate of 12.85. This is due to his ability to bowl yorkers consistently in this period.
His ability to run through the opposition lower-order is also well evidenced from his proportion of lower-middle order wickets (number 6-11) – at 56.41% the highest amongst this list.
He is again the most restrictive in this period conceding just 5.68 runs per over. Not surprisingly, he has bowled 247 dot-balls between overs 41-50 (the second-highest, Boult, has bowled 56 fewer). This means, on an average, Bumrah bowls 6.18 dot-balls in every match at the death.
If we consider the Product of bowling average, strike rate and economy (and divide it by 100), then again, it is Bumrah, who comes atop, and by a fair margin – he is that good at the death.
Bumrah picked 22 wickets at 16.63 apiece in 13 innings in 2018. Amongst all pace bowlers who took a minimum of 8 wickets in the calendar year (only major ODI teams), his average was second-best only after Steyn (11.83). His economy of 3.62 in the year was the third-lowest after Steyn (3.34) and Chameera (3.51).
He has tasted similar success in T20Is and Test cricket too. In fact, with 78 wickets, he was the leading wicket-taker across formats amongst all bowlers in world cricket in 2018.
No surprise really that India want to protect their most prized asset.