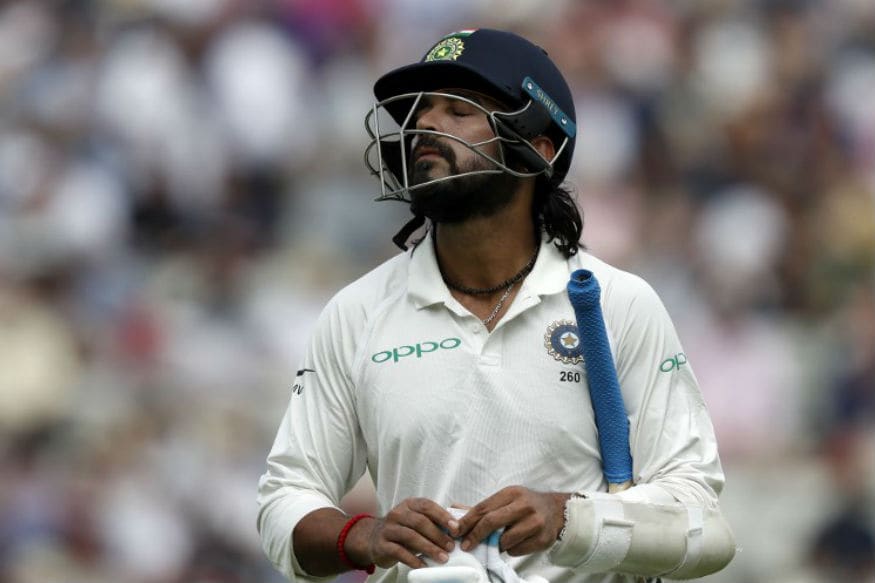 India's loss to England in the first Test at Edgbaston has laid bare the glaring deficiencies that currently exist within the Indian batting line-up. Barring captain Virat Kohli, no Indian batsman crossed the score of 50 at Edgbaston, with the next highest to Kohli's scores of 149 and 51 being 31 by Hardik Pandya in the second innings.
Opener Murali Vijay could only manage scores of 20 and 6. While he was India's highest scorer on the team's last Test tour to England, he has since not been able to replicate his home form in away series. Vijay's batting average is 28.71% worse and 14 runs lower when India play away, as compared to his average at home. He has five ducks in his career, four of which have come away from home.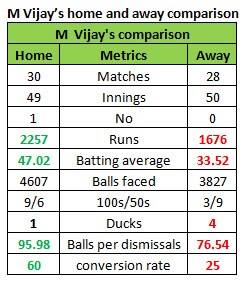 Vijay's balls per dismissal is also 19 balls worse when he plays away from home, and India would need much better performances from him at the top of the order if the team was to make a comeback in the Test series.
Even more worrying is the form of Ajinkya Rahane at No. 5, who was dismissed for scores of 15 and 2 in the match. Statistically, he is in the toughest phase of his Test career, averaging only 16.80 in 2018 so far - a far cry from 2016 when he averaged 54.41.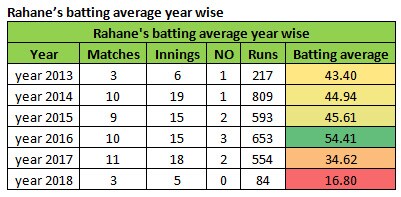 Rahane's low average in 2018 is not just a function of him having played only three Tests in 2018. His last 10 Test innings show that he has not registered even one half century, making just 101 runs at an average of 10.1.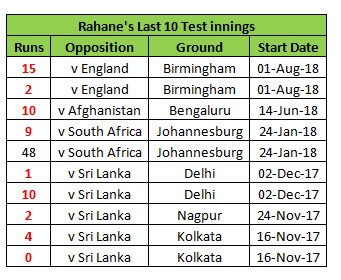 And finally, Vijay's opening partner Shikhar Dhawan too has flattered to deceive in the Edgbaston Test with scores of 26 and 13. Of all the opponents he has faced in his career, he averages the worst against England (20.12), scoring 161 runs in 4 Tests. Those are certainly not encouraging numbers for the Tests to follow, with his balls per dismissal rate also being the lowest against England of all the opponents he has faced in his career so far (35.13).

As India looks to turn the Test series around, the trio of Vijay, Dhawan and Rahane would do well to turn their batting form around too. Because if such performances continue, the Indian selectors well might contemplate giving a chance to young batsmen waiting in the wings.