England opener Alastair Cook's fortunes have gone from bad to worse in the ongoing series against India as he was dismissed for 12 in the second innings of Southampton Test on Saturday, after scoring 17 in the first essay. This is not the first time he has failed in the series. In fact, his highest score remains 29 in the ongoing series that came in the last Test at Trent Bridge.
With over 12,000 runs to his name, Cook is one of the greats of the modern game. However, his recent form has been woeful. For the first time since 2008, Cook has been unable to score a ton in the first 9 Tests of a calendar year. He did not score any century in 2014 as well, a year in which he played only 8 Tests.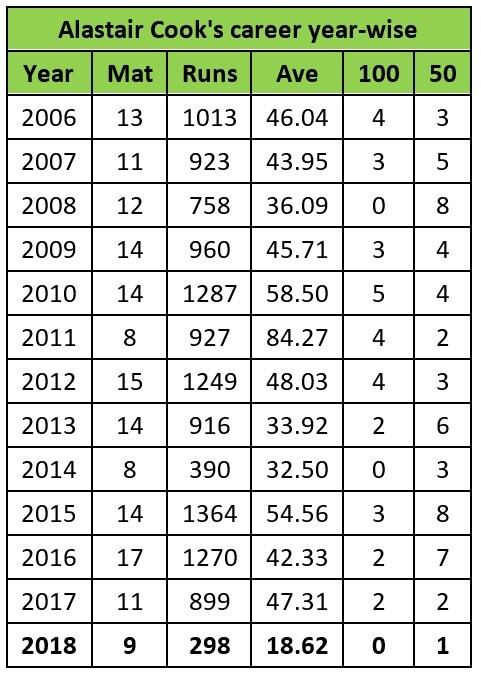 The Southpaw's Test average is now 44.88 — lowest since August 2010. In 2018 his average has dropped to a paltry 18.62 — 3rd lowest among openers in 2018 with 5 Tests at least.

This is the first series which included three or more matches where Alastair Cook has not scored a single fifty-plus score. England have gone on to lose two out of the previous three series where Cook could not score a single fifty-plus score.

Since 2017, Cook has been part of 6 Test series and averaged above 40 in only two of them. What is even more disappointing is that his average of 15.57 is the 2nd worst of his career in any series. In fact, this is the first instance of Cook not scoring a single fifty in a three or more match series.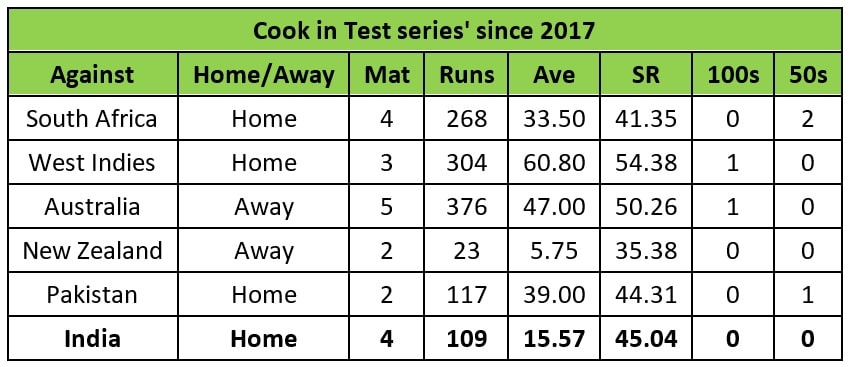 His lack of runs in the last few series' has hurt England's cause and it remains to be seen how long it is before the selectors run out of patience.