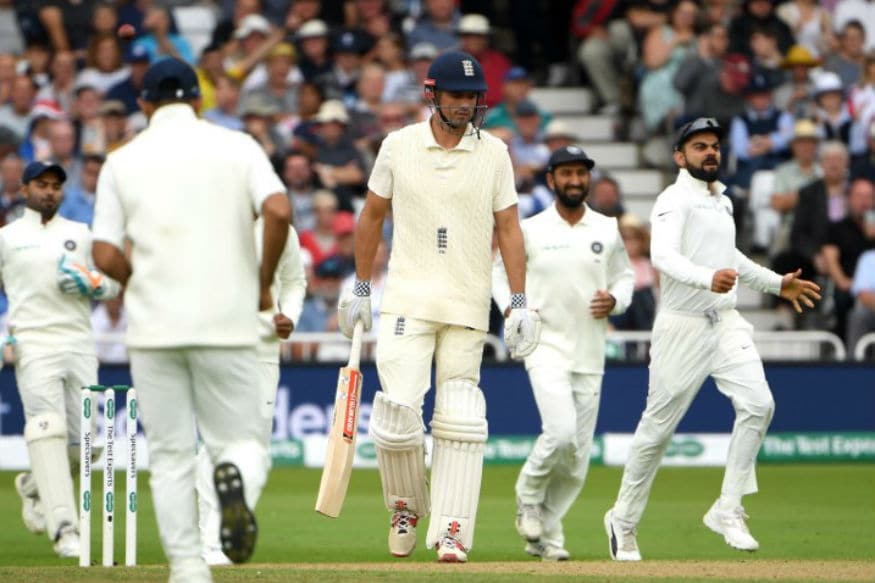 Alastair Cook's horrid run with the bat continued in the third Test against India at Trent Bridge. Arguably England's most prolific opener, Cook could only manage scores of 29 and 17 in the ongoing Test. In the past Ishant Sharma has managed to trouble the southpaw with his pace and bounce, and to no one's surprise, yet again it was the lanky pacer who accounted for Cook's wicket in both the innings of this match.
Cook has now fallen to Ishant 11 times. Only former South African pacer Morne Morkel, with 12 dismissals, has removed him more number of times. In this series, Cook was dismissed by R Ashwin in both the innings of the first Test, and since then it's been Ishant who has been doing the job. The pacer has managed to get that hint of outswing from round the wicket and that has led to Cook's downfall on all three occasions.

Cook's struggle has not been restricted to any bowler or opposition, but has been out of sorts since the start of the year. Out of the eight Tests he has played in 2018, the 33-year-old has scored 269 runs at a mediocre average of 19.21. With just one half-century under his belt, this has been Cook's worst year in terms of performance since his debut in 2006. Since January 2017, Cook has scored 1168 runs in 19 matches - which includes two double centuries. If we remove those two knocks, he has only managed 681 runs in 32 innings at an average of 21.28 in the last two years.
It has been all or nothing for him in the last 12 months. He smashed a brilliant 243 against West Indies at Edgbaston in August 2017 and then could only muster 144 runs in his next 10 innings before scoring a majestic unbeaten 244 against Australia at Melbourne in December 2017.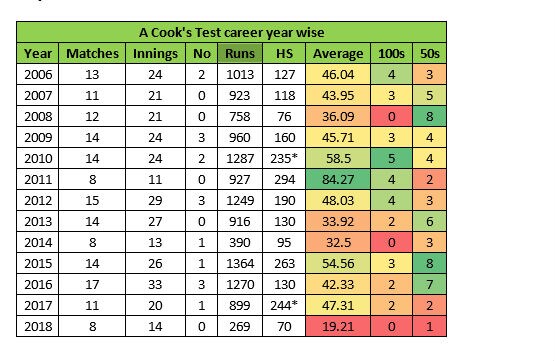 Cook has been England's batting mainstay in the red-ball format for over a decade now. In 2011, his average balls per dismissal was 166.82. Even last year it was close to 100. However, if we turn to page 2018, it has dropped down to 42.93.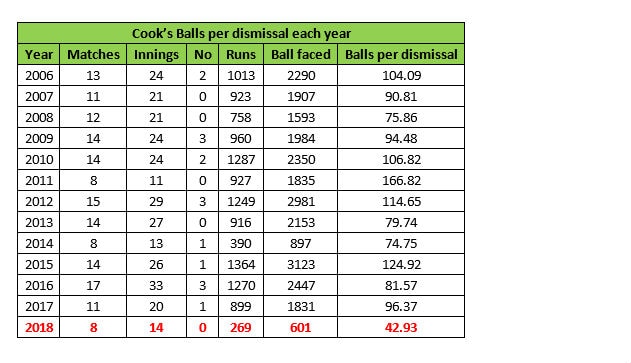 His batting average of 19.21 as an opener this year is the second worst among openers who have played minimum five matches.

Since January 2016, Cook has hit only four tons and 10 fifties and has a conversion rate of 28.57, which is the joint third worst by an opener who have scored minimum 1000 Test runs.

Cook still averages 45.11 in 159 Tests, but in the last two years, has only been able to match it twice in the six series that he has played.