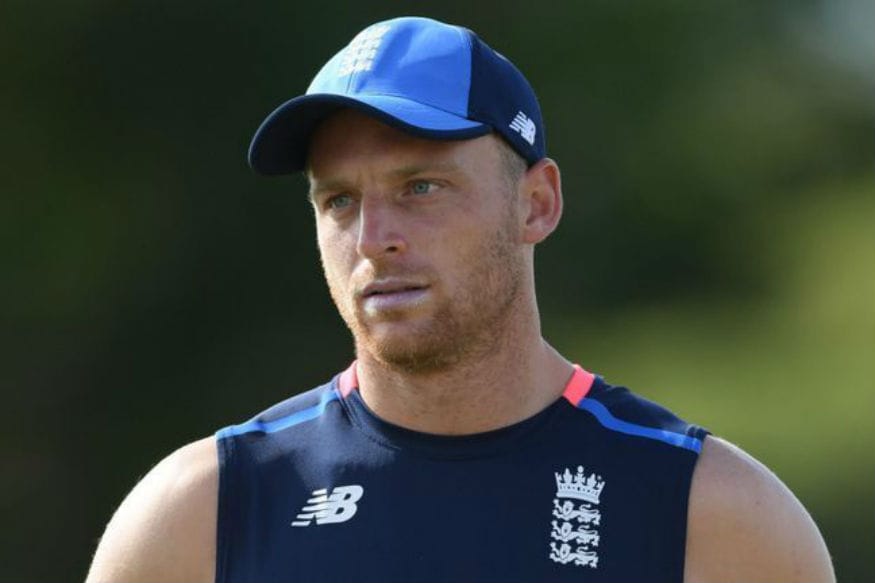 Jos Buttler produced the highest score of his ODI career – 150 off just 77 deliveries – helping England to a mammoth 418 for 6 - their third-highest score in history – a total which proved to be too much for the West Indies who despite a valiant effort fell short by 30 runs, in the fourth ODI at Grenada on Wednesday.
Buttler's innings, which included 13 fours and 12 sixes (strike rate of 194.80) was the second-fastest triple-digit score by an English batsman in ODI history. Not surprisingly, the fastest was also recorded by Buttler – against Pakistan in Dubai in 2015 (116 in 52 balls at a strike rate of 223.07).
THE SECOND-HIGHEST STRIKE RATE IN ODI HISTORY
Buttler has scored 3364 ODI runs in 104 innings at an average of 41.02 and strike rate of 119.03. His exploits include 7 hundreds and 18 fifties.
His average (min. 1000 runs) places him at Number 5 in England's ODI history after Joe Root (51.40), Jonathan Trott (51.25), Jonny Bairstow (46.82) and Kevin Pietersen (41.32).
But here is the remarkable fact. His strike rate of 119.03 is not only the highest for England, it is the second-highest for any batsman (after Glenn Maxwell, 121.64) in ODI cricket history (min. 1000 runs).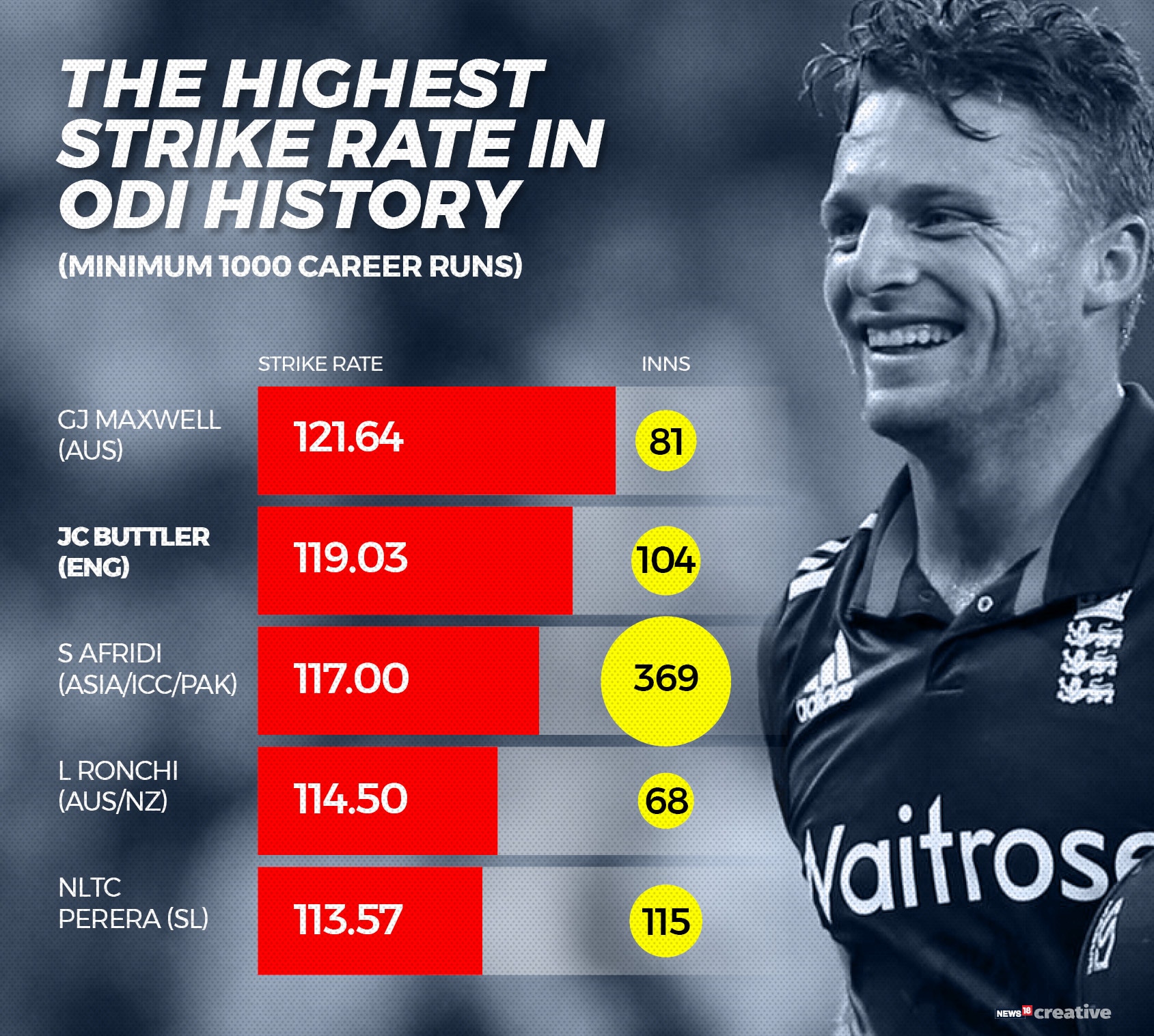 There is a wide gulf between him and the second-best for England, Jason Roy (strike rate of 105.51) on this count – a difference of almost 14 runs per 100 balls – couple with this his average and this signifies what a dangerous lower-order batsman Buttler has been for his country.
Buttler is one amongst the only four batsmen who with an aggregate of a minimum of 1000 career runs and an average of at least 40 have a strike rate in excess of 100. The other three are Kedar Jadhav, Bairstow and AB de Villiers.
For a minimum of 1000 runs, Buttler's average and strike product (average*strike rate/100) of 48.83 is the second-best for England only after Jonny Bairstow (49.17).
In fact, for a minimum of 3000 runs and average of 35, it is the third-highest in ODI history. That is a startling statistic!
This dual ability to score big and at a rapid pace makes Buttler one of the most dangerous batsmen in contemporary world cricket.
A PHENOMENAL NUMBER 6
Though Buttler produced the magnificent 150 against West Indies from Number 5, he has batted at Number 6 (57 innings) and Number 7 (29 innings) for a majority of his career.
Only 4 batsmen in ODI history – Michael Bevan, Michael Hussey, MS Dhoni and Russel Arnold average more than Buttler (38.27) from Number 6 and 7 (combined; min. runs 1000 and innings 50). Only Shahid Afridi (130.63) and Thisara Perera (121.93) have a higher strike rate than Buttler (113.25) - though with averages less than 25.
There are 20 batsmen who average above 30 (min. 50 innings and 1000 runs) from Number 6 and 7 in their careers. Buttler's strike rate of 113.25 is the highest amongst them. He also has the maximum number of hundreds (4) on this list.
Since 2015, Buttler is the only Number 6 who has scored a minimum of 250 runs, averaged above 35 and has a strike rate of above 80 in three different years (2015, 2016 and 2018). In fact, Buttler's strike rate was above 100 in all these three years.
No other Number 6 has achieved the feat even twice.
SCINTILLATING FORM SINCE 2015
Buttler has been in exceptional form since 2015. He has aggregated 2362 runs in 66 innings at an average of 47.24 and strike rate of 120.26 in this period. Six of his seven hundreds have also come during this time-frame.
Except 2017, where he scored 288 runs at an average of 28.80, he has been in menacing form in the other years.
Amongst the 37 batsmen who scored in excess of 1000 runs at a minimum average of 40 in this period, Buttler had the second-highest strike rate behind AB de Villiers (120.82).
His average-strike rate product is the highest amongst all English batsmen in this period.
43 of his 66 innings have come from the Number 6 position from where he has scored 1429 runs at an average of 44.65 and strike rate of 115.52 during this time-frame. He has an even better record in the top-middle order and has made most of the limited opportunities he has got to bat at Number 4 and 5. He has scored 329 runs in 8 innings at an average of 54.83 and strike rate of 163.68 from Number 4 and 351 runs in 7 innings at 70.20 at a rate of 133.96 from Number 5.
CONTRIBUTION TO ENGLAND WINS
England have the best win-loss ratio (2.409; played 81, won 53, lost 22) amongst all teams since the 2015 World Cup. They are currently the number one ranked ODI team in the world.
Buttler has been one of the stars of this magnificent run by England in ODI cricket – arguably their best in history.
He has the highest win average (average in victorious matches) – an incredible 75.40 – amongst all English batsmen in this period. This is also the fifth-highest win average in the world in the period after Kohli (98.39), Ross Taylor (91.81), Babar Azam (84.94) and Tamim Iqbal (84.52).
Just for perspective the win-average for Rohit Sharma is 73.91, David Warner (72.71) and Martin Guptill (72.18).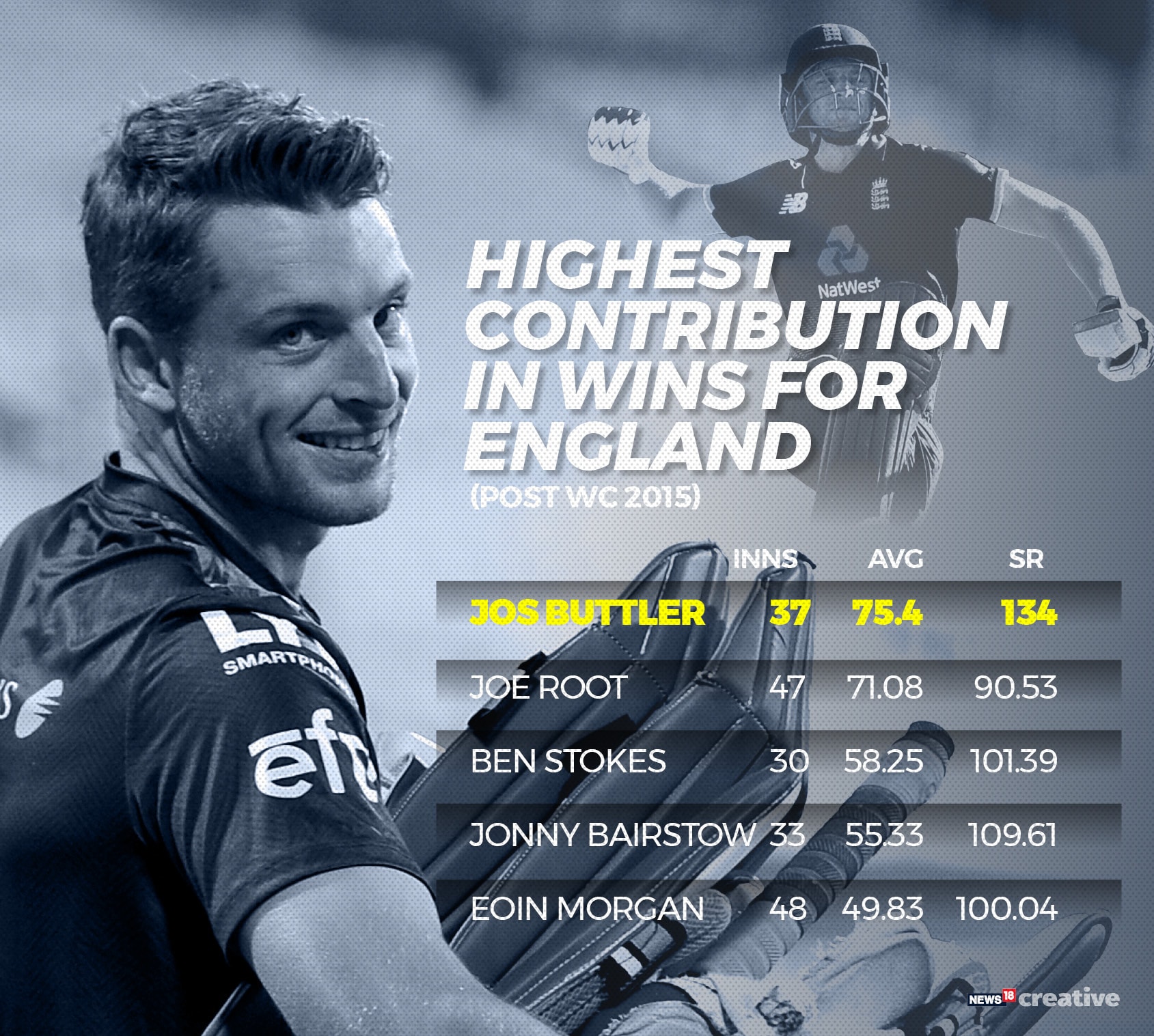 Buttler has not only scored big runs but also scored them at a breathtaking rate – his strike rate of 134 is the highest in the world in victorious matches. There is a difference of almost 10 between him and the second-best on this count – AB de Villiers (strike rate of 124.41). They are followed by Roy (110.03), Bairstow (109.61) and Warner (104.87).
If we combine the average and strike rate, it is Buttler who comes out on top. This basically means that Buttler made a more significant contribution to England's wins in this period than Kohli or Rohit for India or Guptill and Taylor for New Zealand or de Villiers for South Africa or Azam for Pakistan or Warner for Australia.
What stands out is the fact that all of the above mentioned are top-middle order batsmen who get more opportunities to build their innings and score big runs. Buttler is the only one amongst them who has batted in the lower-order for a majority of his innings – where the number of overs are limited and often partnerships have to be forged with the tail - and yet comes out on top – and this this is a phenomenal achievement.
Buttler scored 40 or more in 22 innings in this period. England went on to win 17 of these matches. That is 77.27% of the times he has scored 40 or more it has resulted in a win for his country – that is a very high success percentage.
In as many as 15 of these 17 innings his strike rate was in excess of 120 – a testimony of his exceptional hitting prowess and dominance.
129 of 77 deliveries against New Zealand in Birmingham and 116 of 52 against Pakistan in Dubai in 2015, 105 in 76 against South Africa in Bloemfontein and 90 off 51 deliveries against Pakistan in Nottingham in 2016, 54 off 29 deliveries against Australia at Chester-le-Street in 2018 and of course 150 off 77 deliveries against West Indies at St George's are some of his finest innings in this time-frame.
England has scored in excess of 350 on 13 occasions in this period – the maximum by any team – and Buttler has been the main aggressor in the lower order accelerating the team to colossal totals and tormenting attacks with his dazzling stroke-play.
Buttler has been in even more devastating form at home since the 2015 World Cup – he has scored 1008 runs in just 25 innings at an average of 63 and strike rate of 120.28 in England in this time-frame.
Quite clearly, Jos Buttler will play a pivotal role in the middle order when in three months' time and is one of the main reasons England start as favourites for a first ever World Cup victory.
Last updates before the fifth ODI against Windies