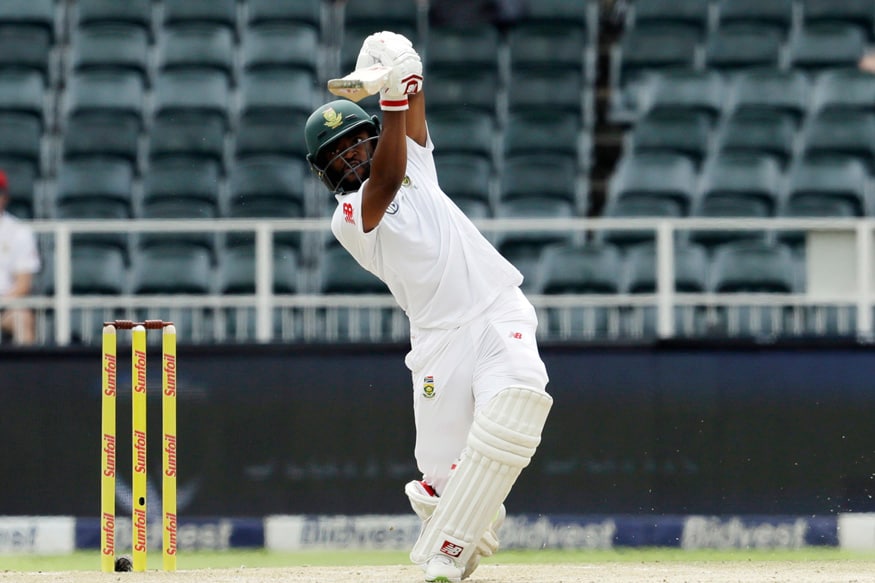 Temba Bavuma has been an underrated player for South Africa in recent times. At Durban in the first innings, when Sri Lanka's inexperienced pace attack reduced the Proteas to 17/3 by the 8th over, Bavuma (pushed up to number 4) remained composed and diligent at the wicket.
The wicket had moisture and the ball was moving around for the Sri Lankan seamers which meant batting was by no means easy. The hosts needed someone to absorb the pressure and play the sheet anchor role. Bavuma was up to the task. The middle-order batsman is a fabulous fire-fighter for the Proteas in Test cricket.
While he is known for his camaraderie with Quinton de Kock from no.6 and the useful partnerships the duo stitch together to guard the tail from the bowlers, Bavuma has been more consistent than the wicket-keeper batsman and has often staked claims for a place higher up the batting order.
The issue, though, is evident when you see his Durban knock in the first innings. On 47 off 66 balls, the tough conditions conquered and the bowlers slowly losing their sting, Bavuma was unlucky to be run out at the non striker's end, backing up to the striker. It was clearly an unfortunate dismissal, but when you don't need those quick singles in Test cricket, it is debatable as to what he was doing wandering out of the crease.
Bavuma has almost been finding ways to get out once he gets starts. Of the 18 forty-plus scores he has in Test cricket since 2016, just one has been converted to a hundred. In this time frame, this is the lowest conversion rate for any batsman who has a minimum of 1500 runs in Test cricket.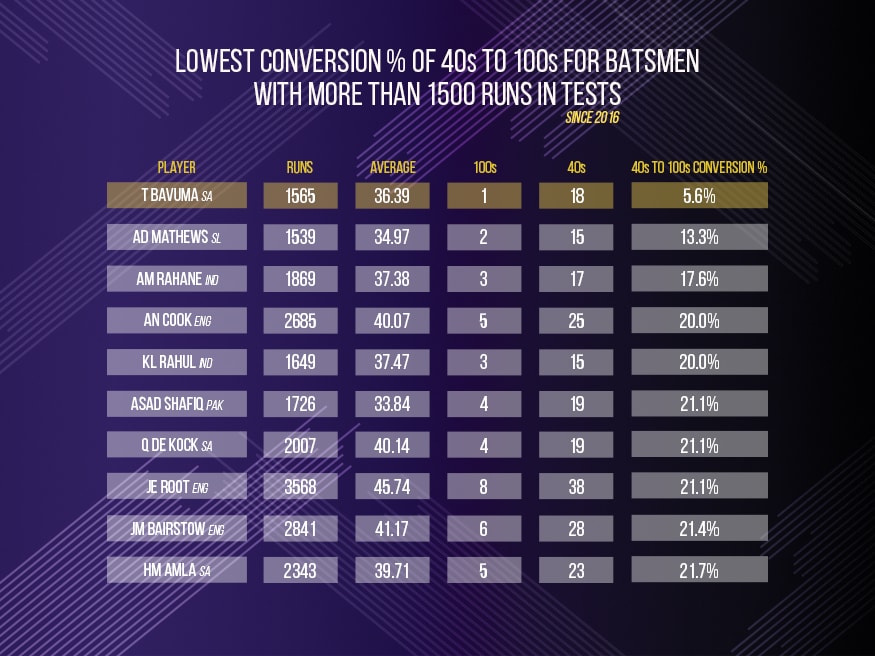 Now, why is there such a high cut off?
The 1500-run mark in a little over three years at an average of 36.39 tells you that Bavuma hasn't been poor by any stretch of one's imagination. In fact, he has 18 forty-plus scores which in itself is a testimony to his character and consistency.
Since 2018, where South Africa's batsmen, including the experienced Hashim Amla and Faf du Plessis, have faltered on the tough bowling wickets at home and an even tougher tour of Sri Lanka, Bavuma is South Africa's best batsman (in terms of average) after the incomparable AB de Villiers who retired mid-way through the year.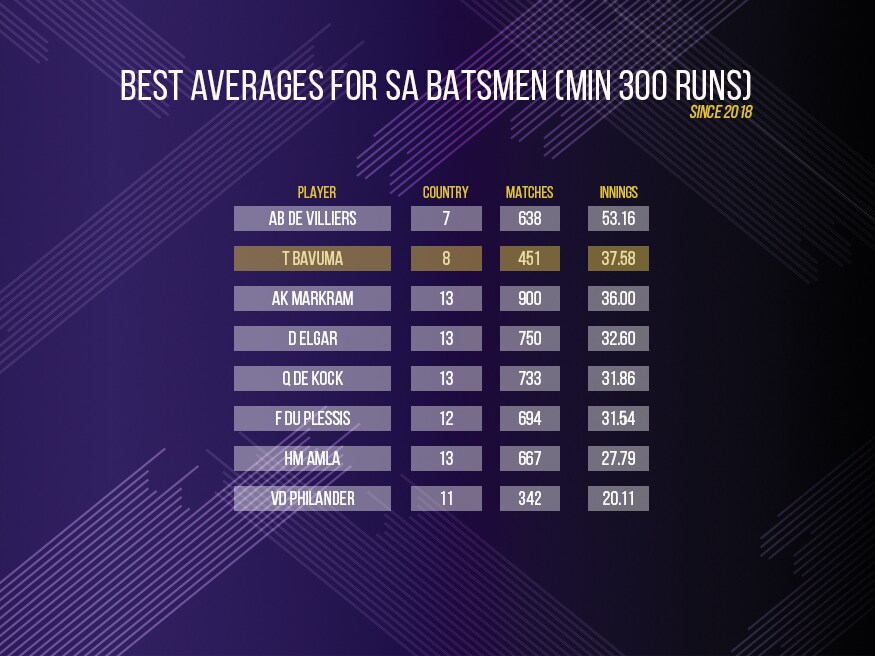 So Bavuma has been among the runs and has pushed himself to not follow his teammates in a collapse. He is more often than not trusted to lift the team from an abyss but that's all he has been doing. Once a batsman gets past the thirty-forty run mark in Test cricket, especially in tough batting conditions, he is expected to make it count and produce a big knock.
Instead, Bavuma has been consistently falling short. Not once, not twice, but seventeen times. Only one of those scores have resulted in a hundred.
With AB de Villiers happily retired and playing T20 cricket, Hashim Amla on his last legs, Faf du Plessis going through a poor time period and Quinton de Kock not converting his talent to runs, South Africa are in search of a middle-order batsman who can hold an innings together. By all means, Bavuma has it in him. But the 40s he has been making will not be enough to warrant a permanent place in that top-order. The challenge for him is to show he can convert at least 20-25% of those knocks into bigger ones which change the balance of the game.