Mohammad Hafeez scored 3644 runs for Pakistan in 55 Tests (104 innings) at an average of 37.95. He registered 10 hundreds and 12 fifties in his career. His highest score of 224 came against Bangladesh in Khulna in 2015. In addition, he also picked 53 wickets in 76 bowling innings at an average of 34.05 and strike rate of 76.6. He had two four-wicket hauls in his Test career.
– He averaged 37.15 at home (7 Tests) while his average away was 31.74 (26 Tests). His average in neutral venues (UAE) was the best – 46.36 (in 22 Tests).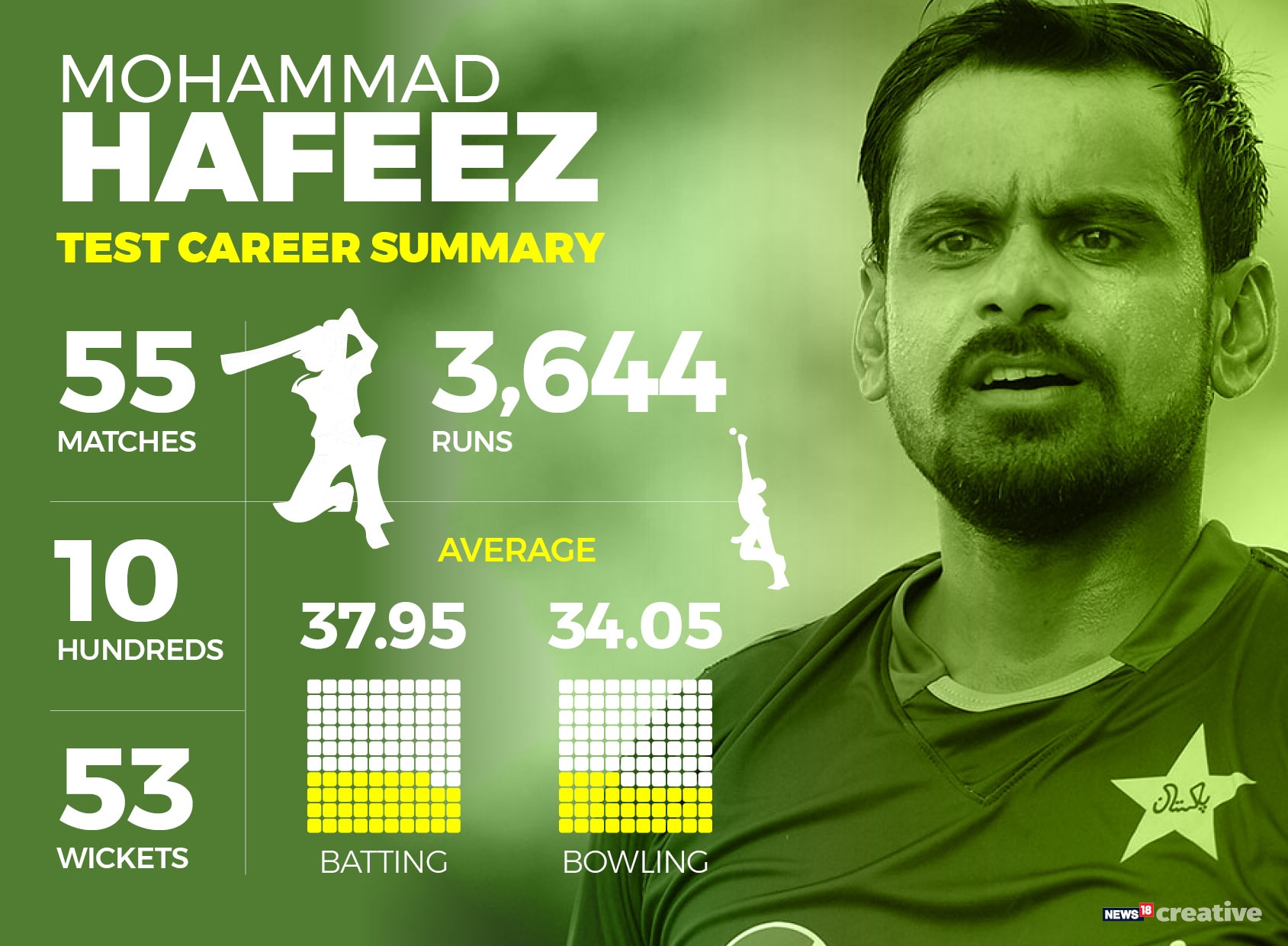 – He had a great record in Asia but a poor one outside the continent. His average in Asia (in 38 Tests) was 46.89. He scored 3001 runs in the continent, i.e, 82.35% of his career runs. Nine of his ten hundreds came in Asia. Only five openers averaged higher than him in Asia during his career (August 2003 to December 2018) – Dhawan, Sehwag, Cook, Smith and Vijay.
– Hafeez the batsman peaked in two periods for Pakistan. Between September 2011 (Zimbabwe tour) to July 2012 (Sri Lanka tour), Hafeez, with 1064 runs in 12 Tests, was the third-highest run-getter in the world in Test cricket after Sangakkara and Clarke. His batting average of 53.20 was among the ten highest in this time-frame. He also scored his runs at a brisk rate of 60.14 and registered three hundreds in this period.
– Among openers, his average (min. 300 runs) was the highest during this period. It was higher than the likes of Graeme Smith, Warner, Strauss, Cook and Sehwag among others.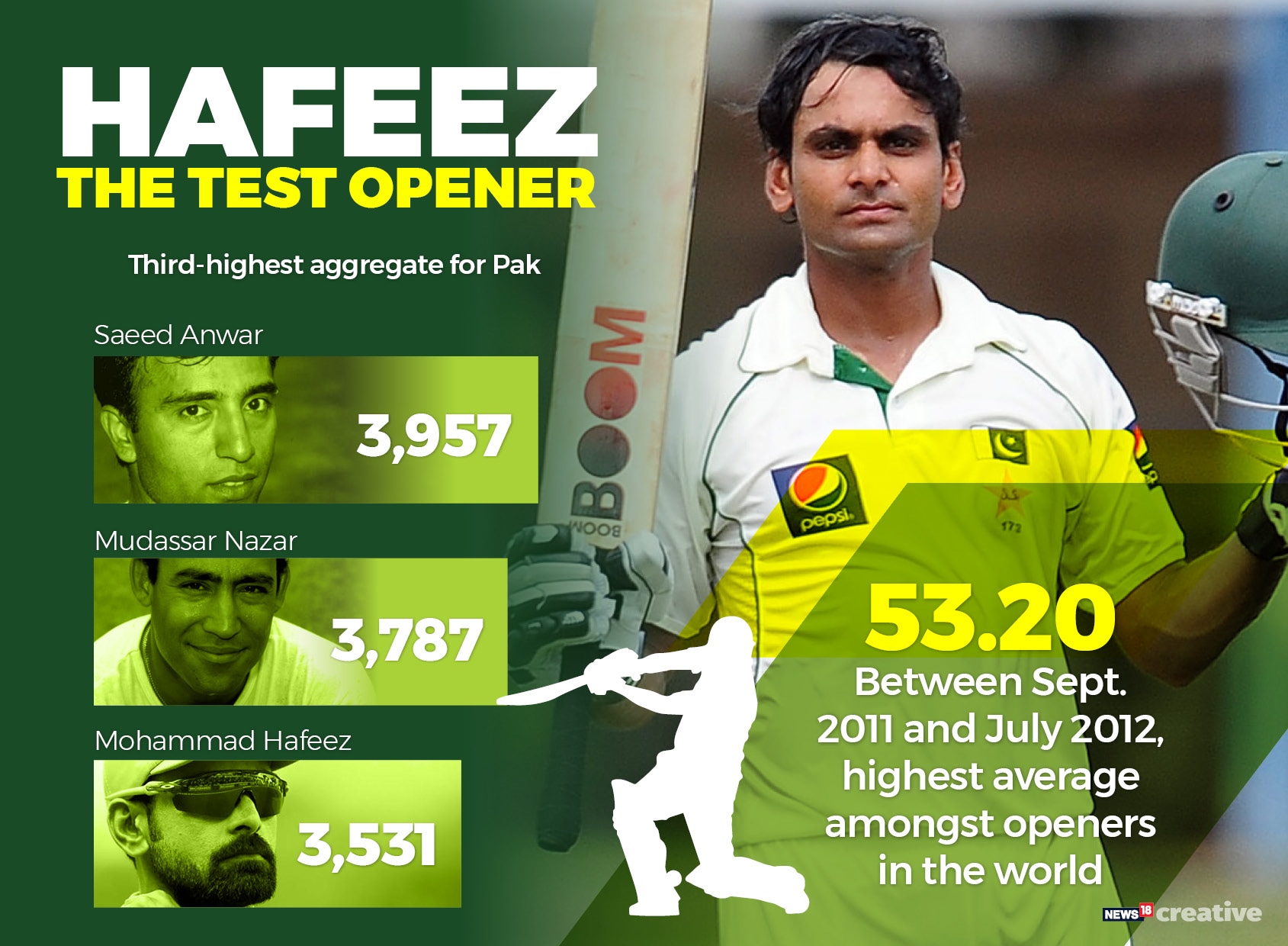 – His second great phase came between November 2014 and November 2015. He was the highest run-getter for Pakistan (1128 runs in 9 Tests) and among the five highest in the world during this period. His average of 75.20 was the fourth-best in this time-frame after Smith, Williamson and AB. He registered four hundreds and three fifties in this year.
– Hafeez was the third-most successful opening batsman in Pakistan's Test history (in terms of number of aggregate runs). Only Saeed Anwar (3957) and Mudassar Nazar (3787) have scored more runs than Hafeez (3531) opening the batting for Pakistan. Only Anwar (11) registered more hundreds than Hafeez (10) from this position.
Only Mudassar, Anwar and Taufeeq Umar have batted for a longer duration than Hafeez (8209 minutes) among openers in Pakistan's Test cricket history.
– Among players with at least 50 Test wickets, his batting average is among the top 20 of all time in history.
– Among players with at least 50 Test wickets, his batting average is the fifth-highest after Kallis, Gayle, Shakib and Vettori during his career.
– Among all all-rounders who have scored at least 1000 runs and picked a minimum of 50 wickets during Hafeez's career, his Batting Average – Bowling Average difference (3.90) is the seventh-highest after Kallis, Jadeja, Shakib, Flintoff, Vaas and Ashwin.