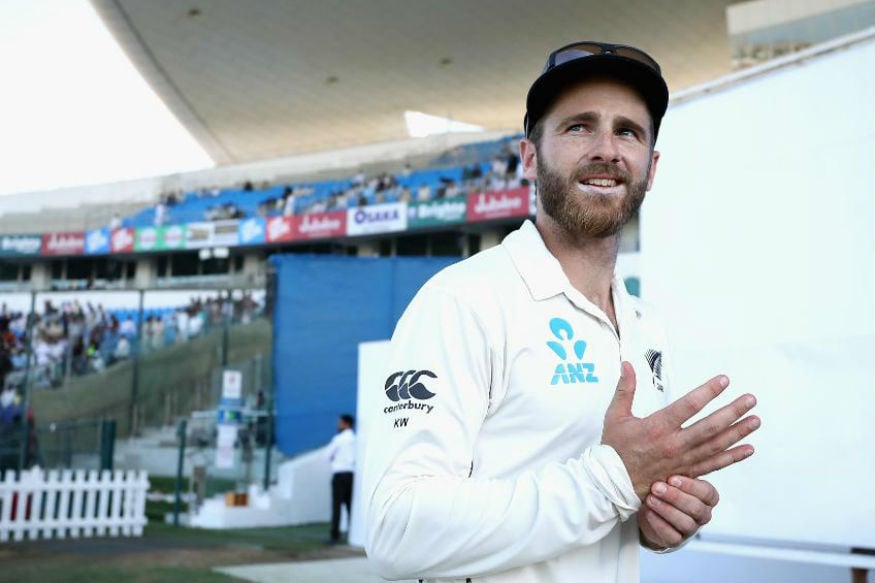 New Zealand cricket often does not get the coverage it deserves. Their players are hardly ever in the limelight and are seldom given their due. They have always punched above their weight in ODI cricket and are currently the third-ranked team in the format, only behind England and India. And a hot favourite to go the distance in the World Cup in England later this year.
However, their exploits in Test cricket have hardly been noticed.
New Zealand are currently the number 2 ranked side in Test cricket behind India. They have the best win-loss ratio in Test cricket (matches-wise) from November 2016 – over a period of almost 27 months – that is a significant duration.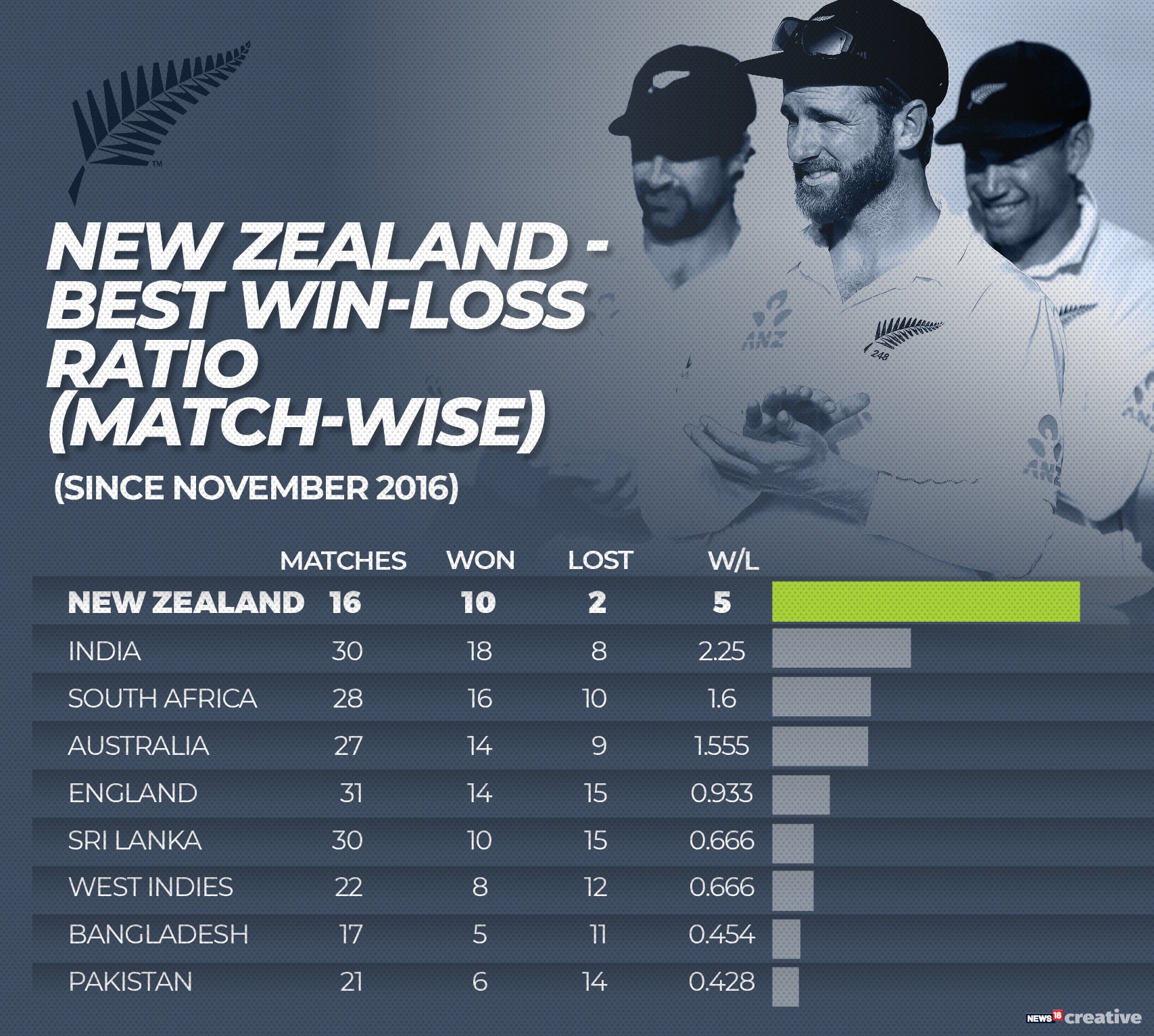 New Zealand has won 10 and lost just two Tests in this period. The margin of their victories has been comprehensive and indicates sustained dominance in this time-frame – three wins by 7 wickets or more, two innings' victories and four ranging between 123 and 423 runs.
New Zealand have won all but one series during this period. Their 6 series' wins include three clean sweeps at home (against Pakistan, Bangladesh and West Indies), two other wins at home against England and Sri Lanka and an away victory against Pakistan in the UAE. Their only loss was against South Africa at home (0-1) in 2017.
The wins against England and Pakistan assume special significance. It was New Zealand's first series win against England in 19 years. They last beat them in 1999 (in England). Thereafter they have lost 4 and drawn 3. Moreover, this was only New Zealand's second win at home against England in 88 years – they had lost 10 and drawn 7 series with the only other victory in 1984.
Pakistan had an almost invincible record in the UAE (their adopted home) having lost just one series there since 2009. Such was their dominance that they had won 6 and drawn an equal number of series in this time-frame of 9 years (2009-2018). Thus, New Zealand's remarkable win in the decider in Abu Dhabi by 123 runs – after winning the first Test by 4 runs (defending a modest 176 in the fourth innings) and losing the second by an innings – was a phenomenal achievement.
Not only is New Zealand's series' win-loss ratio the best in this period but so is their winning percentage (series won/ series played as a percentage). This shows how good they have been compared to the other teams in the last couple of years in Test cricket.
It does not come as a surprise then that 2017 and 2018 have been the best years (win-loss ratio of 4 in both the years) for New Zealand in their Test history (after 1981 and 1986 when they did not lose a single Test).
New Zealand have been excellent in both the disciplines – they have scored the runs with the bat and taken the wickets with the ball. They have the second-best batting average and the third-best bowling average since November 2016. And overall, the second-best Difference (after India) in this period – an indicator of a solid all-round performance.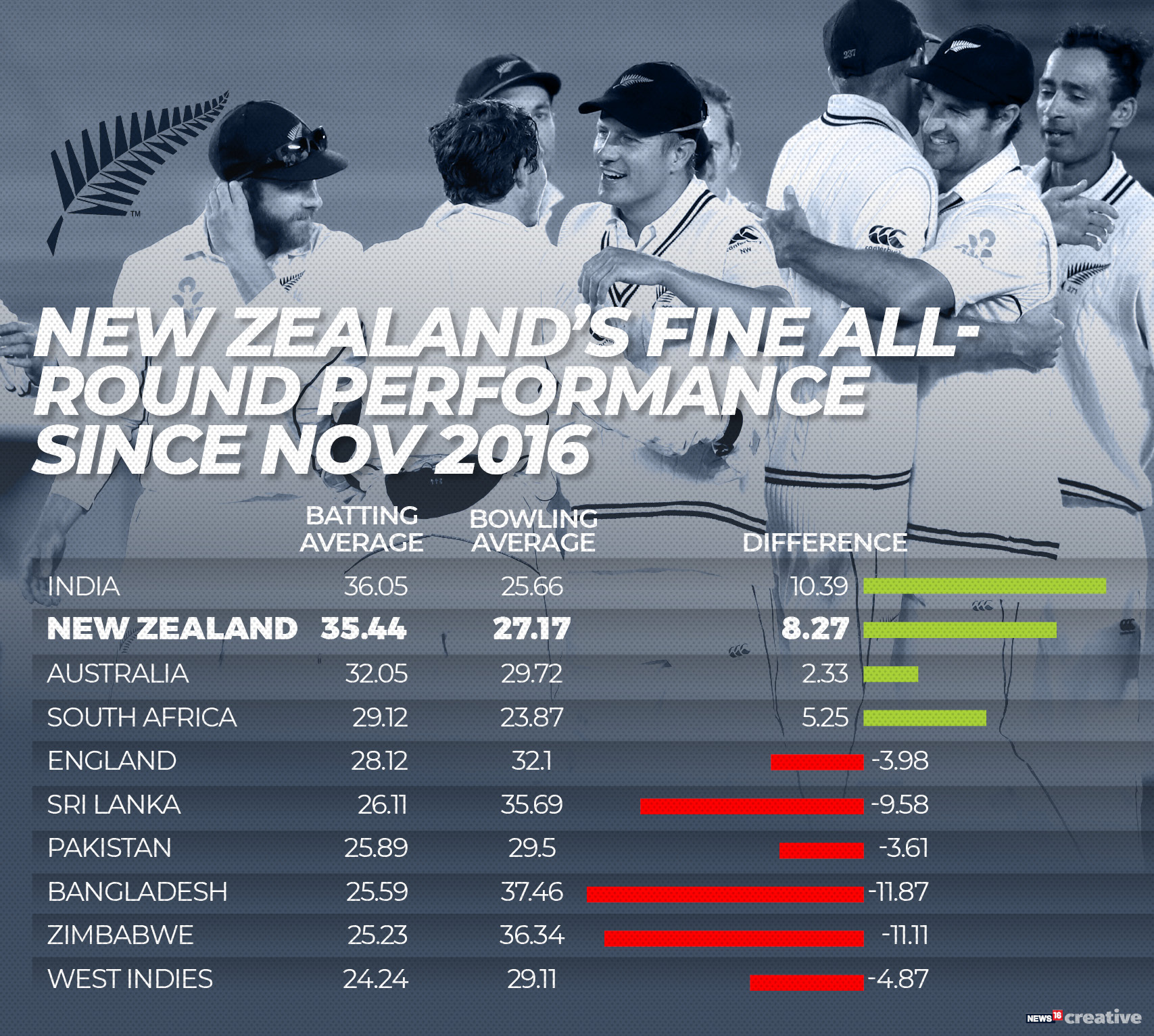 New Zealand batsmen have faced the maximum number of deliveries per innings (59.17) during this period. They are followed by India (57.12) and Australia (56.35). Their ratio of number of 50-plus scores per match is the second-best (3.56) to India (3.7) in this time-frame. This shows that their batsmen have occupied the crease for long periods and scored big runs.
They have been very restrictive with the ball, choking the opposition batsmen for runs and creating pressure and opportunities to pick wickets. Incredibly, they have the best economy rate of 2.79 in this period.
Four New Zealand batsmen – Kane Williamson (runs: 1337, average: 55.70), Tom Latham (1205, 48.20), Henry Nicholls (1104, 52.57) and Ross Taylor (835, 43.94) – have scored in excess of 800 and also averaged above 40 in this period. While Williamson has registered 5 hundreds, Nicholls and Latham have struck 4 and 3 respectively. Williamson's average in this period is only third after Steven Smith and Virat Kohli. Nicholls and Latham also find a place in the top 10.
Trent Boult and Tim Southee have been the stand-out bowlers for New Zealand during this period. While Boult has been the leading wicket taker with 65 wickets at 23.60 apiece, it is Southee (60 wickets in 11 Tests) who has the best average (21.98) and strike rate (45.9). Neil Wagner has been the third seamer giving good support with 59 wickets in 15 Tests at 27.62 apiece. All the three New Zealand fast bowlers have been very restrictive too with an economy rate of less than 3. Colin de Grandhomme has also played his part and with an economy of 2.47, is amongst the most economical bowlers in the world in this period.
New Zealand start as favourites at home against Bangladesh. With the World Test Championship slated to start later in the year, they couldn't have chosen a better time to peak in the format.
(Note: all numbers before New Zealand's first Test against Bangladesh.)