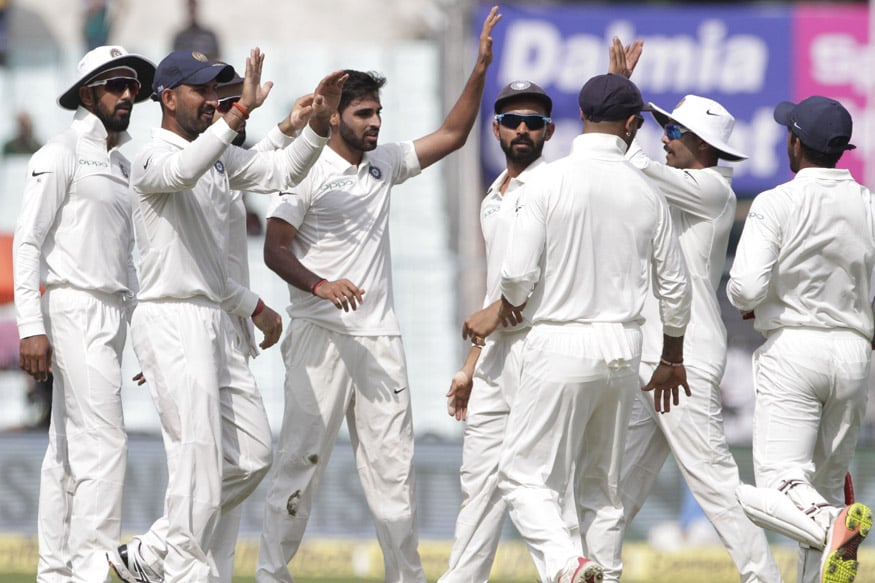 India has been the most successful Test team at home in this decade. It has won 31 and lost just 4 Tests since the beginning of 2010 for a win-loss ratio of 7.75 – by far the best home-record for any team in this period.

While much of the success has been credited to the spin duo of Ashwin-Jadeja and the batting exploits of India's top 4, there have been another set of heroes who have quietly but effectively done their bit to ensure India maintain their dominant position at home.

India's pacers have been the consistent support cast behind the team's home fortunes.

The fast bowlers have picked 229 out of the 780 wickets accredited to Indian bowlers in this decade – ie a substantial 29.35% - given how placid Indian pitches are offering almost no help for fast bowlers and tailor made for spinners – this is an impressive number.

Indian bowlers average 31.78 per wicket at home in this period. Only South African pace bowlers with an average of 30.60 have fared marginally better in India.

In terms of balls bowled per wicket, it is the Indian pacers who were the most potent – They took a wicket just under every 10.5 overs. The South Africans bowled marginally more deliveries per wicket.

What is interesting is the yawning gap between Indian and South African fast bowlers on one side and all the remaining teams on the other, both, in terms of bowling average and bowling strike rate.

Indian teams are traditionally not known for pedigree in fast bowling. And that is why these numbers are even more impressive.

This means that the likes of Bhuvneshwar Kumar, Umesh Yadav, Ishant Sharma and Mohammed Shami, collectively, were more effective than the likes of Josh Hazlewood, Peter Siddle, Mitchell Johnson, Pat Cummins/ James Anderson and Stuart Broad and almost equally as effective as the likes of Dale Steyn and Morne Morkel - more famous names with more glorious careers overall.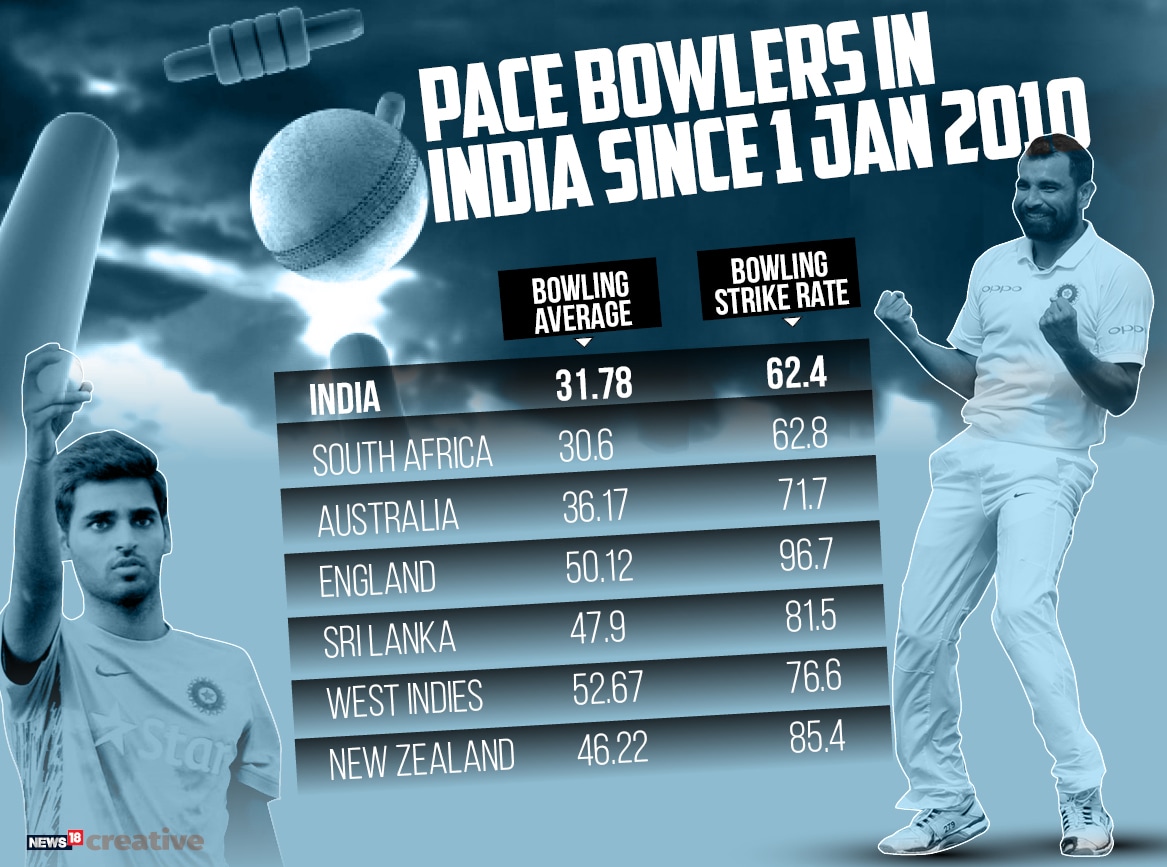 If we consider individual bowlers (minimum 8 wickets in India since 1 Jan. 2010), Dale Steyn leads the average charts conceding 23 runs per wicket in India. He is followed by Shami (24.47) and Bhuvneshwar (26.22). Umesh Yadav is also amongst the top 8 with an average of 30.30.

Shami (wicket approx. every 8 overs) and Bhuvneshwar (wicket approx. every 8.5 overs) are amongst the top four pacers in terms of strike rate showcasing their ability to pick wickets.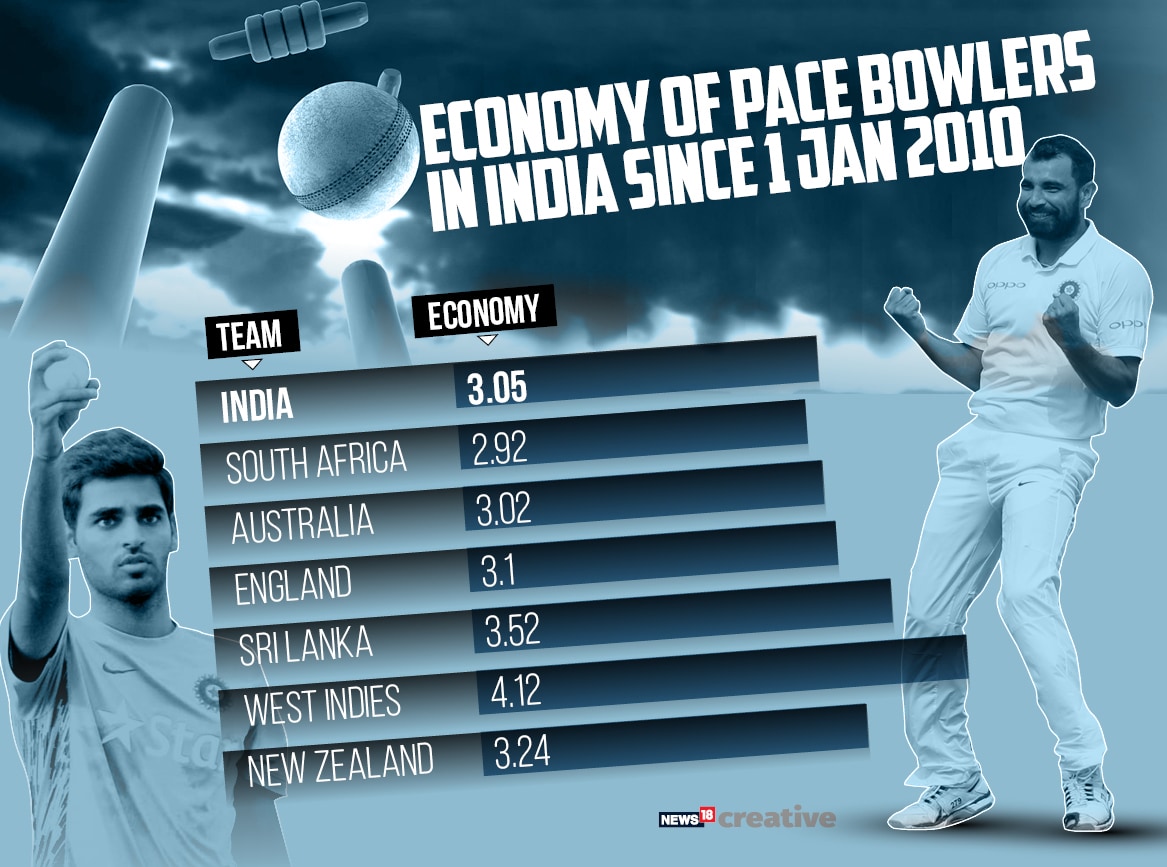 Even in terms of economy, the Indian pacers have been very restrictive having conceded just 3.05 runs per over. They are marginally less restrictive than their Australian counterparts during this period. The South African pacemen were the most economical.

Shami's contribution stands out in winning matches. He averages 21.24 per wicket and picks a wicket every 7 overs when India has been victorious.

Ishant Sharma tends to be very restrictive when India wins – conceding just 2.87 runs per over.

THE INITIAL BREAKTHROUGHS

There have been 54 out of a total of 86 opposition innings since Jan 1, 2010 when an Indian pacer has picked at least one wicket in the first 10 overs.

This means that on almost two-third instances, India has got an early breakthrough by one of their opening fast bowlers. This has put the opposition on the backfoot even before Ashwin and Jadeja have been introduced into the attack.

In addition it has given Ashwin and Jadeja a cushion and a platform to bowl attacking lengths and lines, give the ball more flight and set attacking fields – the fruits of which India has borne in the last decade.

In comparison, the opposition fast bowlers have broken the Indian opening partnership within the first 10 overs on 41 instances out of a total of 74 innings – lower frequency than the Indian fast bowlers.

SERIES COMPARISONS

There have been 16 series in India since Jan 1, 2010 (including the current series against West Indies). In 13 of these, the Indian pace bowlers have a better bowling average than their opposition counterparts – that is a staggering statistic considering that ten of these series have featured either England (2), Australia (3), South Africa (2) and New Zealand (3) – teams which have strong fast bowling attacks.

In as many as 11 of these, the Indian fast bowlers have outdone the opposition ones in terms of bowling strike rate – ie, Indian speedsters have taken fewer balls per wicket as compared to the visiting teams.

India's fast bowlers have also been the more restrictive unit in 12 out of the 16 series in this period.

Not only have India's fast bowlers matched their more fancied peers in pace but the above numbers show that they have clearly made better use of the conditions displaying more skill not only with the new ball but also with the old getting the ball to reverse.

They have given the Indian spinners the ideal support in often hostile and unforgiving conditions.

First Published: October 11, 2018, 11:10 AM IST