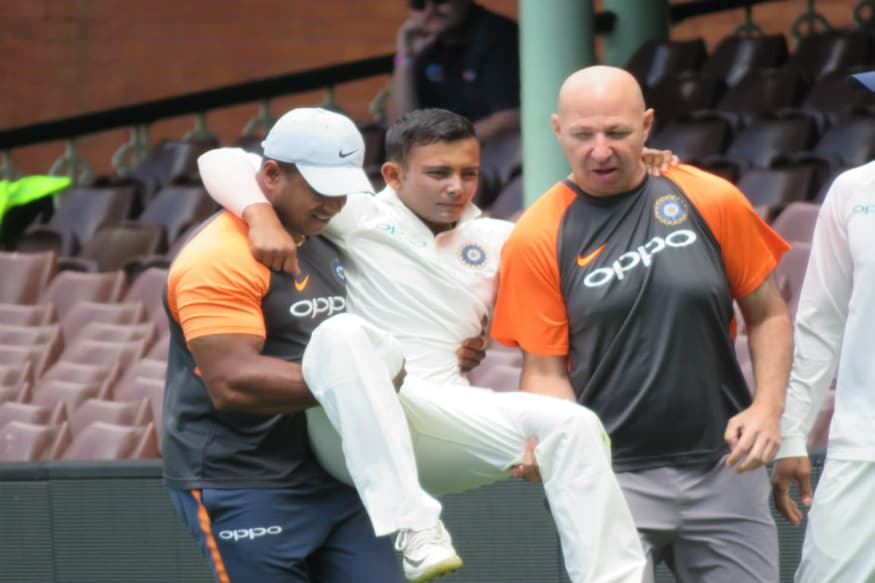 Prithvi Shaw's freak ankle injury in the tour game against Cricket Australia XI in Sydney is a big blow to the Indian team ahead of the series opener in Adelaide from the 6th of December. With Shaw ruled out of the Test and in doubt for the second starting in Perth four days after, it means that India will be forced to go back to Murali Vijay – who was dropped after his poor performance in the first two Test in England earlier this year. He would partner Lokesh Rahul who, apart from his 149 at The Oval in September, hasn't much to write home about since last year.

Why is Shaw's injury a big deal?

Shaw is a prodigious talent who burst onto international Test cricket with a man-of-the-match performance – 134 in just 154 balls – against the West Indies in Rajkot in October this year. He followed that with scores of 70 and 33 not out in Hyderabad – again scored at a blistering pace. He looked in ominous touch in the tour game in Sydney with a 69-ball 66. He registered quick fifties in both innings (62 in 88 balls and 50 in 53 balls) against New Zealand-A in Mount Maunganui – in India-A's first unofficial Test earlier this month. He has been in exceptional form in first-class cricket since January, 2017 scoring 1530 runs in 28 innings at a staggering average of 56.67, including 7 hundreds.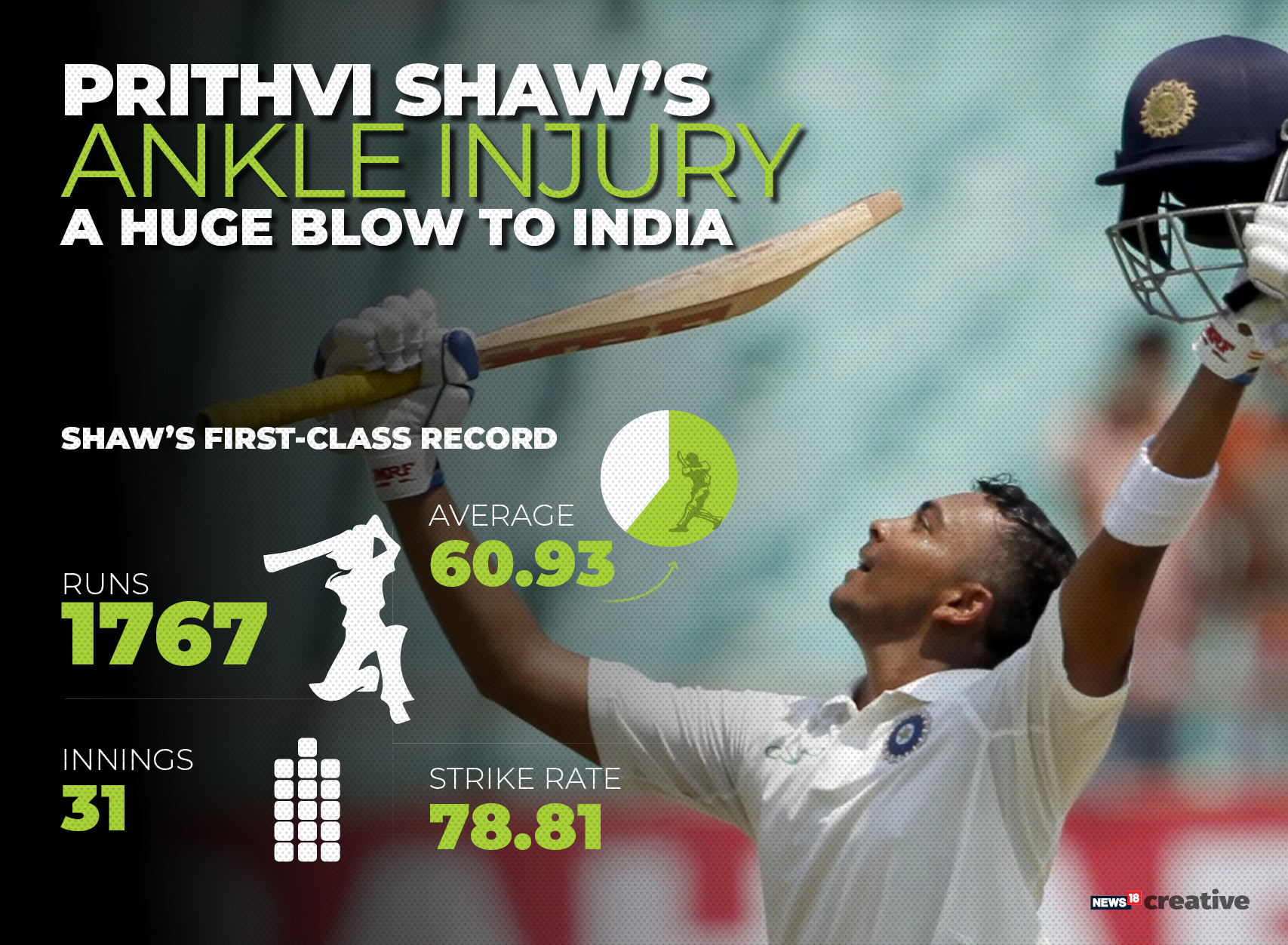 Overall, he has scored 1767 runs in 31 first-class innings at an average of 60.93 and strike rate of 78.81. This includes 8 hundreds and 8 fifties.
He has great hand-eye coordination and a knack to get big scores at blitzkrieg pace. He is a big boundary hitter as the 246 boundaries in just 17 first class career matches indicate. He is very much in the Sehwag-mould of batting and has the potential to change the game in a session, opening the batting against the hard new red ball on the true Australian pitches. Even a quick 35-40 by Shaw could set the pace for the other Indian batsmen – something Sehwag did consistently in his Test career.

Vijay in poor form

Vijay has been a patch of the opener he was for India between 2013-17. His batting average of 45.02 in this period was the fourth-best for any opener (min. 15 Tests) after Azhar Ali, Warner and KL Rahul. Only Warner had more hundreds (18) than Vijay (11) for an opener in Test cricket in this time-frame. Vijay's yearly average only dropped once below 40 (36.66 in 2016) in these 5 years. He was in stupendous form last year scoring 520 runs in 10 innings including three hundreds.

Vijay's strength over the years has been his ability to concentrate and play out time and overs, and in the process not only get big hundreds for India, but also lay the platform for the middle-order. Between 2013-17, only Azhar Ali faced more deliveries and batted for more minutes per innings (113, 170) than Vijay (95, 134) amongst all openers who at least batted in 15 innings in this period.




Vijay had a brilliant tour Down Under in 2014-15. He aggregated 482 runs in 8 innings at an average of 60.25 including one century and four fifties. He also faced 905 deliveries – which means that on an average, he negotiated 113 deliveries per innings, ie, approximately 19 overs. He also, on an average, spent 168 minutes at the crease – ie, 2 hours and 48 minutes every innings.
This means that more often than not he played out time and negotiated the new ball for at least the opening session, making it easier for the Indian middle-order.

But Vijay has been in terrible form since the beginning of 2018. Barring the hundred against Afghanistan, he has not crossed 50 in any of the remaining 10 innings. In fact, he hasn't crossed 25 in nine of these 10 innings. He averages a paltry 21.18 in 6 Tests this year. He has just faced 587 deliveries and batted for only 827 minutes this year. Remove the hundred against Afghanistan and this is reduced to 594 minutes and 434 deliveries. This means that on an average he has spent 59 minutes at the crease and faced 43 deliveries, ie just 7 overs – quite poor for a Test opener.




A highly inconsistent Rahul

KL Rahul gave us a glimpse of his immense talent during his master-class 149 against England at The Oval in September this year. But his fifty against Afghanistan notwithstanding, that was his only score of above fifty in a year's time. In the remaining 17 innings, he has scored just 224 runs at an average of 13.18! Overall, since November 2017, Rahul's batting average of 24.28 places him with the lowest five amongst the 18 openers in the world who have at least played 5 Tests in this period.

Rahul has been bowled 8 times and leg-before-wicket on 4 occasions out of 18 dismissals over the last year. He is susceptible to the in-coming delivery and has been found caught at the crease or cleaned up with the in-swinger.

Having said that, he has scored a hundred in Australia – 110 in Sydney – in just his second Test - in 2015 so that should give him confidence ahead of the Adelaide Test. He also had a great run in 2017 scoring 633 runs in 14 innings at an average of 48.69. This included a stretch of seven consecutive fifties.

The Other Contenders

Mayank Agarwal has been in fine form for India-A in New Zealand. He has registered scores of 65 and 42 in the first Test and again 42 in the second unofficial Test. He has been in scintillating form in first-class cricket since 2017 having scored 1764 runs in 26 innings at an average of 73.50 including six hundreds.

Overall, he aggregates 3521 runs in 45 first-class matches at an average of 50.30.

With some recent success on testing New Zealand wickets he may just get a call to board a flight across the Tasman Sea.

Cheteshwar Pujara could be another likely candidate having opened before with some success. In 6 innings as an opener, the last of which was against Sri Lanka in Colombo in August 2015, Pujara has scores of 41 not out, 28, 52, 82 not out, 145 not out and a duck – 348 runs in 6 innings at an average of 116 – when his country has banked on him and asked him to bat in a specialist position out of his comfort zone – he has come out triumphant - speaks volumes of Pujara's temperament and resolve.

Undoubtedly, he has the best technique and defense against the new ball. Also, his ability to concentrate for long periods, leave deliveries outside the off-stump and put a price on his wicket – mean that he has all the qualities needed to open the innings, again, if required.

Parthiv Patel is the dark horse for the opening position. He has opened before and more often than not done an admirable job. In six innings as an opener which range from 2002 to 2018, he has scored 265 runs at an average of 53. This includes three fifties – 69 in 141 balls against Pakistan in Rawalpindi in 2004, 42 and 67 not out (total 139 balls) against England in Mohali in 2016 and 71 in 112 balls against England in Chennai in 2016. Most recently, he opened in Johannesburg in 2018 in the second innings. For someone who has not been a regular in the Test side and has played just 25 Tests in 16 years since 2002 – it has been a commendable effort.

First Published: December 1, 2018, 7:32 AM IST