37 teams participated in the 85th edition of India's premier domestic competition – the Ranji Trophy. At the end of three months and 160 matches in which 130135 runs were scored and 4685 wickets fell, it is Vidarbha who emerged as Champions for the second time running as they beat Saurashtra by 78 runs in the final in Nagpur.

A number of records have been broken during the course of the tournament. Which team had the best batting average, which had the most potent bowling unit, whose spinners were the most restrictive, who were the batsmen who scored big runs and who were the stand-out bowlers of the season?

INDIVIDUAL RECORDS

Top 5 Run-Getters:

Milind Kumar entered the record books as his aggregate of 1331 runs in 14 innings - at an astonishing average of 121 and strike rate of 91.66 including 6 hundreds (the most in the competition) - was the second-highest for a single season after VVS Laxman (1415 for Hyderabad in 1999-2000).

Wasim Jaffer became the first batsman in Ranji Trophy history to cross 11000 career runs. He also became the only batsman in the competition's history to score 1000 runs in a season twice (he had aggregated 1260 for Mumbai in 2008-09). Priyank Panchal, who with 1310 runs, had top-scored a couple of seasons ago (2016-17), was also amongst the top-5.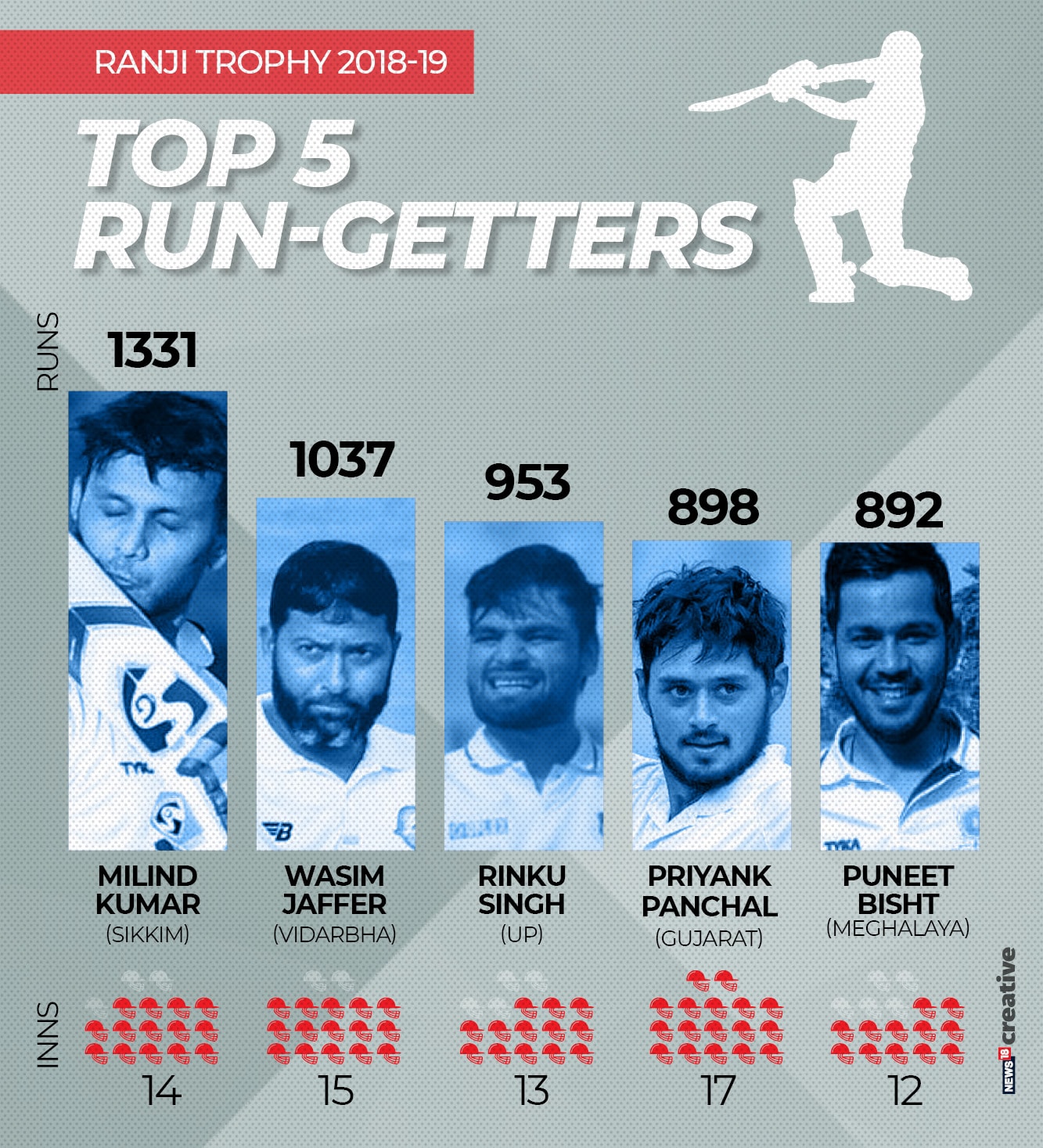 Other batsmen who scored big from amongst the prominent teams included Abhimanyu Easwaran (Bengal, 861), Sheldon Jackson (Saurashtra, 854), Ricky Bhui (Andhra, 775), Harvik Desai (Saurashtra, 781), Shubman Gill (Punjab, 728) and Faiz Fazal (Vidarbha, 752).

Top 5 Batting Averages (min. 10 innings):

1. Milind Kumar (Sikkim): 121
2. Rinku Singh (Uttar Pradesh): 105.88
3. Abhimanyu Easwaran (Bengal): 95.66
4. Paras Dogra (Puducherry): 91.12
5. Puneet Bisht (Meghalaya): 89.20

Other names include Jaffer (69.13, Vidarbha), Pujara (Saurashtra, 62.20), Akshay Wadkar (Vidarbha, 60.41), Priyam Garg (Uttar Pradesh, 67.83), Manish Pandey (Karnataka, 62.71) and Panchal (Gujarat, 59.86).

Highest Scores:

1. Puneet Bisht (Meghalaya): 343 vs Sikkim
2. Shubman Gill (Punjab): 268 vs Tamil Nadu
3. Ajay Rohera (Madhya Pradesh): 267 not out vs Hyderabad
4. Milind Kumar (Sikkim): 261 vs Manipur
5. Paras Dogra (Puducherry): 253 vs Sikkim

Only one triple hundred was scored in the competition – Puneet Bisht amassed 343 vs Sikkim at Bhubaneswar – it is the ninth-highest score in Ranji history.
As many as 19 double-hundreds were registered. Milind Kumar was the only batsman to register two double hundreds.

Balls per Innings Frequency (min. 400 runs):

1. Ankit Kalsi (Himachal Pradesh): 133.14
2. Abhimanyu Easwaran (Bengal): 131.9
3. Rajat Bhatia (Uttarakhand): 125.42
4. Akshat Reddy (Hyderabad): 122.08
5. Baba Indrajith (Tamil Nadu): 117.92

Jaffer was sixth on this count and played 116.67 deliveries per innings, on an average.

Dega Nischal of Karnataka played the maximum number of deliveries this Ranji season – 1786.

He was followed by Wasim Jaffer (1750).

Highest Partnerships by Runs:

1. Raj Biswa and Puneet Bisht (Meghalaya): 433 vs Sikkim
2. Vineet Saxena and Rajat Bhatia (Uttarakhand): 399 not out vs Meghalaya
3. Raghunath Sanjay and Wasim Jaffer (Vidarbha): 304 vs Uttarakhand
4. Faiz Fazal and Wasim Jaffer (Vidarbha): 300 vs Baroda

There was only one solitary 400-plus partnership and three triple hundred partnerships. In addition, there were 24 double century stands in the competition.

Leading Wicket-Takers:

Ashutosh Aman, the slow left-arm orthodox bowler from Bihar, was by far the leading wicket-taker of the season bagging 68 wickets in 14 innings at an astonishing average of 6.48 and strike rate of 20.4. He was also brilliantly restrictive conceding away just 1.90 runs per over. His exploits included 9 five-wickets in an innings hauls and 5 ten-wickets in a match hauls. He broke Bishan Singh Bedi's record for most wickets in a single season- Bedi tallied 64 in 1974-75.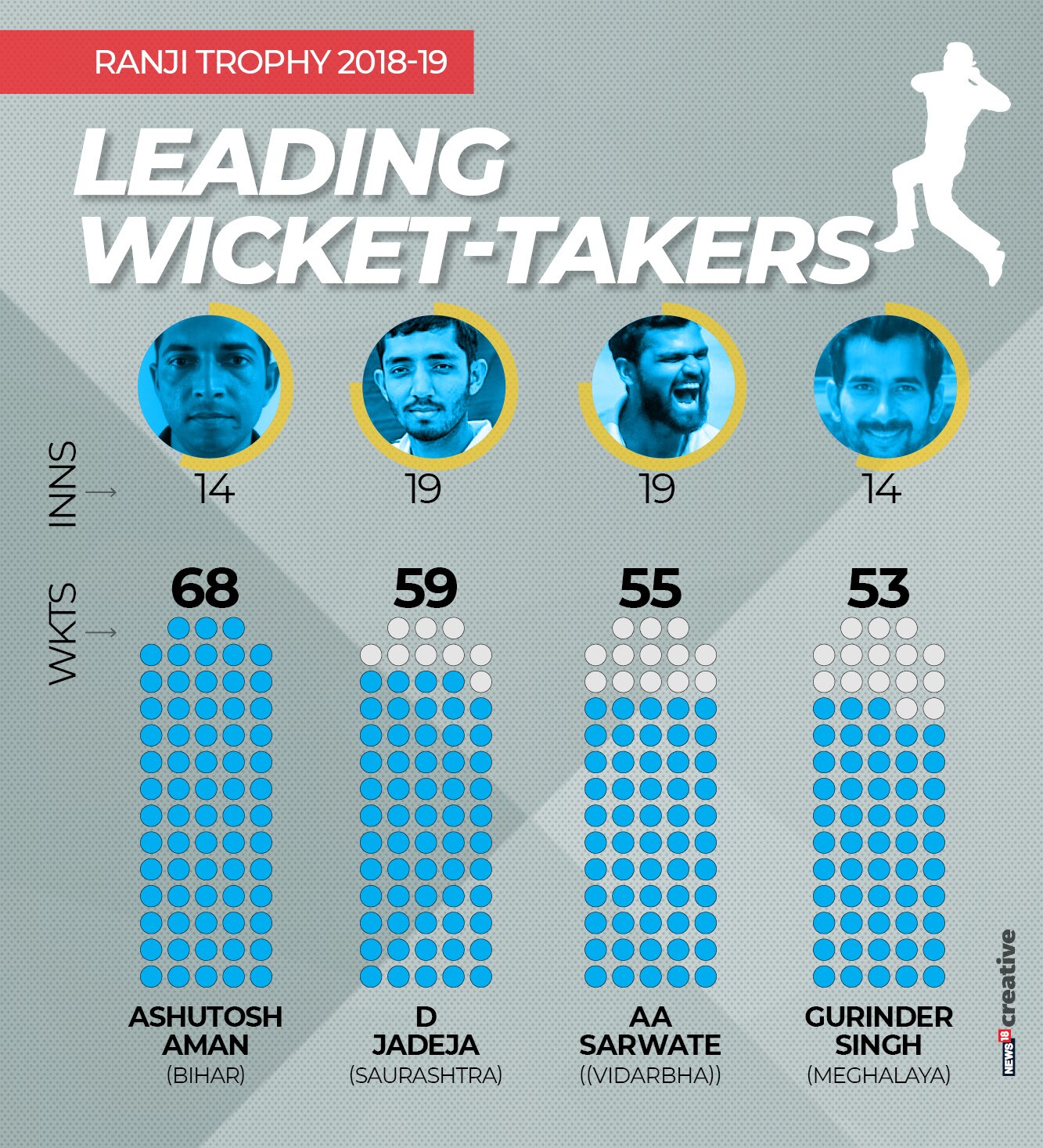 Interestingly, all the top 4 wicket-takers this season were all left-arm orthodox slow bowlers.

At number two on the wicket-list was Dharmendrasinh Jadeja of Saurashtra, who aggregated 59 wickets. Aditya Sarwate of Vidarbha, who picked his maiden 10-wicket haul in the final, was at number 3 with 55 wickets.

The leading wicket-taker amongst pacers was the left-arm seamer from Rajasthan, Tanveer Ul Haq, who bagged 51 scalps at 18.52 apiece.

Ashutosh Aman registered the maximum 10-wicket hauls – 5. Four bowlers prized two such hauls each – Ishwar Chaudhary (Sikkim), Deepak Dhapola (Uttarakhand), Aniket Choudhary (Rajasthan) and Saurabh Kumar (Uttar Pradesh).

Best Bowling Average (min. 5 matches and 20 wickets):

1. Ashutosh Aman (Bihar): 6.48
2. Pankaj Singh (Puducherry): 9.15
3. Basant Mohanty (Odisha): 11.70
4. Aniket Choudhary (Rajasthan): 14.71
5. Abrar Kazi (Nagaland): 15.05

Former Indian speedster, Pankaj Singh bagged 45 wickets in the season in 11 innings at 9.15 apiece. He was the only speedster (and only the second bowler along with Ashutosh Aman) to average below 10 in the competition.

Best Bowling Strike Rate (min. 5 matches and 20 wickets):

1. Ashutosh Aman (Bihar): 20.4
2. Pankaj Singh (Puducherry): 23
3. Avesh Khan (Madhya Pradesh): 31
4. Samar Quadri (Bihar): 31.2
5. Ishwar Chaudhary (Sikkim): 31.5

Umesh Yadav (Vidarbha) was also displayed excellent form in the 3 matches he played this season. He picked 23 wickets at 12.26 apiece striking at a rate of 28.3.

Best Economy Rates (min. 10 innings):

1. Basant Mohanty (Odisha): 1.83
2. Ashutosh Aman (Bihar): 1.90
3. Yashpal Singh (Manipur): 2.01
4. Abrar Kazi (Nagaland): 2.18
5. Arun Bamal (Services): 2.20

Three slow left-arm orthodox bowlers are in the top 5 list but interestingly, it is a medium-pacer – Basant Mohanty from Odisha who was the most restrictive this season.

Vikas Mishra (Delhi, 2.29), Pankaj Singh (Puducherry, 2.36) and Samad Fallah (Maharashtra, 2.38) follow.

Dharmendrasinh Jadeja of Saurashtra bowled the maximum number of dot balls in the competition (2127). He is followed by Aditya Sarwate (Vidarbha, 1908), Saurabh Kumar (Uttar Pradesh, 1785), Avinash Yadav (Railways, 1707) and Akshay Wakhare (Vidarbha, 1691).

Only two bowlers delivered 100 or more maidens in the competition – Saurabh Kumar (113) and Basant Mohanty (100).

Best Bowling in a Match:

1. Saurabh Kumar (Uttar Pradesh): 14-65 in 35 overs vs Haryana in Rohtak
2. Ashutosh Aman (Bihar): 14-68 in 35.5 overs vs Meghalaya in Shillong
3. Avesh Khan (Madhya Pradesh): 12-54 in 26.2 overs vs Hyderabad in Indore
4. Vikas Mishra (Delhi): 12-71 in 39 overs vs Madhya Pradesh in Delhi
5. Umesh Yadav (Vidarbha): 12-79 in 22.5 overs vs Kerala in Wayanad

Jalaj Saxena of Kerala picked 8 wickets conceding just 45 runs in 21.3 overs against Andhra Pradesh at Thumba – these were the best bowling figures of the season. Four others also picked 8 in an innings in the competition – Ashutosh Aman (8-51), Parvez Rasool (8-85), Satyajeet Bachhav (8-108) and Siddharth Desai (8-148).

TEAM RECORDS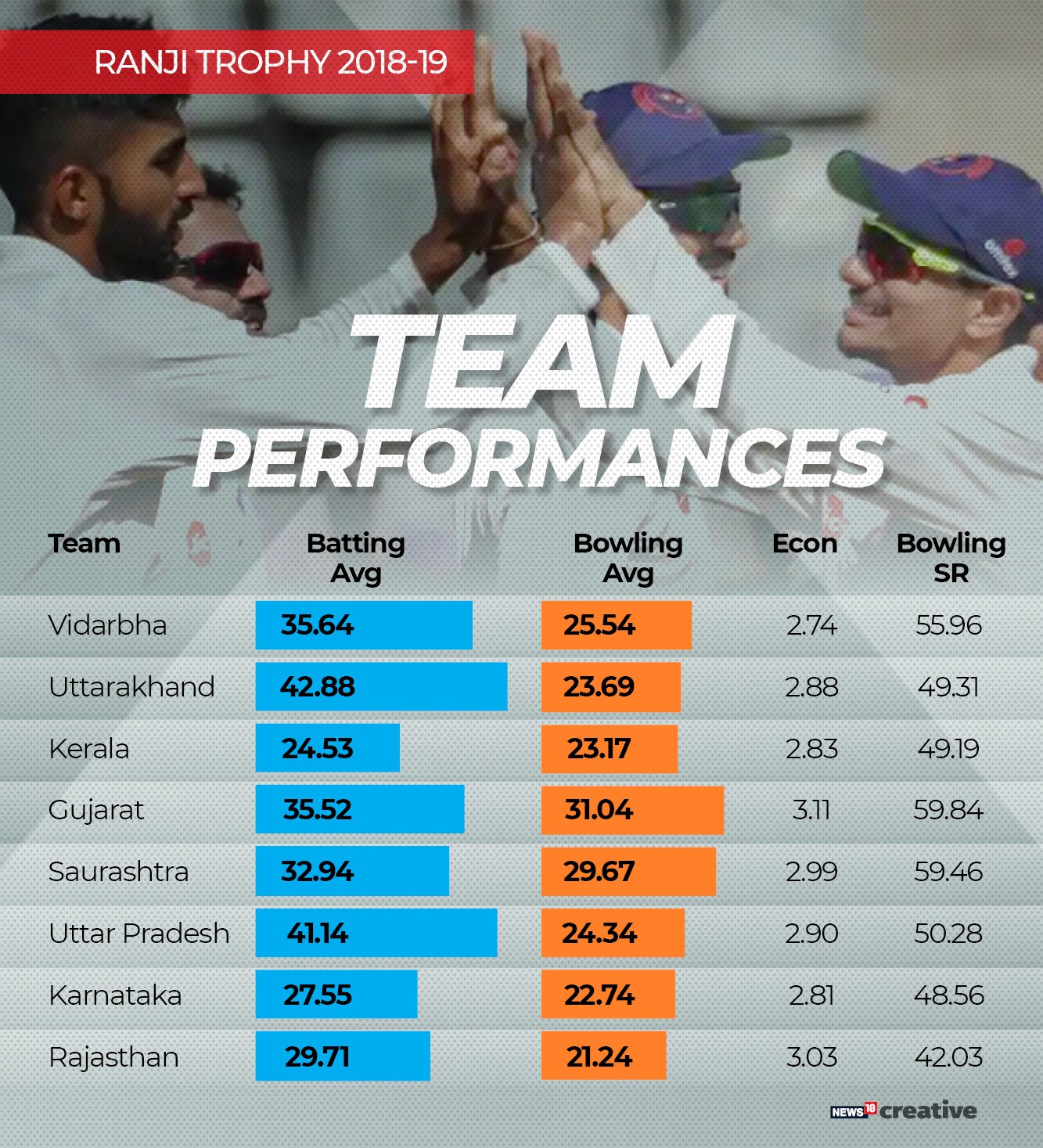 Of the eight Quarter-Finalists, it was Uttarakhand who emerged with the highest batting average. As many as four batsmen from the side finished with an average of above 50 (min. 4 innings) – Rajat Bhatia (175), Kartik Joshi (75.66), Vineet Saxena (68.12) and Saurabh Rawat (59.30).

Rajasthan, on the other hand, were, by far, the best bowling unit – not only in terms of bowling average but also bowling strike rate. Five Rajasthan bowlers had a bowling average of less than 30 (min. 4 innings) – Aniket Choudhary (14.71), Tanveer Ul Haq (18.52), Deepak Chahar (20.44), Rahul Chahar (24.90) and Nathu Singh (26.59). Amongst them, Choudhary and Deepak Chahar had a bowling strike rate in the 30s.

Vidarbha have been the most restrictive bowling unit from amongst the quarter-finalists. Akshay Karnewar (economy 2.41) has been the most economical bowler for them. He has been well supported by Aditya Sarwate (2.61), Yash Thakur (2.57), Umesh Yadav (2.59), Lalit Yadav (2.60) and Aditya Thakare (2.65).

Highest Team Totals:

1. Meghalaya: 826 for 7 declared vs Sikkim
2. Puducherry: 647 for 8 declared vs Sikkim
3. Vidarbha: 629 vs Uttarakhand
4. Uttar Pradesh: 619 vs Assam
5. Uttarakhand: 582 for 9 declared vs Sikkim

A total of 26 scores of 500-plus were registered. Uttar Pradesh and Vidarbha accounted for 4 each.

Largest Victories (By an Innings):

1. Uttar Pradesh: Inns and 384 runs vs Tripura in Lucknow
2. Nagaland: Inns and 333 runs vs Mizoram in Sovima
3. Meghalaya: Inns and 324 runs vs Mizoram in Shillong
4. Bihar: Inns and 317 runs vs Arunachal Pradesh in Patna
5. Madhya Pradesh: Inns and 253 runs vs Hyderabad in Indore

Bihar defeated Sikkim by 395 runs in Patna – that was the biggest win in terms of runs in the season. In addition, there were eleven 10-wicket victories in the competition.

First Published: February 2, 2019, 8:00 AM IST