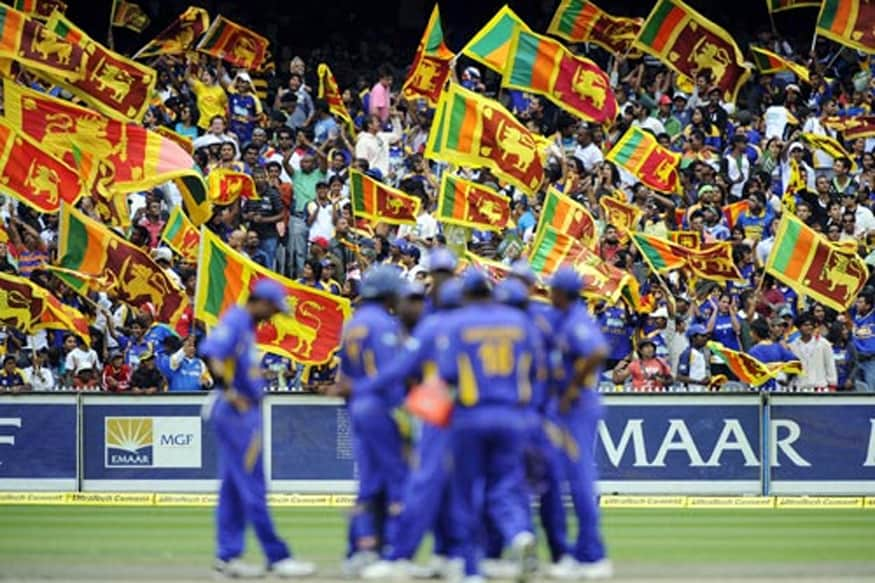 These are difficult days if you are a fan of Sri Lanka. The 1996 World Cup champions, the 2014 World T20 champions, and a team that tested even the best of opponents at home in Test cricket – has been falling like a pack of cards too often these days.
The most recent disappointment for Sri Lanka has come in the ongoing Test series against England that has been conceded after losses in the first two matches.
However, this fall hasn't been sudden. It began shortly after the retirement of their greats, Kumar Sangakkara (over 28,000 international runs), Mahela Jayawardene (almost 26,000 international runs) and Tillakaratne Dilshan (over 17,000 international runs).
Jayawardene played his last international game - an ODI against South Africa - in March 2015. Later that year in August, Sangakkara also played his last international game, a Test match against India. Having already retired from Tests in 2013, Dilshan also left international limited-overs cricket in September 2016.
The departure of these three greats was bound to affect the team's performance – but no one quite expected such a mighty fall.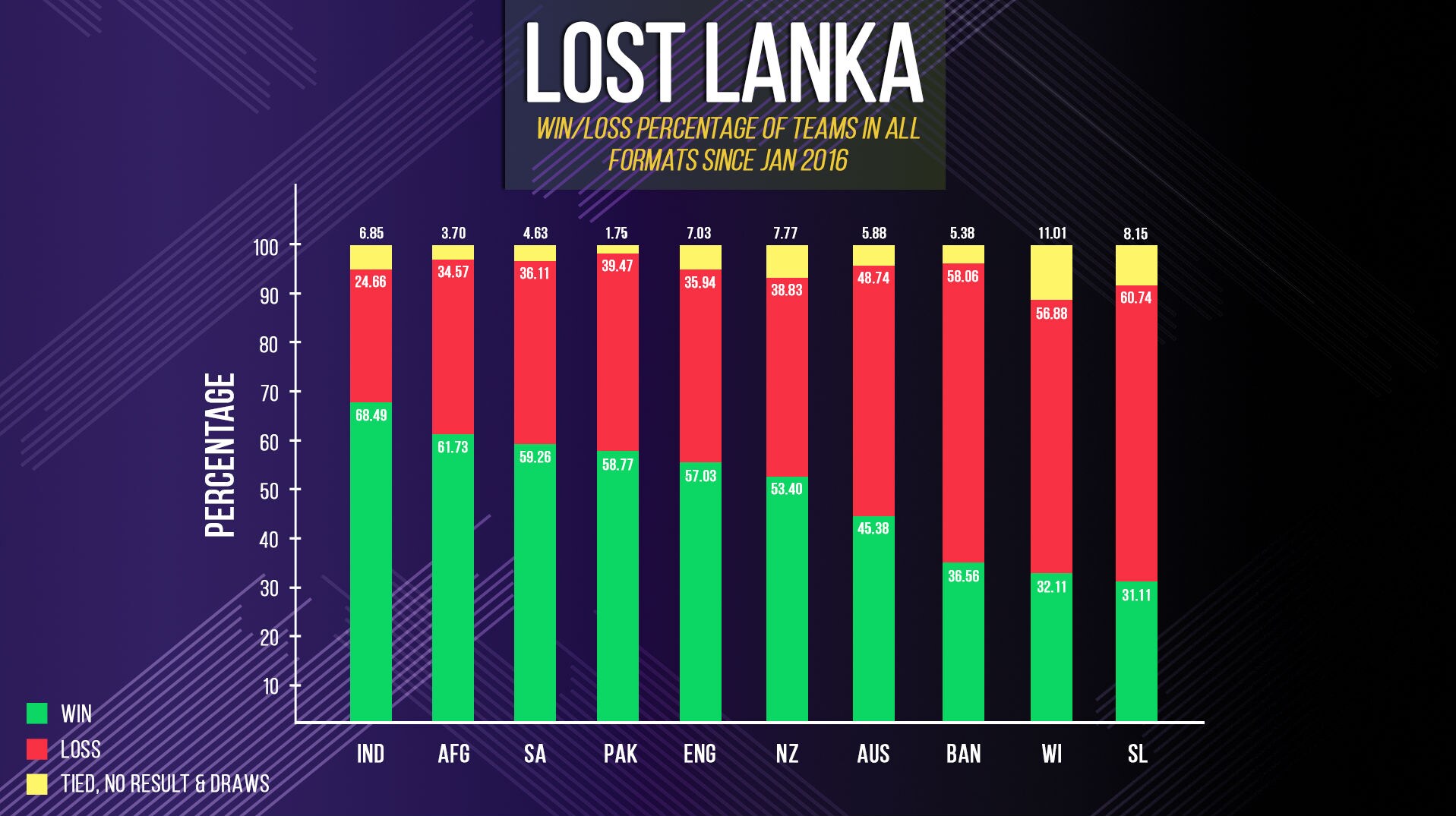 Of all established international teams, the Sri Lankans have the worst win/loss percentage across all formats since January 2016. At 31.11% (wins), 60.74% (losses) and 8.15% (tied, no results and draws), they are even behind Bangladesh and West Indies.
The trio's impact on Sri Lanka cricket can be gauged from the fact that when they featured together (during October 25, 2000- March 18, 2015), out of 267 ODIs, the island nation won 142 and lost 113. Of 54 ODI series (only bilateral and tri-series included) with them around, they won 25.
Things change dramatically without them. In 53 ODIs that Sri Lanka have played without the trio from August 2016 onwards, there have been just 14 wins, a whopping 36 losses and three no-results. Of 11 series (only bilateral and tri-series included), Sri Lanka have won only two, and those triumphs came in tri-nation contests involving lesser teams like Bangladesh, Zimbabwe and West Indies.
Since the 2015 World Cup, Sri Lanka's overall batting average has down gone by 7.2% with 15,841 runs in 76 games at an average of 27.40. After the 2011 World Cup till the 2015 World Cup, Sri Lanka's batsmen had scored 26,447 runs in 125 games at an average of 29.51. The conversion rate (50s-100s) among batsmen has drastically dipped from 21.74% to 11.11%.
Their batting strike rate and balls/boundary ratio have increased a little – from 81.75 to 83.24 and 11.61 to 11.16 respectively - but the improvement is very marginal.
Sri Lanka's No. 1-3 batsmen (post 2015 WC) are outdone by their No. 1-3 (post 2011 WC to 2015 WC) in every batting parameter except the strike rate. They average 32.94 with a strike rate of 87.38. Their predecessors at the same batting numbers had scored at an average of 39.84 and strike rate of 82.80.
Sri Lanka's No. 4-7 (post 2015 WC), however, outdo their predecessors in the same batting positions in most departments - but that is the problem for Sri Lanka – that too much is expected of the middle order as the top order is failing consistently. It's the top order that lays the foundations for wins and if it doesn't, the middle order, more often than not, can only do the repair job.
Sri Lanka's bowlers aren't much different during the same period. They average 38.35 with a strike rate of 40.60. The predecessors – after 2011 World Cup to 2015 World Cup – averaged 34.25 with a strike rate of 39.50.
In T20Is (only bilateral series included), Sri Lanka won 29, lost 14 and tied one out of 44 contests with the trio of Sangakkara, Dilshan and Jayawardene  between June 15, 2006 and April 6, 2014. Without them, there have been 14 losses and nine wins for Sri Lanka in 23 games since September 10, 2016.
Tests are an equally abysmal story. With Sangakkara, Dilshan and Jayawardene featuring together between December 26, 2000 and December 28, 2012, they won 30 Tests, lost 26 and drew 23. Without them since August 25, 2015, the Lankans have registered 15 wins, 16 losses and five draws.
Among 10 teams to have played more than one Test since 2015, Sri Lanka take the seventh spot in terms of win percentage at 40.48 with 17 wins, 20 losses and five draws. India at 60.47 have the highest win percentage. Batting average-wise, they stand at 7th with an average of 28.12. India again top the charts at 36.67%. Ireland and Afghanistan are not included.
Sri Lanka's balls/dismissals ratio at 53.08 is second worst after Bangladesh's.
Sri Lanka's No. 1-3 average is just 30.97, which is only better than those of West Indies (27.95) and Zimbabwe (23.32). Sri Lanka's No. 4-7 average is 34.4. India's batsmen at the same positions average 42.01.
Sri Lanka bowlers' strike rate in Tests since 2015 is 60.2, bettered by those of Indians (52.6), Australians (57.4) and South Africans (48.8). In terms of average, they see a dip and find themselves at 6th at 32.89.
None of Sri Lanka's fast bowlers have taken a 10-wicket haul since 2015. With 287 wickets in 42 games, they average 35.03 besides having a strike rate of 63.7 – only better than those of Zimbabwe and Bangladesh. The Lankan spinners have done better with the third-best average and strike rate after those of Indians and South Africans (mainly due to the efforts of Rangana Herath).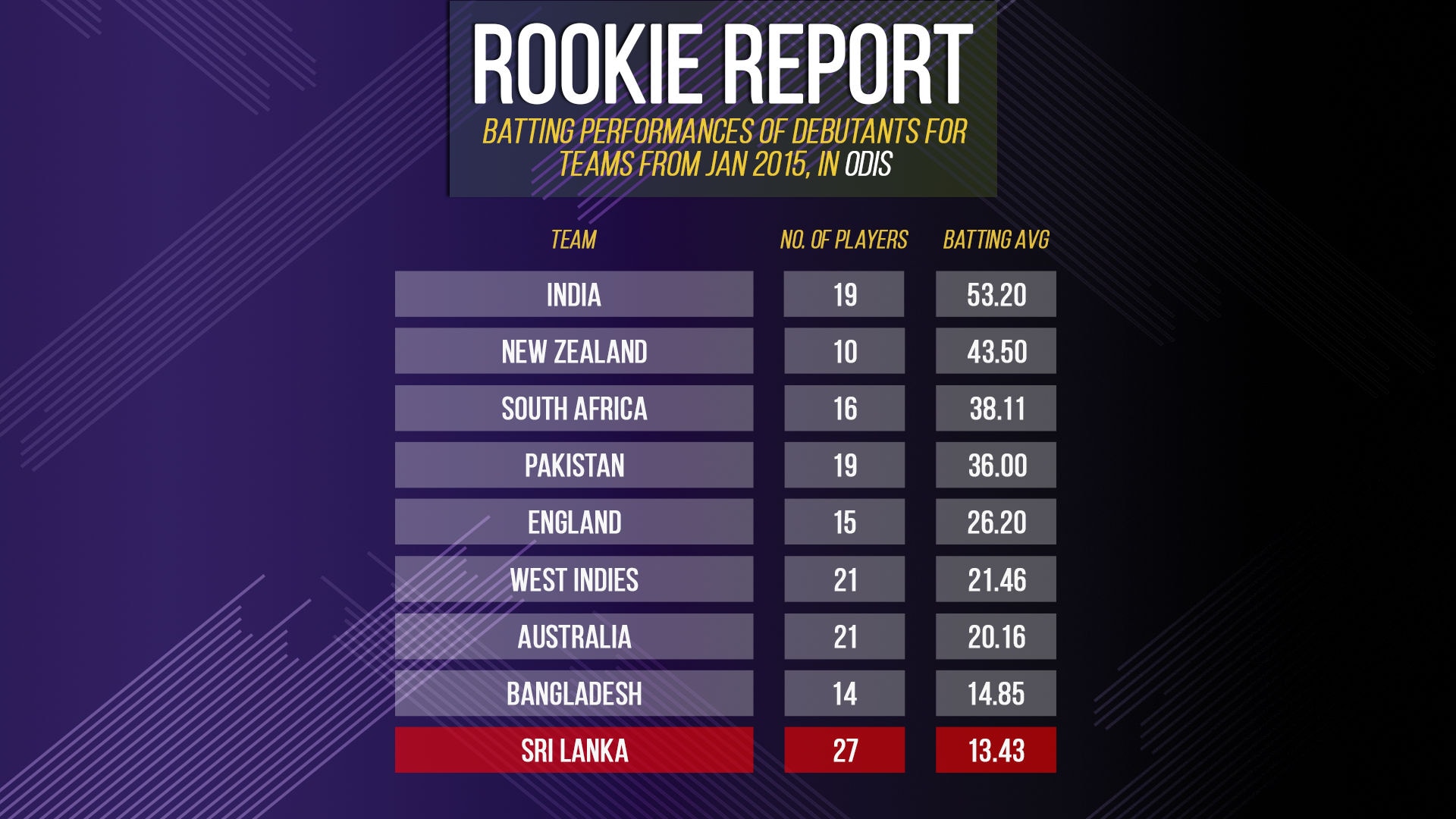 Nothing alerts to the alarming situation of a team more than the number of new players tested. Since January 2015, the Lankans have played 27 debutants in ODIs – highest for any team - and their combined batting average is a lowly 13.43. During this period, India tried 19 new players and their combined average is an astounding 53.20.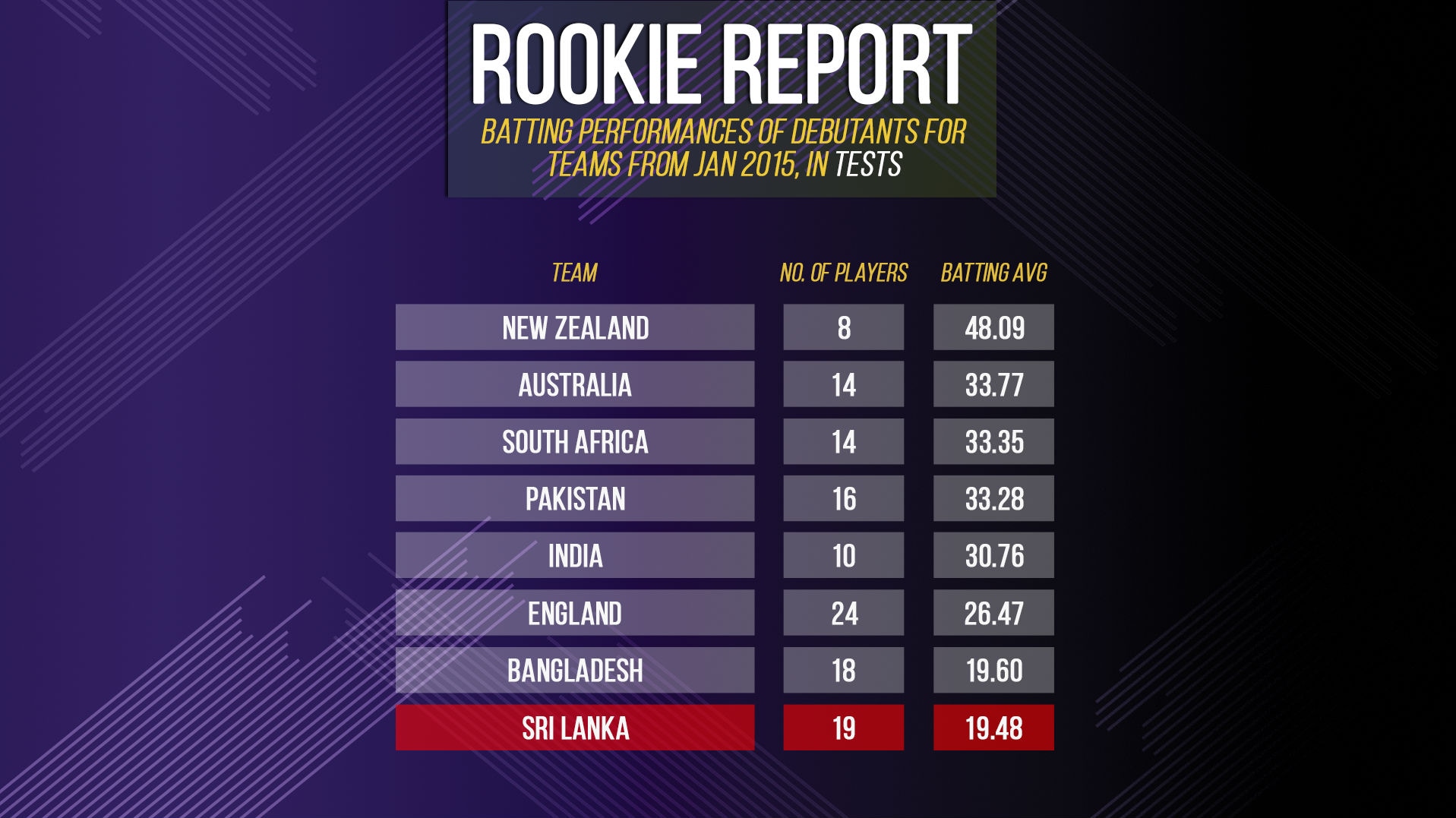 In Tests, Sri Lanka tried 19 players since January 2015 and their combined batting average is 19.48. During the same period, New Zealand tried 8 players and they all combined for an impressive batting average of 48.09.
Quite clearly, Sri Lankan cricket is going through a tough phase. And there doesn't seem to be any evidence of redemption anytime soon.