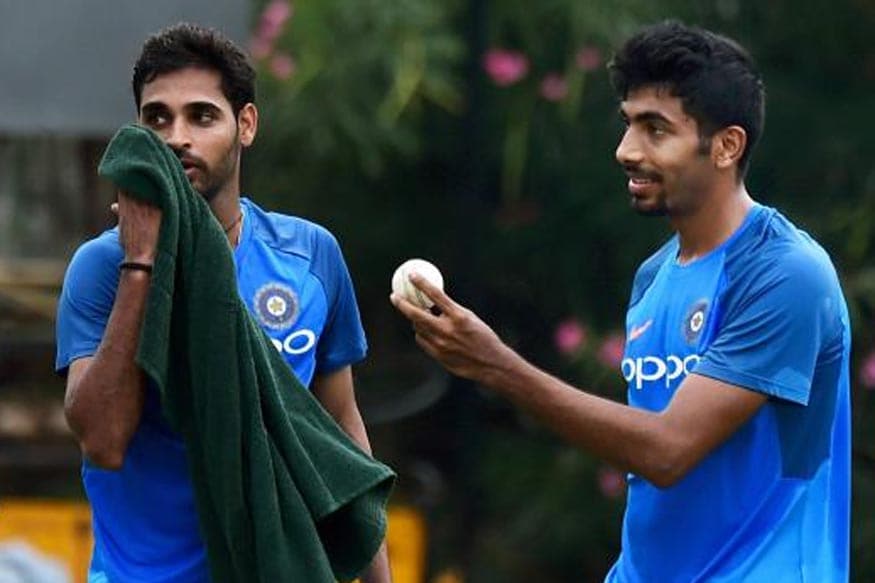 With yet another match-winning performance against Pakistan in the Asia Cup on Wednesday, Bhuvneshwar Kumar and Jasprit Bumrah reminded the world of their credentials one of the world's premier bowling combinations. They wreaked havoc with the new ball and then polished the tail clinically to reduce Pakistan to a mere 162 after they had won the toss and chosen to bat.
Just like great batting partnerships, bowlers also become doubly dangerous when they hunt in pairs. Historically, all the great ODI teams of the past, have had two outstanding new ball bowlers – Ambrose and Walsh, Waqar and Wasim, Donald and Pollock and McGrath and Gillespie to name a few.
Bhuvneshwar and Bumrah, though nowhere close to being in the same league as the luminaries above, have done enough to earn their spurs as a pair to be reckoned with. Against Pakistan, Bhuvneshwar picked up two top-order wickets and was extremely restrictive in his opening spell conceding just 13 runs in 5 overs. Bumrah did not pick a wicket but maintained the pressure with some tight economical bowling giving away just 10 runs in 4 overs – these included 2 maidens. Bumrah returned to pick two lower-order wickets while Bhuvneshwar also chipped in with one.
This bowling partnership, although still in its formative stage, has already given certain indications of its potential and could prove to be crucial to India's chances in the World Cup in England next year.
Bumrah and Bhuvneshwar have played together in 27 matches since the former's debut against Australia in Sydney in January 2016. Bumrah has picked up 43 wickets in these matches at an average of 25.09. With 31 wickets, Bhuvneshwar averages a touch above 36 in these matches. What stands out are their economy rates – 4.82 and 5.21 – particularly impressive given they bowl a majority of their overs in the first powerplay and then at the death.
But here is the collar-grabbing stat. India has won 21 of the 27 matches in which Bhuvneshwar and Bumrah have bowled together. While Bhuvneshwar's average and strike rate dramatically improves to 31.77 and 37.1 in these matches – highlighting his contribution in India's victories, Bumrah also sees an improvement in all his parameters.
Bumrah has been the fourth-highest wicket-taker in ODI cricket in the world since his debut. He has picked up his 66 wickets at an outstanding average of just 22 and strike rate of touch under 29. His economy rate of 4.61 makes him the most restrictive bowler in the world (minimum wickets 30) from amongst all the major teams during this period.
Bhuvneshwar has played more of a supporting role. He has picked 33 wickets in 31 innings conceding just over 38 runs per wicket. His economy rate has been impressive though at 5.18.
Bhuvneshwar has opened the bowling in all the 27 matches he has played with Bumrah while the latter has shared the new ball in 21 such matches. This means that between them they have shared a majority of the new ball attack since Bumrah's debut. Their effectiveness can be seen in the numbers. If we compare bowling averages of opening fast bowlers, India, conceding just over 30 runs per wicket is better than the likes of South Africa, England and even Pakistan – teams traditionally considered as bowling powerhouses for fast bowlers.
India's strike rate is also better than England's and Pakistan's – showing that their new ball attack has the potency to pick wickets. The majority of the credit for this has to go to Bumrah and Bhuvneshwar who have picked up a total of 74 out of 134 wickets aggregated by Indian new ball bowlers (only pace bowlers) since January 2016.
India also has the most restrictive number 1 and number 2 barring only Pakistan.
India has been well served with opening fast bowlers since 2014. While there is not much difference between the runs conceded and the balls bowled per wicket between Umesh Yadav/Mohammed Shami (who spearheaded the attack between 2014 and 2016) and Bumrah/Kumar (2016-18), there is a stark contrast in the economy – 5.21 vs 5.52 – leaking runs and being unable to defend totals was India's big worry then – that issue has been addressed to an extent.
Number of times they have picked up a wicket in their opening spell: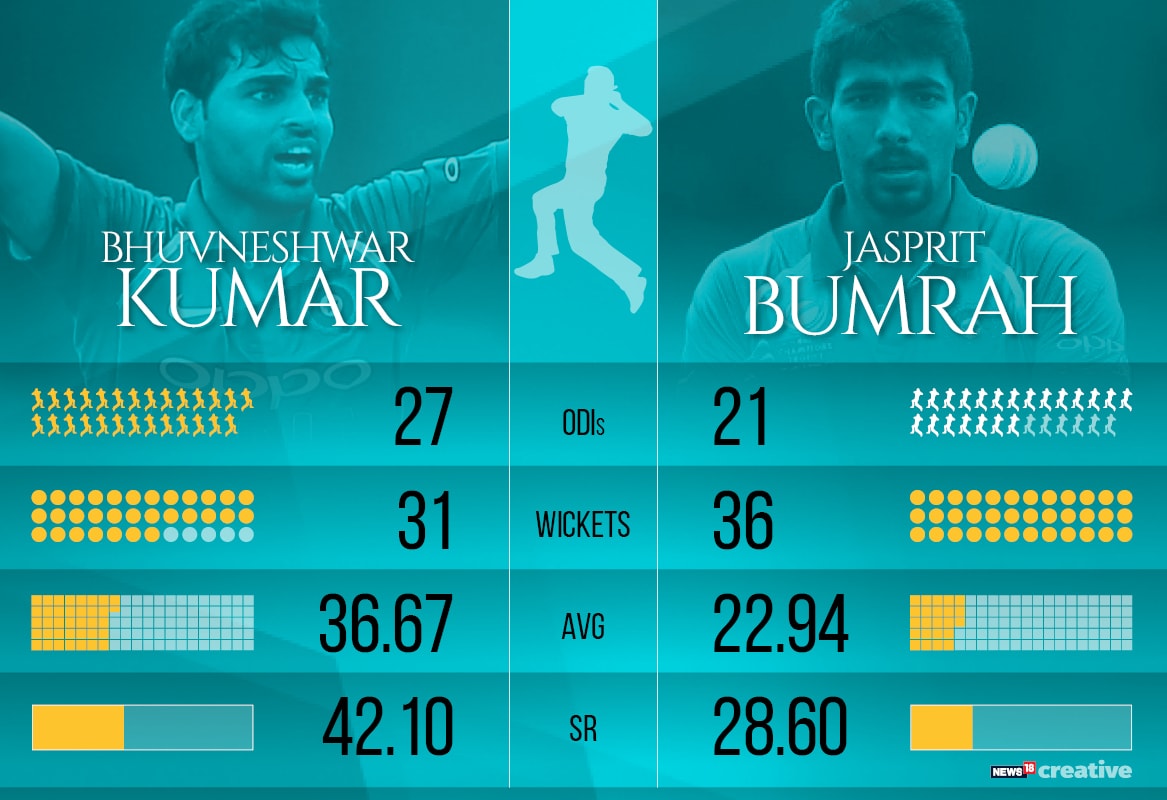 Bhuvneshwar has picked up a wicket in his opening spell in 27 (out of 89) matches whereas Bumrah has achieved this feat in 21 (out of 38 matches) – quite a remarkable stat for Bumrah and an indicator of his wicket-taking prowess with the new ball.
Their ability to stifle the opposition batsmen has also stood out. In matches they have played together, Bhuvneshwar has conceded just 5.21 runs for every six balls bowled while Bumrah has been even more miserly and given away just 4.67 runs per over in their opening spells – a splendid achievement assuming most of their overs were bowled in the first powerplay.
Number of top/middle order wickets (order number 1-6) they have taken when played together: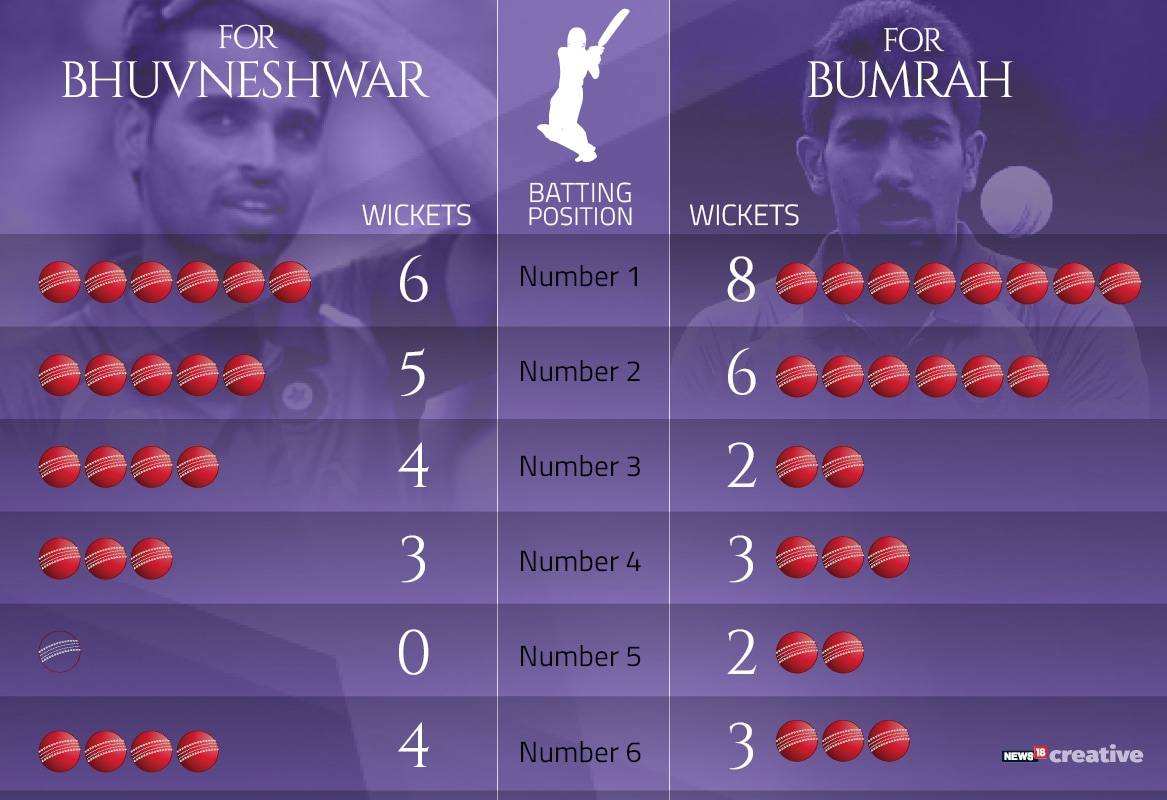 There are potentially 162 top and middle order wickets (27*6) Bhuvneshwar and Bumrah could have picked from the 27 matches they have played together. The pair have picked 45 of these wickets – showcasing their ability to make inroads and picking up the wickets which matter.
Bhuvneshwar has variation in his bowling. He varies his pace, swings when the conditions are conducive and is very restrictive. Bumrah is the wicket-taker also being very economical. His unusual action torments opposition batsmen and he bowls brilliant yorkers at the death.
Together, the numbers establish beyond doubt, they are quite a handful for any opposition.