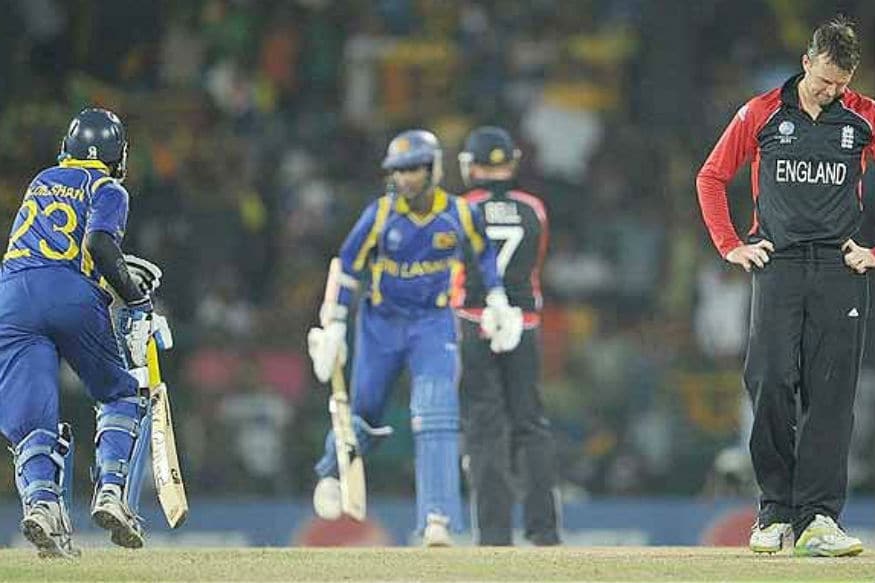 March 26, 2011, Colombo: Sri Lanka thrashed England by 10 wickets in their 1996 World Cup Quarter-Final encounter at the Premadasa. After restricting England to 229 for 6 in their allotted 50 overs, Sri Lankan openers, Tillakaratne Dilshan and Upul Tharanga put together an unbeaten 231 run partnership and chased down the target in under 40 overs.
We look at 5 standout numbers from the match:
10: Number of Wickets by which Sri Lanka won
Only twice in World Cup knockout history (the other being Pakistan's win over the West Indies three days prior in the first Quarter-Final in Dhaka) has a team recorded a win with all their wickets in intact
102 & 108: Hundreds registered by Tharanga and Dilshan
It is the only time in World Cup knockout history that two batsmen from the same team registered a hundred in the same match
Chris Harris and Mark Waugh also registered hundreds in a Quarter Final clash in the 1996 World Cup in Chennai but for different teams
231*: The Unbeaten Partnership between Tharanga and Dilshan
It is the second-highest stand in World Cup knockout history after Damien Martyn and Ricky Ponting's unbeaten 234 against India in Johannesburg in the final of the 2003 World Cup
It is also one of the two double century partnerships in World Cup knockout history
2/5: Dilshan and Tharanga registered 2 of the 5 hundreds scored by a Sri Lankan batsman in World Cup knockout history. Mahela Jayawardene remained unbeaten on 115 against New Zealand in the semi-final in Kingston in 2007 and ended up on the losing side despite scoring an unbeaten 103 against India in the final in Mumbai in 2011. Aravinda de Silva scored an unbeaten 107 against Australia in Lahore in the 1996 final.
Under-40: Sri Lanka chased down their target in 39.3 overs
It was only the second instance in any World Cup match for Sri Lanka that they managed to chase down a 150-plus score in less than 40 overs
The only other instance came against Zimbabwe in Colombo (SSC) in 1996 when they chased down 228 in 37 overs