With figures of 4/29 in a Man of the Match performance in his first ODI in more than 14 months, Ravindra Jadeja made a spectacular return to coloured clothes duty for India. Of late Jadeja has hit a bit of a purple patch in fact, having only recently made 86 and taken 7 wickets at The Oval in a brilliant all-round performance on his first call-up to the Test team in England after sitting out of the first four games.
However, even as he revels in this comeback, the question still remains, did Jadeja merit a recall to the ODI squad? After all, this was his first three (or more) wicket-haul in more than four years. Once Axar Patel was injured, could the selectors have considered another 'like for like' replacement – Krunal Pandya?
The Case Against Ravindra Jadeja:
- Before Friday's clash, Jadeja last played an ODI for India on 6th July 2017. An Indian X1 minus Jadeja has played 27 ODIs from that date.
- Jadeja's ODI career peaked during the Champions Trophy, 2013. Between his debut in 2009 till the end of the 2013 Champions Trophy, Jadeja averaged 32.58 with the bat and 31.04 with the ball – excellent numbers for an all-rounder. In fact, he was not only one of the leading all-rounders in the world during this period but also a very highly ranked bowler in the format (number 1 bowler in ICC ODI Rankings in August 2013).
- Even as he started to excel in Test cricket, Jadeja still he remained a force to reckon with in ODIs.
From CT 2013 till the 2015 World Cup, his numbers dipped marginally (in his bowling) but he remained a vital member of the team.
It is after WC 2015 where Jadeja went completely off the radar. His batting has been poor and his bowling has also suffered. He not only lost his ability to pick wickets but also started going for runs in the middle overs.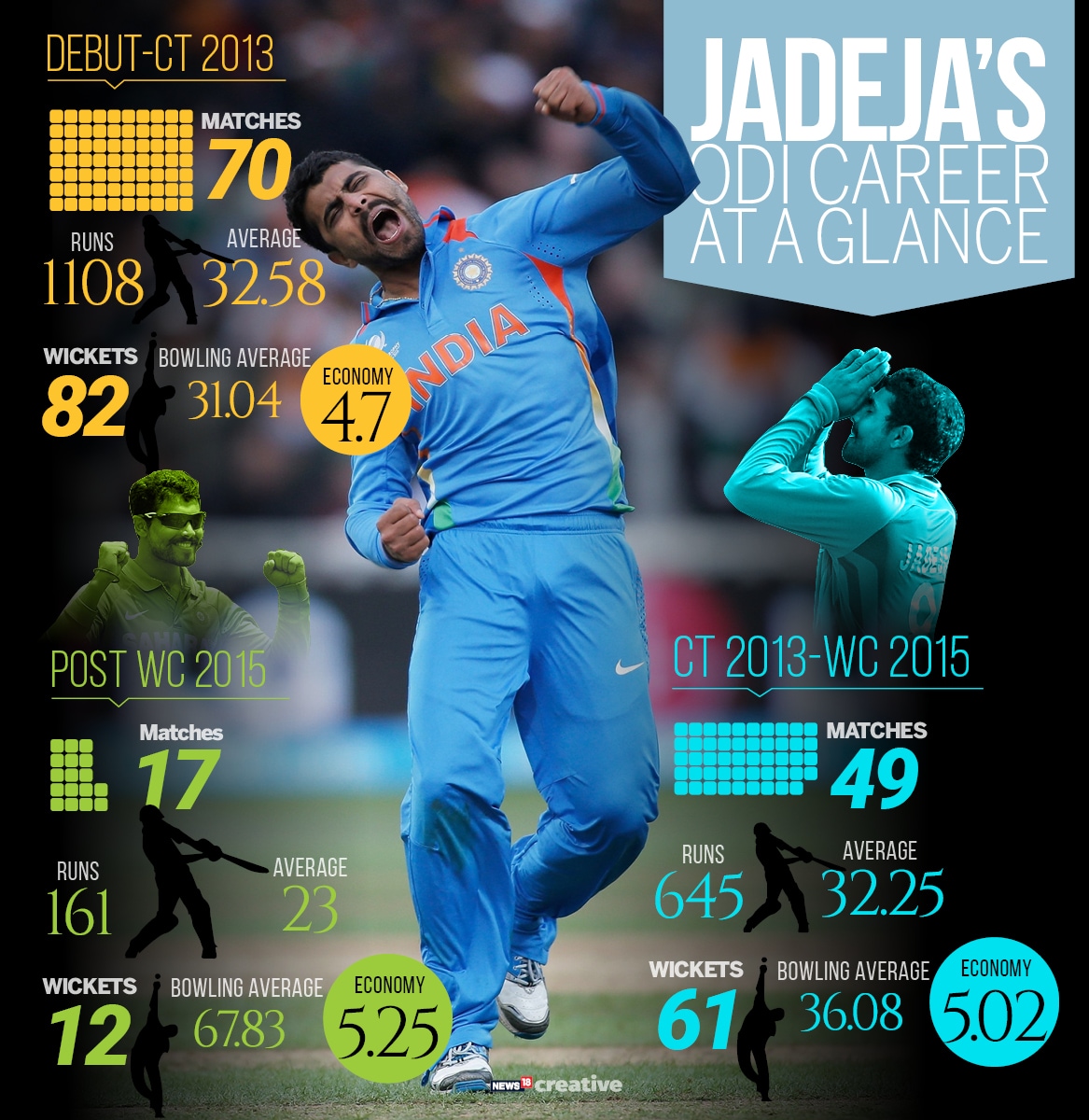 - Jadeja hasn't crossed 33 in his last 21 ODI innings – in over 4 years. He has not picked up three wickets in a match (before Friday), again, in over 4 years. His ODI Bowling Ranking has fallen to 55 and All-Rounder to 31.
- In his last 17 List A batting innings, starting January 2016, Jadeja has scored one fifty and one hundred only. Jadeja's 116-ball 113 against Jharkhand helped Saurashtra chase 330 and the 56 saw him absorb pressure of falling wickets helping his side to a match-winning 255. Though both these innings stand out, they were not enough to warrant a place in the ODI side.
- In his last 20 List A bowling innings, starting January 2016, Jadeja has gone wicketless as many as 12 times. He has conceded 5 or more runs per over in 11 of his last 20 bowling spells.
- Jadeja has not represented India in T20Is since July 2017. He has had a pretty ordinary season at IPL 2018 too scoring just 89 runs in 16 matches. His 3/18 this season was his first three-wicket haul in T20 cricket in three years. In any case it is incorrect to select a player for ODIs based on his exploits (or the lack of them) in T20 cricket. Both formats are very different requiring different specializations and skill sets.
- The question then beckons – why was Jadeja selected?
His performance in first class cricket and his recent showing at The Oval in the last Test against England could be the only possible reasons. Jadeja scored 86 and also picked 7 wickets in the match.
He has scored 4 fifties and a double ton in his last 12 first-class matches. He has also picked 3 or more wickets in an innings 13 times in 23 innings in these 12 matches. While he continues to be a great match winner with the ball in India, his performances in Test (and first class) cricket cannot be seen as a measure for ODI cricket. His fielding prowess of course, is a huge plus.
The Case for Krunal Pandya:
- He is a like for like replacement for Axar Patel (and Jadeja) bowling slow left-arm orthodox and batting lower down the order.
- He has scored 30 or more in 17 of his last 32 List A innings in the last two years (beginning February 2017). Considering he is an all-rounder, that is an impressive statistic.
- He has picked up at least one wicket in 22 of his last 32 LIST A matches. In 14 of these matches he has conceded less than 5 runs per over – an indication of the tight line and length he bowls and his accuracy.
- Pandya was among the leading run-getters (7th highest) in the Vijay Hazare Trophy 2016-17 (India's premier domestic One-Day competition), scoring 366 runs in just 8 matches at an average of 45.75 and strike rate of 81.33. He also picked 11 wickets giving away less than 5 runs per over – again highlighting his economy with the ball. His exploits helped Baroda reach the semi-finals. He had the highest run aggregate and wickets tally for Baroda.
- His IPL record has been very impressive too. In IPL 2016, he scored 237 runs in 12 matches at 39.5 per dismissal and at an astonishing strike rate of 191 – the highest for any batsman in that season! He also picked 6 wickets and was restrictive conceding just 7.5 runs per over.
- He top-scored for Mumbai Indians with an under pressure 47 (from 79 for 7) in the IPL Final last year (2017) – Mumbai Indians went on to win the title. He scored 243 runs that season and took 10 wickets in 13 games and an economy of just 6.82.
Jadeja has scored 330 runs in his last 20 matches (14 innings with 4 not outs) in List A cricket. Compare that to Pandya's 512! Pandya has also picked double the number of wickets. Jadeja's bowling average and strike rate have been poor in comparison.
Performances in one-day cricket should be the only basis (as far as possible) for selecting a player for ODI cricket. Form in IPL and other domestic T20 matches can serve, at best as 'supporting documents'.
Clearly, in this case a selection punt has come off, with Jadeja justifying the decision to recall him. However, the older Pandya brother continues to snap at his heels and his opportunity may not be too far away.
(Note: the stats used in the article do not include numbers from the Asia Cup 2018)