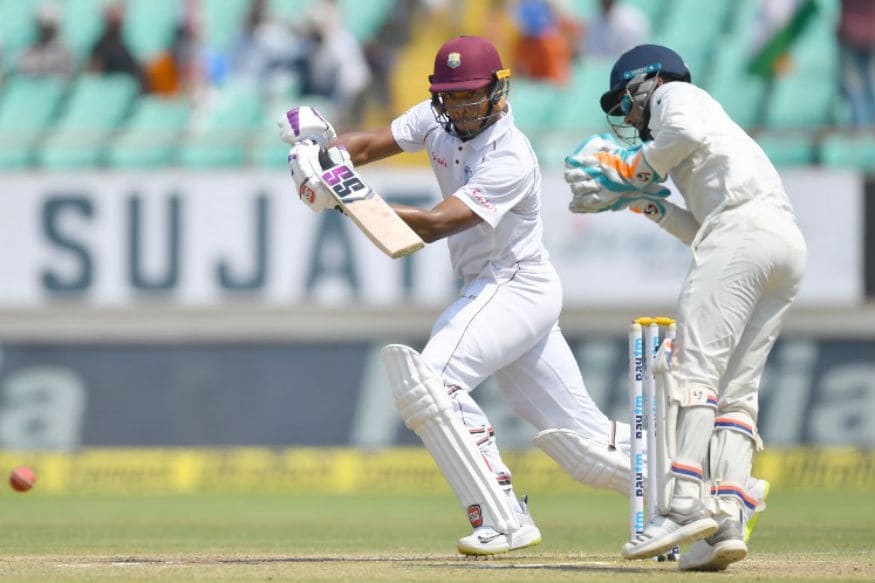 In under three days at Rajkot, the rechristened Windies put out yet another stark reminder of how drastically their stock has fallen as a cricket playing entity. Woeful with the ball, abysmal with the bat and lackadaisical in the field, this group did little to embellish a proud heritage.
There was a time of course and it seems a long time ago, that West Indies, as they were called back then, did not lose a Test series for 15 years. They conquered the world – with bat, ball, style, swagger, intimidation, ruthlessness, talent. Greenidge, Haynes, Lloyd, Richards, Richardson, Marshall, Holding, Roberts, Ambrose, Walsh – were some of the all-time greats who dominated world cricket from the late 1970s to the mid 1990s.
West Indies did not lose a Test series from June 1980 to March 1995 – seldom has any team in any sport in history dominated as emphatically as they did.
Fast Forward to 2018:
They have won only 8 Test series out of their last 33 in the last 10 years (Feb 2009 to July 2018). Six of these have been against Bangladesh and Zimbabwe.
They are currently ranked number 8 in the ICC Test Rankings.
Their Test match win-loss ratio of 0.465 in this period (last 10 years starting Jan 1, 2009) is the worst amongst all teams barring Bangladesh and Zimbabwe. They have lost 43 of the 86 Tests they have played in this period. And won just 20. Ten of these wins were against Bangladesh and Zimbabwe.
It has been a MIGHTY FALL! The great West Indies team has been reduced to a school-boy unit. Forget greatness, they struggle to even compete now.
POOR BATTING
The Windies face a peculiar crisis in the Test format. Most of their stars prefer T20 cricket – Gayle, Bravo, Pollard, Russell – and do not play Tests as they do not find it lucrative and have long-lasting problems with the West Indies cricket board. So, there is a dearth of talent in the Test team. The young generation of batsmen then does not have heroes from Test cricket to emulate. They rather be a Gayle or a Russell! It's a more exciting life.
So they nurture themselves to specialize in T20 cricket – the demands and skill-set for which are very different to Test cricket.
As a result we see poor defensive techniques and temperament, low levels of concentration and mental toughness and a failure to dig in and fight and resist.
It is not surprising then to see the number of West Indian batsmen getting bowled and leg before wicket. The defense is just not there.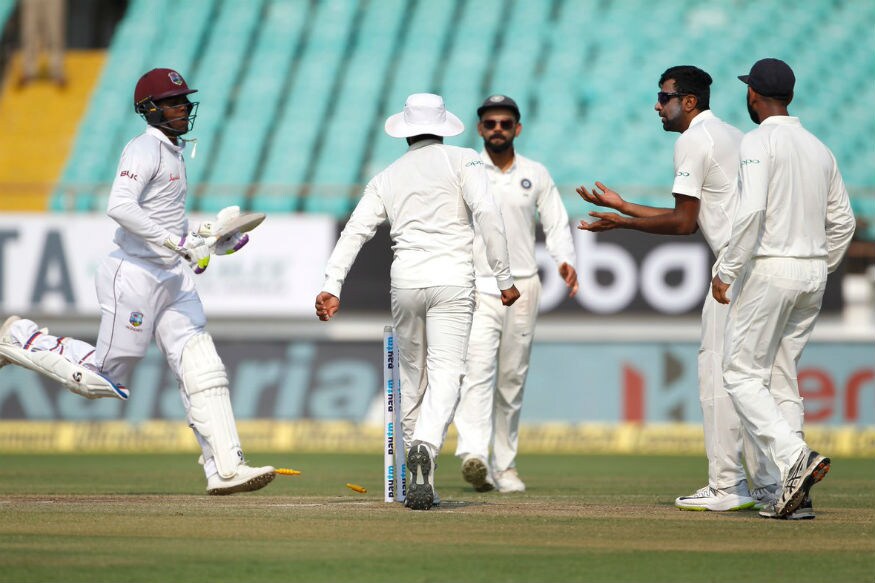 Twitter/ ICC
As many as 56 Windies batsmen in 533 innings in just 85 matches (maximum frequency for any major team) have been either bowled or LBW in this period – this means that on an average 6 West Indian batsmen are either out bowled or LBW in a Test match – that is staggering!
As many as 18.67% of their batsmen have been bowled and 18.75% LBW in this period. This jointly is the maximum for any team.
With no real technique to defend the ball the only option is to attack and slog – as was evident in Rajkot – a number of West Indian batsmen going for the heave playing across the line against the spinners and gifting their wickets.
West Indies batting average of 28.8 in the last 10 years is the lowest amongst all teams – lower even than Bangladesh. Their batsmen aren't occupying the crease for any considerable length of time – and hence no big runs.
If we look at the current squad in India, only Brathwaite and Chase average above 40 in first class cricket (Hope almost 40). Most of the other batsmen average in the low 30s – that speaks volumes of the state of red-ball cricket in the Caribbean – even at the domestic level the talent and the temperament is missing.
Their 100s/match (66 hundreds in 86 matches) is also the lowest amongst all major teams – another indicator of the lack of big scores by their batsmen.
Windies batsmen have faced 940 deliveries per match in this time-period. It is the lowest for any team. Even Bangladesh (967) and Zimbabwe (1028) have occupied the crease for longer periods.
Windies have scored 477 runs per match (on an average) in the last 10 years. This is the lowest amongst all teams. Even Zimbabwe (489) and Bangladesh (522) have aggregated more per Test.
Another shocking stat which signifies the appalling state of their batting – only 6 West Indian batsmen (min. 10 Tests) average above 35 in Test cricket in this period. The corresponding number for Pakistan is 9, Sri Lanka (9), India (13), New Zealand (11), England (12), Australia (15) and South Africa (8).
The low number in South Africa's case is only because they had a stable batting line-up.
There have been 46 batsmen (batting positions 1 to 7) who have played at least one Test for the West Indies in this time-frame (in 86 matches) – the maximum for any team. This is a testimony of the chopping and changing the team has gone through, owing to lack of talent, poor performances and problems between players and the management.
The more successful teams like India and South Africa with 33 (in 101 Tests) and 35 (in 87 Tests) have had a more stable batting order.
In as many as 52 innings (out of 158 total innings) they played in this period, the Windies were not able to cumulate 200 runs as a team. Only Pakistan with 56 such innings out of a total of 156 innings have fared worse.
Windies have been bowled out for less than 200 in the first innings 14 times (out of 85 first innings) in this period, i.e. one every 6 first innings.
Only two teams have a higher frequency - Pakistan every 4.8 innings and Sri Lanka every 5.41 innings.
INEFFECTIVE BOWLING
If the batsmen have been poor, the bowlers have not been any better either. Windies' bowling average of 36.68 is the lowest amongst all teams barring Bangladesh and Zimbabwe.
Their bowling strike rate of 69 is also the worst amongst all major teams. This means on an average the Windies bowlers take 11.5 overs to pick a wicket.
Cumulatively, they only have 50 fifers and 6 ten-wicket hauls in the match. Only New Zealand with 28 fifers and 3 ten-wicket hauls have lesser.
The Windies bowlers have not been able to restrict the opposition batsmen. They have conceded runs at an economy of 3.18 runs per over. Only Sri Lanka (3.21) have been more expensive.
Jason Holder. (Getty Images)[/caption]
Another insight which suggests that their bowlers have often had no plans, bowled on both sides of the wicket and either been too short or over-pitched with no consistency in line and length is the number of maidens bowled by them – only 2317 – the lowest by any major team – both in absolute number and in frequency.
Only three Windies bowlers have taken more than 100 wickets during this period – the joint-lowest with Sri Lanka and New Zealand.
Only three Windies bowlers average less than 30 in this period. Only Sri Lanka with just one such bowler fares worse.
Poor batting and bowling and the result is not surprising. West Indies has the maximum number of innings defeats in the last 10 years – 12 innings defeats in 85 matches.
Things have gone from bad to worse. The defeat in Rajkot was the second-worst in their Test history. They need inspiration from somewhere. Looking back a few years in their own backyard would not be a bad start.