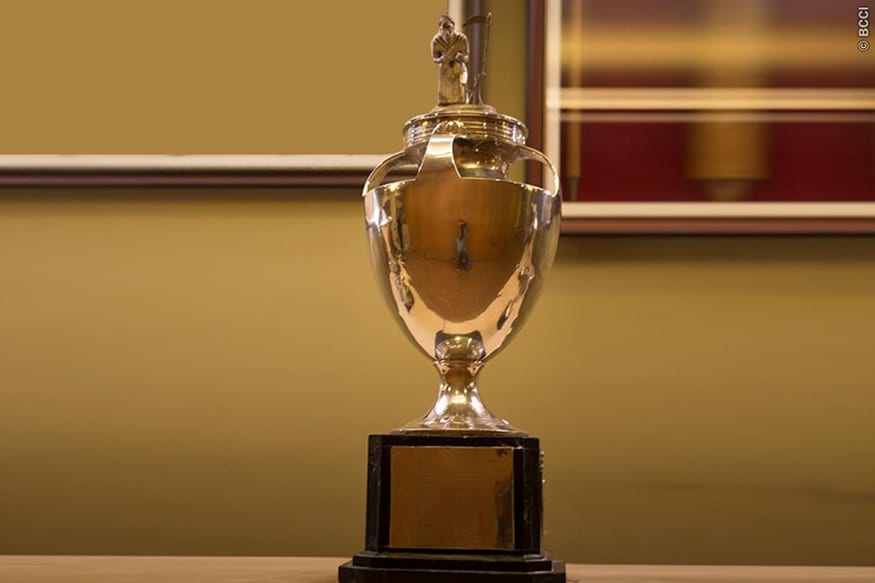 Across the length & breadth of the country today, teams are locking horns to get the domestic red-ball season underway. For the domestic cricketer, the Ranji Trophy is the most coveted prize to be won after a season of relentless grind.

The tournament was named after KS Ranjitsinhji, an Indian prince who played 15 Tests for England between 1896 and 1902.

Overall History and Format

The first edition of the Ranji Trophy was held in 1934-35. There were 15 teams divided into 4 zones and a knockout format was followed.

The first match of the competition was held on the 4th of November, 1934 between Madras and Mysore at Chepauk.

Bombay were the winners of the inaugural edition defeating Northern India in the final.

There have been a total of 84 editions of the Ranji Trophy.

Mumbai (Bombay) has been the most successful team in Ranji history. There have won the competition 41 times. They have also reached a record 46 finals.

From 1934-35 to 1951-52, the teams were divided into four zones – North, South, East and West. Central Zone was added from 1952-53. Matches were played on a knockout basis till 1956-57, post which a league-basis was adopted to determine a winner from each zone. Five zone winners played a knockout and the winner was decided through a final.

The knockout stage was expanded to the top two teams from each zone – a total of 10 teams – in 1970-71.

This was extended to 15 teams in 1992-93.

Between 1996-97 and 1999-2000, a secondary group stage was introduced.

A two-division structure was adopted from 2002-03 consisting of an Elite Group and a Plate Group. A number of variants have been tried since.

From 2012-13, three groups with nine teams each were introduced – Group A and B had the top 18 teams amongst them while Group C had the bottom 9. The top three teams from Group A and B and the top two from Group C contested in a knockout phase.

The 2017-18 edition was competed amongst 28 teams. Vidarbha beat Delhi in the final in Indore.

The 85th season of the Ranji Trophy (2018-19) will see 37 teams making it the biggest edition of the competition – both in terms of number of teams competing and the number of matches to be played.

Mumbai (Bombay) – the greatest Ranji side in history

Mumbai has won the Ranji Trophy a record 41 times. They have produced some of the greatest Indian batsman of all time – Vijay Merchant, Polly Umrigar, Sunil Gavaskar, Dilip Vengsarkar and Sachin Tendulkar to name a few. Most of them went to captain the national Test side.

Bombay had a stunning streak of 15 Ranji titles from 1958-59 to 1972-73. They won 20 out of the 22 editions between 1955-56 and 1976-77.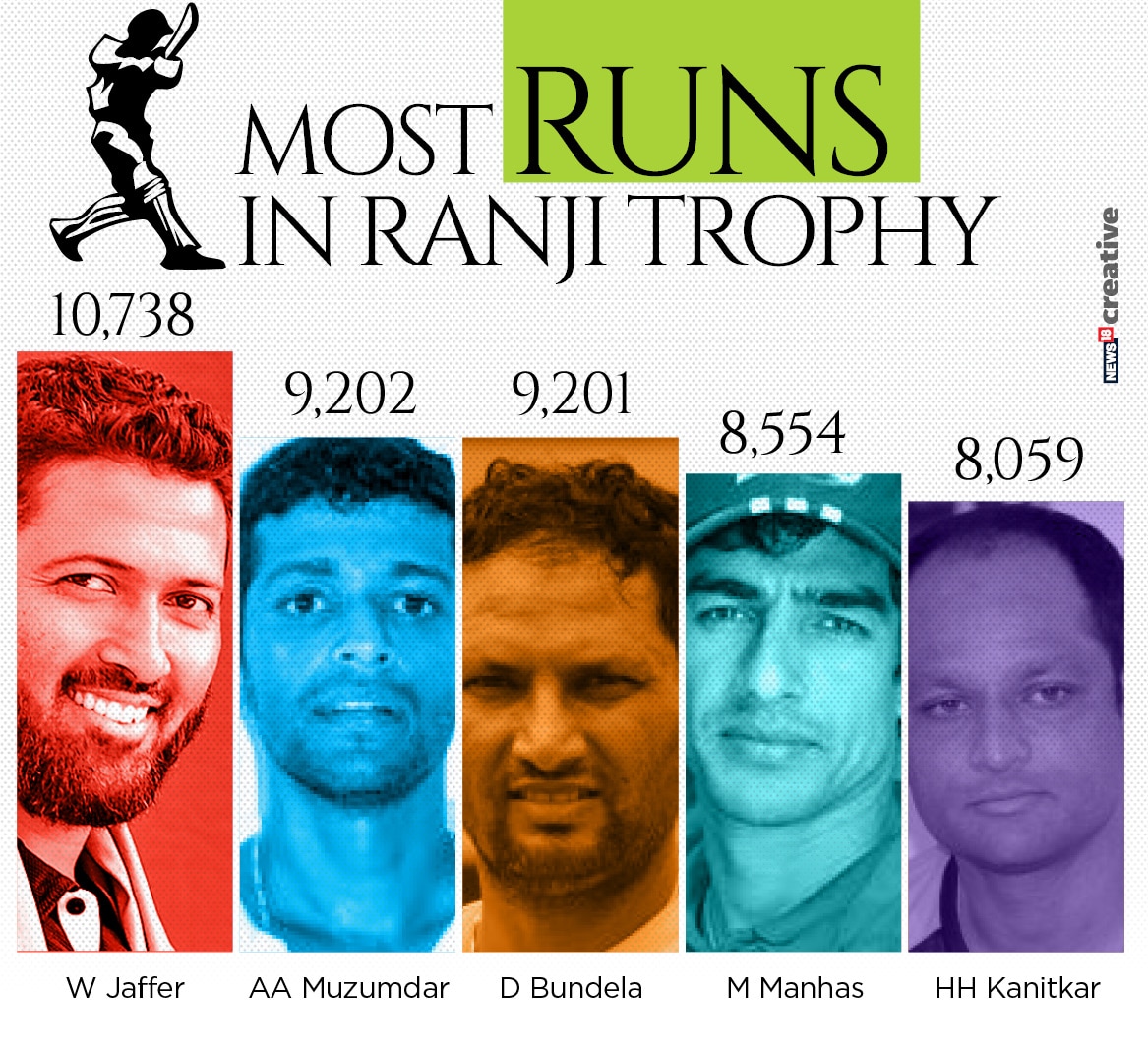 Most Runs: 10,585 – Wasim Jaffer

Highest Average: 98.35 - Vijay Merchant
(Second-Highest: 85.62 – Sachin Tendulkar)

Maximum Hundreds: 36 – Wasim Jaffer
(Second-Highest: 26 – Vinod Kambli)

Highest Scores:

377: Sanjay Manjrekar – vs Hyderabad, 1990-91
359*: Vijay Merchant – vs Maharashtra, 1943-44
340: Sunil Gavaskar – vs Bengal, 1981-82
323: Ajit Wadekar – vs Mysore, 1966-67
314*: Wasim Jaffer – vs Saurashtra, 1996-97

Most Wickets: 362 - PK Shivalkar

Best Bowling Average: 15.47 – Abdul Ismail

Best Bowling in a Match: 13 for 50 vs Mysore in 1971-72

Famous All-Rounders (Minimum 2000 runs and 100 wickets in career):
Sairaj Bahutule (3396, 323)
Ravi Shastri (2223, 112)
Eknath Solkar (2639, 127)
Polly Umrigar (4102, 140)

Successful Captains:
Sunil Gavaskar (19 matches won)
Polly Umrigar (17)
Ajit Wadekar (16)
Sachin Tendulkar (14)

Other Great Ranji Teams

Karnataka/Mysore and Delhi have been the other successful teams in the Ranji Trophy having won the competition 8 and 7 times respectively.

This also shows the wide gap between Bombay and other teams in Ranji history.

Karnataka Ranji Team:

Winners: 1973-74, 1977-78, 1982-83, 1995-96, 1997-98, 1998-99, 2013-14, 2014-15

Notable Captains: Erapalli Prasanna, Gundappa Viswanath, Anil Kumble, Rahul Dravid, Vinay Kumar

Famous Batsmen: Gundappa Viswanath, Rahul Dravid, Robin Uthappa, KL Rahul

Famous Bowlers: Erapalli Prasanna, BS Chandrasekhar, Anil Kumble, Javagal Srinath

Delhi Ranji Team:

Winners: 1978-79, 1979-80, 1981-82, 1985-86, 1988-89, 1991-92, 2007-08

Notable Captains: Chetan Chauhan, Ajay Sharma, Bishan Singh Bedi, Gautam Gambhir, Mithun Manhas

Famous Batsmen: Ajay Sharma, Gautam Gambhir, Mithun Manhas, Virender Sehwag, Gautam Gambhir, Virat Kohli

Famous Bowlers: Bishan Singh Bedi, Madan Lal, Ashish Nehra, Ishant Sharma

Baroda has won the trophy 5 times while Madhya Pradesh/Holkar have lifted it on four occasions.

Ranji Records

10,738: Most Runs - Wasim Jaffer

9,202: Second-Highest aggregate runs - Amol Muzumdar

443*: Highest Score – Bhausaheb Nimbalkar (Maharashtra vs Kathiawar) at Poona, 1948-49

1415: Most Runs in a Single Season – VVS Laxman in 1999-2000
(1321: Second-Highest – Shreyas Iyer in 2015-16)

8: Most Hundreds in a Season – VVS Laxman in 1999-2000

98.35: Best Batting Average – Vijay Merchant

He is followed by Sachin Tendulkar (85.62), VVS Laxman (80.61), Ajay Sharma (78.29) and Ashok Mankad (76.08)

594*: Highest Partnership – Swapnil Gugale and Ankit Bawne (Maharashtra vs Delhi) at Mumbai, 2016-17

35: Maximum Hundreds – Wasim Jaffer

76: Maximum Fifties – Wasim Jaffer

7: Maximum Double Hundreds – Paras Dogra and Ajay Sharma

3: Maximum Triple Hundreds – Ravindra Jadeja

48: Lowest Number of Balls (Fastest Hundred) – Rishabh Pant (Delhi vs Jharkhand) in 2016-17

637: Maximum Wickets – Rajinder Goel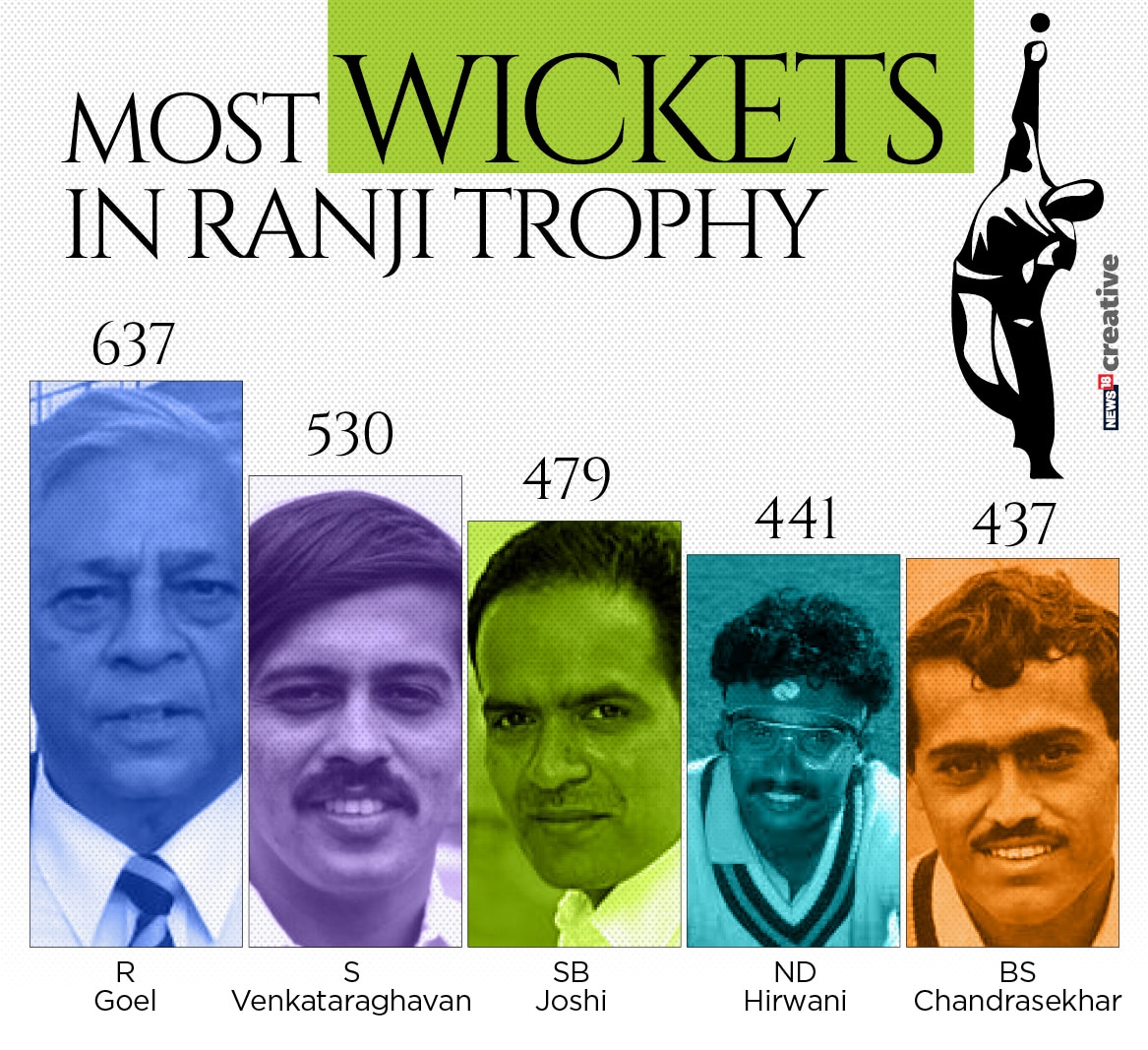 10-20: Best Bowling in an Innings - Premangsu Chatterjee (Bengal vs Assam) at Jorhat in 1956-57

Pradeep Sunderam is the only other bowler to pick 10 wickets in an innings – 10-78 (Rajasthan vs Vidarbha) in Jodhpur in 1985-86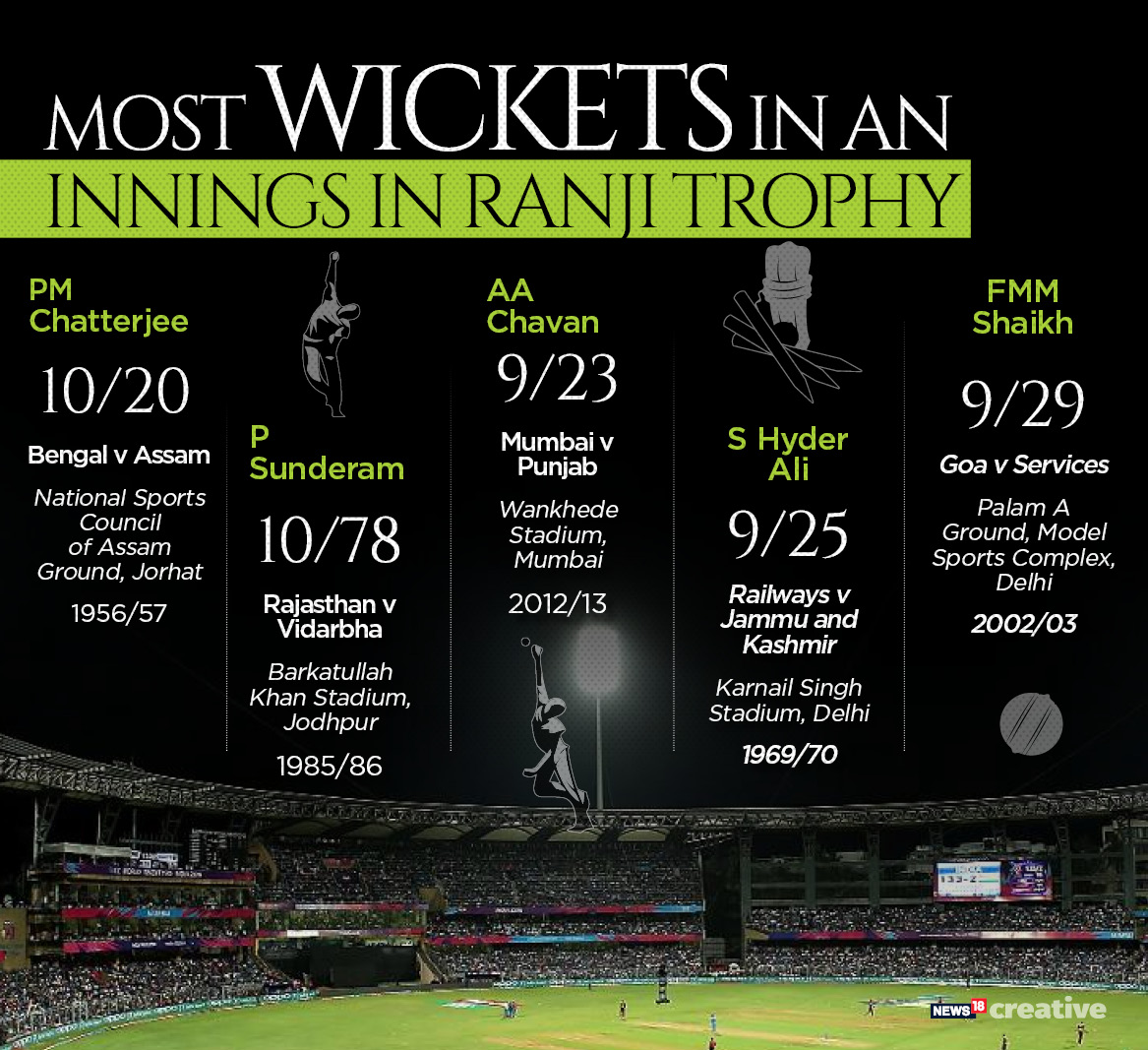 16-99: Best Bowling in a Match – Anil Kumble (Karnataka vs Kerala) at Thalassery in 1994-95

64: Most Wickets in a Season – Bishan Singh Bedi (Delhi) in 1974-75

62: Most Wickets in a Season by a Fast Bowler – Dodda Ganesh (Karnataka) in 1998-99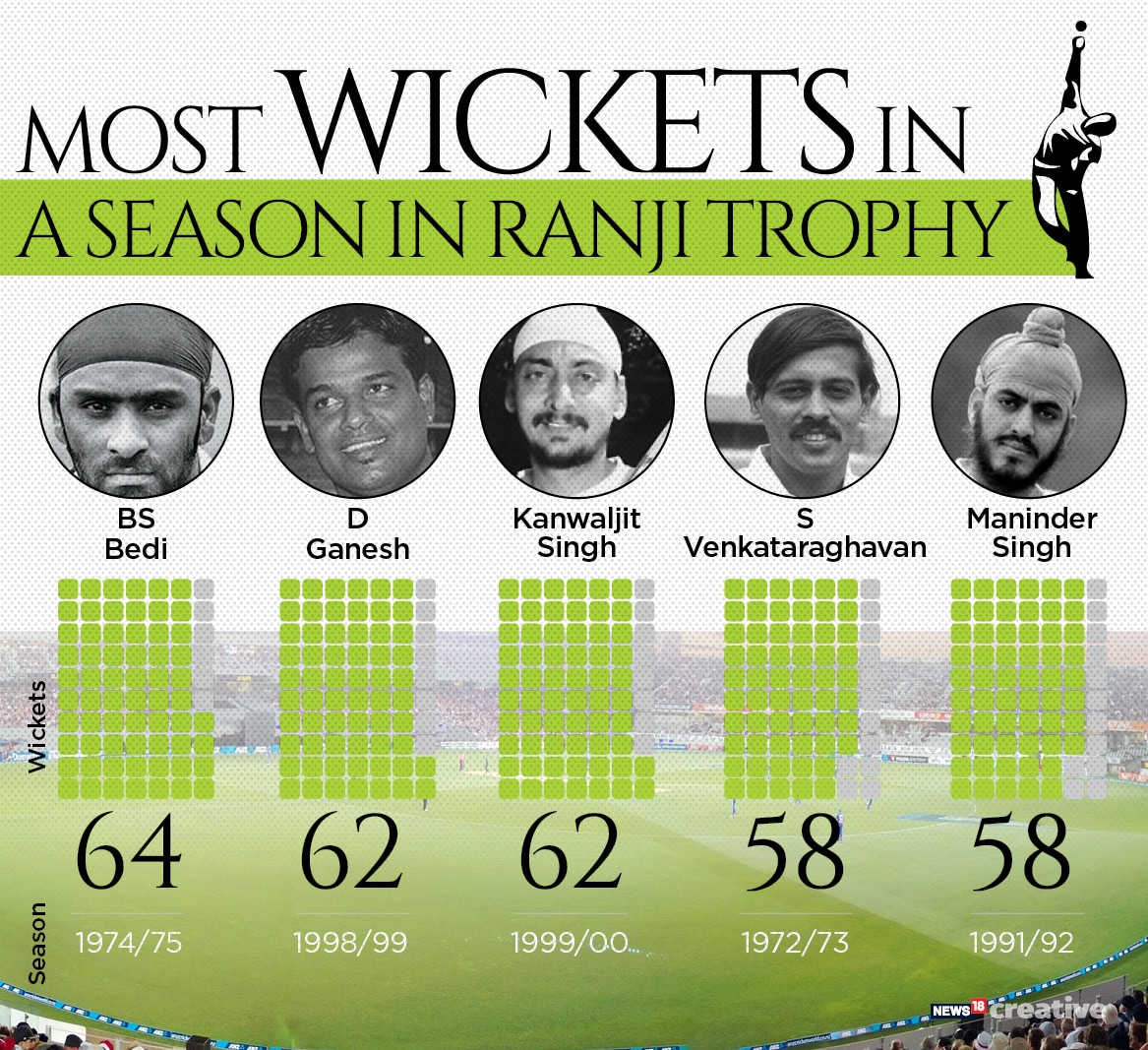 944-6 declared: Highest Team Total – Hyderabad vs Andhra at Secunderabad in 1993-94

21: Lowest Team Total – Hyderabad vs Rajasthan at Jaipur in 2010-11

Hyderabad has the record for the highest and the lowest team total

1: The number of Tied Matches in Ranji Trophy – Southern Punjab vs Baroda at Patiala on March 7, 1946

2376: Highest Total in a First-Class Match in World History – Bombay (651 and 714 for 8 declared) vs Maharashtra (407 and 604) at Poona in 1948-49

604: Highest Fourth Innings Total – Maharashtra vs Bombay at Poona in 1948-49

371: Highest Successful Run-Chase – Assam vs Services in Delhi in 2008-09

1015: Maximum Duration Batted in an Innings in First-Class History (in minutes) – Rajeev Nayyar (Himachal Pradesh vs Jammu and Kashmir) at Chamba in 1999-2000

76: Total Number of Hat-Tricks in Ranji Trophy

10: Maximum Hat-Tricks by a Team – Karnataka

3: Maximum Hat-Tricks by a Bowler – Joginder Rao (Services) – all in 1963-64

First Published: November 1, 2018, 8:16 AM IST