Virat Kohli's hunger for runs knows no bounds and the Indian cricket team skipper has now become the fastest batsman to score 6000 ODI runs away from home.
He reached the landmark in 129 innings (134 matches), which is better than the next best Ricky Ponting, who achieved the feat in 157 innings (163 matches).
Kohli's consistency has never been restricted to familiar home conditions and this latest record is proof of his will to do well across the globe in this format.
He is still not close to acing Kumar Sangakkara's record of most runs away from home (excluding neutral venues) in ODIs but one can expect that record to come his way eventually.
In terms of averages, while including all games outside home, Kohli tops the chart with an average of 57.99, when no other batsman has over 50.
There are as many as three Indians in the list of top ten highest run-scorers away from home in ODIs and Kohli isn't one of them with Sachin Tendulkar, Sourav Ganguly and Rahul Dravid acing that list but it's only because of the number of matches they have played.
Kohli has played at least 90 matches less than all of these three outside home and given his average, Kohli could be atop that list soon.
He already seems to have set the platform for that record with his consistency away from home. Of batsmen who average the best away from home while excluding neutral venues, Kohli comes fourth behind AB de Villiers, Jonathan Trott and Joe Root with his average of 57.22. Include neutral venues and he tops the list.
But there is something that separates Kohli from the rest in the list - his number of hundreds.
He has 22 centuries away from home in ODIs, the second most by any batsman in the history of One Day Internationals after Tendulkar.
Exclude neutral venues and Tendulkar comes a distant second to Kohli's 18 hundreds with 12. It shows how dominant Kohli has been in away bilateral series'.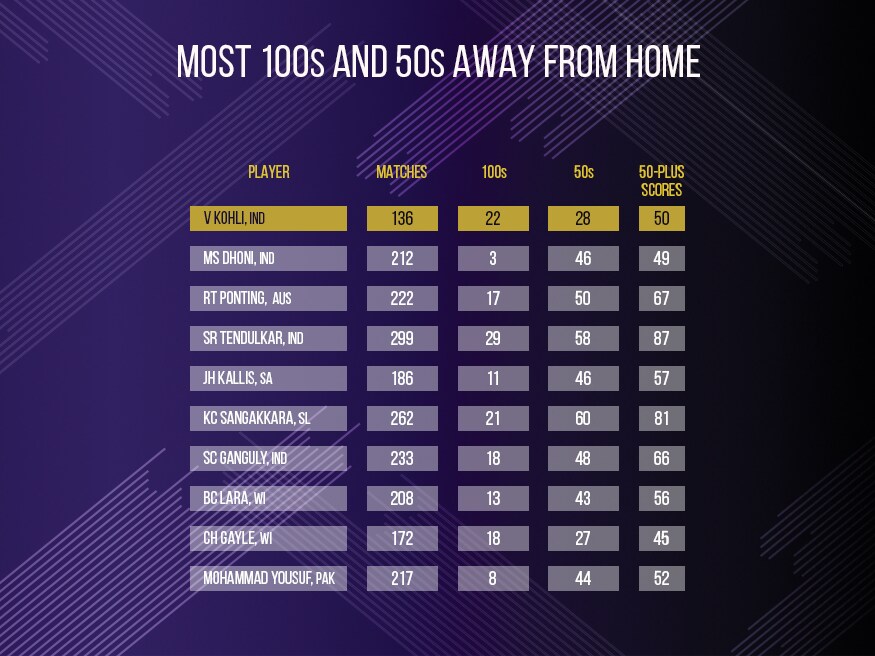 In terms of scores above 50 and more, Kohli has 50 such scores which isn't close to some of the names in the list but he has converted 22 of those into hundreds.
Given the number of games he has played compared to others in the list, his number of fifty-plus scores is pretty high. In approximately every second match he hits a fifty-plus score outside home, with no other batsmen in the list coming close to his consistency.
Tendulkar and Sangakkara have 87 and 81 such scores and it will take some beating but Kohli is quickly climbing that list too.
Fastest to 6000 runs outside home, the Indian skipper has acclimatised to conditions abroad pretty quickly and given his hunger for success, more can reasonably be expected from him.