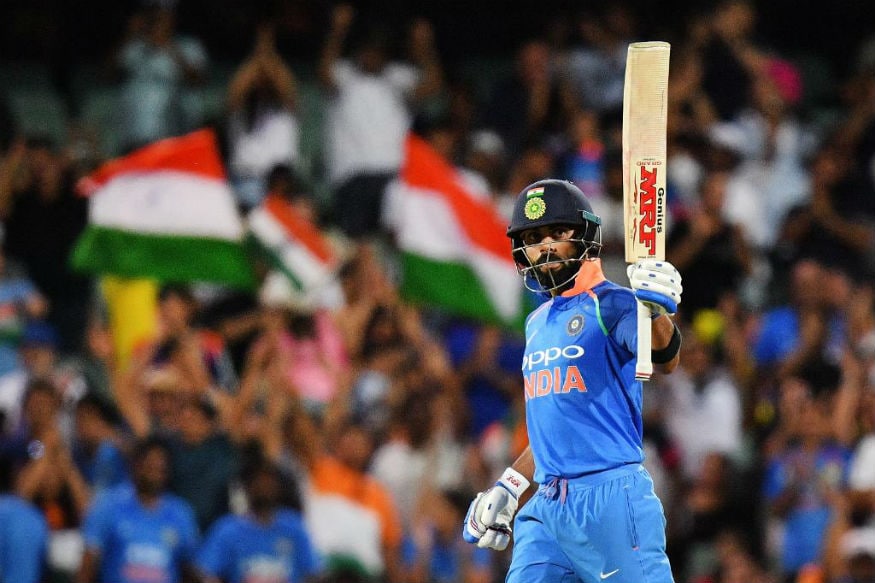 India's fifth and final ODI against Windies on Thursday was their final 50-over game of the year. Fittingly it was their captain Virat Kohli who was at the crease when the game was won, stroking an unbeaten 33 in a nine-wicket thrashing and with it the series 3-1.
In 2018 Kohli produced some exceptional ODI feats, elevating his stature as the best batsman in the format in the world by a considerable distance.
16: This number is very significant in 2018. It is the only innings where Virat Kohli has failed in the entire year – against West Indies in Mumbai on the 29th of October.
112, 46 not out, 160 not out, 75, 36, 129 not out, 75, 45, 71, 140, 157 not out, 107, 16, 33 not out – these are his ODI scores in 2018.
Kohli has scored 1202 runs at an average of 133.55 in 14 innings this year – a staggering achievement and nothing short of Bradmanesque. It gets better.
His runs have come at a strike rate of 102.55. He has amassed 6 hundreds and registered three fifties this year.
Only two more batsmen – Rohit Sharma (1030 in 19 innings) and Jonny Bairstow (1025 in 22 innings) have crossed 1000 runs in 2018.
There is a difference of more than 60 runs per dismissal between Kohli's batting average and the next best (min. 10 innings) this year – Fakhar Zaman (72.10).
No one has scored more hundreds than Kohli's 6. Rohit with 5 is at number two on the list. The Indian captain's frequency of scoring a hundred is also the best for any batsman in 2018 (6 hundreds in 14 innings).
His frequency of hitting boundaries (123 fours in 14 innings) is also the best for any batsman this year.
Kohli is also amongst the five batsmen who have faced the least proportion of dot balls in ODI cricket in 2018. His Dot Ball Percentage of 41.81% is the fourth-lowest after Kevin O'Brien (34.96%), Thisara Perera (36.49%) and Ross Taylor (38.81%). This means that not only is his boundary percentage very high but also is his ability to rotate the strike, pick up singles and converts twos into threes. Kohli has scored 52.58 % of his runs in ones, twos or threes in 2018.
CONTRIBUTION TO INDIA'S VICTORIES
India has the best win-loss ratio amongst all teams in 2018. They have won 14 and lost 4 (tied 2) of the 20 matches they have played this year. Kohli has been a part of 9 such wins (and 4 losses and one tie).
India won the Asia Cup in UAE, the bilateral series in South Africa (for the first time) and beat the West Indies 3-1 at home this year. The only series they lost (1-2) was the bilateral in England.
Kohli was the leading run-scorer with the highest average in South Africa and against West Indies at home. Only Root scored more runs than him in the ODI series in England.
Kohli has been the highest scorer of the match on 4 occasions this year and the highest scorer for India in two innings.
He has been awarded the Man of the Match for 5 innings this year – the maximum for any player. And the Man of the Series twice.
THE BLITZKRIEG IN 2018
Virat Kohli became the fastest to 1000 runs in a calendar year during his unbeaten 157 against West Indies at Vizag on the 24th of October. He achieved the feat in 11 innings. He broke the record (15 innings) held jointly by him and Amla.
Only Michael Hussey averages more than Kohli in a calendar year (minimum runs scored 500). But whereas Hussey scored just 587 runs in 14 innings, Kohli has amassed more than double (1202) in the same number of innings. Hussey's average gets a boost courtesy the high number of not outs.
If we look at Actual Averages (Runs Per Innings), no one has averaged more in any calendar year than Kohli did in 2018.
There is a difference of almost 20 runs per innings between Kohli and De Villiers – the second-highest on Actual Average (2015). Such has been the form Kohli has been in 2018.
BEST YEARS (BATTING AVERAGES) OF SOME ALL-TIME ODI GREATS

Kohli has left behind some all-time ODI greats with his feats and achievements in 2018 – such has been his dominance this year. His average in 2018 is greater than the average of these legends in their best years.
Kohli has scored more runs per dismissal this year than Richards did in 1979 or AB in 2012 or even Sachin in 2001.
No batsmen in any year (min. 5 hundreds in a year) has had a higher frequency of scoring hundreds than Kohli in 2018 (6 hundred in 14 innings).
There have been 133 instances in ODI history when more than 1000 runs have been scored in a calendar year. Kohli's strike rate of 102.55 this year (for his 1202 runs) is the eleventh-highest in this list. Keeping in mind the number of runs he has scored this year and the average at which he has produced them – that is a phenomenal rate of scoring.
Another amazing stat – in these 133 instances (mentioned above), Kohli's Sum of Average and Strike Rate and his Product of Average and Strike Rate in 2018 is the highest (Sum and Product) for any player in any calendar year.
Just for comparison, the sum of Kohli's Average and Strike Rate in 2018 is 236.1. The second best is AB de Villiers (217.44) in 2015. And the third best is Amla (179.8) in 2010.
The product for Kohli in 2018 is 136.96. The second-best is again AB for 2015 (109.68). And the third-best is again Amla (78.76) in 2010.
Such has been Kohli's year!
Kohli was the highest run-scorer with the highest average (min. 12 innings) in ODI cricket in 2017.
He has ended 2018 repeating the feat.
So what will 2019 bring? A rampaging Kohli looks unstoppable!