"I would have loved to average 40 in Tests."
These words by Yuvraj Singh while announcing his international and IPL retirement summed up his underachieving record in Test cricket.
1900 runs in 40 Tests (62 innings) at an average of 33.92 with just three hundreds and 11 fifties – these numbers do not do justice to the immense talent Yuvraj was bestowed with.
A beast in limited-overs cricket, Yuvraj's Test career never really took off despite promising much. At a time, when India were struggling to find back up middle-order options to Rahul Dravid, VVS Laxman, Sourav Ganguly and Sachin Tendulkar, Yuvraj was in red hot form in limited-overs cricket and seemed a viable choice. India had tested players like Hemang Badani, Mohammad Kaif and Sanjay Bangar (at the top and middle-order) in the period between 2000-2002 without much success.
But Yuvraj proved to be an exception.
Even though he did not make much of an impact on debut in the 2003 home series against New Zealand, he travelled to Pakistan in March 2004 for a series that all but cemented his position in the Test side. A hundred at Lahore came from number 6 after he walked in with the side in a spot of bother at 94/4.
He made 47 at Rawalpindi and had formed a reasonably creditable reputation as a Test batsman. While he struggled against Australia at home and Zimbabwe in their backyard later in 2005, a good show against Sri Lanka in India later that year helped him to be on board another tour to Pakistan in 2006.
In a game Pakistan won comfortably at Karachi, Yuvraj made 122 in the second innings in difficult conditions even as his mates succumbed to the Pakistani bowling attack. While he was persisted with for most of 2006-2010, the returns turned slimmer.
A 169 at Bengaluru against Pakistan in late 2007 proved to be his final hundred in Tests. That all of his hundreds came against one opponent and in similar conditions pretty much revealed the story of Yuvraj's Test career.
He was decent in the sub-continent and averaged 40.71 in Asia with three tons. He wasn't given many opportunities outside the sub-continent and seldom when he was he failed to impress – his highest-score of 62 outside the sub-continent (in England) an indicator of his mediocre returns outside Asia. Yuvraj just managed to register two fifties outside Asia.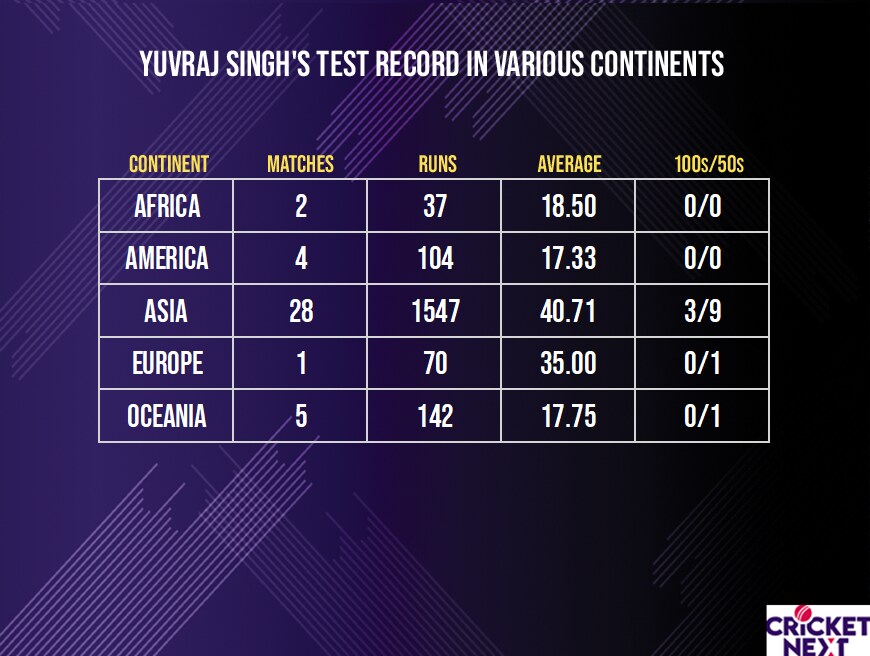 It is also interesting to note that Yuvraj's most successful period in Test cricket coincided with his prolific run in ODI cricket. Yuvraj was a beast in ODIs between 2005 and 2011 when he averaged 42.93. However, before 2005 he only averaged 29.86 in 98 ODI innings. Even after 2011, his average dipped to 27.08.
Between 2007 and 2009, he consistently averaged over 40 in Tests but the periods before and after were a struggle.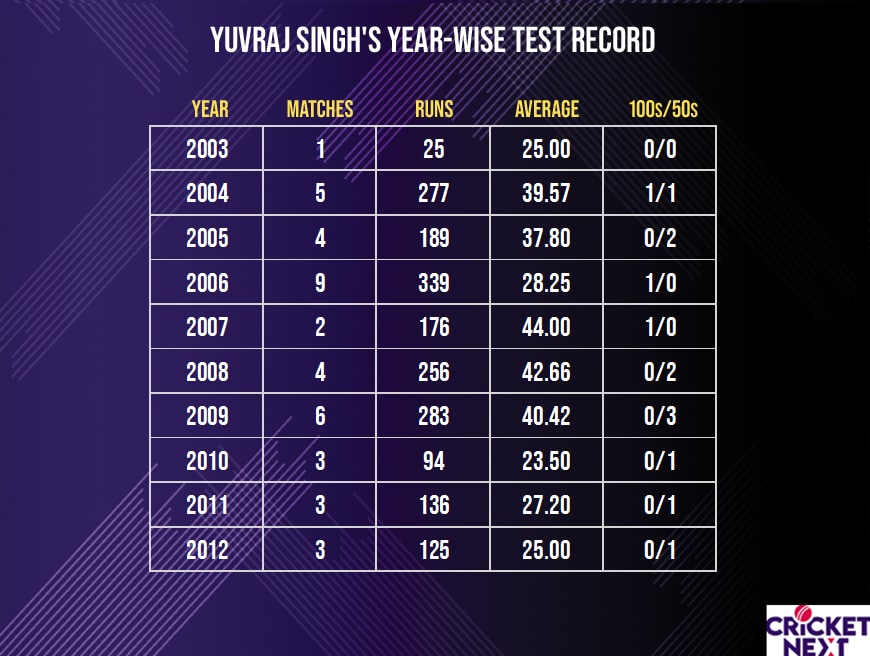 His record against, both, spin and pace was poor – while he averaged 33.31 against spin his average fell further to a dismal 26.4 against pace.
Muttiah Muralitharan and Mohammad Sami dismissed him four times apiece while Darren Sammy and Chris Martin got him on three occasions.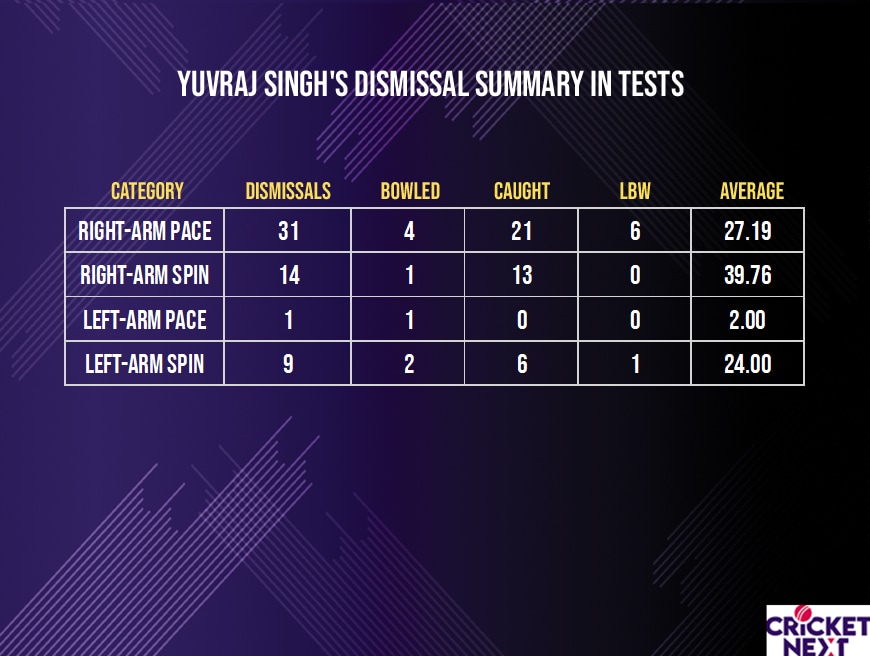 Yuvraj played more than 200 balls only once in Tests and faced over 100 balls in just of his 62 innings – while he had all the shots in the book he could not adjust to the demands of Test cricket – he lacked the discipline, patience and temperament needed to succeed at the highest level in Test cricket.
Strangely, for a batsman who had an excellent domestic record (first-class minus Tests) – 7065 runs at an average of 48.06 including 23 hundreds, Yuvraj could never do justice to his talent at the highest level in red-ball cricket.
The limited overs' genius will always have this regret when he looks back on his career.