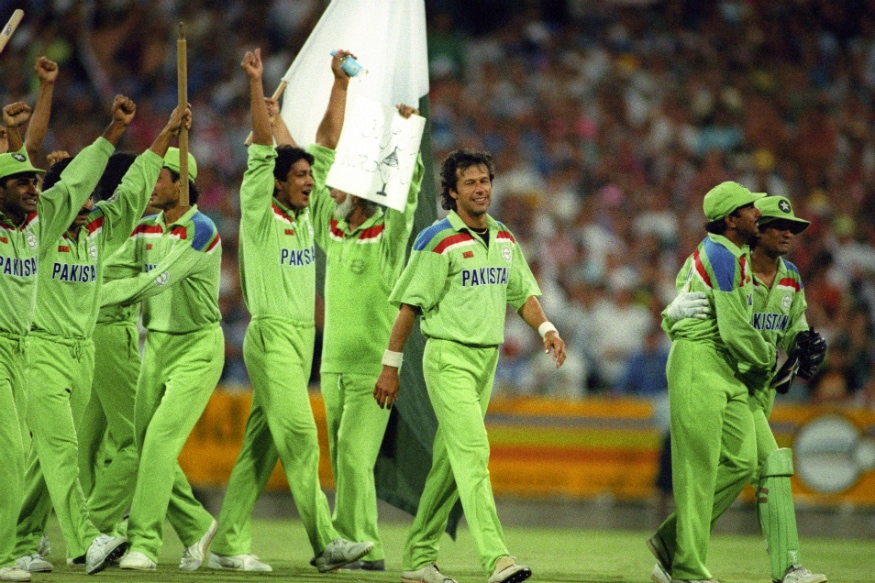 What does it take to win a World Cup? Does it require just a well-balanced team or does it also require loads of luck? Is there a danger of peaking too early or do you need to be at their best right from the word go? There have been 11 World Cups played so far and 5 different countries have won the Trophy. In this podcast, we focus on 5 of the most remarkable campaigns in World Cup history. The 5 have been selected due to various reasons. India's victory from being no-hopers in 1983, Sri Lanka's stunning tactics in 1996 and Australia's comprehensive rout of all teams in 2003 are part of this august list.
Kapil's devils do the unthinkable in the 1983 World Cup
Prior to the 1983 World Cup, India had played in 2 World Cups and their record made for sorry reading. They had played 6 matches and had won just 1 and lost 5. Their sole win was against East Africa in 1975. They even suffered the ignominy of losing to an Associate nation, in Sri Lanka in the 1979 World Cup. During India's tour of the Caribbean in 1982-83, they beat West Indies in an ODI at Berbice. Even then the English bookmakers had given odds of 66 is to 1 on India lifting the Cup. In fact, English cricket historian, David Frith said that countries like India should not be allowed to play in a prestigious tournament like the World Cup. He even said that if India won the World Cup, he would eat his words. In India's very 1st match of the tournament, they beat West Indies by 34 runs. However, even that victory was treated as an aberration. They beat Zimbabwe by 5 wickets in their 2nd match, but came crashing back down to earth in their next 2 matches by losing to Australia and the West Indies by margins of 162 and 66 runs respectively. They needed to win their next 2 matches to qualify for the semi-finals. In their 2nd match against Zimbabwe, they were tottering at 17/5 and their World Cup campaign looked over. Their skipper, Kapil Dev came to the rescue and scored an unbeaten 175 off just 138 balls to propel them to 266/8. They won the match by 31 runs and for good measure beat Australia in their next match by 118 runs to enter the semi-finals.
India had a squad of what today would be known as bits and pieces all-rounders, who were good in one discipline but not proper world class all-rounders. Roger Binny, Madan Lal, Mohinder Amarnath, Kirti Azad and Ravi Shastri would not make many teams quake in their boots, but made telling contributions in helpful conditions. In the semi-final against England, they restricted the hosts to 213 all out and chased down the target with nearly 6 overs to spare. In the final, India lost Sunil Gavaskar early but Srikkanth scored 38 with some scintillating stroke play. India made a below par 183. In West Indies reply, Viv Richards looked like he would finish off the match in a hurry but Kapil Dev took a brilliant catch off Madan Lal's bowling to send him packing for 33. West Indies lost a flurry of wickets and from 50 for 1 collapsed to 76/6. They paid the price for over confidence and India won by 43 runs. In good spirit, Frith swallowed his article by washing it down with wine.
Imran's tigers lift the Cup from a position of despair in 1992
Imran Khan had initially planned to retire in style by lifting the 1987 World Cup. Following the disappointment at home in 1987, he decided to make one last attempt in 1992. Pakistan's ace fast bowler, Waqar Younis was ruled out prior to the tournament due to injury. In the events leading up to the World Cup and even during the initial stages of the tournament, Imran kept saying how he felt that Pakistan was destined to win the Cup. In their first match, Pakistan suffered a comprehensive defeat to West Indies by 10 wickets and then suffered a body blow losing to India by 43 runs, in spite of restricting India to 216/7 off 49 overs. Ian Chappell called Pakistan's team a skilled rabble and Imran himself urged his men to fight like cornered tigers. In a group match against England, they were bowled out for just 74 but were saved from certain defeat by rain. The point that they gained from that encounter proved to be crucial. They needed to win their last 3 group matches to qualify for the semi-finals. They beat Australia, Sri Lanka and New Zealand to finish on 9 points and squeezed into the semis via the back door as Australia beat the West Indies.
In the semi-finals, they restricted New Zealand to 262/7 and were in trouble in their reply at 140/4. At that stage, Inzamam-Ul-Haq was a relatively unknown player in international cricket. However, he came to the party and in partnership with Javed Miandad, resurrected the Pakistan innings. Pakistan needed 109 in their last 13 overs at nearly 8.4 runs an over, which was almost unheard of in those days. Inzamam slammed a 37 ball 60 and Miandad's calm 57 ensured that Pakistan won with an over to spare and enter the finals.
In the finals, Pakistan won the toss and batted and were in deep trouble at 70/2 off 25 overs. Once again, their experienced duo of Miandad and Imran put on a vital partnership and got them out of trouble. Imran promoted Wasim Akram and Inzamam over Saleem Malik and Pakistan mustered 249/6. In England's reply, Wasim Akram and Aaqib Javed struck early before a rearguard from Neil Fairbrother and Allan Lamb kept the match in the balance. Wasim Akram bowled 2 near unplayable deliveries to dismiss Lamb and Chris Lewis and Pakistan won by 22 runs to lift the 5th World Cup. Their victory was a result of never say attitude, good leadership and a judicious amount of good fortune.
Ranatunga's men play a stunning brand of cricket to lift the trophy in 1996
Sri Lanka had upset India in the 1979 World Cup but could not build on this victory in the 1983, 1987 and 1992 World Cups. Prior to the 1996 World Cup, they decided on a different strategy, of taking full advantage of the fielding restrictions in the 1st 15 overs. This had been tried with some degree of success by Mark Greatbatch in the 1992 World Cup, but the Lankans took it to an altogether different level. Sanath Jayasuriya had made his international debut in 1989 but had never opened the batting in ODIs till November 1993. Around 6 months prior to the 1996 World Cup, Jayasuriya and Romesh Kaluwitharana began to regularly open the batting, and went after the bowling in the first 15 overs. If they succeeded, then Sri Lanka were off to a great start and usually capitalized by posting a huge total. If they failed, then the regular batsmen in Aravinda De Silva, Arjuna Ranatunga and Roshan Mahanama played orthodox cricket. During the World Cup, both Australia and the West Indies boycotted their group matches against the Lankans citing security concerns. This gave Sri Lanka an easy passage to the quarterfinals. The Lankans led by Ranatunga, were undaunted by the controversy regarding the boycott and played fearless cricket. In a group match against India, they chased down a target of 272 with ridiculous ease. In the quarter-finals, they decimated England with Jayasuriya launching such an assault on England's bowlers that they were clueless. In the semi-finals against India, the Indian skipper, Mohammad Azharuddin won the toss and opted to field even though it always made sense to win the toss and bat first in a knock-out match. The reason for this was that he was so scarred by Jayasuriya's assault in the group match. Sri Lanka posted 251/8 in the semi-finals and when India batted, the pitch started turning square and apart from Sachin Tendulkar, no Indian batsman stuck around. Due to crowd disturbance, Sri Lanka won by default. The first 5 World Cup finals were all won by the side batting first, but Ranatunga decided to field after winning the toss in the final. He said that he was not bothered by history and his spinners suffocated the Australian batsmen with even De Silva taking 3 wickets as Australia were restricted to 241/7. De Silva scored an unbeaten 107 in the chase as the Lankans coasted to victory with nearly 4 overs to spare. Their victory was a combination of careful tactical planning, never say die attitude and great leadership.
Steve Waugh's troops rise like a phoenix from a hopeless position mid-tournament
At this point of time, Australia were not the force, they were to become in ODI cricket. They had just come from a tough tour of the West Indies where they were held to a 2-2 draw in the Test series. Shane Warne was dropped for the 1st time in his Test career and was not in a great frame of mind. Moreover, he wasn't at his best with the ball and Australia got off to a poor start in the tournament. They lost to New Zealand and Pakistan and were in danger of not even qualifying for the Super Sixes. They needed to win their last 2 matches in the Group stages, against Bangladesh and West Indies, which they did comprehensively, to enter the Super Sixes. In the Super Sixes, they annihilated India and Zimbabwe and then entered a virtual knock-out game against South Africa. Warne was still not at his best and Steve Waugh had an underwhelming ODI record at that point. However, in the Super Six match against the Proteas, Steve Waugh played one of the all-time great ODI knocks, scoring an unbeaten 120 off 110 balls and Warne also recaptured his best form taking 2 wickets in 10 overs, conceding just 33 runs. Australia won by 5 wickets to march into the semi-finals. The victory not only propelled Australia into the semi-finals but ensured that they finished ahead of South Africa in the Super Sixes. The 2 teams met again in the semi-finals 4 days later and Australia were dismissed for a below par 213. In South Africa's reply, they got off to a good start but Warne gave one of the best bowling performances of his career to take 4 wickets. The game went down to the wire before a shoddy piece of running between the wickets between Lance Klusener and Allan Donald meant that South Africa were dismissed for 213. The match ended in a tie but Australia entered the final as they had finished ahead of South Africa in the Super Six stage. This ODI is referred to as the Greatest ODI ever. After this tumultuous journey, Australia made short work of Pakistan in an extremely one-sided final and won the World Cup for the 2nd time. Warne was back to his best and won the Man of the Match award in both the semis and the final. Steve Waugh's knock in the Super Sixes and his calm leadership was one of the main reasons for this turnaround.
Ricky Ponting's men win 11 matches in a row, to win Australia's second consecutive title.
At this point of time, Australia were unarguably the greatest ODI team in the world. However, there were a few issues with the team just prior to the tournament. Warne was found guilty of failing a drugs test and stepped down from the team just a day before the tournament. Andrew Symonds was in poor form and Ponting had to fight with the selectors to include Symonds in the squad. Darren Lehmann was banned for 8 ODIs- the ban began during the VB series in Australia and would continue for the first few matches of the World Cup, for mouthing racial abuse against Sri Lankan players.
However, Ricky Ponting's team put all these issues aside with clinical performances once then stepped on to the field. Not only did they win 11 matches on the trot, they won most of their matches by huge margins. In the group stages, they beat India who were one of the pre-tournament favorites by 9 wickets, after bowling them out for 125. In another group match against England, they restricted England to 204/8 off their 50 overs with Andy Bichel taking 7 wickets. However, they were in a bit of strife at 135/8, when Michael Bevan and Bichel put on 73 runs for the 9th wicket to take them home. In the Super Six match against New Zealand, they scored 208/9 in their 50 overs, but dismissed New Zealand for just 112 to win by 96 runs. Brett Lee was the hero on this occasion taking 5 wickets. So, whenever they were in a precarious position, someone would step up and rescue the team. In the semi-final against Sri Lanka, they were restricted to 212/7 with Symonds vindicating his skipper's faith scoring an unbeaten 91. In Sri Lanka's reply, Brett Lee and Glenn McGrath made early inroads to reduce the Lankans to 76/7. Australia won by 48 runs by the Duckworth-Lewis method. In the final against India, Sourav Ganguly won the toss and elected to field as he felt the wicket was damp. Adam Gilchrist got Australia off to a flier and Ricky Ponting scored a blistering century as they posted 359/2 off 50 overs. India lost Sachin Tendulkar early in their reply, and were never in the hunt, and got bowled out for 234, losing by 125 runs. Australia had won their 2nd consecutive World Cup and had become a really formidable team without a single obvious weakness in their line-up.