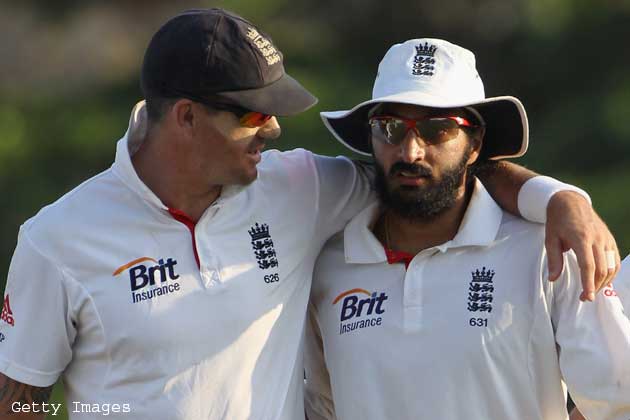 Kevin Pietersen and Monty Panesar are two distinctly different personalities. Of that there can be no argument. Pietersen is brash, abrasive, über confident, has problems with authority and is a pure natural talent. He is something of a rebel, having left his native South Africa to forge a career in England and for whom he today drew level with on a record 22 Test centuries. He has not found acceptance easily, let wants to be loved. He is a superstar, as at ease on the cover of GQ as in the nightclubs of trendy south London.
Panesar, the first Sikh to player for England, is gawky, gangly and often caricatured. He is a bundle of nerves when he gets a wicket, fumbling to find outstretched palms when they're in front of his face. He isn't a natural athlete, and doesn't come across as much of a natural anything. He isn't cool or overly confident and is more likely to be found playing video games in his bedroom back in Luton.
Thus it was remarkably endearing to find these two contrasting cricketers at the center of what was without doubt one of England's best days – if not the best – in India. A day that has left them with a very strong chance at victory on day four in Mumbai, and one that will level the series at 1-1. It was these two cricketers, one the diva and the other deemed surplus to England's needs in Ahmedabad, which left India battered and bruised on Sunday.
Pietersen in flow is a treat to watch, and his 186 will rank as a truly memorable innings. It took something extraordinary to outdo Alastair Cook, who batted in a different league in Ahmedabad, but after Pietersen's century the captain's 22nd Test century was shoved into the background. This was a high-quality innings, one of the best played by an England player in India. It grabbed India's attack by the scruff of the neck shook the bowlers ragged.
Certainly no England batsman before him has played this way before, with his team coming off a big defeat and hoping to stay alive in the series. His strokes, bold and brazen, were of a superior class to anything any other batsman on either side could have envisioned playing. There were paddles, reverse-paddles, cheeky dinks and slog-sweeps. There was a whipped four off Pragyan Ojha, taken two feet outside off stump and dumped over midwicket for four. There was a six – his third – which was pure disdain, like this was net practice. Two of Pietersen's sixes were slog-swept massively with three men on the boundary. It was audacious.
As Mike Atherton pointed out, the hallmark of Pietersen's "utterly brilliant" 186 was that it created the illusion of a flat pitch. Where the rest of England's batsmen, barring Cook, showed how difficult it was, Pietersen was so adept with his footwork and bat speed that the track suddenly went out of the picture.
The pitch was doing plenty, but India's trio of spin bowlers failed to make it matter. There were a few close shouts and a few play-and-misses, but overall R Ashwin and Harbhajan Singh erred on the shorter side. Ball after ball Cook and Pietersen, especially, were allowed to cut. Of Pietersen's runs, 108 came on the offside; 33 in the arc between point and gully and 56 between cover and mid-off. When he wasn't offered rank short balls, Pietersen used his crease to manufacture runs.
Ashwin's figures of 42.3-6-145-2 will have left him uncertain about what he needs to do in Test cricket to cement his place as India's lead spinner. Too many short balls littered the field with singles, doubles and boundaries. The spinner who has wreaked havoc against New Zealand and West Indies in five Tests had been made to look like an impostor. Ojha finished with the most wickets, and his dismissal of Pietersen changed the tone of the afternoon. But he too was guilty of bowling short often.
Harbhajan, in something of an unexpected Test return after 14 months, proved with figures of 21-1-74-2 that he has not improved in the interim. As he was when dropped from the team last August, Harbhajan was listless. Too much on the leg stump, too flat and drifting down. In comparison, Panesar found drift and turn and bounce. Why? Because he flighted the ball, hit the rough and used his head. Harbhajan will be considered lucky to have added to his 98 previous Tests and could be stuck on 99 barring injury to one of Ashwin or Ojha in the future.
To then watch Panesar get the ball to spit and jump later in the day and out-bowl their India counterparts was startling. After Ahmedabad, MS Dhoni called on the Wankhede curator to produce a spinning wicket. He got just that. Unfortunately for Dhoni, it was Panesar – a bowler ripe for the conditions - who exploited the turn and bounce. He varied his pace cleverly, pitched the ball into the rough and made India's batsmen feel for everything.
In the final session of play on day three, spin accounted for seven Indian wickets. Numbers two to seven managed 41 runs between them. Subtract Gautam Gambhir's resourceful unbeaten 53 and India would have folded by now, instead of leading by 31 runs with three wickets remaining. It was as abject an Indian performance as can be at home in conditions supposed to favor them.
Sample the list of dismissals: Virender Sehwag edged to gully; Cheteshwar Pujara inside-edged to short leg; Sachin Tendulkar was caught dead on the crease when playing back; Virat Kohli, inexplicably, hit a full toss to mid-off; Yuvraj Singh gloved to short leg; and Dhoni, whose technique to spin has been suspect, nicked to slip. Apart from Pujara, each dismissal had a common factor – insecurity.
With the ball gripping and turning, India's batsmen were unsure of what approach to take. Sehwag and Dhoni played at big-turning deliveries with hard hands. Tendulkar was set up by Panesar for the second time in the match, following up deliveries that pushed him forward by ones that left him unsure of what line to play down. Yuvraj was thrusting in the dark aimlessly and Kohli ... well, Kohli is probably the best person to describe what he was doing chipping a full toss to mid-off.
Ashwin's brain freeze minutes before stumps was also a howler. Just why he danced out to loft to mid-off is anyone's guess. Panesar will take it, because it gave him ten wickets for the match – just the second time an England spinner managed the feat since Hedley Verity in 1934. Where India's spinners bowled like novices, Panesar was a magician.
"Kya team India baja payega angrezon ka band? (Will Team India be able to blow England's trumpet?)" asks a popular television advert in between overs of this series. The band has indeed been bajoed, but not according to script.