India A tour of SA: Presenting the 16-man squad
The tour, which runs from August 8-27, will act as an audition of sorts for several members of the 16-man squad ahead of India's South Africa trip in November.
Updated: August 7, 2013, 9:12 AM IST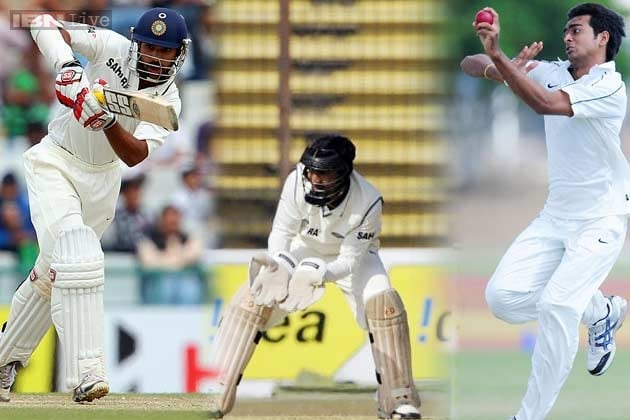 India A, led by Cheteshwar Pujara, will start their tour of South Africa in earnest when they play their first one-dayer, against Australia A, on Thursday in Pretoria. The tour, which runs from August 8-27, will act as an audition of sorts for several members of the 16-man squad considering India will travel to South Africa in November for a full series against the hosts.
The first leg of the tour sees India A contest a triangular 50-over series also involving Australia A followed by two unofficial Tests against South Africa A. Ten members of the squad were part of the Indian team that swept Zimbabwe 5-0 in the recent ODIs. The remaining six were involved in a short camp at the National Cricket Academy in Bangalore before leaving for South Africa on August 3.
Here, Cricketnext profiles each member of the squad.
BATSMEN
Cheteshwar Pujara: Needs no introduction to fans of Indian cricket. Identified early in his career as India material, Pujara racked up the runs in age-group cricket and then for his home state state of Saurashtra. Made his Test debut in November 2010 against Australia in Bangalore, scoring a brisk 72 in a seven-wicket win. After a long absence due to an injury sustained during the fourth season of the IPL, Pujara returned to the Test team in 2012 following a good run of form for India A in the West Indies and has since made himself a fixture with 1180 runs at 65.55, with four centuries (two of them doubles) and three fifties. The India A tour is Pujara's chance get to familiar with conditions in South Africa. He played his second and third Test matches in the country back in 2010-11.
Shikhar Dhawan: The 27-year-old left-hand batsman has been on the domestic circuit since 2004, steadily moving up the ranks and now enjoying a very fruitful run at the international level. Dhawan's ODI career has so far been divided into three parts. A duck on debut in 2010, 65 runs in four games in 2011, and a run of form since June 2013 resulting in 707 runs in 14 games at an average of 54.38, including three match-winning centuries. He has played one Test, against Australia in March, in which he became the fastest debut centurion in Test history as well as India's highest scorer on debut.
Ajinkya Rahane: The name conjures up two words: consistency and unlucky. Over the last six years Rahane has been one of Mumbai's best batsmen at No. 3 and among the top five on the first-class scene. After four consistent seasons, during which he racked up a career batting average of over 67, Rahane made his limited-overs debut in England in 2011. Since then, he has been in and out of the playing XI, scoring 454 runs in 17 innings. Rahane, 25, has played one Test, as Dhawan's replacement, but failed to make an impression. Now he has another chance to try and get himself named in the Test squad.
Suresh Raina: A total of 174 ODIs but just 17 Tests, spread out between July 2010 and September 2012. A Test century on debut in Sri Lanka, but an average of 24.92 in 16 matches since. A proven finisher in limited-overs cricket, a behemoth in the IPL, but on the verge of being labeled a Test failure. Raina's problems against short-pitched bowling are well documented, and this India A tour of South Africa is a big challenge for him. Runs here could force the selectors to consider him for the big tour later this year.
Ambati Rayudu: Touted as India material early in his career, Rayudu went through dips in form, administrational problems and a move to ICL before he made his ODI debut in Zimbabwe last month. On debut, the 27-year-old scored a promising 63* as India completed a one-sided victory in Harare but struggled in the next three games. The India A tour offers the Hyderabad-turned-Baroda middle-order batsman a stronger shot at getting more international playing time.
Rohit Sharma: Talent, check. Temperament, question mark. The player constantly dubbed as the most talented of India's young crop of batsmen has seen the likes of Raina, Virat Kohli, Dhawan and Rahane move past him into the Test team. Rohit, 26, has played 102 ODIs across six patchy years. He has experienced highs and lows. He has been dropped, recalled and dropper. In his latest avatar, he opens the innings for India in ODIs and this summer has scored 493 runs in 14 innings at 41.08, with five fifties. This India A tour is another chance for Rohit to try and push himself into the Test team.
Murali Vijay: The Tamil Nadu opener, 29, has played 16 Tests across five years and nine series but today finds himself the first-choice opener going to South Africa. In the 4-0 whitewash of Australia earlier this year he scored more runs than anyone else, 430 at 61.42, and was the only batsman to score two centuries - both in excess of 150. Those four Tests were the longest Vijay has been given, and the fact that he is part of the A squad shows the selectors want him to have a much better tour of South Africa than in 2010 when he had one poor Test.
ALLROUNDER
Stuart Binny: Son of former India allrounder Roger, 29-year-old Binny junior has been a consistent performer for Karnataka over the last two Ranji Trophy seasons. An allrounder like his father, Binny has blossomed since severing ties with the defunct India Cricket League a few years ago. The past two seasons have been impressive: in 2011-12 he scored 612 runs at 47.07 to go with 19 wickets at 41.89 and in 2012-13 Binny made 622 at 38.87 and picked up 27 wickets at 34.96. In IPL 6 Binny was an influential performer for Rajasthan Royals, displaying a calm head during tough chases and embellishing his value with tidy medium pace.
WICKETKEEPERS
Dinesh Karthik: Now 28, Karthik has never been able to hold down a spot in any of India's three teams. One reason has been the emergence of MS Dhoni as a bonafide match-winning wicketkeeper-batsman. His latest recall was to the ODI side for the Champions Trophy, following a solid domestic season and IPL 6. Named as one of two wicketkeepers in the India A squad, Karthik will need to score heavily in South Africa to force a place in the senior side to tour the country later this year as well as display his effectiveness behind the stumps. Karthik has played 23 Tests, 67 ODIs and nine Twenty20 internationals.
Wriddhiman Saha: Technically, Saha could be the best wicketkeeper in the country. But playing in the same time as Dhoni has limited Saha's India appearances to three ODIs and two Tests, that too when Rohit Sharma was injured and Dhoni served a ban. Saha has over the past couple seasons been the first pick as reverse 'keeper when it comes to Tests, and on this tour will vie with Karthik for the same spot for India's tour. Saha, 28, was Bengal's most successful batsman in the last Ranji season with 558 runs at 46.50.
FAST BOWLERS
Siddarth Kaul: The 23-year-old fast bowler from Punjab enjoyed a remarkable 2012-13 Ranji season, taking 44 wickets at 23.79 to help his team reach the semi-finals. An influential member of the victorious India Under-19 team that won the World Cup in 2008, taking ten wickets at 15.40, Kaul has since evolved into a key member of the Punjab team. This is his first India A tour.
Mohammed Shami: The Bengal seamer came into the limelight in 2012 when, aged 22, he took eight wickets in the Duleep Trophy final to bowl East Zone to their maiden title. Soon after, Shamie was rewarded for his consistent performance on the domestic circuit and India A tours with a place in India's ODI squad last December. Since then, he has played 11 ODIs from which he has ten wickets.
Ishwar Pandey: Pandey, who was the leading wicket-taker with 48 at 21.40 in the last Ranji Trophy season, is a 23-year-old pace bowler from Madhya Pradesh. He was subsequently picked in the India A team to play England and took 1 for 28 in one 50-over match. After spending the last three months at the MRF Pace Academy in Chennai, Pandey is looking forward to the South Africa tour.
Jaydev Unadkat: In 2010, the left-arm pacer was taken to South Africa where he made his Test debut at Centurion, only to be promptly discarded after a wicketless outing. Now, after taking eight wickets in five ODIs against Zimbabwe, Unadkat is headed into the India A tour with hopes of a Test recall. He has improved since he made his Test debut, having become a more well-rounded and accurate bowler. His success in IPL 6 for Royal Challengers Bangalore also helped in an ODI recall and Unadkat now has a good repertoire of deliveries.
SPINNERS
Shahbaz Nadeem: Nadeem, who is the skipper of the Jharkhand Ranji Trophy side, was picked for his maiden India A tour after finishing the 2012-13 Ranji season as the leading spinner and fourth highest wicket-taker with 42 scalps at 25.97. Though not a huge turner of the ball, Nadeem, 23, has been a persevering and accurate left-arm spinner since he made his first-class debut for Jharkhand as teenager in 2004. In 36 first-class matches for his state he has 120 wickets at 31.72. In the IPL, playing for Delhi Daredevils across three seasons, Nadeem has taken 21 wickets.
Parvez Rasool: An offspinner from Jammu & Kashmir, Rasool shot to fame with a brilliant all-round performance in the Ranji Trophy last season by scoring 594 runs and grabbing 33 wickets. His selection to India's ODIs squad for the recent Zimbabwe tour was fast-tracked after he took seven wickets in one innings of a tour game against visiting Australians earlier this year.
---
---
Team Rankings
Rank
Team
Points
Rating
1
Australia
3028
116
2
New Zealand
2406
115
3
India
3085
114
4
England
3882
105
5
Sri Lanka
2454
91
FULL Ranking
Rank
Team
Points
Rating
1
England
5405
123
2
India
5819
119
3
New Zealand
3716
116
4
Australia
3941
109
5
South Africa
3345
108
FULL Ranking
Rank
Team
Points
Rating
1
Australia
6047
275
2
England
5959
271
3
India
9319
266
4
Pakistan
6009
261
5
South Africa
4380
258
FULL Ranking
Upcoming Matches