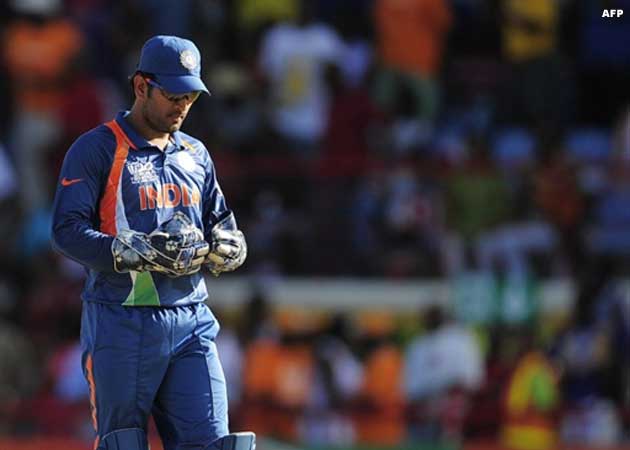 Dambulla: Complaints about international scheduling may be muted at present, but sleepy-eyed Indian players and coaching staff, some who are still somewhere between Sri Lanka and Africa, explains how whacky has been organising the 10th edition of the Asia Cup.
MS Dhoni talked about pressure as well at a media conference in the spacious surrounds of the picturesque countryside of the island state's cultural triangle. Yet with a third of the squad and the coach Gary Kirsten still en-route, the reason to play a couple of T20 games in Harare, over the weekend, begs a few questions or organisers of this event.
Even Bangladesh, who start this tournament with the opening game against Sri Lanka had interrupted a tour of England to put in an appearance.
Sri Lanka have also just returned from Zimbabwe, beating the host nation in the Micromax Cup, with their pre-tournament practice sessions missing a hefty chunk of their playing compliment and coaching staff as well. It suggests that the event was flung together without a genuine thought of the pressure of the teams involved.
Dhoni was explaining while key team members were arriving less than a day before the start of the game against Bangladesh, the long-term plan was to use the support players as part of the World Cup strategy.
"This tournament will help identify the players who can be brought into the side and make a major contribution." It is more than three years since the disastrous first round exit in the West Indies and Greg Chappell's controversial tenure as coach ended, the planning in disarray and looking for a new identity. Part of this identity is to develop consistency.
It has been admitted by Suresh Raina how the team was not hungry enough in Zimbabwe and several hopefuls failed to make an impact and their chances to impress the selectors. It is why this Asia Cup tournament will be used as a guide to the main event nine months down the road.
As with Sri Lanka, who face Pakistan in the opening game at Rangiri Stadium, Dambulla, Tuesday, India's batting has often remained inconsistent. No side can produce World Cup winners without building innings totals based on current form; it is not only nebulous, but the captain admitted there was a lot of work to do before a clearer picture emerges.
It could be suggested that missing elements, Virender Sehwag and Gautam Gambhir will help give India top-order emphasis, and not forgetting when the time comes, Sachin Tendulkar is available, adding substance. This is where the middle-order support will be analysed in a tournament where although no World Cup games are scheduled, Raina, Virat Kholi and Rohit Sharma get their chance to turn promising innings into match-winning performances.
It is where 'We need to be more consistent' as was pointed out by Dhoni, is so important. It is a chance for some players to prove they are more than show ponies.
There are those, however, who still indulge in their mindless acts of triumphalism, forgetting the bigger picture. When Sri Lanka beat Zimbabwe in Harare last week, Tillakaratne Dilshan was carried away by the moment of success. He talked about the World Cup as the next target without thinking ahead; that there is an Asia Cup to defend, Test series against India and the West Indies, along with another fifteen or so limited-overs 50 overs games still to be played before the World Cup.
For the four teams in the Asia Cup, the strategy is the same: planning for the big 2011 event, laden as it is by a series of metaphorical minefields that involves certain politics as well.
Saying that Sanath Jayasuriya has been dropped because of poor form is a reality check for the one-time Matara Mauler, one of the better known metaphors from this region and an example that signifies the explosive talents. Reasons for his absence from this year's Asia Cup is part of the Sri Lanka's selectors long-term policy aimed at finding a squad for next year's World Cup.
As for India's opponents, Bangladesh, adjustment to conditions from the pitches of England to those in a far quieter part of the world is part of the this madcap reason for squeezing the tournament into the calendar.
While two of modern game's greatest talents in Jayasuriya and Tendulkar are missing from this year's 10th edition of the event, it doesn't mean that this Asia Cup will be devoid of talent and dynamic batting skills.
There are half a dozen names that can be lined up as worthy attractions, the latest standard barer of left-handed flamboyant ability is the young Bangladeshi Tamim Iqbal. Recently named Man of the Test series against England in England for his two blazing centuries, it found the near unheralded Chittagong Executor's name in gold lettering on the honours board at Lord's and Old Trafford and all within a week.
Not too bad at all for a 21-year-old. History in the making he is a rarity among Bangladesh batsmen with his Test average of 40.13 and four centuries. Most Bangladesh Test batsmen have averages languishing in the lower 30s or upper 20s and explains why they have battled to make an impression at this highly skilled level.
Yet, anyone who managed to watch Tamim's second innings at Lord's would have enjoyed the way he took the attack to the England bowlers. Bangladesh were following-on, not an unusual event for them, and the impression was how the left-hander was not enjoying the way the team was capitulating.
There are many stories about young batsmen determined to attack for glory, country and success. The skills and style he displayed had anyone watching wonder at his audacity. While his innings at Lord's would eclipse the batting on display offered by both sides in this game, it was his brilliance that has marked him as one to watch. He has impressive reflexes and his hand-eye co-ordination is remarkable.
It will be interesting to see how India's bowling attack handle him.