New Delhi: No surprises in the Indian squad for the upcoming Champions Trophy with the selectors deciding to back the experienced Ajinkya Rahane over youngster Rishabh Pant. That was expected to be the only fight as the others picked themselves.
Choosing between a third spinner and an extra batsman was expected to be the major topic of discussion as the other members were automatic selection. The fight was on whether the selectors would go for an extra batsman in Rahane or Pant or go for a third spinner behind Ashwin and Jadeja.
The Indian team for the Champions Trophy goes: Virat Kohli (captain), Shikhar Dhawan, Rohit Sharma, Ajinkya Rahane, Manish Pandey, MS Dhoni, Yuvraj Singh, Kedar Jadhav, Hardik Pandya, R Ashwin, Ravindra Jadeja, Mohammed Shami, Umesh Yadav, Bhuvneshwar Kumar and Jasprit Bumrah.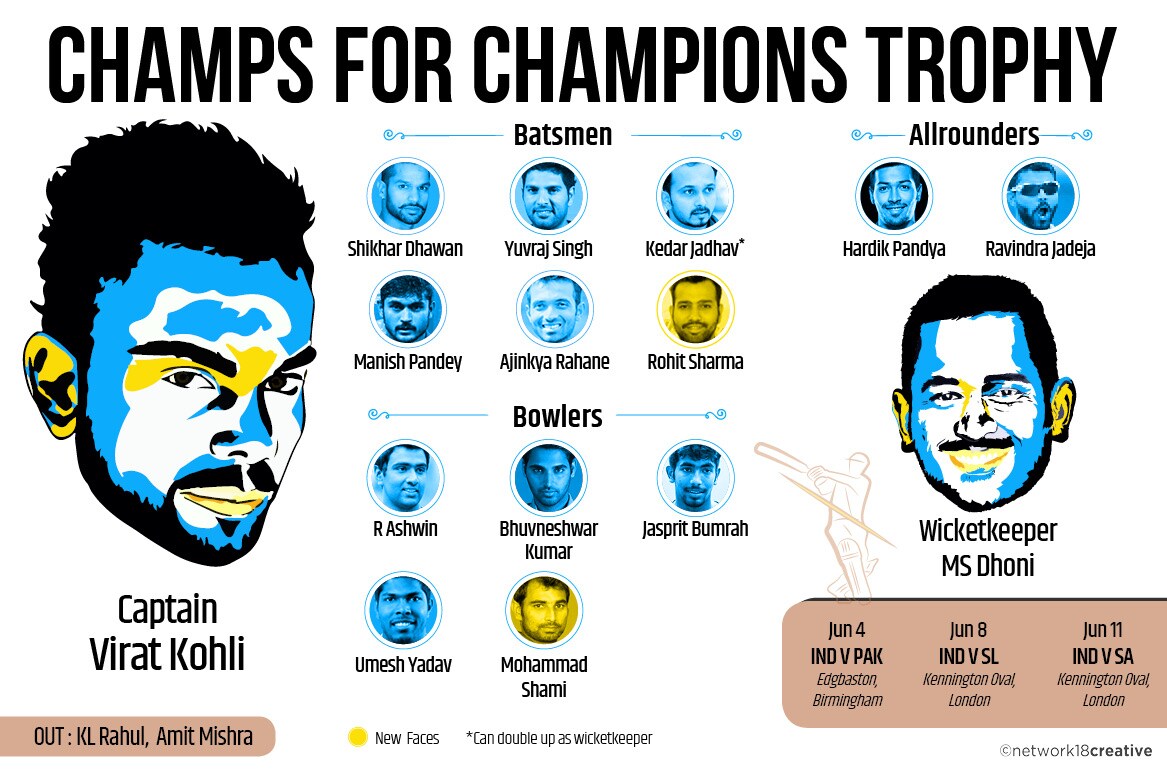 With KL Rahul out of contention, recovering post surgery, there was no debate that Rohit Sharma and Shikhar Dhawan will be the two openers picked. They were there even in 2013 and will have an integral role to play at the top.
Virat Kohli, Yuvraj Singh and Kedar Jadhav were automatic choices with former skipper Mahendra Singh Dhoni fitting the role of wicket-keeper and batsman to the hilt. With the conditions expected to suit pacers, Hardik Pandya was the obvious pick as the bowling all-rounder, having worked immensely on his bowling skills.
With Suresh Raina looking unfit, Manish Pandey was the expected seventh batsman.
In the bowling department, Ashwin is India's premier spinner and even though he opted out of the IPL, he will have the warm-up games to work his way back into rhythm. Ravindra Jadeja is a certainty in the shorter format.
The pace attack features Jasprit Bumrah, Bhuvneshwar Kumar, Umesh Yadav and a fit-again Mohammed Shami.
Chief selector MSK Prasad said that Kuldeep Yadav was considered, but with Yuvraj and Kedar in the team, the chinaman bowler missed out.
"We definitely considered the name of Kuldeep. He would have been a surprise package but whether we would have played with two spinners is a question. Since Yuvraj (Singh) and Kedar (Jadhav) can bowl spin, he narrowly missed out," Prasad explained after the selection committee meeting.
Some of the other names that were discussed seriously were keeper-batsmen Rishabh Pant, Dinesh Karthik, Shardul Thakur and Suresh Raina. Along with Kuldeep, these four are also on the standby list.
Prasad made it clear that even though IPL is a premier domestic tournament, the performance of players in the event can't be the sole criteria for selecting a squad for a 50-over tournament.
"We respect IPL but in the longer format, we have to also consider the English conditions that we are playing in. Not just IPL but one needs to take into account the performance of last one year also in such a big tournament," Prasad said.
Veteran opener Gautam Gambhir, who has been performing well in the IPL, was not even discussed.
"As of now, we have picked Shikhar Dhawan and Rohit Sharma as openers and Ajinkya Rahane is the back-up opener," Prasad replied when asked about Gambhir.
Premier off-spinner Ashwin, who has skipped the IPL owing to a sports hernia injury, has been included in the squad. Explaining the decision, Prasad said Ashwin's injury was not that serious and he merely required some rest.
"The injury was not serious. The franchise was magnanimous enough to listen to our request to rest him. Rest is what Ashwin required as the last game that India played, he was there. That shows he is fit and not like others who are getting rehabilitated after surgery," Prasad said.
(With PTI Inputs)
@media only screen and (max-width:740px) {
.quote-box{font-size:18px; line-height:30px; color:#505050; margin-top:30px; padding:22px 20px 20px 70px; position:relative; font-style:italic; font-weight:bold}
.special-text{font-size:24px; line-height:32px; color:#505050; margin:20px 40px 20px 20px; border-left:8px solid #ee1b24; padding:10px 10px 10px 15px; font-style:italic; font-weight:bold}
.quote-box img{width:60px; left:6px}
.quote-box .quote-nam{font-size:16px; color:#5f5f5f; padding-top:30px; text-align:right; font-weight:normal}
.quote-box .quote-nam span{font-weight:bold; color:#ee1b24}
}