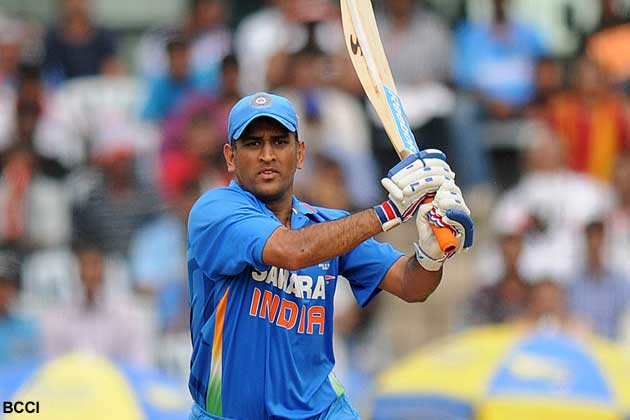 For as far long as the memory goes, one-day tours to India by England have been remembered very differently by the two concerned teams. For India, it has been a pattern of flexing their muscles over sides prone to struggle on slow and tracks and quiver in the heat. For England, it has been a history of embarrassments – they have won one of their last 16 bilateral ODIs in India – with players regularly failing to make an impact. But, ahead of the five-ODI contest starting in Rajkot on Friday, the fortunes of the two teams are changing.
England, under Alastair Cook, have gone upwards. In ODIs last year, they swept Pakistan 4-0 in the UAE, beat West Indies at home 2-0 and drew with South Africa to become the No. 1 ranked ODI team. India, conversely, are coming off an ODI series defeat to Pakistan on the heels of a Test series loss to England. Their captain is being widely criticized, their batsmen are in a mess, and their most senior played has been dropped. The next two weeks will give an indication as to whether these two teams will continue in the same direction.
India, under MS Dhoni, have struggled for the last 12 months. They failed to reach the finals of the CB Series and Asia Cup and then lost to Pakistan, having only a series win in Sri Lanka to show. In this run, the batting has been the weakest link. It hit a new low in Pakistan series, with India slumping to 29 for 5, 59 for 4 and 38 for 3 early on.
Their problems start at the top, with Gautam Gambhir failing to deliver consistently; his scored against Pakistan read 8, 11 and 15, with each dismissal owing to a loose shot. Virender Sehwag's axing means a chance for Ajinkya Rahane at the top and a strong series from the Mumbai batsmen could ease India's woes.
Virat Kohli has struggled to reach double figures in his recent limited-over matches after a stellar run for the first half of 2012, and Yuvraj Singh's technique against pace and spin was ruthlessly exposed by Pakistan's bowlers. Suresh Raina found himself forced to rebuild the innings in each outing against Pakistan, as evident by a strike-rate of 48.42, but his failure to press on left India reliant on Dhoni.
The Indian captain stroked a spectacular century in Chennai and then followed up with a dour fifty in Kolkata, before signing off with his second Man-of-the-Match award in the series. But the criticism around Dhoni has grown with each match, and if reports are to be believed he is not a very popular man in the team environment. He appears save for the time being, but a series defeat to England could prove too damaging for Dhoni even with his support within the BCCI corridors.
The bowlers have fared better, with young Bhuvneshwar Kumar impressing in his three ODIs. Ishant Sharma was notable too, keeping a lid on runs, while the debutant seamer Shami Ahmed bowled a record four maidens – the most by an Indian in his first ODI – on Sunday. Still, there remains an air of fragility around this attack, especially with R Ashwin struggling to take wickets. And despite excellent figures of 10-1-19-1 in Delhi, Ravindra Jadeja finds more critics than compliments. For once, the odds are not stacked in India's favor ahead of a home one-day series.
England hold a four-point lead over India in the ICC ODI table, but whether they extend that is difficult to tell because his team has struggled to dominate in colored clothing in the subcontinent. Their last three ODI visits to India have resulted in crushing defeats, two in fact being clean sweeps. In 2005-06 they were beaten 5-1, followed by 5-0 defeats in 2008-09 and last year. The last two matches of the 2008-09 tour were cancelled following the terrorist attacks on Mumbai, or else it could have been worse for England.
Despite losing to India A and Delhi this week, this is a side brimming with confidence, even if a couple players have chose to play up India's home advantage. Cook was a revelation in ODIs for England as captain and at the top of the order in 2012, and is coming off a terrific Test series. Kevin Pietersen is back after reversing his ODI retirement and partnering Cook at the top is Ian Bell who proved a key addition to the top. Bell has warmed up in wintry Delhi with 91 and 108 in the practice matches, while Eoin Morgan will be a crucial fixture in the middle order. Morgan's last-ball six to deliver victory in a Twenty20 against India before the New Year will have given him confidence of succeeding in India.
The bowling, however, is short experience. In the absence of James Anderson and Graeme Swann, the attack will be led by Stuart Broad with Steven Finn and Tim Bresnan as the next most capped bowlers. Jade Dernbach, Chris Woakes, Stuart Meaker, James Tredwell and Danny Briggs make up the rest.
Finn is the most promising of England's fast bowlers and was excellent in 2012, especially in the UAE where he used his height to purchase bounce off batsmen-friendly tracks. Bresnan has enjoyed some success in India, taking 13 wickets from 10 matches with five coming in the epic tie during the 2011 World Cup. But after that, the bowling looks thin. Dernbach's three ODI appearances in India have resulted in a solitary wicket at 168 and an economy rate of 6.54; Meaker struggled for impact in his only two ODIs, both in India; Woakes has yet to play in India. How Tredwell and Briggs cope remains to be seen.
Five ODIs between India and England used to be shrugged at. Now, loaded with context, these five matches could prove seminal in shaping the tone for both teams in 2013.