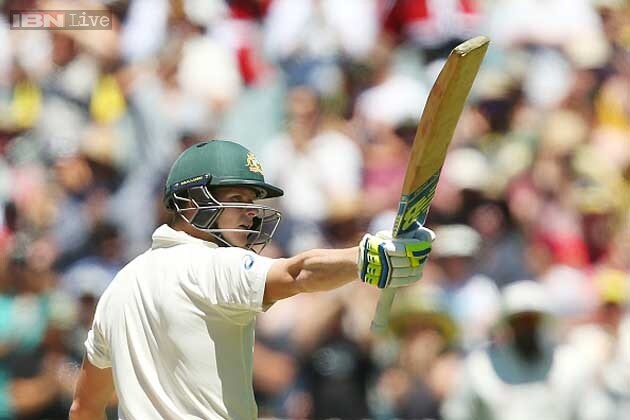 Melbourne: Skipper Steven Smith said on Saturday that India were clueless against Australia's lower-order batsmen who helped the hosts post 530 runs in their first innings on the second day of the third Test.
"It felt pretty good at the crease and things are working well for me. It is nice and I think the most pleasing thing about it is that we got 530 runs on the board. I think that's a very good first innings total for us," said Smith after scoring a career-best 192.
The hosts started their day at 259 for 5 and Smith was involved in a 110-run stand for the 6th wicket with Haddin (55) and then a 106-run partnership with Ryan Harris (77). He also added 48 runs for the 9th wicket with Nathan Lyon as the hapless Indian bowling looked on.
"Our guys have done terrific to be honest. They have come out and taken the bowlers on. Mitchell Johnson today looked good again and Ryan Harris came out and batted beautifully. I don't think India had an answer for us. I'm glad that our tail can come out and do that and be really aggressive against the opposition," he said.
"Brad batted really well. He bats best when he comes out and takes on the opposition. He did that today and he was positive from the start. I thought he played the short ball really well. He got underneath a few and played a few pull shots and I thought he really played well to be honest," he added praising the out-of-form keeper-batsman.
It was a third successive Test hundred for the young skipper, a second consecutive Test hundred in his second game in-charge and his 7th overall in a career spanning 25 matches, wherein he also crossed 2000 runs overall.
"I started pretty slow yesterday. It was just about being patient and then bowlers kept coming back but were bowling wider. We got rewarded yesterday and today as well. They have got three quicks and a spinner and the longer we keep them out there, the more the scoring opportunity you have. That was our plan to keep them out there as long as possible," Smith added.
He missed out on his maiden double-hundred but Smith didn't admit to any regrets.
"I was just trying to get as many runs as I could for the team towards the end so no regrets. I was going to declare at tea so I wanted to score as much as possible. I think 530 is a good score on the board," he said.
India were thereafter placed at 108 for 1 at stumps with an important day three looming large in the context of the series.
"It would have been nice to have taken a few wickets this evening. But if we start well in the morning and get the ball in the right area then we will. The wicket is still pretty good. The occasional one takes off from the pitch and I think if you get the ball in the right area that will create a few chances hopefully in the morning," Smith signed off.