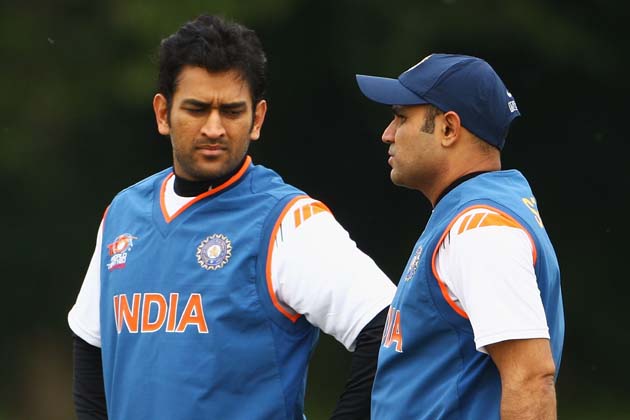 It's rare that hockey overshadows cricket in India, but the mood in Indian sports on Thursday was decidedly different. While the men's hockey team reached the semi-finals of the Champions Trophy with a 1-0 win over Belgium in Melbourne, the cricket team had another disappointing day against England in Kolkata. While taking nothing away from what Sardar Singh's team achieved in a cliffhanger at the State Hockey Centre, it was the flatness of their cricket compatriots that made this a day to feel uplifted by the country's hockey team.
After defeat in Mumbai, India look on course for slipping behind England at the end of the third Test at Eden Gardens. They have seldom had tamer days at home. They began the day on 273 for 7 and finished it by a lead of just 100 over England, who lost one wicket in reaching 216 for 1 at stumps. Even the one wicket that India gained today, that of Nick Compton for 57, appeared to have been aided by the umpire Rod Tucker.
On paper India out-match England, but in practice it is England who have held the high ground for most of this series. Subtract Cheteshwar Pujara's double-century and one cluster of wickets in Ahmedabad, and Alastair Cook could have been contemplating a 3-0 scoreline coming to Kolkata. In short, it's about desire. That's the difference between India and England. England have wanted it more.
In three innings as a pair, Monty Panesar and Graeme Swann have taken 24 wickets to the 21 that Pragyan Ojha and R Ashwin when bowling in tandem across five innings. With the bat, a rookie like Compton has shown more application than his illustrious batting opponents. The 436 deliveries that he has faced are second just to the phenomenal Cook (1019) and Pujara (843). That's more than Virat Kohli and Yuvraj Singh combined. If was just about talent, Yuvraj would have played 75 Test matches by now. Ishant Sharma would have had 200 wickets.
Panesar's setting up of Sachin Tendulkar in the second innings in Mumbai and Pujara in Kolkata were eye-catching. In contrast, India's spinners have lacked imagination. After a good shot of pace after lunch, Ashwin and Ojha took over and England prospered. They were too short and too gracious with deliveries on leg stump. Ashwin bowled a hit-me ball too often, and there was no set-up. Six over his 23 overs contained at least one four and his overall economy of 2.95 had plenty to do with how Cook and Jonathan Trott played for stumps (seven runs off Ashwin's last five overs). His six wickets have cost 71 apiece. Panesae has taken 15 at 20. As Sourav Ganguly pointed out recently, India have allowed themselves to be overawed by Panesar.
Today, in his first Test since January, Ishant was overall lackluster across his 15 overs, uncertain of what length to bowl. To Cook he was generally middle-and-leg or outside off, and barring one brief spell where he beat the bat at pace and bounce, he was not full enough. The one chance he did produce was clanged by Pujara at first slip, a drop which will no doubt fuel arguments of what he was doing in the cordon. Immediately MS Dhoni send Pujara back to his customary spot at silly point. The sense of disarray was nauseous. Virender Sehwag's absence from the cordon made no sense.
There were gaping holes in the field. Run-collecting was easy. The number of singles taken in front of fielders whose job it was to cut them off was staggering. Seeing Ishant and Zaheer Khan fielding at point furrowed the brow. Seeing a 39-year-old Tendulkar field with more athleticism and knock down the stumps from mid-off was almost embarrassing.
It would be harsh to dismiss this team completely. It was just two Tests ago that they beat England by nine wickets. India have been a winning unit who created some wonderful memories under Dhoni, in fact more than some teams have managed in a lifetime. We are indebted to them in many ways. But if India are serious about making it back to the top of the rankings for the next decade, then someone has to acknowledge that this team is facing a crisis. That the bowling is pedestrian; that the spin cupboard is bare; that Dhoni is fast running out of control and ideas.
It's time India faced up to the fact that they are a very ordinary side. Its time someone from the inside acknowledged that this team is on the slide. That's you, Mr. Fletcher. It's not enough for former players to offer subtle hints from the safety of the commentary box.
India will lose a lot of Test matches in the next few years, make no mistake. There is no shame in doing so with a team in transition, and especially one trying to carry on after losing Anil Kumble, Ganguly, Rahul Dravid and VVS Laxman – and Tendulkar, not too long from now. But what is needed today is an acceptance of the fact that India are in trouble. Acceptance is the first step towards rectifying a problem.