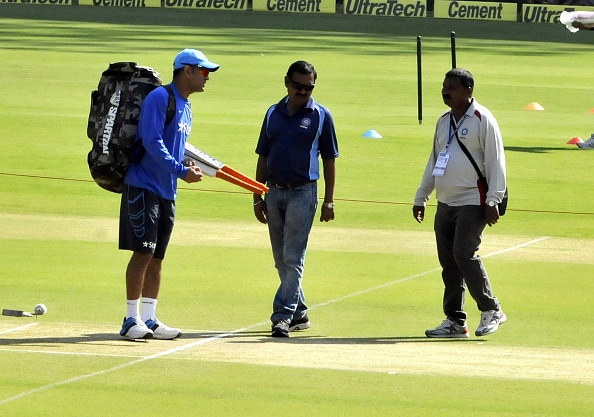 India skipper MS Dhoni will be looking forward to the challenge of working with a different set of players when he leads a second string squad to a limited-overs tour of Zimbabwe beginning on June 11.
Dhoni will lead a new looking squad in the absence of seniors like Virat Kohli, Rohit Sharma, Shikhar Dhawan and Ravichandran Ashwin.
"The tour is not seen as a walkover. You have got your most experienced limited-overs cricketer (MS Dhoni) there, obviously the captain," Cricket expert Ayaz Memon told CricketNext in an exclusive interview.
A tour of Zimbabwe, of late, has almost proved to be a laboratory for Indian cricket, where India's bench strength goes under the microscope against a so-so opposition.
"I think among the guys travelling to Zimbabwe, those who can help Dhoni [as impact players] are KL Rahul, Karun Nair, Axar Patel and then there is Yuzvendra Chahal - the legspinner who made such a big impact in the IPL this season. But remember, the IPL is a domestic tournament, and this is going to be an international series," Memon said.
With medium pacer Tinashe Panyangara has been ruled out of the both ODI and T20 series against India with a back injury, Graeme Cremer has been given the task to lead the side in both forms of the game. Taurai Muzarabani, who has played six ODIs and seven T20Is, was picked in Panyangara's place.
"It's also important for Zimbabwe who are going through their own roller-coaster ride. They have just appointed a new coach, Mkhaya Ntini, and they have got a new captain, Graeme Cremer. So there's a lot for Zimbabwe to prove," Memon said.
Memon feels India shouldn't take the lower-ranked Zimbabwe lightly in the shortest format of game.
"Zimbabwe may not be such a strong team but at the international level you can't take anybody lightly, more so in limited-overs cricket. I have always maintained the shorter the game the more level the playing field. In T20s, frankly, there's not much of a difference between the lowest-ranked team and the best-ranked team. The difference is very minute. In the longer formats, it gets bigger and bigger."
The ODIs will be played from June 11 to 15 and the T20s will be played from June 18 to 22. All six matches will be played in Harare.