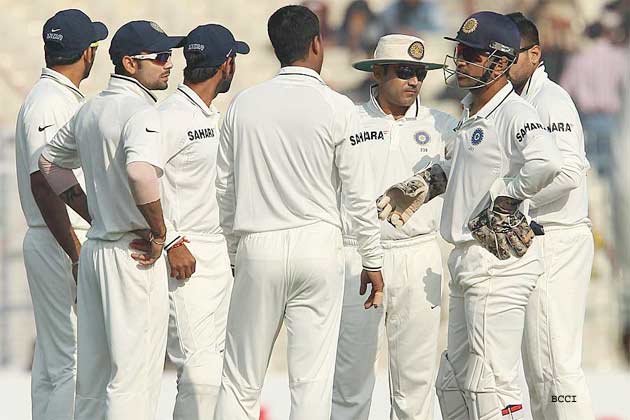 And so a tough 2012 has come to a close for India's Test team. It began with an innings defeat in Sydney and ended with a forgettable draw in Nagpur, giving the series to England 2-1. Yes, 2-1. Say it again, think about. Then try to pick out the positives out of that if you can.
MS Dhoni, at the post-match presentation, attempted to but his words fell flat. He spoke of how India can take "plenty of positives" then named two, rather unconvincingly: Virat Kohli's attitude in scoring a century in Nagpur and Gautam Gambhir returning to some sort of form. In a series in which India were outbatted, outbowled, outfielded and outthought, the overall emotion that surrounds this team is one of disarray.
India just weren't good enough against England, and a proud run of not losing a home series for eight years has come to an end with an unexpected defeat. Questions can be asked: what if India had not collapsed on day four in Mumbai? What if Cheteshwar Pujara had not dropped Alastair Cook on 17 in Kolkata? What if Virender Sehwag had not gotten run out? What if India had played two fast bowlers instead of four spinners in Nagpur? What if Gambhir had built on his first-innings 60 in this Test?
But these are but academic. India did not capitalize on starts, they have not bowled better than England, and they have been led defensively by a captain who seemed resigned to the fact that his team just wasn't the force it once was. The weary, indifferent demeanor on the final day in Nagpur was a clear indication that India had given up, defeated and fatigued.
England showed what a determined and confident team can accomplish in difficult conditions. They bossed India, they adapted much better. This series threw up four different surfaces and England's players coped better, bar a poor first half of the Ahmedabad Test. Right now, in the immediate, India will look back at Mumbai and ask 'what happened?' MS Dhoni asked for a turning track and got it. He had batsmen accustomed to scoring runs in such conditions, and two spinners from whom it was expected that they would reap wickets. Today, Dhoni conceded that the better team won the series. He picked out James Anderson - Man of the Match in the final Test for match figures of 4 for 81, including a match-winning spell of 4-1-3-2 late on day two - as the difference, a bowler who targeted the batsmen as against all the other "average" bowlers. He should be referring to his bowlers, not England's. Monty Panesar and Graeme Swann outbowled India's primary spinners, Pragyan Ojha and R Ashwin.
India lose the series in sessions, with the failure of the batting the real reason for defeat. They will look back at each of the last three matches and can pinpoint the major factors for this series embarrassment. In Mumbai, day one when they lost have their side for 119 runs; on day four when they slumped from 30 for 0 to 92 for 6. In Kolkata, on day one when they went from 88 for 1 to 136 for 4 and day four when from 86 for 0 they lost four wickets in 4.3 overs en route to 239 all out. In Nagpur, falling from 59 for 1 to 71 for 4 on day two, and then losing 4 for 28 in the last hour of the third day.
These were clusters of wickets that proved irreparable. The batsmen just weren't good enough. Subtract Sehwag's 117 in Ahmedabad and he averaged 22.66 in six innings. Gambhir had two gritty half-centuries but threw away both when well set; he also had scores of 45, 40 and 37. Virat Kohli's average of 31.33 was inflated by an innings of 103 in his final walk to the crease. Dhoni's 99 in Nagpur lifted his average to a disappointing 31.83 and his dismissals in Kolkata were ones he will want to forget. That Ashwin averaged 60.75 with two half-centuries speaks of the collective failure of the big names. A measure of a team is how they react to adversity. After this series, it needs little emphasizing that India didn't respond very well.
This is a team in transition, and one struggling with dips in form. Two batting stalwarts retired this year; the greatest of all is facing an imminent exit. The captain is clearly jaded, the openers struggling to live up to their reputations. The younger batsmen are still adapting to the throws of Test cricket. Pujara and Kohli are real talents, and here to stay. The bowling is the scariest facet of Indian cricket; there are no quality spinners coming up and the injuries to two serious pace prospects in Umesh Yadav and Varun Aaron are seriously disconcerting and a telling statement of how quick are (mis)handled in India.
India will continue to struggle, home and away. It is part of the game, and there is no shame in it. But changes need to be made, the health of India's bowling addressed, and the senior batsmen must seriously introspect. The coach must go, the merit of a low-key fast-bowling coach questioned when Zaheer Khan and Ishant Sharma perform lackadaisically and Yadav keeps breaking down. Indian cricket - the players, management and board - must acknowledge that there are problems. Indian cricket cannot continue to ignore the obvious. To their credit, the selectors dropped three deadweights and infused new blood for the fourth Test. That the management picked one and not two, if not all three, remains another issue.
Australia arrive in the New Year for four Test matches, and then near the end of 2013 India go to South Africa to start in motion of run of 15 overseas Tests. It will be a struggle, perhaps even a long and lonely road. This team, with a rejuvenated mindset and some personnel changes, as well as faith in the likes of Pujara, Kohli and Ojha, can improve. But for now, they must accept defeat and learn their lessons.