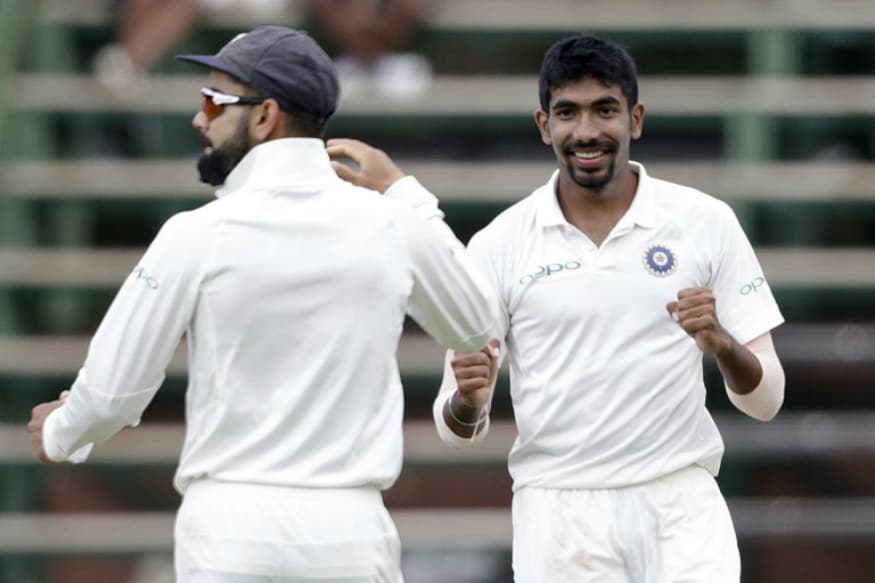 Nottingham: India need just one wicket to make a strong comeback in the series on the fifth day of the third Test against England at Trent Bridge in Nottingham on Wednesday. After losing the first two Tests, this victory will help India open their account the series and make it 1-2, going into the final two Tests.
Earlier on day four, Jasprit Bumrah produced a hostile spell of fast bowling to put India on brink of a comprehensive victory before the final England pair delayed the inevitable on an engrossing fourth day of the third Test at Trent Bridge.
Coming back from injury, Bumrah (5/85 in 29 overs) wreaked havoc with the second new ball after stiff resistance from Jos Buttler and Ben Stokes as England barely survived at 311 for 9 in pursuit of an improbable target of 521 runs. This was Burmrah second five-wicket haul in only fourth Test match.
"When I made my first-class debut, my first spell was of 10 overs. So I was always used to bowling lot of overs in Ranji Trophy, which always helps. That helped me today as well," the 24-year old said after the end of the fourth day's play.
"When I was injured I was working on my fitness and my training schedules. I was always in touch with our trainers so that whenever I come (back) I should be in good space. All of that helped today (Tuesday)."
England will need another 210 runs on the final day which is impossible as the question is when would India take the final wicket on the fifth day to pull one back in the series.
Flamboyant stroke-players Buttler (106) and Stokes (62) curbed their natural instinct to added 169 runs in 57.2 overs in a show of grit and application.
It was a tough period for the Indian bowlers as the two players were ready to grind it out. Buttler playing 176 balls with 21 boundaries but more importantly Stokes, who consumed 187 deliveries, hitting only six fours.
While India were never in trouble but the period once again defined the beauty of Test cricket where it was once again proved why patience is the most important virtue for top teams.
However, things changed dramatically after skipper Virat Kohli took the second new ball and Bumrah got Buttler and Jonny Bairstow (0) off successive deliveries.
Buttler shouldered arms to an angular delivery expecting to go over stumps but it cut back sharply to hit the knee roll and was adjudged leg-before.
"It was very important for us to turn up today and show a lot of character and fight and not give it to India easily make them work hard. We did that really well throughout the day - even the two guys there at the end, making sure we do come back tomorrow," said Buttler.
"It showed that, no matter what it is, we're not going to roll over.
Bairstow, coming out to bat with a finger fracture also expected an incoming delivery but it straightened after pitching to knock back the off-stump. Lord's Test centurion Chris Woakes (4) got lethal short ball that reared up and he tried to fend it awkwardly as Rishabh Pant timed his jump to perfection to snap the chance.
Hardik Pandya (1/22) having a dream Test match then removed the stodgy Stokes who was squared up as KL Rahul took his third catch of the innings. Bumrah's penchant for bowling 'no-balls' then prevented him from completing his five-wicket haul after Adil Rashid was caught by Kohli in the slip cordon. The TV replays showed that Bumrah had overstepped.
However, he completing the well deserved milestone when Stuart Broad (20) edged one to Rahul for his fourth catch.
((With PTI Inputs))