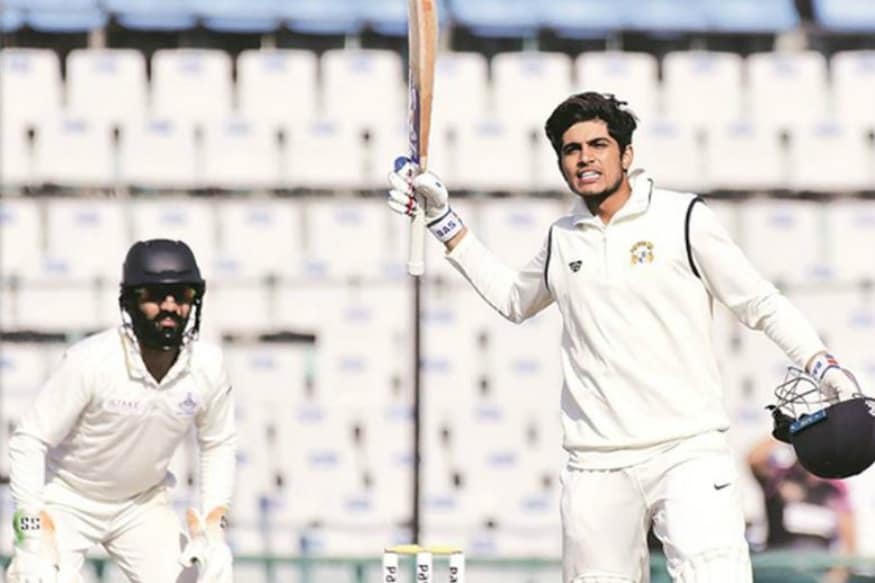 New Delhi: Shubman Gill kicked off 2018 by winning the Under-19 World Cup and the 'Player of the Tournament' title, and is finishing the year with a mountain of runs in domestic cricket. After missing a few rounds of the Ranji Trophy due to his India 'A' commitments, the young Punjab opener is filling up his coffers, scoring runs with style and panache that has drawn comparisons with Indian skipper Virat Kohli himself.
This week, Gill continued his sublime form for Punjab, almost pulling off an unlikely chase in Hyderabad with his second hundred in just three appearances this season. Chasing an unlikely 338 to win in 57 overs on the final day, Gill's fireworks prompted everyone to sit up and take notice.
"I just played my natural game, attacked depending on the delivery offered to me. I tried to read the situation as best as possible, tried to rotate strike as much as possible and kept the target within reach," Gill told CricketNext after scoring 148 off 154 balls against Hyderabad.
In just three Ranji games so far, Gill tallies 536 runs at an average of 134 with a top-score of 268 against Tamil Nadu in Mohali earlier this month.
"My long innings were due for some time. I was getting 60-70s, my conversion rate from 50s to 100s had come down a lot as well. So I told myself before the season that I need to go for more hundreds. In my last nine innings in first-class cricket, I had seven fifties, so I knew I had to change something," the 19-year-old from Fazika district in Punjab said.
His fine show in the Under-19 World Cup at the start of the year meant that Kolkata Knight Riders shelled out Rs 1.8 crores for bringing him on board before IPL-11. He will continue to be part of the same franchise next season as well.
"A lot of credit for my development goes to the time that I spent with KKR. I have been working with coach Abhishek Nayar in their camps. He always motivates me and we are always trying to keep in touch. I have made no technical changes, just working on the mental aspects. I keep telling myself to carry on and score big hundreds," Gill, who scored 203 runs for KKR in 11 innings, said.
Apart from former Mumbai all-rounder Abhishek Nayar, there is another Mumbaikar to credit for Gill's progress; Amol Muzumdar had worked with Gill during an Under-19 batting camp at the National Cricket Academy (NCA) in Bengaluru.
"Before the match against Tamil Nadu in Mohali, I met Amol Muzumdar. He told me that, 'Your name is in the reckoning, but you need to post big scores.' It really hit me, I am really happy that I was able to live up to his expectations," Gill, whose classical technique and purity of strokes has impressed everyone, said.
Exciting, Edge of the seat stuff. Was really fortunate to cover n watch 2back to back innings of Shubman Gill. Pure Class..! Shudhh ghee..! Munde mein DUM hain..@BCCI @BCCIdomestic @RealShubmanGill @sachin_rt

— Amol Muzumdar (@amolmuzumdar11) December 25, 2018
The young opener also credits Yuvraj Singh's help in improvement in his fitness levels.
"The presence of someone like Yuvraj paaji, who has been with the Indian team for so many years, always helps out. He is always pushing me to improve my fitness levels, my fielding standards," Gill said.
Asked about his batting idols, Gill said, "While growing up, I always used to copy Sachin Tendulkar sir. For hours, I would try to copy his straight drives. But more recently, I try to model myself on Virat Kohli and try to cover drive or straight drive like Kohli."
On whether he is already dreaming about breaking into the Indian team in the near future, Gill said, "There are no specific targets right now. I just want to keep scoring runs and utilize the chances that I get."