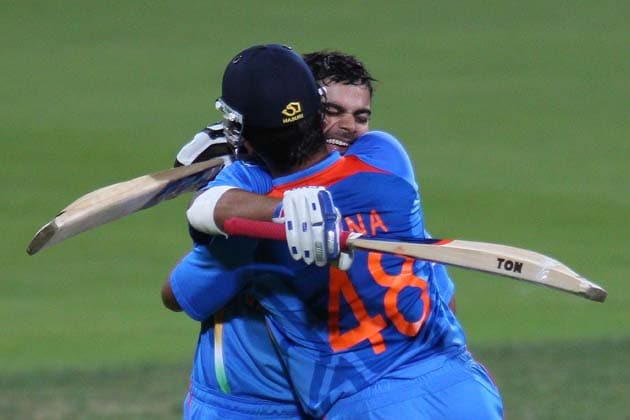 What a quixotic match it was, and what a startling result. Having been decidedly ordinary in the field, allowing Sri Lanka to cruise to 320, India got it together at the right time in extraordinary manner to chase down the target in 36.4 overs to seize a bonus point and stay alive in the tournament.
The fans at Bellerive Oval were treated to a game of two halves. The first belonged to Tillakaratne Dilshan and Kumar Sangakkara, the second to Gautam Gambhir and ultimately Virat Kohli, who provided a rousing revival after two big wickets and didn't stop pushing until he had sealed a famous win.
At the center and finale of India's chase was Kohli, unbeaten on 133 off 86 balls for his ninth ODI century, and sixth in a chase. His innings was outstanding and testament to his reputation as a match-winner in limited-overs cricket. In a tour in which India have struggled for heroes, Kohli delivered a heroic innings under duress. To chase down over 300 inside 40 overs is a stiff ask, and the manner in which Kohli collected his century was stirring.
He was not alone in scripting India's win, but walked away with the plaudits. Each of the five batsmen that walked to the crease made a contribution, but none matched Kohli. He walked out at No. 4 with India just having lost Sachin Tendulkar. Coolly, defiantly, he ensured that there were no half measures. When the ball was wide, he drove crisply; when full, he drove with panache; when short, he backed himself and hit through the line; when shorter, he slashed it square. Bowlers erring in length were punished.
Having reached his fifty off 50 balls, Kohli took 83 off his next 42. He saved his best for the woeful Lasith Malinga, who he hit for 44 runs in 15 deliveries. Consecutive boundaries off Malinga in the 37th over sealed the most incredible of chases, and refreshingly Kohli's celebrations contained no profanities. He pumped the night air and hugged Raina, soaking in the moment.
It's been a tough tour for Kohli. Widely questioned after failures in the first two Tests, he top-scored in both innings of the crushing Perth defeat and scored his – and the team's – first century in the final match. Along the way was the middle-finger episode, which did his image no favours. In the CB Series, Kohli had got starts but failed to deliver victory. With this outstanding century, he has raised his stature by another notch.
Kohli, the Man of the Match, was relieved to have delivered India a much-needed win. "To be able to chase 320 in 40 overs in a must-win game, and put that sort of a batting effort together was a great team effort," he said. "I committed a few mistakes in the last games after getting to 20 and 30, trying to middle every ball, which doesn't happen always in international cricket. This shows our character as a team, and how well we can execute our plans. It is about working hard and sticking in there. We will be rooting for Australia in Friday. This is a special feeling, probably my best one-day innings so far."
Special mention is reserved for Gambhir, who added 115 with Kohli. Gambhir played an excellent hand, easing the pressure of two wickets and guiding Kohli through a testing period – India went 35 deliveries without a boundary at one stage – with smart running. Gambhir and Kohli are proven partnership-builders; they have added 1356 runs in 20 innings for an average alliance of 75.33 – the highest for pairs with at least 1000 runs. Once Gambhir was run out for 63, India had an out-of-form Raina in the middle. The scene was primed for a collapse, but Raina kept his composure and gave Kohli the strike. When the balls were there to be hit, he duly thumped them away. Raina's unbeaten 40 from 24 balls contributed to a 120-run stand. A day before India's selectors meet to pick the team for the Asia Cup, Raina has reminded them of what he can do.
Taking nothing away from India's batsmen, Sri Lanka were shoddy in the field. How does a team score 320 for 4 and then allow the chasing side to knock off the runs inside 37 overs? Well, by bowling a lot of rubbish balls and not giving their best in the field. Having removed Virender Sehwag and Tendulkar inside ten overs, Mahela Jayawardene oddly did not take the fielding Powerplay. He held on until the 28th over, after which India immediately opted for the batting Powerplay. That equates to ten overs of Powerplay in the last 13 overs of the match, with the consideration that India had to score the required runs inside 40 overs. It was puzzling, to say the least. To see Sri Lankan fielders fumble the ball in the circle and on the boundary – two fours went through fielders' fingers inside the circle – highlighted how generous the opposition was.
The worst of the lot was Malinga, going for 96 runs in 7.4 overs. The 35th over, his seventh, went for 24 runs as Kohli whipped and drove the ball with utmost ease. It was terrible bowling, taken to task by a batsman not about to let go. Kohli's dismantling of Malinga was a major factor in India's chase.
After Sangakkara and Dilshan scored centuries – the latter carried his bat for 160 – to take Sri lanka t0 320, the momentum lay with Sri Lanka. They had won three matches in a row to turn around their fortunes dramatically, and had outbatted, outbowled and outfielded India in their previous encounter. They now face Australia on Friday, needing to win to make the finals. After three wins, Sri Lanka are under the pump.