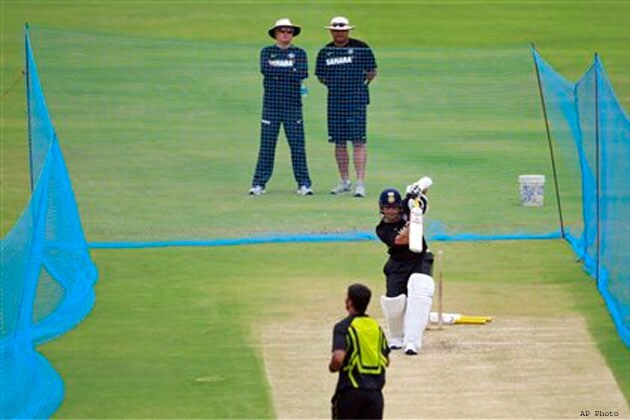 India's home series against New Zealand, their first of a new season, has a significance far beyond what a short two-Test contest between the eighth-ranked team and one that, a year ago, was the top team in the world.
After losing 4-0 in England last summer, India hosted West Indies and won 2-0. Spirits were raised, batsmen got back into the runs, wickets flowed from R Ashwin's windmill action like sweet filter coffee and 'Here we come, Australia' was the general mood as India set off for their toughest assignment of the year. You know the rest.
This team, hit by VVS Laxman's retirement after being named in the squad, needs a boost to its confidence. After the ICC World Twenty20 in September are visits from England and Australia – with a short limited-overs series against Pakistan sandwiched in between – and the ineptness that India displayed in their previous eight overseas Tests, each ending in defeat, cannot be allowed to continue.
This Indian side must seek restoration. For this to happen, the players have to work harder at what they do and show more commitment than they did in England and Australia. Playing a weak side missing Daniel Vettori on home pitches suggests that the hosts have the upper hand, and anything less than a series victory will be unacceptable to Indian fans. The aim must be to win big big over New Zealand and climb back to the top of the ICC Test rankings.
Come Thursday morning and most eyes will be firmly trained on India's team sheet and especially on a couple names penciled in for batting duty. Cheteshwar Pujara and Suresh Raina are almost certain to feature, unless the management goes radical and shunts Virender Sehwag down the order and hand Ajinkya Rahane a debut as opener. Who will fill the voids created by Laxman and Rahul Dravid's retirements is a matter of great debate, with the leading candidates being Pujara and Virat Kohli.
Pujara needs to be given the faith that is indeed a long-term prospect. Kohli, India's ODI vice-captain, has made the No.3 spot his own in ODI cricket where he is averaging 73.28 this year. He is in the form of his young life and there is plenty of merit in pushing him up from the middle order. If not No. 3, then Kohli should be moved up one place to occupy Laxman's spot. That would mean a place for either Raina or S Badrinath at No. 6. Just what Sachin Tendulkar will feel when he looks at his name between those of cricketers much younger and far greener than the next youngest, Sehwag, is anyone's guess.
For New Zealand, the main area of concern is the batting. More at ease on seam-friendly tracks at home, New Zealand batsmen have often been found wanting in slow and slow surfaces in the subcontinent where quality spin is a stern examination of technique and temperament. Ross Taylor and Brendom McCullum will be expected to shoulder an immense burden, as will Martin Guptill, but will need sizeable hands from Kane Williamson and Kruger van Wyk to have any chance of improving on a poor record in India.
This is a team lacking star players, and one that carries men who weren't in form during the 2-0 loss in the West Indies. Of the current 16-man squad, only eight have played Test cricket in India – Taylor, McCullum, Guptill, Chris Martin, Jeetan Patel, Tim Southee, BJ Watling and Kane Williamson.
Conditions in India will be a test for inexperienced batsmen like Daniel Flynn and Wyk, coming off a poor tour of the West Indies, and for the bowlers like Trent Boult, Doug Bracewell and Neil Wagner who have been chosen for their ability to swing the ball. It will be a test of the batsmen's ability to get down and dirty, which they collectively failed to do in the Caribbean and which successful visiting sides in India have managed to do. Those who have not played in the subcontinent will also have to overcome the weather and a team that will be playing in familiar conditions. The batting aside, the major challenge is to take 20 wickets in a Test.
The Rajiv Gandhi International Stadium at Uppal has only hosted New Zealand once, back in 2010-11. The visitors took the better half of a draw in which McCullum hit 225 and Guptill (85) and Williamson (69) scored runs. Bangalore's M Chinnaswamy Stadium has not been so kind for New Zealand, but none of the current lot featured in heavy defeats in 1988 (by 127 runs) and 1995 (by eight wickets).
Taylor has talked of how despite not having long to acclimatize, New Zealand can take confidence from their previous tour and how "India is a familiar place" for several players. However, it's hard to see a complete reversal of fortune. Barring a truly sub-bar performance from India, New Zealand face another difficult tour of the country.