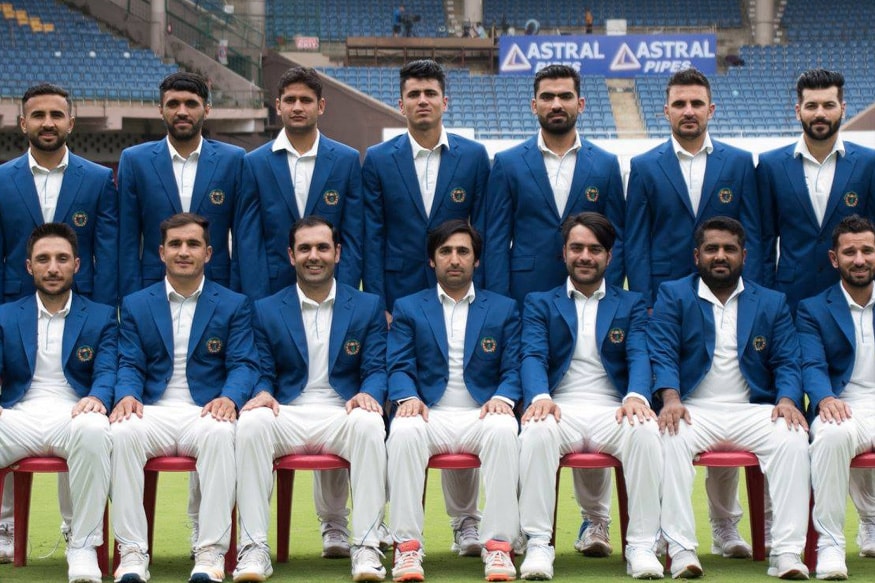 As they lined up, first in their smart blue blazers and then in their creams with the beautiful crimson cap, it was hard not to think of those who had been left behind. Hamid Hassan, pace bowler extraordinaire, who was Afghan cricket's first superstar. Nawroz Mangal, who guided them up the first steps of the ICC ladder. Karim Sadiq, so desperate to play here that he offered to retire if given the chance. The Zadrans – Noor Ali, Shapoor and Najib. Men who had been instrumental in creating something out of nothing, those who put their country on the cricket map.
"The names you have mentioned have made huge contributions to Afghanistan cricket when we started," said Asghar Stanikzai, the current captain who played alongside most of them, on the eve of this Test. "After ODI and T20 status, we have achieved Test status because of the wonderful efforts they have put in. It is a big moment for all of them also, and we [the current side] will take it from there."
The Afghan mindset, epitomised by the rotund figure of Mohammad Shahzad, has been a revelation in the limited-overs arena, where their refusal to be intimidated by any opposition has played such a big part in them becoming the pick of the emerging nations. So much of the pre-match talk was of how they expected to take that attitude into the Test arena and thrive in similar vein.
But the five-day game is a strange beast. Afghanistan's flair and aggression have served them well in the white-ball formats. Their quick bowlers hurl it down fast, the spinners give the ball a real rip and the batsmen give the leather a pounding. It's simple, uncomplicated and seems to come naturally to them.
Test cricket so often is a strategy game played out on an oval, where discipline and patience are two of the greatest virtues. You can't always blast batsmen out. And the magic balls that make the T20 highlights reels aren't always that because the batsmen aren't compelled to try and hit them for four or six. Experience matters, and this Indian team has it in spades.
Murali Vijay looked awful in the opening exchanges. His feet were going nowhere, he was flashing at balls he should have left, and fortunate that one he inside-edged missed the stumps. But Vijay is also an old pro with a decade of Tests behind him. He knew how to ride out the storm and get to the azure blue where he could calmly paddle along.
And then there was Shikhar Dhawan. The emotion of the morning ceremonies had no impact on him whatsoever. He may struggle on seam-friendly pitches overseas, but in these conditions, he's one batsman you don't want to bowl to if you're struggling to find the right line and length. Pretty much every errant ball pinged off the middle of his bat and sped to the boundary. And he scored at such a pace that Afghanistan had no opportunity to take a breather.
Once Stanikzai refused Shahzad's entreaties to use the Decision Review System (DRS) when Dhawan was on 23, the opening day's plan veered off track. Bowlers couldn't settle into spells, fields set couldn't be maintained. And the runs came at nearly T20 pace. Rashid Khan and Mujeeb Ur Rahman, talked up so much by their captain before the game, got a pasting. Had anyone else been at the crease, they might have got the couple of overs they needed to settle into a rhythm. But the only rhythm they found was the thump-thump of the ball leaving the Dhawan bat.
Once the Dhawan Effect wore off, with Ajinkya Rahane, in particular, struggling in the final session, Afghanistan looked much more at home. Without the attacking threat that Dhawan, and later Vijay and Rahul, had offered, the bowlers could find their grooves. Rashid, especially, was a different bowler once the threat of caning was removed.
Before play began, in a nod to nostalgia, the BCCI had invited Salim Durani to present a memento to Stanikzai. Born in Kabul in 1934, Durani hit 15 sixes in his 29 Tests for India, in addition to taking 75 wickets with wily left-arm spin. Four decades before the IPL, he was the great entertainer, the one who tried to smack sixes on demand.
Now a frail old man, Durani wouldn't have dreamed, even during his playing days that the country of his birth would one day be a Test nation. A decade ago, the team coached by Taj Malik and led by Mangal was eking out a nail-biting victory over Jersey, the hosts, in the World Cricket League Division 5. Countries like the UAE, Scotland, Netherlands, Kenya and Canada were all further along the road to international recognition. Most of them had an existing cricket culture and some facilities. Afghanistan had neither.
Now, here they are, having left each of those teams behind. Ireland also got Test status along with Afghanistan last year, but when they played their first match last month, the men who shared the new ball were 36 and 34. Had Ireland been given Test status in 2010 or '11, where they were at the top of their curve, the increased funding and the buzz around it would have inspired even more youngsters to take to the game.
For Afghanistan, the timing is perfect. Rashid and Mujeeb may have had nightmarish Test baptisms, but their feats, both in Afghan colours and in the IPL, have inspired thousands. With a population nearly twice that of Sri Lanka and a side that are national heroes, they won't struggle to attract kids to the game.
The nous will come with time. Afghanistan could have taken the easy way out and opted for a Test debut on a Sharjah pitch tailormade for Rashid and friends, against opponents who would be wary of that. Instead, they're taking on the world's. No.1-ranked Test side in their backyard. First lessons don't come much harder, and Afghan cricket will be better and stronger for it.