Dogged by Internal Strife, Proud Afghans Now Lambs to Slaughter
The complete annihilation by England on Tuesday further compounded problems for Afghanistan, as they now head to Southampton to take on a rampaging India on Saturday. But their problems are more off the field, than on it because they have a number of unresolved issues that are threatening to dismantle this carefully built cricket team.
Updated: June 21, 2019, 11:21 AM IST
Five Matches, Five defeats. Afghanistan's implosion has been one of the biggest talking points of this World Cup. In particular, the abject failure of their star player - Rashid Khan - IPL's crorepati, which has surprised a lot of the followers of the game, especially in India.
The complete annihilation by England on Tuesday further compounded problems for Afghanistan, as they now head to Southampton to take on a rampaging India on Saturday. But their problems are more off the field, than on it because they have a number of unresolved issues that are threatening to dismantle this carefully built cricket team.
It all started to unravel a month before the World Cup when regular ODI and Test skipper Asghar Afghan was replaced by all-rounder Gulbadin Naib. That set off a chain reaction with senior players Mohammad Nabi and Rashid Khan tweeting in favour of Afghan, providing the first indication of trouble brewing in the camp.
That the issue is uppermost on the minds of everyone in the set-up is evident by how just a day after the shellacking at the hands of England, head coach Phil Simmons has promised that he will expose the truth behind Afghanistan's shambolic build up after the World Cup ends. Simmons had already announced that he would not be renewing his contract after the World Cup ends. So, all was clearly not well even before a ball was bowled in the tournament.
Those in the know tell CricketNext the problems started with the sudden change of guard at the Afghanistan Cricket Board (ACB). The long-time CEO Shafiq Stanikzai was replaced in March with former team analyst Asadullah Khan. A lot of the senior players had played alongside Stanikzai and were considered close to him. Stanikzai had also been the manager of the squad before he became CEO of ACB. It is not clear yet if Afghan's sudden sacking is linked to Stankizai being moved out from his position.
After the fiasco over the captaincy change, blunders were made in the selection of the squad. Senior fast bowler Hamid Hassan, once considered to be the fastest outside the Test world, made a dramatic return to the squad after three years. Hassan has never really recovered from a knee injury he suffered while playing for an Associate XI side against England at Dubai in 2012. While he still bowls well, he is hardly a contributor on the field. As a result, several young fast bowlers who had come in over the years missed out on possible selection.
Then their mercurial wicket-keeper batsman Mohammed Shahzad raised a stink when he was deemed unfit and replaced after the tournament started. He alleged a conspiracy of vested interests within the squad and the board. Shahzad had a few angry outbursts before he asked to keep quiet, lest he invites more sanctions from the ACB. Shahzad and his partner Hazratullah Zazai, who famously hit six sixes in an over in the Afghanistan Premier League (APL) last year, were separated. Zazai too lost his place in the XI, leading to Naib himself opening the batting!
With all these issues dogging the squad right from the start, there were bound to be a lot of distractions. In the end, it was quite easy to narrow down their problems to three key elements:
Naib's captaincy and his place in the playing XI on merit
Batting and the resultant issues
Rashid Khan's bowling form
Simmons' immediate predecessor Lalchand Rajput, a former India opener and coach, firmly believes the major blame lies with the continued failure of the batting department.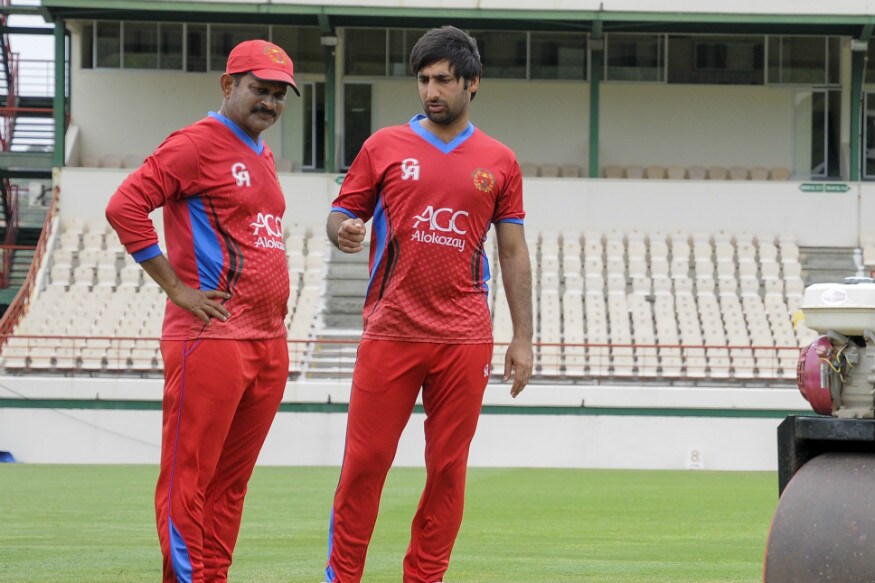 "During my tenure, I had worked to improve the batting," said Rajput, now Zimbabwe's Head Coach, told CricketNext from Amsterdam. "We had identified the players and stuck to them. They were coming into their own. But in this World Cup, its gone all haywire with them going from 40-1 to 125 all out. As international sides, you can have bad days. How can you be consistently bad like this?"
During Rajput's 18-month stint with Afghanistan, they achieved a number of firsts, including a win over West Indies, albeit in the T20 format. Several of the players including Rashid, Nabi came into their own. In fact, the first time Afghan came into focus was also during Rajput's stint. Rajput was the one who implored Afghan to put a price on his wicket and from there the former captain grew in stature within the squad.
Another former head coach, former Pakistan captain Rashid Latif, is surprised by the lack of fight from the Afghanistan camp. Latif has remained a keen observer of Afghanistan's rise since his stint ended in 2010-11.
"It is very obvious that there are issues within the camp," lamented Latif. "Outside pulls and pressures are visible on the field too. What is disappointing is the fact that earlier the players used to fight till the end and there was unity in the squad. But now with Asghar being changed as captain, there is none of it."
At the moment, Afghanistan appears to be plagued with the same problems as other subcontinent sides, with politics playing a part in disrupting the Board and its functioning, resulting in chaos in the squad. But Rajput believes somewhere the coach also needs to take responsibility, and work on changing the mindset of the squad.
"Shahzad was an important player, but I made him understand that discipline is very important," he says. "Give him his space, make him feel important, but he got no special treatment. Also, most of their players have the T20 mindset because they play so much of that format and are always in a hurry. As a coach, you need to make them aware of the longer versions and the skills required."
(Image: AP)
A lot of the successful players in T20 format have not fired in this World Cup, a classic case in point being West Indies' superstar Andre Russell and Rashid. The hammering Rashid received on Tuesday at the hands of England captain Eoin Morgan is bound to scar him. It is easier at times in the T20 format to get wickets, because batsmen are always on the lookout for runs, but in this World Cup, Rashid has found that batsmen can bide their time. And when, like Morgan, they have chosen to attack him, Rashid has been found wanting for answers.
"This tournament has once again shown that regular players who play longer formats can only succeed in conditions like we had England for the first half," says Latif. "It is only since the weather has opened up, you see the team totals going up to 398. You need proper players in England and that comes from developing infrastructure in your home, which sadly Afghanistan does not have."
After Latif's stint, another former Pakistan player, Kabir Khan took up the role as Afghanistan coach. Both Latif and Kabir Khan would spend a lot of time in Afghanistan looking at players. But after their departure their successors, except Andy Moles, have never spent time in the country.
"Afghanistan needs mass camps, they need coaches who go there understand their psyche, culture," believes Latif. "Doing camps in Dubai, Noida and Sharjah is for the elite. Academies can only produce limited talent. Their approach needs to be much more deep-rooted than what it is right now. Sadly, that is missing."
The last word rests with Rajput because he saw the latest generation of Afghanistan players put their hand up for consideration. He believes that the newest generation can outshine all those from the previous era.
"These players are very chaloo (Shrewd) like us from Mumbai, because they have played a lot of tennis ball cricket," says Rajput. "You will see there is a good lot of spinners Qais Ahmed, Zahir Khan and even Mujeeb-ur-Rehman There are good fast bowlers like Sayed Shirshad. Batting also has the likes of Najibullah (Zadran) and Rahmat (Shah). They just need a good captain and an effective guide."
---
---
Team Rankings
Rank
Team
Points
Rating
1
New Zealand
3198
118
2
Australia
3028
116
3
India
3085
114
4
England
4326
106
5
South Africa
2499
96
FULL Ranking
Rank
Team
Points
Rating
1
England
5405
123
2
India
6102
117
3
New Zealand
3716
116
4
Australia
4344
111
5
South Africa
3345
108
FULL Ranking
Rank
Team
Points
Rating
1
England
6877
275
2
Australia
6800
272
3
India
10186
268
4
Pakistan
7516
259
5
South Africa
5047
252
FULL Ranking