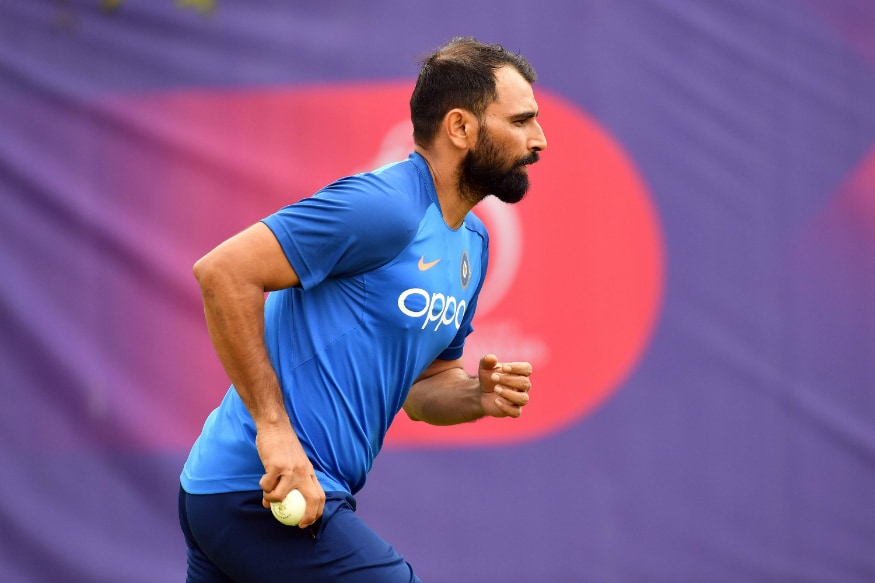 Southampton
How things have changed in one year.
Around this time last year, Mohammed Shami was having perhaps the worst phase of his career, and maybe even life. He failed the yo-yo test, which cost him his place in the Test against Afghanistan. It was the only format of international cricket he was playing then. He had also been troubled by allegations of domestic violence by his wife, which cost him a place in the BCCI contracts list albeit temporarily. Shami played only four matches in the IPL last year.
Fast forward a year, and Shami is set to play in the World Cup, against the very team he missed an opportunity to play last year.
Many things have changed for Shami in the 12 months. The first among those was the very aspect that cost him his Test spot - fitness. Hear from Shankar Basu, the Indian team trainer himself.
"He failing the fitness test was a blessing in disguise," Basu said recently of Shami. "After that, he was a changed man. He was so determined and I think he is also blessed with some amazing gene. We all talk about intermittent fasting, and Shami does intermittent fasting inadvertently, he doesn't even know what it is but he does it on his own.
"I think his distribution of fat, we have done his fat testing over three years and it is the same, he is a piece of work. The best part is he has changed his entire training regimen, I think training is now part of his lifestyle which never used to be the case before. Everything has changed over the last three, four years. He wasn't the last person to get on to the bus but after that little bit of personal setbacks and failing that fitness test, he is a changed man. This is 2.0 version of Mohammed Shami."
Shami's career had a 2.0 version too. From 2015 to mid 2018, Shami was used as a Test specialist. He had been India's first-choice pacer in the World Cup 2015, and the leading wicket-taker in ODIs since his debut in 2013 till the end of that World Cup. Since then, though, injuries and the emergence of Jasprit Bumrah and Bhuvneshwar Kumar saw Shami gradually becoming a one-format bowler. He played only three ODIs in the three years after the World Cup 2015.
All that changed in the latter half of 2018, and the graph began to rise gradually. India were in search of a third pacer beyond Bhuvneshwar and Bumrah. They tried plenty of options - Shardul Thakur, Siddarth Kaul, Khaleel Ahmed, Deepak Chahar to name a few. But it was the senior pacer Shami who stood above his competition, bowling with fire of the past.
Shami played 13 ODIs since his comeback in the home series against West Indies, picking up 22 wickets. He bowled with the new ball, he bowled in the death. Only four of those games came with Bumrah also in the side; from comeback man playing for the third spot, Shami was doing the job of the senior pacer for India.
And he was doing it while playing Tests too, speaking volumes about his improved fitness. Since October 2018, Shami has played 13 ODIs and five Tests, along with all 14 of Kings XI Punjab's matches in the IPL 2019.
Shami was so good in the period that there were even questions on whether he should be picked ahead of Bhuvneshwar in the XI. Shami's rise coincided with a patchy phase for Bhuvneshwar, but India stuck with the latter. The bowling coach Bharat Arun openly said Bhuvneshwar was always the first-choice. Virat Kohli too said Shami would be considered when India play in overcast conditions.
A different set of circumstances through Bhuvneshwar's hamstring injury has given Shami yet another chance in a stage he ruled four years back. He was India's second highest wicket-taker in World Cup 2015, picking 17 from seven games. Umesh Yadav picked up one wicket more, having played one match more.
It could be temporary - Bhuvneshwar could get back his place after he regains fitness. Or, Shami could grab his opportunity and make an impression, like he has done over the last eight months.