While announcing a "bunny" before a series began was Glenn McGrath's innate style and a sign of Australia's underlying confidence during that time, if India were to take a leaf out of the book today the right man to announce his bunny before an Australia series would be Yuzvendra Chahal.
The leg-spinner has been a key cog of India's spin attack in limited-overs cricket for quite a while now and is often used as a wicket-taking option by Virat Kohli. Chahal's modus operandi against the big hitters is what sets him apart from the other leg-spinners.
He isn't scared to get hit in the process of getting wickets and tempts the batsmen to go after him with his flighted leg-breaks outside the right-handers' off-stump. If Chahal is to be hit then the batsman has to take him on down the ground, through the off-side or smash him against the turn on the leg-side.
With little pace on the ball and sharp turn and dip, judgement is quintessential in smacking Chahal into the stands. While many have succeeded in this venture, Chahal, unlike some of his contemporaries, isn't scared to repeat the delivery through his spell. This means the batsman has to hope to connect each time he takes on Chahal or face the risk of being caught out in the deep.
This has brought Chahal some success as 54.35% of dismissals in T20Is are caught by a fielder. Interestingly of the 25 dismissals in catches, just one is a catch by the keeper, which essentially gives away his ploy of deceiving batsman in flight.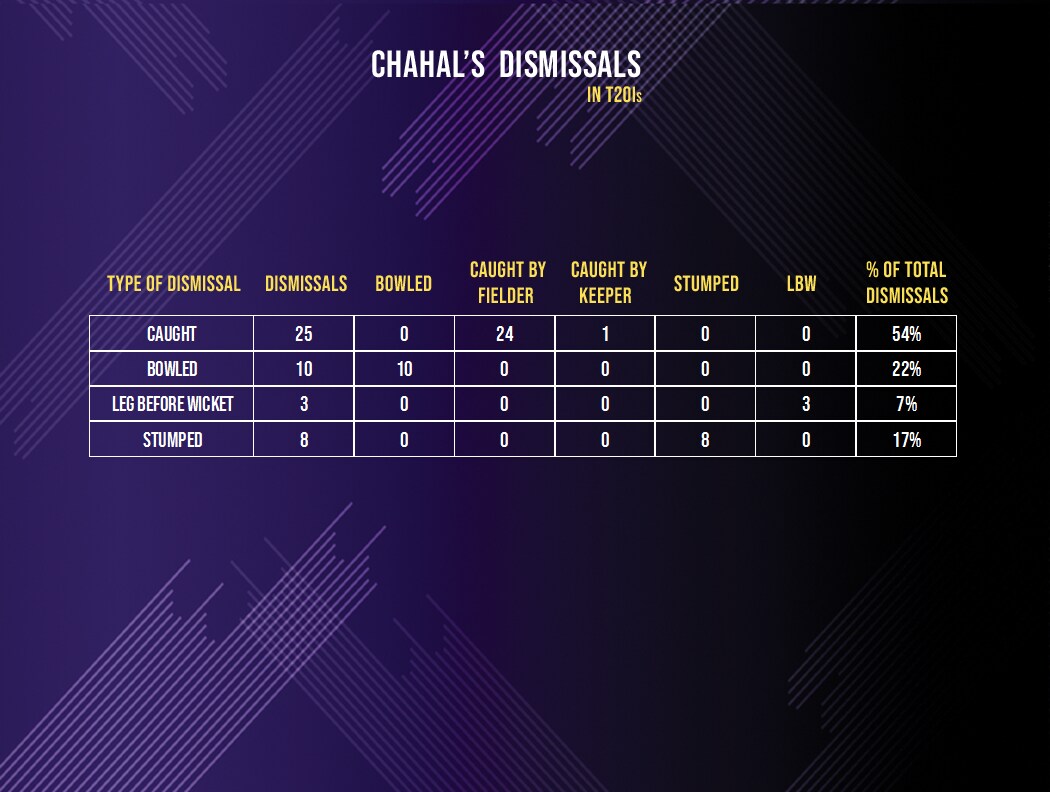 His success against Maxwell, a big hitter who isn't hesitant to go after a spinner, is thereby understandable. Chahal has dismissed Maxwell eight times in his career in T20Is, IPL matches and ODIs combined. He has played a total of just 12 matches against the Aussie, which means he dismisses Maxwell once in every second game at least.
In T20Is, Maxwell has also had success against Chahal with his hitting, signified by a strike rate of over 200. The second T20I at Bengaluru was one of those days and Maxwell took Chahal on, slamming him for three sixes and a four and taking 35 in the 14 balls he received from hi,. That said, in two of the three games he has played against India with Chahal in the side, he has lost his wicket to the leggie.
In five IPLmatches, Chahal has gotten rid of Maxwell thrice while conceding at a rate of less than 100. In 24 balls, Maxwell has scored just a solitary boundary against Chahal.
In ODIs, the dot ball percentage is massive with Chahal bowling more than 60% of dot balls to Maxwell. He has also gotten rid of Maxwell thrice in four matches. It's also worth noting that Maxwell, often seen as a marauder of spinners, has been dismissed the most in his International career by spinners.
Indian spinners - Ravichandran Ashwin, Ravindra Jadeja and Yuzvendra Chahal - have had great success against Maxwell across all formats in International cricket. While Ashwin has taken Maxwell's wicket seven times, Jadeja has dismissed the Aussie five times. Moeen Ali and Yuzvendra Chahal too have gotten rid of the Aussie five times each.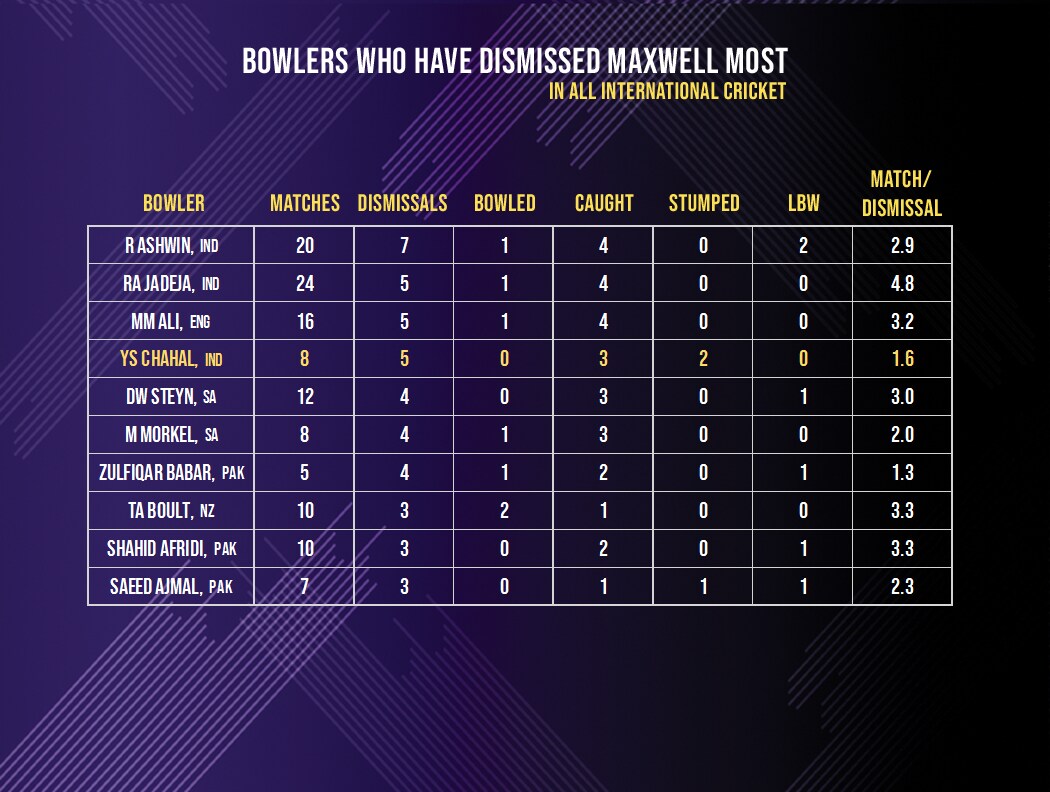 The difference between Chahal and other bowlers is his frequency of dismissing Maxwell. He has match/dismissal ratio of 1.4 against the Aussie, a number bettered only by Pakistan left-arm spinner Zulfiqar Babar.
Before Bengaluru, Chahal had dismissed Maxwell in the first T20I at Vizag but not before the Aussie had raced to a fine half-century. Kohli had used Chahal in the last over of power-play to entice Maxwell but the ploy failed as he peppered a six and a four in the first two balls of the over. Chahal, though, returned to prize out the big wicket for Kohli in the next over he bowled but by then the Australian had gotten his half-century.
Round 2 went to Maxwell but the battle is set to extend into the ODIs where Chahal has once again dominated Maxwell. It promises to be an interesting battle.