India vs Australia, 1st T20I at Visakhapatnam Highlights: As it Happened
CONCLUDED
IND vs AUS Cricket Scorecard (T20)
1st T20I T20, Dr. Y.S. Rajasekhara Reddy ACA-VDCA Cricket Stadium, Visakhapatnam, 24 February, 2019
Australia beat India by 3 wickets
HIGHLIGHTS
AUSTRALIA WIN: What a win for Australia as they steal a win on the last ball of the match. They needed 14 from the last over but Umesh conceded a boundary to Cummins that worked in Aussies' favour.

OUT: What a delivery by Bumrah as he castles Coulter-Nile with a yorker. What a turnaround this has been in the last two overs. Now this is India's match to lose. Australia are 113/7 in 19 overs. Visitors need 14 from the last over.

OUT: That's number six. Bumrah gets Handscomb as the batsman goes for an aerial shot. But the batsman gets a thick edge and Dhoni completes a magnificent catch. Australia in trouble at 113/6.

OUT: Five down for the Aussies as Turner is castled by Krunal. The batsman missed the line of the ball completely. He is dismissed for a duck. It's 101/5.

OUT: Another one departs as there is confusion between the batsmen. Short goes for 37, as India make a late comeback in the match. Australia are 101/4.

OUT: Chahal tosses the ball upto Maxwell as the batsman goes for another big one. But finally he is caught by Rahul in the deep, but not before scoring 56. It's 89/3.

FIFTY: India have to try and get some wickets here, because the match is slipping out of their hands. Maxwell meanwhile has brought up his fifty. It's 83/2 after 13 overs.

FOUR: Here is the first boundary of the innings as Maxwell creates space and Slashes hard at an Umesh ball. He follows it up with a four through a flick on the leg side. And the third four comes straight over the bowlers head. An excellent over for the Aussies comes to an end. It's 22/2 after 4 overs.

OUT: Here is a double blow to the Aussies as Finch is dismissed on the first ball he faces. Bumrah gets the ball to get back in and hits him on the pads. The umpire had no hesitation in raising the finger. It's 5/2.

RUN OUT: Bumrah has started off well and gives away only 4 runs. Chahal starts the proceedings from the other end. That is good stuff by the Indians, but the target is too low. Out of no where there is a mix up between the batsmen and Stoinis is out for 1. Australia are 5/1 after 2 overs.

WICKET! Another one bites the dust, Umesh Yadav moving across his stumps but the ball jags back and hits him on the pads. As plum as he can get there, India are now 109/7 and seem to be in all sorts of trouble.

WICKET! Krunal Pandya departs now, this is abysmal batting. Pandya looks to swipe across the line of the ball but gets a top edge there. Maxwell takes a simple catch and India in danger of being all out here! India are 100/6 after 15 overs.

WICKET! India falling like nine-pins here. Dinesh Karthik doesn't last long either as Coulter-Nile gets one to go through bat and pad before clattering into the middle-stump which is uprooted. Two wickets in an over, India are 94/5 after 13 overs
22:16 (IST)
AUSTRALIA WIN: What a win for Australia as they steal a win on the last ball of the match. They needed 14 from the last over but Umesh conceded a boundary to Cummins that worked in Aussies' favour.
22:09 (IST)
OUT: What a delivery by Bumrah as he castles Coulter-Nile with a yorker. What a turnaround this has been in the last two overs. Now this is India's match to lose. Australia are 113/7 in 19 overs. Visitors need 14 from the last over.
22:06 (IST)
OUT: That's number six. Bumrah gets Handscomb as the batsman goes for an aerial shot. But the batsman gets a thick edge and Dhoni completes a magnificent catch. Australia in trouble at 113/6.
21:54 (IST)
OUT: Five down for the Aussies as Turner is castled by Krunal. The batsman missed the line of the ball completely. He is dismissed for a duck. It's 101/5.
21:49 (IST)
OUT: Another one departs as there is confusion between the batsmen. Short goes for 37, as India make a late comeback in the match. Australia are 101/4.
21:42 (IST)
OUT: Chahal tosses the ball upto Maxwell as the batsman goes for another big one. But finally he is caught by Rahul in the deep, but not before scoring 56. It's 89/3.
21:38 (IST)
FIFTY: India have to try and get some wickets here, because the match is slipping out of their hands. Maxwell meanwhile has brought up his fifty. It's 83/2 after 13 overs.
21:31 (IST)
Short and Maxwell are playing a sensible game with the latter delivering some big hits at regular intervals.

🇦🇺 - 71/2, after 11 overs#INDvAUS #OrangeArmy

— SunRisers Hyderabad (@SunRisers) February 24, 2019
21:27 (IST)
Maxwell has decided to end this quickly. He hits Markande for yet another towering six. This is brilliant stuff by the Aussie. The over comes to an end as Australia move to 67/2 after 10 overs.
21:20 (IST)
Mayank Markande comes into the attack for his maiden international over. He bowls tight lines but concedes a boundary on the last ball of the over. It's 51/2 after 8 overs.
21:16 (IST)
It's spin from both ends as Krunal comes into the attack. The left arm spinner starts well and gives away just three runs in the over. 44/2 after 7 overs.
21:10 (IST)
After couple of early wickets Aussies are making amends and not looking to play aggressive shots. They are waiting for the loose balls to score. That takes them to 28/2 after 5 overs.
21:06 (IST)
FOUR: Here is the first boundary of the innings as Maxwell creates space and Slashes hard at an Umesh ball. He follows it up with a four through a flick on the leg side. And the third four comes straight over the bowlers head. An excellent over for the Aussies comes to an end. It's 22/2 after 4 overs.
20:57 (IST)
OUT: Here is a double blow to the Aussies as Finch is dismissed on the first ball he faces. Bumrah gets the ball to get back in and hits him on the pads. The umpire had no hesitation in raising the finger. It's 5/2.
20:54 (IST)
RUN OUT: Bumrah has started off well and gives away only 4 runs. Chahal starts the proceedings from the other end. That is good stuff by the Indians, but the target is too low. Out of no where there is a mix up between the batsmen and Stoinis is out for 1. Australia are 5/1 after 2 overs.
20:46 (IST)
And Aussie openers are out in the middle. A change in strategy by Australia as Darcy Short opens with Marcus Stoinis. Jasprit Bumrah starts with the ball.
20:34 (IST)
Single on the last ball and India end at 126/7 here, certainly below par after a start they had. Rahul scored a fine half-century but then all the other batsmen struggled for timing. We will have the chase soon!
20:31 (IST)
SIX! Dhoni finally gets one from the middle of the bat. Goes inside out over extra cover and it hits the sweet spot on the bat. The ball flies into the crowd for a maximum. India cross 120, they are 124/8
20:29 (IST)
Choice of shots yesss, but the Aussie quickies have been on fire today, pace and accuracy ,getting regular seam movement , not making life easy for the Indian Batsmen #INDvsAUS #T20

— subramani badrinath (@s_badrinath) February 24, 2019
20:24 (IST)
Jhye Richardson concedes 5 wides in the over but thats pretty much the only runs in the over. Dhoni also really struggling with his timing at the moment. This is looking really tough for India at the moment,they are 115/7 after 18 overs
20:18 (IST)
WICKET! Another one bites the dust, Umesh Yadav moving across his stumps but the ball jags back and hits him on the pads. As plum as he can get there, India are now 109/7 and seem to be in all sorts of trouble.
20:14 (IST)
India have completely run out of steam here as we approach the end of the innings. MS Dhoni continues to play but a long tail has meant Umesh Yadav is already out in the middle! Two runs conceded from the 16th and India are 105/6
20:09 (IST)
WICKET! Krunal Pandya departs now, this is abysmal batting. Pandya looks to swipe across the line of the ball but gets a top edge there. Maxwell takes a simple catch and India in danger of being all out here! India are 100/6 after 15 overs.
20:01 (IST)
WICKET! India falling like nine-pins here. Dinesh Karthik doesn't last long either as Coulter-Nile gets one to go through bat and pad before clattering into the middle-stump which is uprooted. Two wickets in an over, India are 94/5 after 13 overs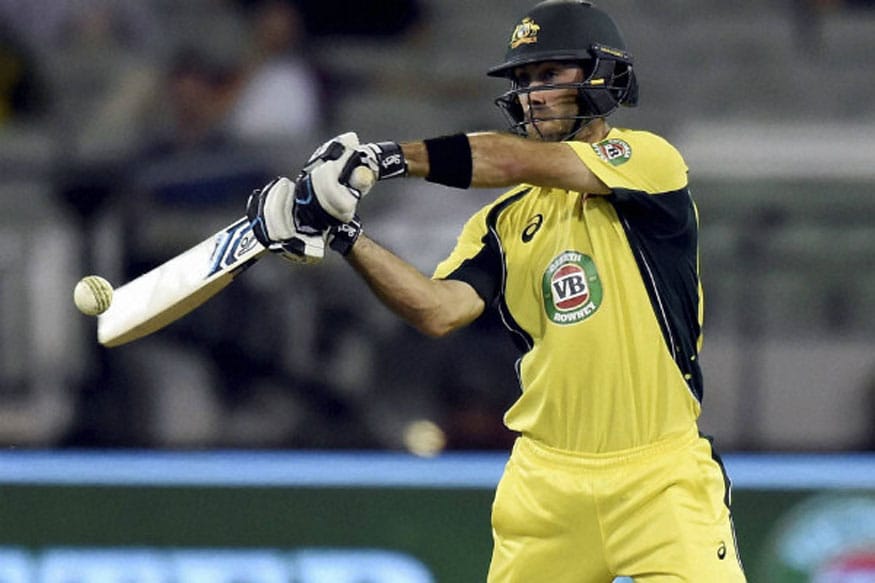 India vs Australia, Latest Updates: OUT: That's number six. Bumrah gets Handscomb as the batsman goes for an aerial shot. But the batsman gets a thick edge and Dhoni completes a magnificent catch. Australia in trouble at 113/6.
Catch all the action between India vs Australia with analysis on our live blog.
The Indian team management is still looking to finalise a couple of spots ahead of the 2019 World Cup and the next couple of weeks, when they face off against familiar foes Australia in a limited overs series starting with a first Twenty20 International in Visakhapatnam on Sunday, provides that opportunity. The two T20Is against Australia followed by five One-Day Internationals will be their last assignment before the mega-event in England and Wales and these games provide the opportunity for an extended audition for the World Cup hopefuls, who are yet to confirm their spots.
Skipper Virat Kohli and Jasprit Bumrah are back from their well-deserved breaks, but the focus will largely be on Rishabh Pant, KL Rahul and Vijay Shankar who have emerged as serious contenders for the remaining spots. Pant is part of both the series and has managed to leapfrog Dinesh Karthik who has been dropped from the ODI squad without doing much wrong. Karthik has been playing the role of the finisher and has done a commendable job for India in quite a few games recently. The 33-year-old will look to make a statement in these two T20Is and push his claim for the World Cup spot further, something that will also be on Vijay's mind. The all-rounder had a decent series in New Zealand and with Hardik Pandya ruled out of the Australia series, it will provide him an ideal opportunity to make his case even stronger. Rahul has struggled in the last couple of months both on and with events off the field as well. The 26-year-old will look to make the most of these games in order to get a place in the World Cup squad as a back-up opener. There has been talk about playing Rahul at No. 3 just to give him some game-time, and if that's not the case, India might try to include him in the XI by resting one of their regular openers.
Meanwhile, Kohli too will want to straightway be back among the runs after a superb 2018 where he ended the year with an astounding 2735 runs from 38 matches across formats. He averages over 60 against Australia in 13 T20Is and will be their biggest threat alongside Rohit Sharma and Shikhar Dhawan. The established openers didn't get big runs in New Zealand and this series will serve as a perfect platform for them to get some runs behind them before the IPL starts. Similarly, MS Dhoni will be keen to build on his encouraging form in recent games in Australia and New Zealand. With the return of India's No. 1 paceman Bumrah, the bowling department looks quite sorted. Siddarth Kaul and Umesh Yadav too will have a point to prove in case India are looking to include four pacers in the World Cup squad.
While rookie legspinner Mayank Markande is in the squad, India in all likelihood will go in with the tested pair of Yuzvendra Chahal and Krunal Pandya, who have done reasonably well for the home team in recent times. Kuldeep Yadav has been rested for the T20Is but will be back for the ODI series. Meanwhile, the Aaron Finch-led side are fresh from the Big Bash League campaign with six players including the skipper featuring in the all-Melbourne final on February 17. Player of the Tournament D'Arcy Short and competition's leading wicket-taker Kane Richardson will look to build on their form, and the onus will be on the former to rectify his stats on Indian tracks. The series will be equally important for Alex Carey, Jhye Richardson, Nathan Coulter-Nile, Peter Handscomb, Jason Behrendorff, Nathan Lyon, Ashton Turner and Adam Zampa who are all part of the World Cup plans. Marcus Stoinis has been in good form and will look to make an impact as he did in 2017.
Also, with Mitchell Starc and Josh Hazlewood injured, this will be a solid opportunity for bowlers such as Jhye Richardson, Kane Richardson, Coulter-Nile and Behrendorff. India haven't been very consistent in the shortest format of the game and recently lost 1-2 to New Zealand, and while their both eyes will on the World Cup, they will want to make sure that those "World Cup goals" aren't achieved at the expense of series.
Squads:
India: Rohit Sharma, Shikhar Dhawan, Virat Kohli (capt), KL Rahul, Rishabh Pant, Dinesh Karthik, MS Dhoni, Krunal Pandya, Vijay Shankar, Siddarth Kaul, Umesh Yadav, Jasprit Bumrah, Yuzvendra Chahal, Mayank Markande.
Australia: Aaron Finch (capt), Alex Carey, Usman Khawaja, Shaun Marsh, D'Arcy Short, Marcus Stoinis, Pat Cummins, Glenn Maxwell, Jhye Richardson, Kane Richardson, Nathan Coulter-Nile, Peter Handscomb, Jason Behrendorff, Natha n Lyon, Ashton Turner, Adam Zampa.