India vs Australia, 3rd Test Day 4 in Melbourne Highlights - As It Happened
CONCLUDED
AUS vs IND Cricket Scorecard (TEST)
3rd Test TEST, Melbourne Cricket Ground (MCG), Melbourne, 26 December, 2018
India beat Australia by 137 runs
HIGHLIGHTS
50! Brave effort from Pat Cummins, he has been the perfect all-rounder for Australia here in the series. Been sensational with the ball and showed a lot more application with the bat.

WICKET! Mohammad Shami does the trick here, gets the breakthrough as he rattles Starc's furniture here. The ball certainly straightened a bit after pitching and that is what did Starc. Too good for him.

WICKET! Ravindra Jadeja gets the wicket for India, the left-arm spinner comes around the wicket here and Paine looks to cut the ball but gets a bottom edge and Pant takes a sharp catch behind the stumps. That's the end of the Australian skipper, he departs for 26 here. India just three wickets away from victory here
13:53 (IST)
India vs Australia | All-round Cummins Takes Test into Day 5 But India Well on Way
Australia were skittled out for 151 in reply to India's 443 for 7 (decl) in their first innings.
https://www.news18.com
13:35 (IST)
When your No 8 is your best technically correct Batsman you know your team has a problem .... #Cummins #AUDvIND

— Michael Vaughan (@MichaelVaughan) December 29, 2018
13:28 (IST)
India's bowling performance on a flat Melbourne pitch is one of their great away bowling efforts. The 1.14° of swing & seam is the third least they've found in a Test in a SENA country since 2006 but the quicks have taken 13 wickets at an average of 20. #AUSvIND

— Freddie Wilde (@fwildecricket) December 29, 2018
12:59 (IST)
So, that's stumps for Day 4 then. That means the play will ultimately stretch to the final day! Australia will be hoping that rain gives them some respite, India meanwhile will be backing themselves to finish this within the first hour
12:50 (IST)
The hunt for two wickets continues here, this partnership is already worth 41 here off 76 balls! Close to 10 minutes of play left here
12:44 (IST)
FOUR! Simply superb from Cummins, a straight drive which goes past the bowler and for a boundary. That was a fantastic shot, and probably the shot of the day so far. Cummins and Lyon continue to survive here
12:38 (IST)
50! Brave effort from Pat Cummins, he has been the perfect all-rounder for Australia here in the series. Been sensational with the ball and showed a lot more application with the bat.
12:32 (IST)
Lyon trying to play for the light here, but India continue bowling there. The second new ball is due now and India will now back themselves to wrap this game!
12:24 (IST)
Almost a wicket! Bumrah with a terrific slower ball, similar to the one that got Marsh, but this time it was not on the stumps hence Lyon survives. He was completely deceived there though
12:19 (IST)
It seems India have gotten the extra half-hour here as they hunt for the final two wickets. Virat Kohli and co. would certainly like to get the job done today itself with all that talk about rain
12:03 (IST)
Nathan Lyon and Pat Cummins waging the battle for Australia now, as they somehow look to stretch this game into Day 5 and get some relief from the rain. Heavy thunderstorms are predicted!
11:54 (IST)
WICKET! Mohammad Shami does the trick here, gets the breakthrough as he rattles Starc's furniture here. The ball certainly straightened a bit after pitching and that is what did Starc. Too good for him.
11:47 (IST)
Shami almost gets the breakthrough here, Starc plays it from the pads and it falls just short of the fielder at mid-wicket. Cummins does well then to dig out a delivery at yorker length, Starc and Cummins continue to delay the inevitable here
11:42 (IST)
Pat Cummins has again played more than 50 deliveries here, he seems to be the most settled Australian batsmen of all you feel! Should probably be looking to bat a couple of positions above his usual no.8 spot here!
11:33 (IST)
MCG looking more like Mumbai at the moment, the Indian crowd finding voice here with chants of Bharat Mata ki Jai all around the ground here!
11:28 (IST)
Still a good hour's play left in the day here and that can be extended by 30 minutes if umpires feel a result is possible. India will be backing themselves to march towards victory today itself!
11:21 (IST)
STAT ATTACK: Australian skipper departs for 26 (67)
5th caught dismissal for him in this series, out of which 4 times Rishabh Pant has taken his catch
1st time dismissed by a spinner in this series, also the first time in his last 7 innings
The Aussie skipper now has failed to score a 50+ score in his last 8 innings
3rd wicket for Jadeja in this innings
11:21 (IST)
Mitchell Starc comes out to join his bowling mate Pat Cummins here, India now just three wickets away from a memorable victory here with Jasprit Bumrah absolutely charging in to bowl!
11:15 (IST)
WICKET! Ravindra Jadeja gets the wicket for India, the left-arm spinner comes around the wicket here and Paine looks to cut the ball but gets a bottom edge and Pant takes a sharp catch behind the stumps. That's the end of the Australian skipper, he departs for 26 here. India just three wickets away from victory here
11:13 (IST)
I squeal "wooooooooheeyyyyyyyyy hahahaha" even when the batsmen absolutely middles a forward defensive because I desperately need to remind everyone within earshot that I add value to the team as someone who can "bring noise"

— The Grade Cricketer (@gradecricketer) December 29, 2018
11:08 (IST)
Both Cummins and Paine looking extremely solid at the moment, Bumrah seems like the only bowler capable of getting a breakthrough at the moment for India here!
11:03 (IST)
Jasprit Bumrah with a fiery bouncer there, almost takes away Paine's head there who does well to get down at the right time there. Bumrah meanwhile will be eyeing ten wicket in the game here, he just needs two more here!
10:59 (IST)
Lot of talk around Mitchell Marsh's dismissal, Shane Warne on air pitches for inclusion of D'Arcy Short! Will be interesting to see how that goes, considering Short has been scoring runs only in Big Bash League!
10:53 (IST)
Hanuma Vihari comes into the attack here, Jadeja had been bowling continuously for some time and could do with a break. Cummins and Paine meanwhile continue to keep Australia in the game
10:50 (IST)
Australia's 2018 tally of four hundreds their lowest since 1996 when they played just five times.

Never have they played more than nine Tests in a year and scored so few hundredshttps://t.co/ho3UuEpTcO #AUSvIND

— Andrew McGlashan (@andymcg_cricket) December 29, 2018
10:45 (IST)
Paine with a quick single on the final delivery there against Jadeja, Pant though continues to have a laugh at the Australian captain's expense! Wonder how long that is going to continue
10:41 (IST)
Cummins and Paine might actually be among the more tougher of wickets to get for India here, considering they both play with a straight bat and always put a value on their wickets. Ishant currently mixing things up with some short balls!
10:36 (IST)
Pat Cummins has come out to join Tim Paine in the middle here, he is straight away greeted with a short ball in the rib cage here! India certainly increasing the chatter here as they inch closer to victory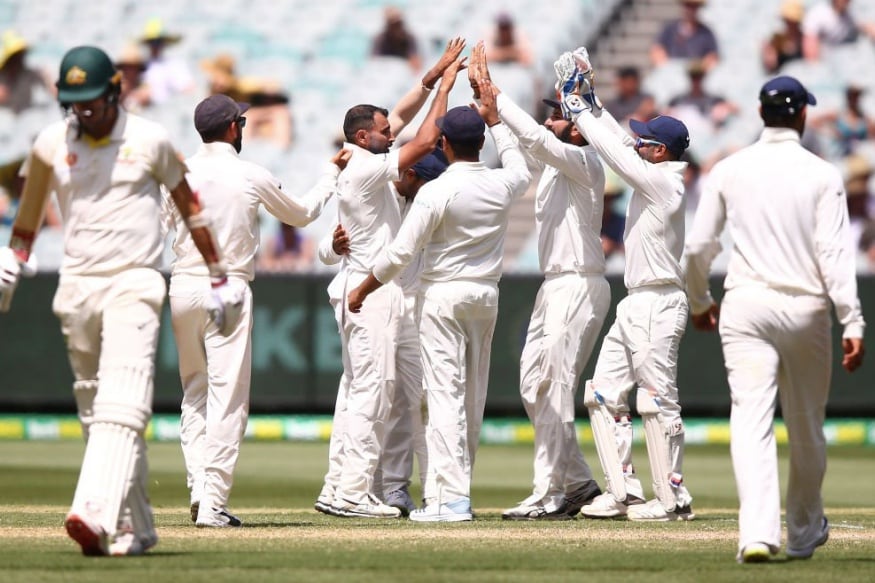 India vs Australia Live Score & Latest Updates: 50! Brave effort from Pat Cummins, he has been the perfect all-rounder for Australia here in the series. Been sensational with the ball and showed a lot more application with the bat.
Catch all the live cricket score between India and Australia through Cricketnext's live blog.
Day three review: Yorkers? Check. Bouncers? Check. Change of pace? Check. Swing and seam? Check. Accuracy? Check, check... Ever-improving and ever-adapting Jasprit Bumrah sent shivers down the spine of Australian batsmen as India demolished the home side on the third day of the Boxing Day Test in Melbourne on Friday. Pat Cummins then did well to diminish India's dominance with a late flurry of wickets, but the hosts will require nothing less than a miracle to stop India from taking a 2-1 series lead. Bumrah returned figures of 6 for 33 and found very good support from other bowlers as Australia were bundled out for 151 in 66.5 overs in reply to India's 443 for 7. Despite taking a huge lead of 298 runs, India decided not to enforce the follow-on. That's when Cummins took over and wreaked havoc in the Indian batting order. The 25-year-old took 4 for 10 as India slumped to 54 for 5 in 27 overs in their second essay. Despite all the Cummins' hardships, India stretched their lead to 346 runs, with Mayank Agarwal and Rishabh Pant batting on 28 and 6 respectively.
Hanuma Vihari and Mayank Agarwal stepped out with the liberty of playing the positive brand of cricket and were successfully able to see off the first 10 overs, scoring 24 runs. Things finally began to happen when Cummins came to bowl and sent Vihari back for 13 with a brilliant bouncer. The right-arm pacer then dismissed India's first innings heroes Cheteshwar Pujara and Virat Kohli for duck in an identical fashion. There was a funky short square leg at place and both Pujara and Kohli ended up playing straight into the hands of the fielder. Which meant, Cummins has now dismissed Kohli once in each of the four Tests the two have played against each other. Indian vice-captain Ajinkya Rahane was the next one to go, trying to pull Cummins only to end up gloving it to the wicket-keeper. Rohit Sharma (5) managed to survive for 18 deliveries before edging one to the first slip, becoming Josh Hazlewood's first victim. Amidst all the chaos, Agarwal kept one side intact and managed a couple of boundaries to push India's lead closer to the 350-run mark.
Earlier, Australian top-order once again collapsed as the Melbourne surface started to show signs of wear and tear. None of the Australian batsmen could muster more than 22 runs as Bumrah and Co. ran through their batting order. In the process, Bumrah became the first Asian bowler to take a five-fer in each of South Africa, England and Australia in the same calendar year (5 for 54 in Johannesburg, 5 for 85 in Trent Bridge and 6 for 33 in Melbourne). The 25-year-old now has 45 Test wickets in his debut year, going past the previous record of 42 by Terry Alderman (1981) and Curtly Ambrose (1988). Australia commenced the middle day of the Test with eight runs on the board after surviving six nervy overs on Thursday. Aaron Finch crafted a solid drive to start the proceedings but the Australian limited-overs skipper soon then chipped an Ishant Sharma delivery to debutant Agarwal at short mid-wicket, who took a difficult diving catch to his left. All Finch could manage was eight runs. Before the dust had settled, Marcus Harris inexplicably attempted a hook shot off a Bumrah bouncer but ended up top-edging it to Ishant at fine leg. The left-hander scored 22 but couldn't convert it into something substantial.
Coming in at No. 3, Usman Khawaja (21) hit a boundary each off Ishant (1 for 41), Mohammed Shami (1 for 27) and Ravindra Jadeja (2 for 45) and looked in decent touch during his 32-ball stay. Khawaja, however, fell to Jadeja while going for a forward defense, only to end up inside edging it to Agarwal at forward short leg. While Jadeja was finding enough purchase off the surface, it was Bumrah who outfoxed Shaun Marsh (19) with a superb dipping slower delivery yorker, pinning him right in front of the stumps, just before lunch. The afternoon didn't get any better for the hosts with Travis Head's (20) stumps knocked over by a swinging and quick Bumrah delivery four overs into the session. Mitchell Marsh then tickled a delivery from Jadeja to Ajinkya Rahane at slip when he was on nine and Pat Cummins (17) departed shortly before tea, leaving Australia's fate in the hands of skipper Tim Paine. Paine managed to survive 85 balls and scored 22 before becoming Bumrah's fourth victim. The right-arm paceman then sent back Nathan Lyon and Hazlewood in a matter of minutes to bring an end to Australia's innings. On Day 2, Pujara (106) brought up his second century of the series and added 170 runs with Kohli for the third wicket. Agarwal (76) and Rohit(63) crafted pivotal fifties, while Rahane (34) and Pant (39) too chipped in with handy cameos to propel India to a massive first innings total, which can eventually turn out to be a match-winning one.