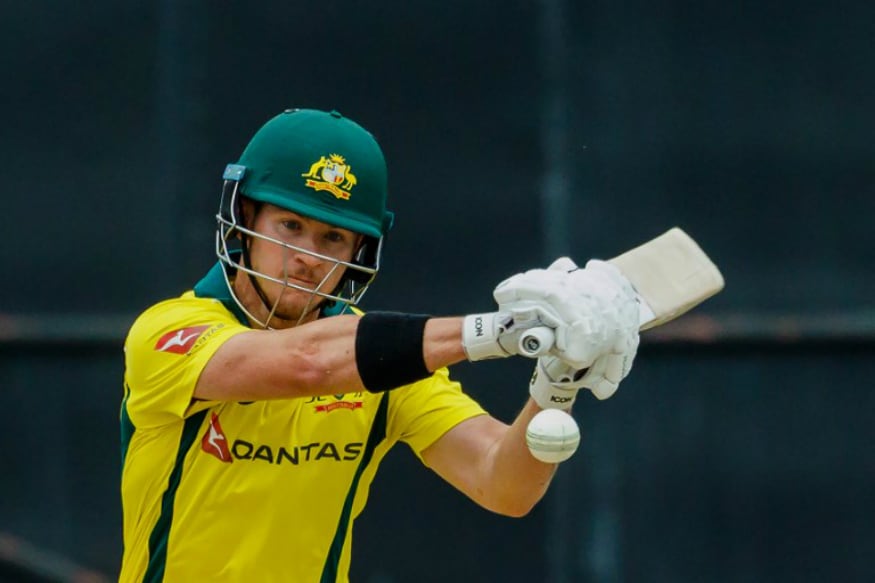 D'Arcy Short has seen a fair amount of failures in India. The hard-hitting Australian batsman was bought by Rajasthan Royals ahead of the 2018 IPL season for a whopping Rs 4 crore after he helped Hobart Hurricanes to the semi-finals of the Big Bash League almost single-handedly. He had racked up 572 runs in the Big Bash League 2017/18 and was expected to set the IPL on fire with his belligerence at the top of the order.

Instead, India saw a squirming D'Arcy Short, clearly out of his comfort zone, and completely at sea against the spinners. The marauding left-hander, who had Big Bash bowlers freezing on their run-up, appeared a shadow of his own self in the IPL, although Rajasthan kept backing him for a big knock that never really arrived.

His issues were pretty evident for anyone watching him. He couldn't handle spin or low bounce and on Indian surfaces his horizontal bat shots were not as easily executable due to lack of bounce. He consumed way too many dot balls, scoring at a strike rate much less than in the Big Bash.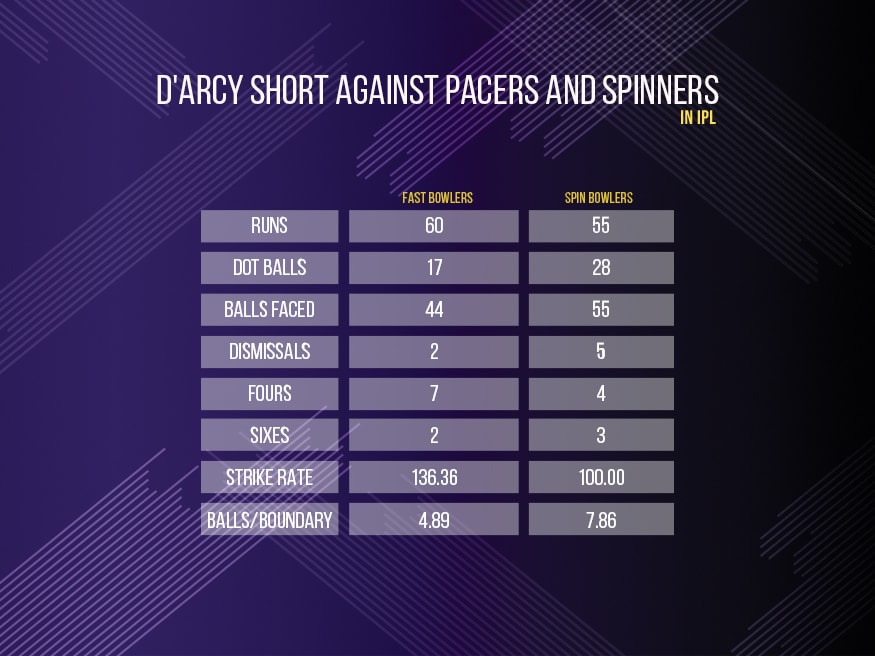 The difference was evident. Against spinners, Short had a dot percentage of 50.91% while he was better off against the pacers (dot ball percent of 38.64%). He struggled to score and it seemed more of a technical issue rather than being out of form. Of the 55 balls, he faced from spinners, he scored just seven boundaries in all, a balls/boundary ratio of 7.86.

The overall strike rate, as a result, dipped too as the Australian was promptly dumped after the IPL season. He did not secure a contract in the 2019 IPL season as he went unsold at the auctions but his Big Bash exploits continued.

He once again topped the run charts in the Big Bash League this season, scoring 637 runs at an average of 53.08. Unfortunately for him, the IPL auction ended before his Big Bash season took off but would any of the teams have backed him after last season?

He began the season with aplomb, smashing 67, 34, 58, 34, 64, 2 and 96 in the first seven matches. His career strike rate for Hobart Hurricanes stands at a terrific 147.25.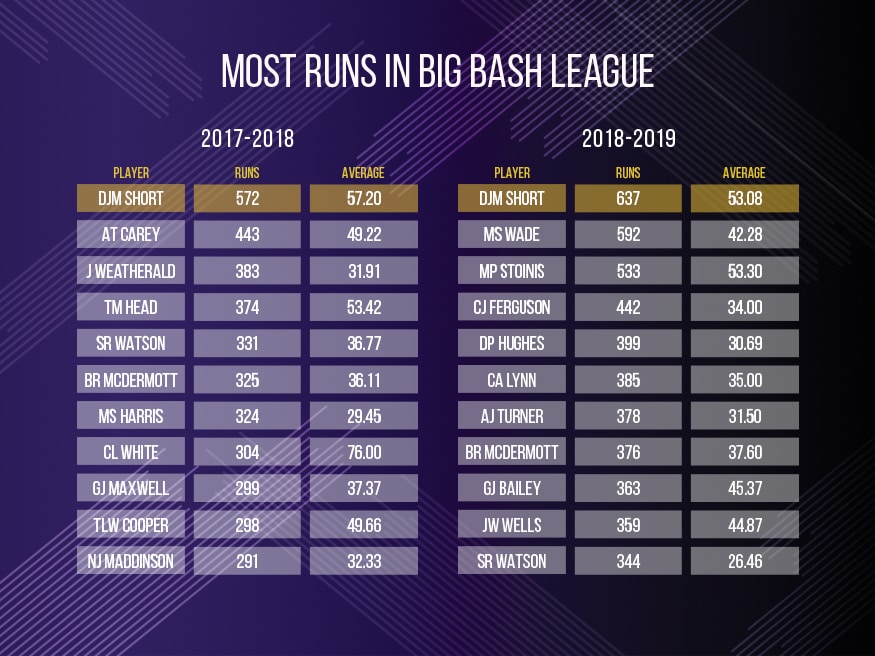 Short's International stint for Australia has been pretty decent too. The opener has racked up 515 runs in 18 T20Is since debut, the second highest by an Aussie in this time frame. The runs have come at an average of 32.18 and a strike rate of 121.17. Aside from Australia and New Zealand, though, his T20 numbers aren't great. He averages 16, 16.43 and 28 in England, India and UAE respectively.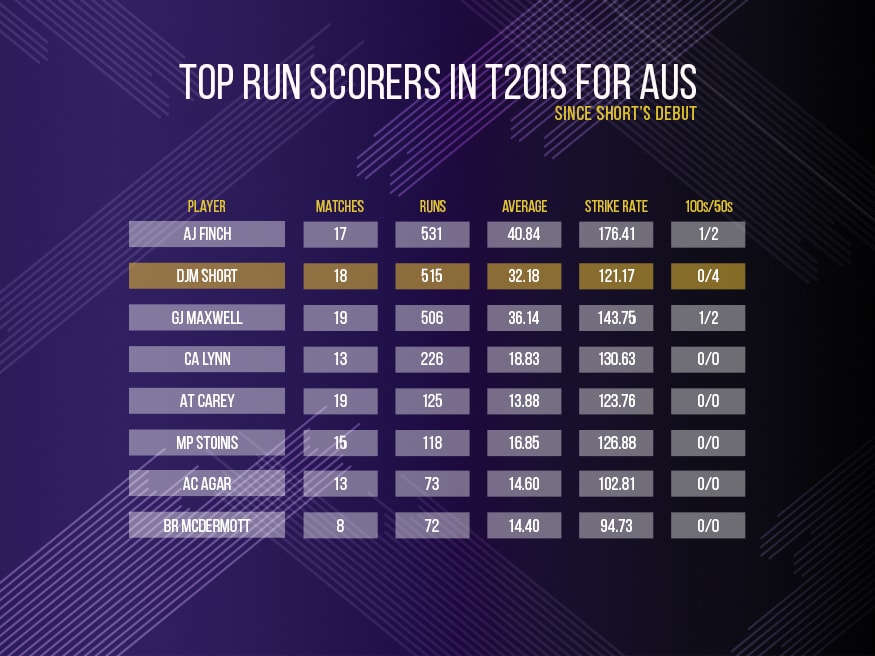 Short, though, has been trusted to do the job at the top for Australia for the upcoming India series. He returns to a country where he had struggled immensely, with a World Cup spot perhaps on the line. If Short manages to conquer his demons, he could well win a place in the ODI playing XI that follows the T20Is and a subsequent place in the World Cup.

The Hurricanes hero has been fine-tuning his bowling too - he is one of the rare left-arm wrist spinners in international cricket - with the help of spin consultant, Sriram Sridharan. Short picked up 10 wickets in the Big Bash League season in 15 matches and could play a role with the ball in India where pitches offer turn.

It is a side kick to his main skill with the willow, though, and even a great show with the ball might not help him make the cut if he cannot show he can produce runs with the bat. A mighty big, career-turning tour beckons for Short and he seems in-form and well-set to make a second impression in the country. If anything, he is helped by the fact that all of India's spinners in the T20I squad - Yuzvendra Chahal, Mayank Markande and Krunal Pandya - turn the ball into him.

*Last updated before the T20I series against India

First Published: February 23, 2019, 6:08 PM IST