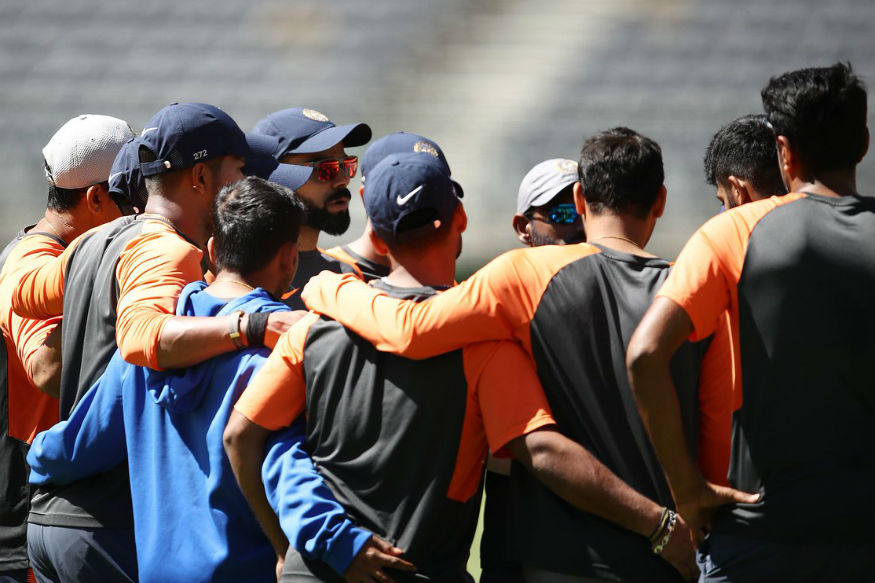 Here's wishing Hanuma Vihari and Rohit Sharma a Merry Christmas. One of the two will open the batting for India in the Boxing Day Test against Australia, after the management decided to drop both KL Rahul and M Vijay. Mayank Agarwal will make his Test debut, just reward for having a super bumper domestic season.
India departed from norm and named their playing eleven a day in advance, leaving no room for speculation. R Ashwin has not recovered fully from his abdominal strain and Ravindra Jadeja was named as the frontline spinner in the mix.
The three fast bowlers who have kept India in the running and taken them ahead when supported — Ishant Sharma, Mohammad Shami and Jasprit Bumrah — are thankfully untouched.
All this, of course, goes with the rider that all players named in the eleven are fit, continue to stay fit and do not develop any conditions in the 24 hours leading up to the game. It was only one Test ago that India named Jadeja in the 13 only for the coach to reveal a week later that the left-arm spinner was unfit and therefore unavailable for selection for the Perth Test.
The choice of opening partner to bat with the debutant is an interesting one. With four openers to choose from (including Parthiv Patel) India have decided to send up a middle-order batsman.
MSK Prasad, the chairman of selectors, while conceding that it was the team management that picked the eleven and made decisions regarding batting orders and things of the kind, said it would be Vihari to open.
"We have called in Mayank Agarwal and he is in good form after that India A series, so naturally he gets into the side. And the way Vihari batted, it convinced everybody that he has got that sound technique to play," said Prasad.
"Going by current form, we all know that the current openers are not really living up to the expected things. That is the reason why… It's really unfortunate. I can definitely say that it's really unfortunate but going not only by form but we also look at the combinations – what Vihari can offer, what Parthiv Patel may not offer. All those things are taken into consideration while picking the XI."
Vihari, who is all of two Tests old, has done a job in the lower order, showing determination and promise and always looking like he belonged. Was it then a touch unfair to displace him and send him up the order? "It's fine. Technically we feel that he is well equipped, there were times where Pujara also opened when the team required. The team demands it and definitely I hope he will come out successful. Definitely it is not a long-term solution, I can tell you that."
Naturally, watchers of this Indian team will struggle to escape the sneaking feeling that Rohit is also in contention for an opening spot. He made the move from middle-order to opening successfully in One-Day Internationals, and despite what the chairman of selectors says, the team could be tempted into taking a punt on him in a similar role in Test cricket as well.
The state of the pitch on the final day and the result of the toss could have a say in sorting this out, and it is fair to assume that Vihari is the default option, with Rohit being a dark horse.
Virat Kohli believed that this pitch would have enough in it to keep the bowlers interested, despite suggestions that it could be a touch too flat and end up not producing an outright result even after five days of play.
"Last time, the pitch played a big part in not being able to have a result either ways, for both sides. But seeing the pitch now, it has much more grass than it had last time and I hope that it is a lively pitch. I hope it does as much as it did in the first two games because as a side, you always know that you are in for a result that way," said Kohli.
"The surface, what I saw yesterday, looked pretty dry underneath. There is a good coverage of grass which should keep the surface intact but again, we have to figure out on the field how the pitch actually plays and then figure out our plans accordingly. I think it should have enough for the bowlers to stay interested on all days of the Test match and hopefully, it's a much more lively wicket than the last time we played here."
On that happy note, here's wishing the two teams the best of the season, and for the fans' sake a lively pitch that allows bright cricket to be played.
India XI: Mayank Agarwal, Hanuma Vihari, Cheteshwar Pujara, Virat Kohli (capt), Ajinkya Rahane, Rohit Sharma, Rishabh Pant, Ravindra Jadeja, Mohammed Shami, Ishant Sharma, Jasprit Bumrah